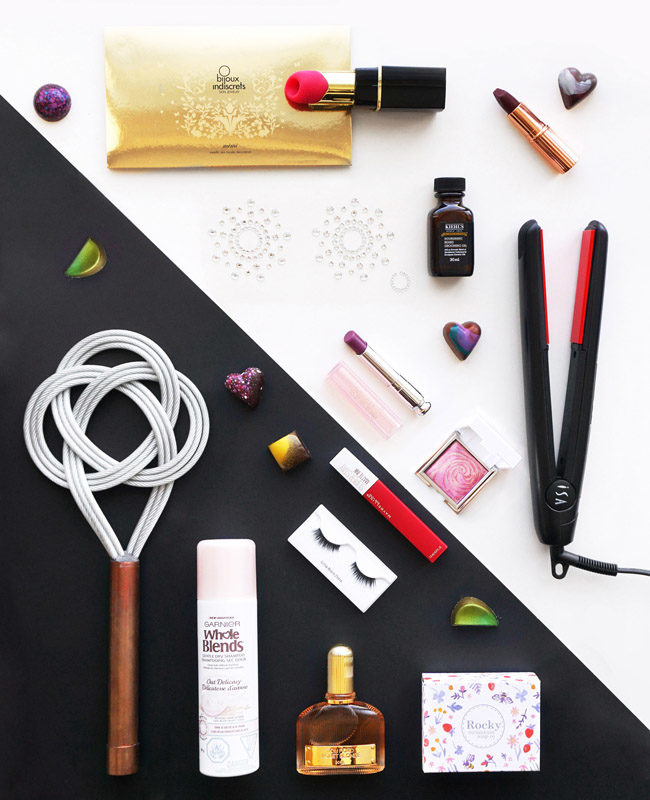 Valentine's Day SEX picks
Womanizer 2GO ($169 USD). This lipstick-shaped air pulse toy cracks me up to no end. It's theoretically discreet, but its massive size makes it simultaneously very, very obvious. I prefer the Womanizer Pro 40 to the 2GO (it's cheaper and easier to hold), but the 2GO is a good alternative! Use code "theNotice" for 10% off your Peepshow Toys order.
Bijoux Indiscrets Skin Jewelry ($11 USD). I love these: they're fun, sexy, and discreet. (Actually discreet, this time.) The Mimi starburts appliqués come in a number of cute colours, and are even offered as metallic skin transfers. Get 30% off all Bijoux Indiscrets Valentine's Day picks until the 14th.
KinkNerdToys The Original Rug Beater Paddle ($40 USD). This heavy paddle delivers firm contact with a stingy finish. It's made from vinyl coated steel cable and has a copper handle, and leaves beautiful swirling welts behind. I bought this years ago, and KinkNerdToys still offers a lifetime replacement warranty on all of their products.
Valentine's Day BEAUTY picks
Garnier Whole Blends Oat Delicacy Gentle Dry Shampoo. This sweet-smelling, silicone-free dry shampoo is brand new, and it is… Amazing. It's small enough in stature that it fits into my overnight makeup bag, and it is 100% invisible. Every other dry shampoo I've tried gives my hair a slight grey, gritty finish, but this disappears entirely and leaves my hair looking shower-fresh.
Tom Ford Violet Blonde. Soft, powdery, and full of violets.
Kiehl's Nourishing Beard Grooming Oil ($25 USD/$35 CAD). I date too many people with beards. Trust me; they're better conditioned.
Kiss Lashes Little Black Dress ($5.99 USD). These look, feel, and wear like mink lashes – but they're cruelty-free and have a drugstore price tag. I really love the length and design of this lash style, and it's become my most-worn pair! (I even pick them over my Esqidos.)
Lise Watier Urban Velocity Blush ($34 CAD). What says love like marbled pink hues? (Chocolate. The answer is chocolate.)
ISA Professional Digital Flat Iron Hair Straightener ($129 USD). My #1 shortcut to a femme fatale look is softly curled hair, and this red-and-black flat iron is the perfect way to get those waves for Valentine's Day. (I can finish curling my hair in 3 minutes if I try really hard, which is my current claim to fame.) The ISA Digital Flat Iron features tourlamine ceramic plates, temperature controls from 175-450 degrees Fahrenheit, and an auto shutoff feature.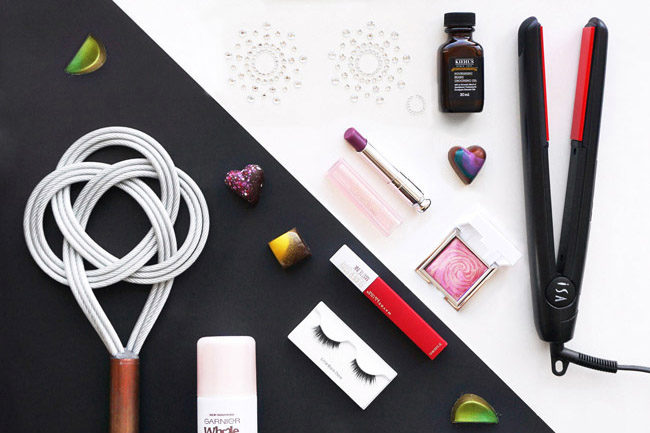 Valentine's Day LIP picks
Maybelline Super Stay Matte Ink in Pioneer ($9.49 USD/$11.99 CAD). My honey had just one request this Valentine's Day–a red lip!–so how could I say no? I reviewed these lipsticks on Thursday, and I stopped into Shopper's the very next day to add one more shade to my collection. Pioneer is a stunning true red, and it stays on just as well as the rest of the bunch… But I guess I'll be testing that for certain on Wednesday.
Dior Addict Lip Glow Color Reviver Balm in Berry ($34 USD/$41 CAD). I managed to simultaneously finish and misplace my favourite "nothing" lip product (YSL Rouge Volupté Sheer Candy in Framboise Craquante), so here's something new to theNotice. This is my first Dior Addict Lip Glow, and it could not be prettier.
Charlotte Tilbury Matte Revolution in Opium Noir ($39 CAD). Charlotte is bringing out her Film Noir Nights lipstick out as a solo product, and it is… Lovely. This rendition of Opium Noir is the exact same as the one that was included in the set, with one exception: you no longer have to buy it with yet another black eyeliner. See it worn here.
Valentine's Day LOCAL picks
JACEK Chocolate Limited Edition Heart Box ($26 CAD). Seasonal pie truffles (their Razzleberry Pie is mind-blowing) and Valentine's Day-themed Oozy Salted Caramel H'Arts (I would die happy if these were the last thing I ate.) Local find – JACEK is based in the Edmonton area and owned and operated by Jacqueline Jacek.
Rocky Mountain Soap Co. Fast & Female Soap ($5.50 CAD). Want to show the Olympics-lover in your life that you not only love them, but also the opportunities that they could have been given? Rocky Mountain Soap Co.'s floral-mint February feature soap promotes keeping girls in sports, where they currently drop out at a rate 6x that of boys in their early teens. Local find – Rocky Mountain Soap is handmade here in the Canadian Rockies.
What are your plans this Valentine's Day, and how much food do they involve?