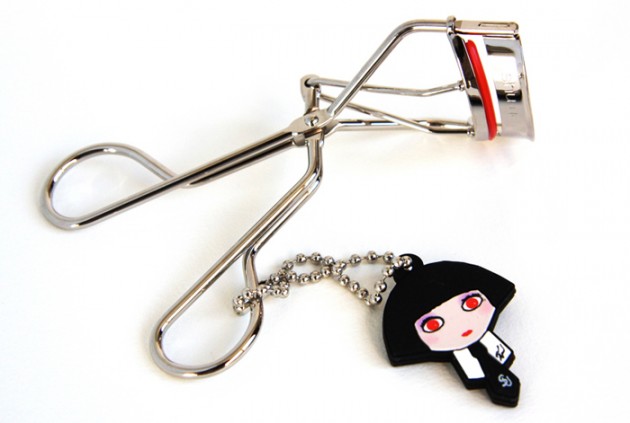 The product: karl lagerfeld for shu uemura Eyelash Curl & Karl
Out this month with the Holiday 2012 Mon Shu collection is the Eyelash Curl & Karl, a limited-edition version of the classic Shu eyelash curler. This one comes with a red silicone pad (plus a spare), as well as a little detachable Mon Shu keychain looped through the tool.
Creepy red-eyed keychain or not, I have to say: the curler's cute! I love the classic silver-on-black aesthetic, but sometimes it's nice to mix it up a little, you know? (I'm still tempted to pick up the matte black MAC + Carine Roitfeld Full Lash Curler, which is ridiculous. I really, really don't need any more lash curlers!)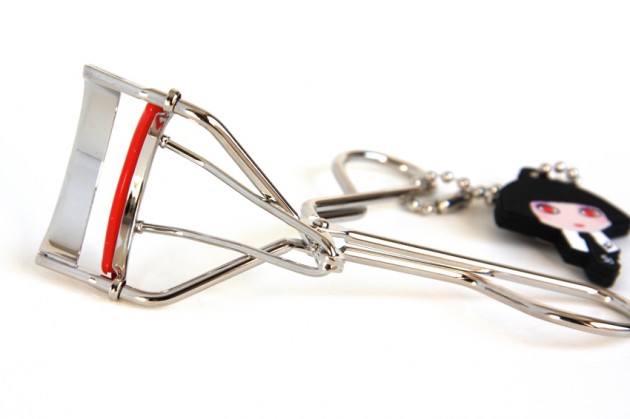 The aesthetic aside, though, I wasn't terribly smitten with the design of the Shu Uemura curler. It's sturdy, but it's also on the stiff side — I found myself having to go over my lashes two or three times (squeezing hard and curling 3x from base to tip each time) just to get a curl in.
The opening's a little on the small side (vertically), too. I think it'll keep the curler in good shape for longer, but it was just too hard to get all of my lashes in, a problem I've never had before. With my stick-straight, downward-pointing Asian eyelashes, I really had to work at getting them all in there, which I just don't think you should ever have to do with a curler.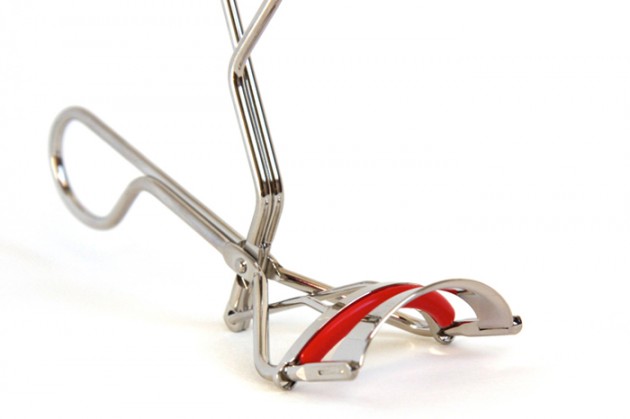 So, how about that shape?
I would personally recommend the Shu Uemura curler for someone with fairly curved eyes (so, not monolids) and lashes that need a bit of a boost, but aren't stick-straight to begin with (again, not Asian lashes.) I've always been puzzled as to how something like this came out of Japan, but, well — to each her own, I suppose!
The verdict?
The Shu eyelash curler doesn't fit my eye shape, unfortunately, but I don't want to write it off entirely. I do know a lot of bloggers who are very happy with theirs, and if you have slightly-curled lashes on a curved lashline and a good, strong grip, this LE version might be worth a look.
(I'm not kidding about the grip, you guys. You really need to squeeze! with this one.)
The Eyelash Curl & Karl is $4 more than the regular Shu Uemura curler (putting it at $24 USD / $24 CAD), but it's essentially the same product. If you're a fan of the classic curler & need a replacement, have a look at this styled-up edition, too.