A tale of two Freidas
If you didn't notice it in Tuesday's post (the nail polish half of the Collection Privée), there are two sets of Freida's Nude in my photos of the collection. From group shots to lipstick swatches, it appears once on the left, and then again on the right.
This wasn't some great ploy or easter egg, however — I'm not that good. Rather, I've been operating on auto-pilot for the past few weeks, and I completely blanked on the fact that the press kit for this collection included two of each of Freida's products.
My apologies for any confusion!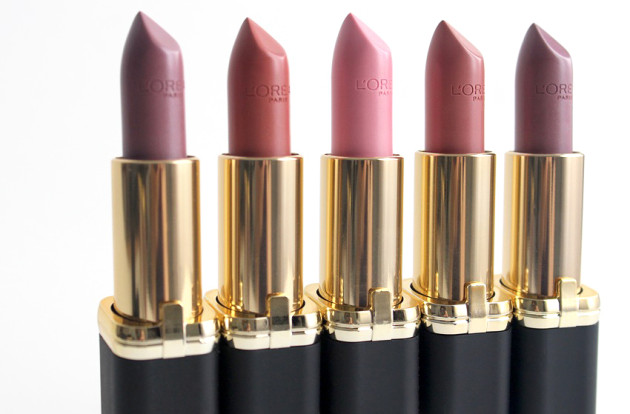 The Colour Riche Lipcolours ($10.99 CAD)
Packaged in matte black tubes with shiny gold accents, the Collection Privée Colour Riche Lipcolours are pretty darn chic for the drugstore — and at $10.99 each, they darn well better be. (What? It's the drugstore; I like to keep my price expectations low!)
Each tube contains a sheer, pearl-finish nude lipstick. Like all L'Oreal Colour Riche lipsticks, these lip colours are fairly perfumed, so be sure to give a tester a sniff in-store if you haven't used the line before.
The microshimmer/pearl finish of the Collection Privée by Colour Riche lipsticks
Despite its darkness in the tube, Freida's Nude applies as a very soft violet with a brightening sheen. Even on my very fair skin, it's no more bold than a sheer Fresh Sugar lip balm or Clinique Chubby Stick, and picks up my complexion rather than muddying it (as many darker nudes will do).
Eva's Nude is much more full-on; with medium opacity and a slightly thicker texture, it's also more of a traditional frost. A warm, orange nude with only a hint of pink in its undertones undertones, it's much better suited for skintones like Eva's — against my complexion, it's very noticeable and rather dated.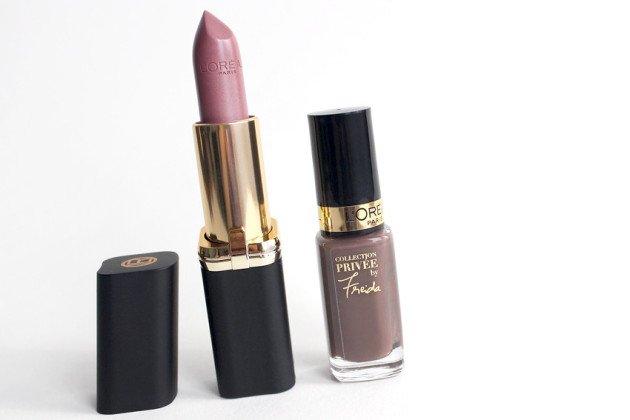 Collection Privée by Colour Riche: Freida's Nude
Collection Privée by Colour Riche: Eva's Nude
L'Oreal Collection Privée by Colour Riche Lipsticks swatched very heavily L-R: Freida, Eva, Doutzen, J Lo, Freida