The product: Rachel's Plan Bee kimberlyloc Jasmine Body Oil
It's a well-known fact that every beauty blogger out there dreams of creating their own product one day. And, today, after too much time and two solid days of website downtime (I'M SO SORRY ABOUT THAT), I'm happy to share with you that dream coming true for my friend Kim, of kimberlyloc!
The scent: Kim is one of my biggest green beauty inspirations (I actually first heard about Odacité on her blog), and her big beauty love is all things jasmine. I've never been a big floral lover, but Kim makes jasmine sound like just the most amazing thing–so, when she and Rachel's Plan Bee set about to create a limited-edition body oil with notes of jasmine and vanilla (Rachel's favourite scent), I had to smell it!
» Read Kim's post about creating this body oil on kimberlyloc! 
Despite my initial hesitations about wearing a floral body oil, I have to say: I really like what Kim and Rachel have created here. This jasmine and vanilla blend is sweet but sultry, and the moroccan rose-citrus twist makes this body oil smell not just pretty, but interesting, too.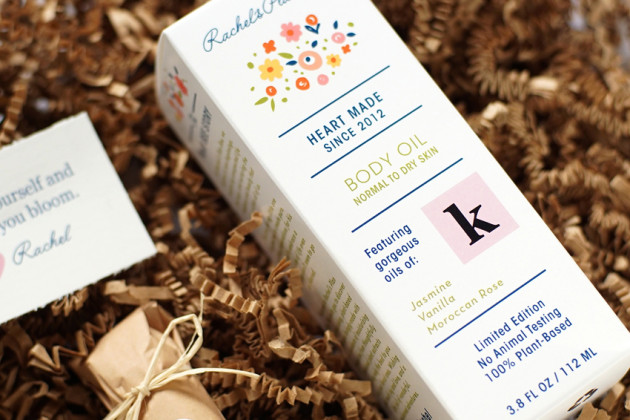 It's a very heady, complex scent, but you MUST shake the bottle gently before using!!! I always forget to do this, but just giving it a little shake brings out these bright, almost effervescent top notes of vanilla and sweet orange (think delicious, fresh-baked orange loaves and jasmine bushes.)
(I mean. If jasmine grows in bushes? All I know is that it it doesn't grow on trees. I think.)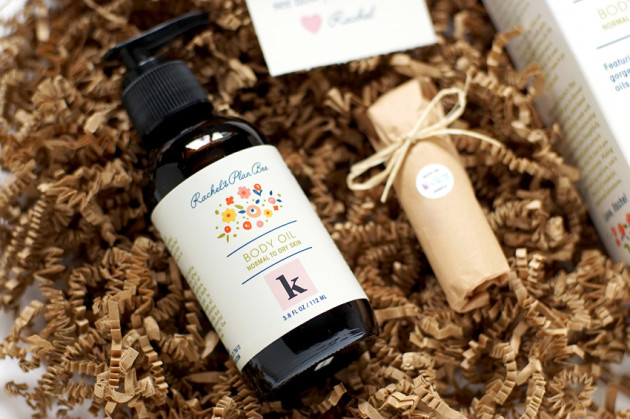 The formula
The Rachel's Plan Bee Body Oil formula is absolutely gorgeous. It sinks into the skin really quickly, but it's super silky and hydrating — it's definitely NOT the same experience that you can get with a standard $10 bottle of grape seed oil.
Rachel recommends that you use this oil as a body oil, massage oil, bath oil, or shaving oil, depending on your needs. (I think it would make a gorgeous bath oil, if only I was a bath person.) It's made from a blend of apricot kernel seed oil, sunflower seed oil, meadowfoam seed oil, and grape seed oil, and all of the scents are absolutes and essential oils — no synthetic perfumes here.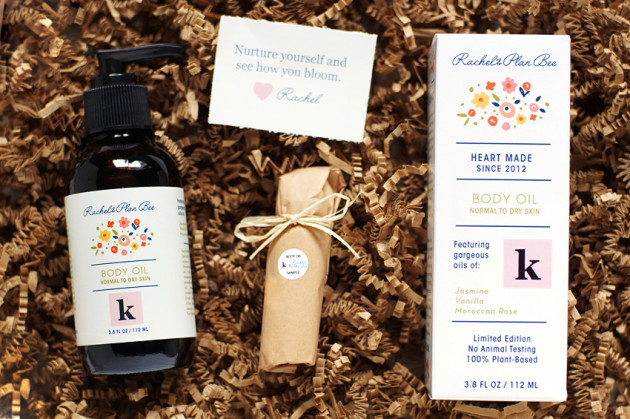 The verdict?
Throw your lot in with the beauty blogging crowd! Order your Kimberly Loc body oil now! :P
But seriously, though. This oil–which, mind you, is limited edition–is a beautiful, unique jasmine scent that is sure to please all jasmine lovers… and convert some of us who aren't usually. It's the perfect blend of jasmine, vanilla, and orange, and it is so silky and hydrating that I've even been using it on my hands!
My recommendation? Pick up a bottle now, and if you don't love it on sight, win some brownie points by giving it to a bath-lover this holiday season. No risk and alllll of the rewards.
Availability: $36 USD at Rachel's Plan Bee! (Or, you can pick up Rachel's original vanilla and citrus body oil for $29 USD.)