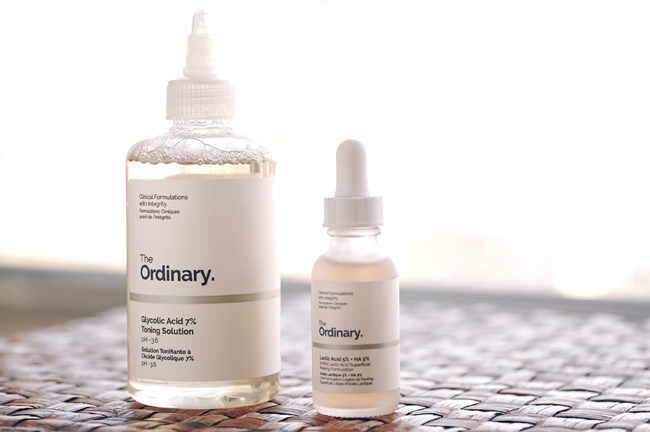 When my skincare stash needs a bit of freshening up, there's one brand that I always know I can turn to: The Ordinary. Their products are everything that I look for in a brand. Not only are they affordable and Canadian, but they're also often (but not always!) silicone-free, or even pure oils and emollients. The Ordinary Glycolic Acid 7% Toning Solution and 100% Plant-Derived Squalane are my two most recent additions from Deciem, and you guys.
These knock it out of the park. I have yet to figure out what "it" is, but in this case, "it" is probably something along the lines of "my expectations."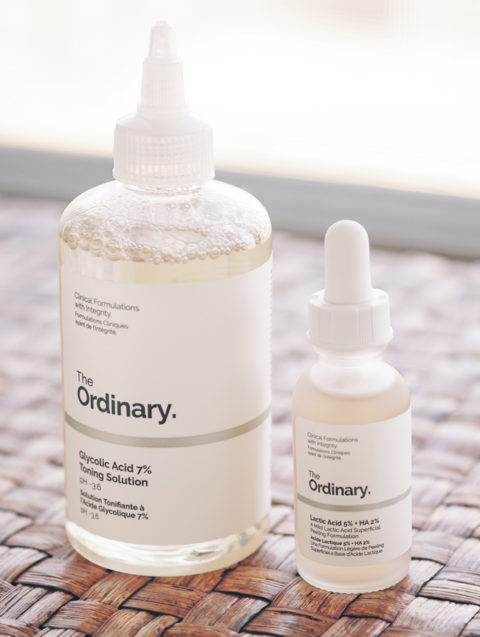 Deciem The Ordinary Glycolic Acid 7% Toning Solution review, photos
The Ordinary's 7% glycolic acid is my very first proper acid, if you'll believe that. I've used acids before, of course, but not as part of a proper skincare regimen – just in the form of KP treatments, or occasional masks or peels. (I just re-bought that Paula's Choice Retexturizing Foam last month!)
This is the first acid that I've ever had the patience to use for more than a few days, and it was well worth it. The Ordinary Glycolic Acid 7% Toning Solution ($8.70 CAD/USD) is super-gentle, but both my partner and I began seeing results within a week. It offers a mild exfoliation on a nightly basis, and contains a Tasmanian Pepperberry derivative to "reduce irritation associated with acid use."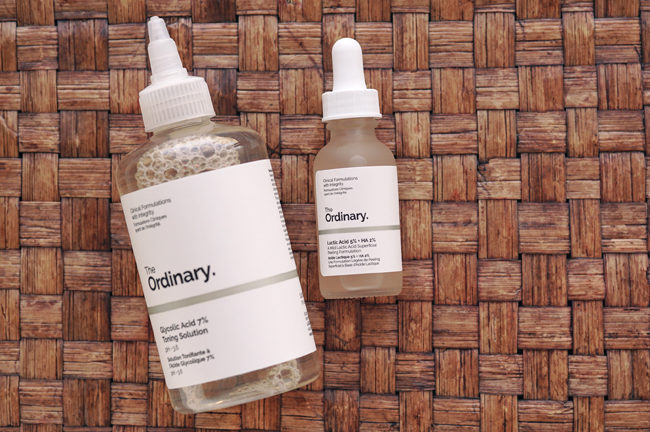 The derivative works. Even with my sensitive skin, I can use The Ordinary's 7% glycolic acid nightly as needed with no signs of irritation. It makes my skin look fresher and more poreless, and helps cut down on breakouts and dry patches.
I directed my partner to start using this acid nightly along his hairline when he complained to me about breakouts, and his results were even better than mine. His hairline breakouts, which he's had for the past decade (seriously, what do people do before they meet their pocket beauty bloggers? Struggle?) disappeared completely after about two weeks of use. He's also a big fan of The Ordinary's Niacinamide & Zinc, so if you have breakout-prone, oily skin, these are two products that I would definitely recommend!
Of course, as with any AHA, I recommend applying this toner at night and wearing at least an SPF 30 moisturizer during the day. Not only will that help minimize sun damage, but it'll help you compensate for this toner's only weakness: a mild stickiness after application.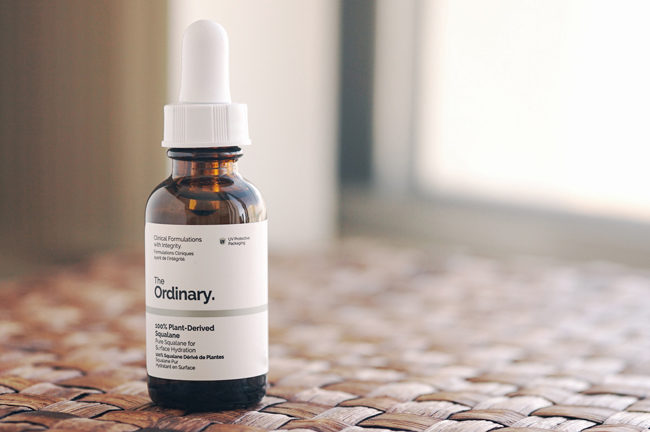 Deciem The Ordinary 100% Plant-Derived Squalane review, photos
After all of my raving about The Ordinary's glycolic toner, you might be expecting the rest of this review to sort of… flop off.
Not so!
I used The Ordinary's glycolic toner for a couple of months before trying anything else from the brand, but when the mercury dropped, I reached for my bottle of The Ordinary 100% Plant-Derived Squalane ($7.90 CAD/USD). I don't love it quite as much as the toner, but to be fair, acids are showy. A great hydrator, while awesome, is not.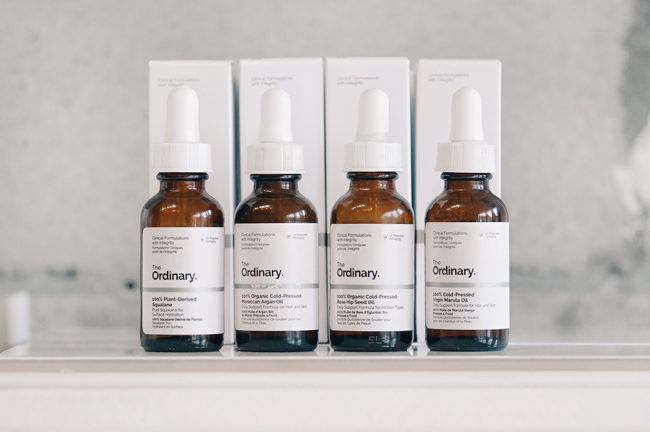 I enjoyed using The Ordinary's 100% Rose Hip Seed Oil last winter, but as with many oils, I didn't wholly love it. It was still a little greasy, and it smelled just awful – nutty and oily, right from the first drop.
The Ordinary's 100% Plant-Derived Squalane, however: that's some good stuff. It's ECOCERT approved, scent-free, and oil-free. (That being said, squalane still stains something awful. I recommend handling it like a rich, greasy oil.) For those of you who aren't skincare junkies, here's a little crash course.
Squalane is a stable hydrocarbon that we used to get from hydrogenating the squalene found in shark liver oil. It's found naturally (and plentifully) in human skin cells, but of course, some of us don't make enough on our own! A good squalane like this one will leave your skin feeling like naturally well-hydrated skin, and now that humans have figured how to derive it from olive oil and sugarcane, we no longer need to kill 3000 sharks to produce a single ton of squalane.
In other words? Plant-derived squalane is the real deal. It delivers hydration without that dry-but-greasy film, won't oxidize in the bottle, and (this stuff, at least) is earth- and animal-friendly.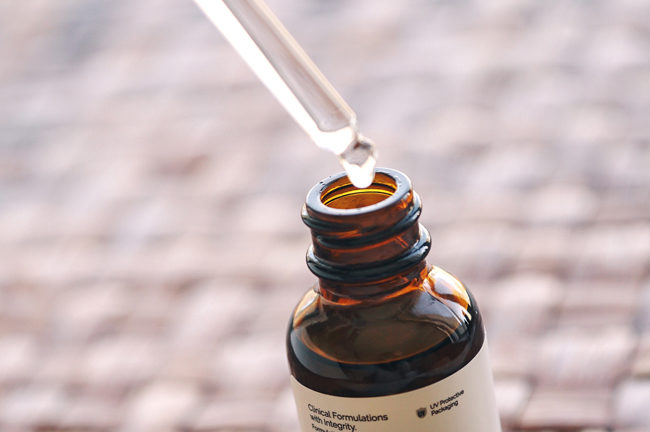 The verdict on The Ordinary Glycolic Acid Toning Solution & Squalane?
Whenever I try a new product from The Ordinary, I'm left kicking myself for not trying it earlier. These products are a great example as to why.
The Ordinary's 7% Glycolic Acid Toning Solution is a cheap, gentle way to try a daily acid without upsetting sensitive skin. It's great for people with acne, textural issues, or oily skin, and it works well to slough off dry patches. I use it nightly as needed, and then let my skin rest until I feel like another pick-me-up is in order.
The brand's 100% Plant-Derived Squalane is equally fantastic as an affordable way to try some top-notch, scent-free squalane. It's a lovely hydrator, but remember to use it sparingly. It disrupts makeup the same way that sebum would, and using too much can result in decreased wear time on things like eyeliner and foundation!
These products are silicone-free, nut-free, oil-free, vegan, and like all Deciem products, cruelty-free.
Availability: Deciem.com. Also stocked at Sephora, Beautylish, Cult Beauty, Beauty Bay, and more.