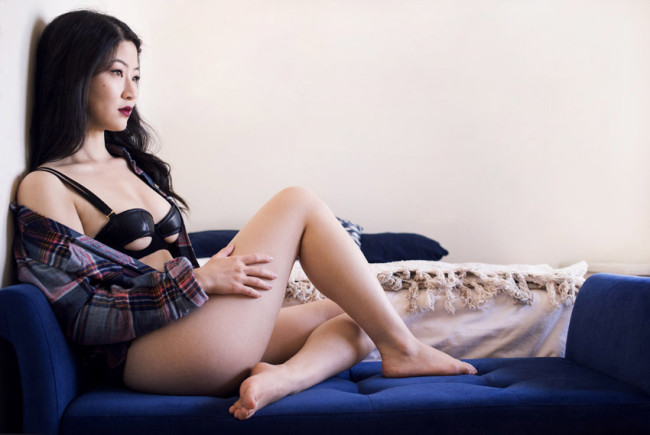 It's that time of year again when everyone is pulling out their beach bods*, but I'll be frank with you. My body's still not well enough to go to the beach–which is why I'm bringing it to the blog instead.
*BEACH BODY: n. The body of a person, preferably live, who goes to the beach.
One of my goals for 2017 is to expand my blog beyond beauty and sex toys. Today, I'm happy to finally reveal the next natural progression of theNotice: the occasional slip (pun intended) of fashion content.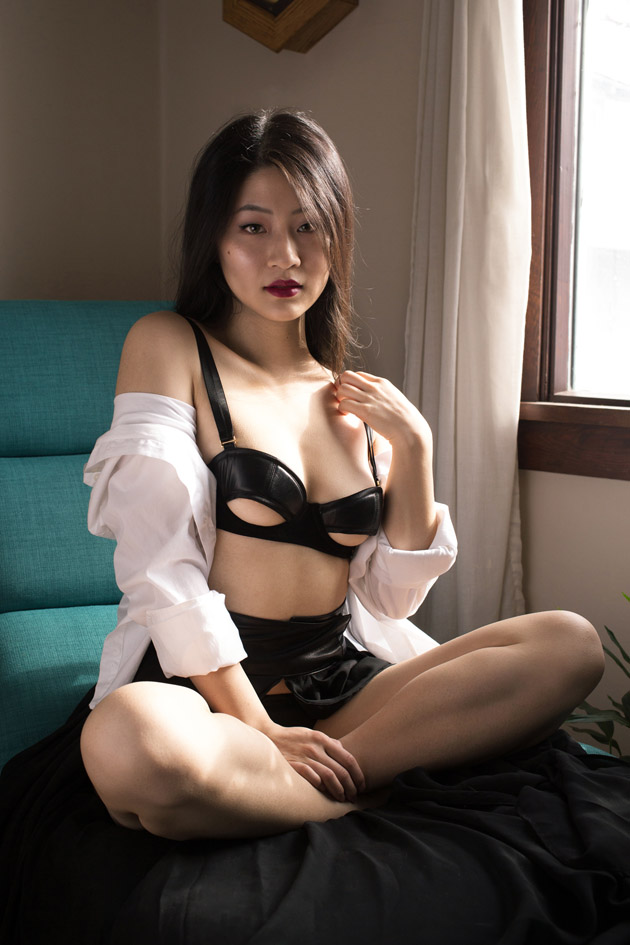 Something Wicked Ava collection
theNotice will never be a fashion blog, and I will never be built like a fashion model. But lingerie is for every body, healthy or sick, and the Something Wicked Ava collection was too beautiful not to share. (Look at all that glorious underboob!)
The Ava Maxi Skirt is hand-pleated out of silk, and it makes me want to twirl around while yelling "fuck the patriarchy" with flamethrowers in my hands. (Although to be fair, that's basically my #aestheticgoals). The Ava Half Cup Bra is obscenely comfortable, and the little peephole in the Ava Mini Briefs is delightfully cheeky.
I'd recommend going down a size for the Half Cup Bra, but mine (a 32A, instead of my usual 34A) fits comfortably and snugly.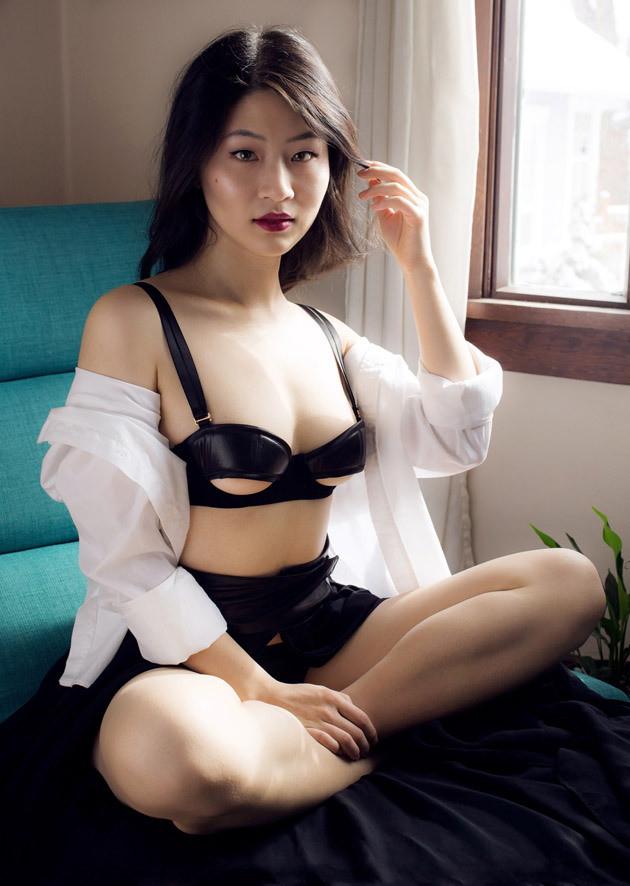 The Something Wicked story
Unlike most mass lingerie brands, which are owned and run by men, Something Wicked is designed by British designer Leanne Brooke¹. (Take that, Schmictoria's Secret.) She began at the company in 2012, and is now a partner in the business.
Everything in the line is manufactured in-house in England, and each piece fits like a dream with hand-rolled hems.
My one issue with Something Wicked is that, as a smaller company, their size range is lacking. I know Leanne has mentioned that she'd like to do a range specifically designed for larger cup sizes, so I hope it's something we get to see soon!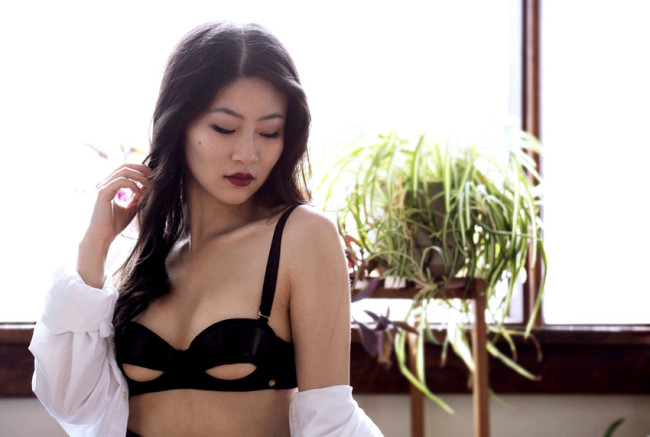 How to wear a half cup bra
If you're a fan of lingerie as outerwear, the Something Wicked Ava collection is perfect for it. For the bold, the half-cup bra peeks out gorgeously under Parisian-inspired basics. For the timid, the pieces hide away as a confidence-boosting underpinning for any outfit.
A crisp white dress shirt is my ideal pairing for this style of bra, done up without a camisole. (I have it unbuttoned in this post to show off the Ava.) Pair it with black slacks or ponte leggings and a little flick of black eyeliner.
The lines of the Ava are pretty noticeable, but they can be hidden underneath your clothes with a little extra care. A fit and flare dress, or anything with a structured bodice, would be a great choice.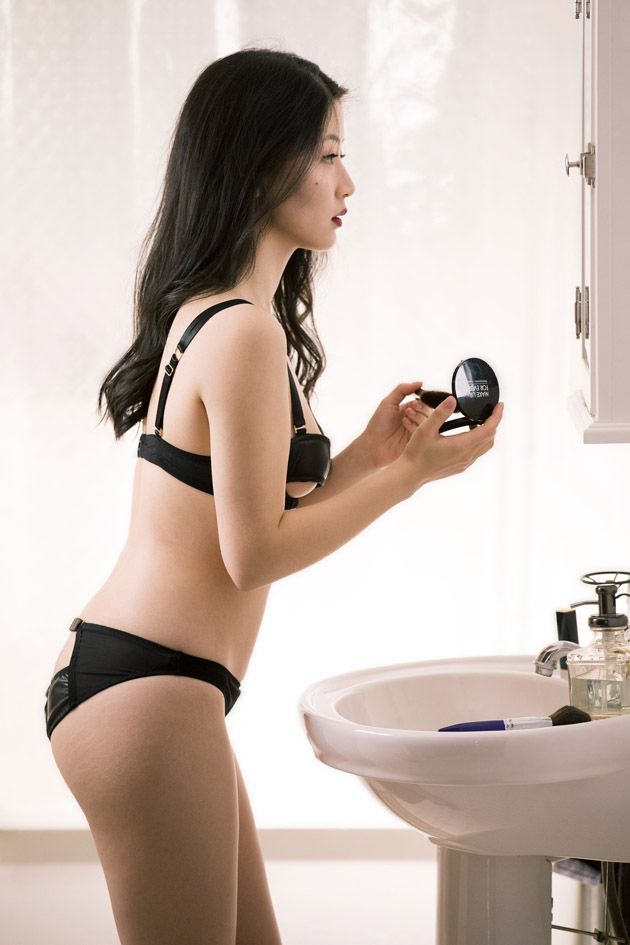 Get the look
OUTFIT
Something Wicked Ava Half Cup Leather Bra (£135)
Something Wicked Ava Mini Leather Peephole Briefs (£95)
Something Wicked Ava Maxi Skirt (£229)
Uniqlo Easy Care Slim Fit Broadcloth Long Sleeve Shirt ($29.90 USD) / Women's Supima Cotton Stretch alternative ($29.90 USD)
MAKEUP HIGHLIGHTS
Make Up For Ever Pro Light Fusion in 01 Golden Pink ($39 USD/$48 CAD; review)
Make Up For Ever Acrylip Lip Paint in 501 Eggplant ($18 USD/$23 CAD; review)
Estee Lauder Matte Sculpting Lipstick in Commanding ($30 USD/$34 CAD; review) — last photo only
Cozzette S125 Oval Powder Brush ($30 USD; review) — on sink edge
Solotica Natural Colors Mel/Honey ($94.99 USD; last seen here)
Lash extensions by Nikki at Lady Lash Ltd. ($140 CAD)
LOCATION
Candace & Danny's Place, which I would love to return to! They have such a great space, and they're just the sweetest couple. (Plus: bonus points for having a super friendly rescue pup.) Book with my Airbnb referral link here.
TEAM
Bryan Tran and Janelle Holod at Affinity Photography
Edits and styling by Rae Chen