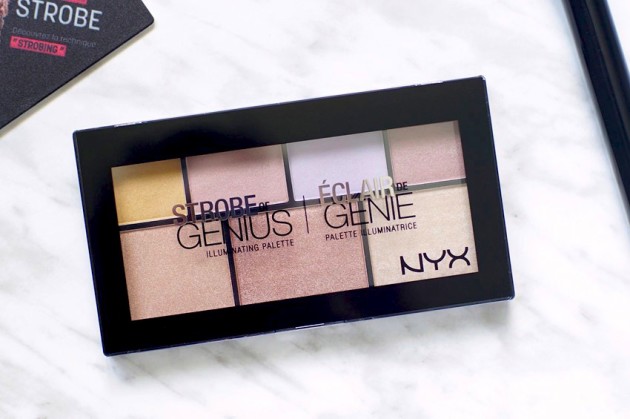 The products: NYX Cosmetics Strobe of Genius Illuminating Palette, NYX Cosmetics Pro Fan Brush
2016, as I've said before, is having a great spring for illuminators and highlighters. The contouring trend is holding steady with an additional strobing aspect, and the market has been absolutely overpopulated with highlighters.
And hey, I'm no fool. If the beauty industry suddenly gives you 10x the amount of choices for a product category that you love, you snap up that opportunity like nobody's business.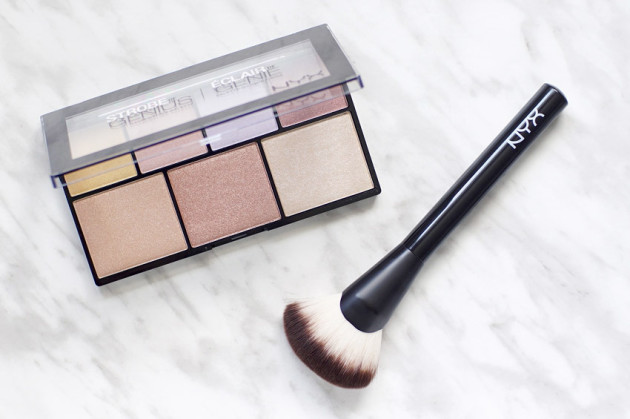 What is strobing? I will say one thing before I get started today: "strobing" is bullshit. It's not "THE beauty tend that everyone is obsessing about," and it's not "fresh" or "new!" (All direct quotes from the NYX website.)
Strobing is highlighting pumped up to the max, plain and simple. Things can be great without being new, oh Great and Powerful Beauty Industry — case in point.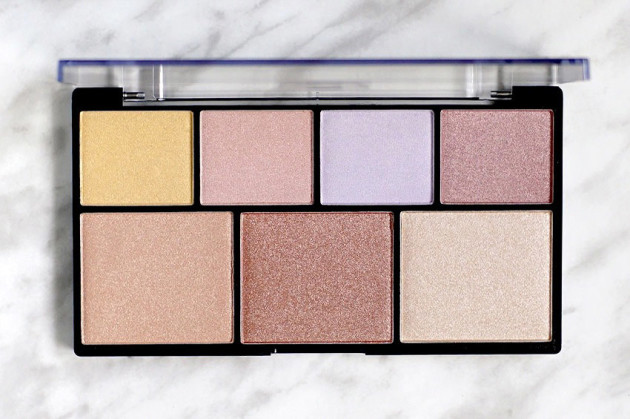 NYX Strobe of Genius Illuminating Palette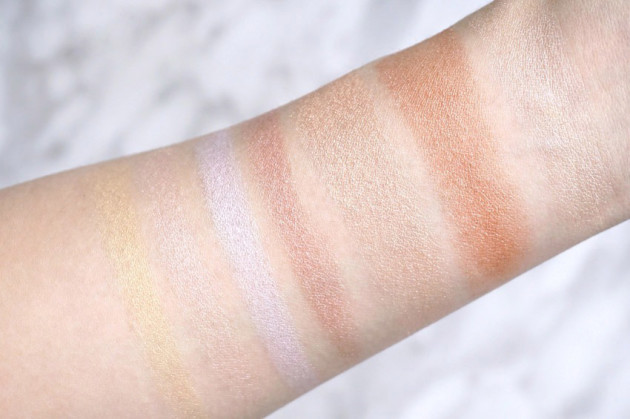 NYX Strobe of Genius Illuminating Palette swatches (no primer; indirect sunlight)
The formula: The NYX Strobe of Genius Illuminating Palette features 7 highlighters in two formulas. The lavender, golden pink, bronze, and champagne all feature one formula; the yellow/gold, light pink, and peachy gold all feature a very slightly different one.
In practice, I find that six of the highlighters are all very similar. They're smooth and blendable but a little bit dry, and are ideal for normal to oily skin. (They emphasize my fine lines slightly.) The exception is the lavender shade; it's more buttery than the rest, and it has an intense satin-sheen finish rather than a frosty, metallic one.
I totally get that formulas are going to vary based on how their pigments influence them, but man. That lavender highlight is really something else — from a high-end brand, I'd pay $27 CAD (the palette's SRP) for it alone.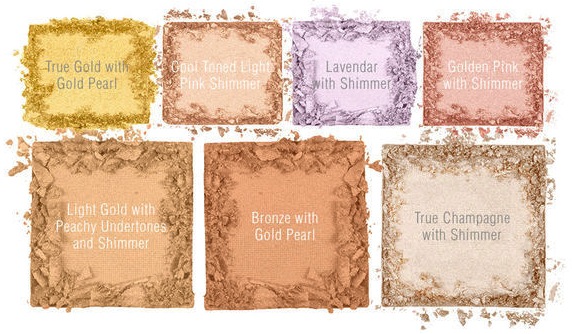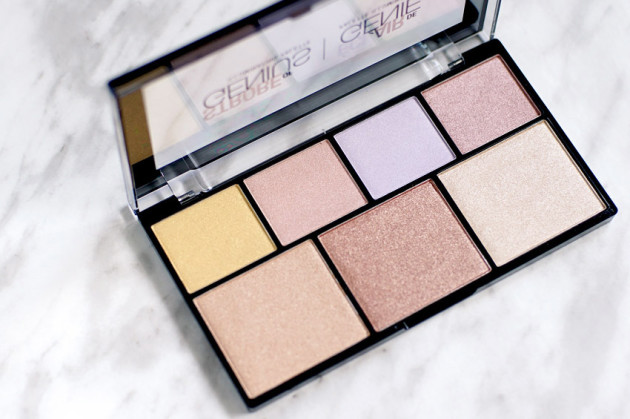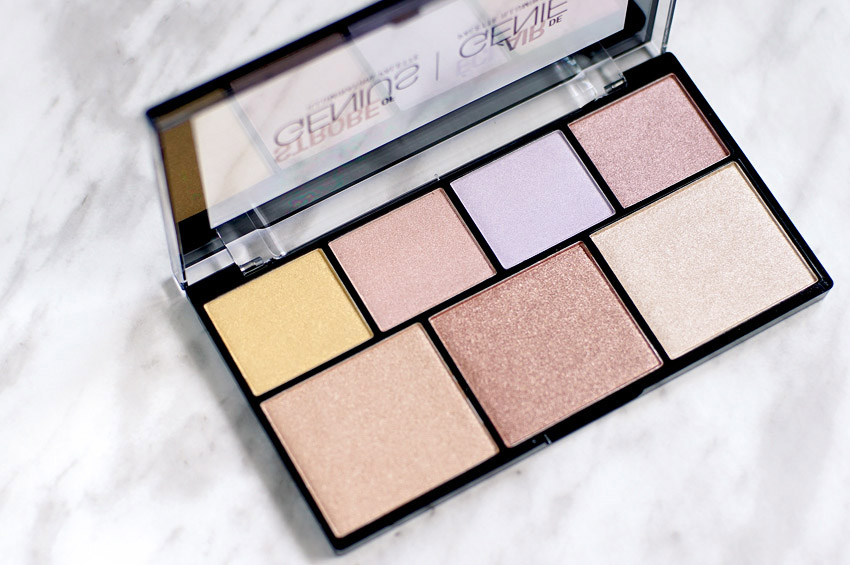 NYX Strobe of Genius Illuminating Palette swatches (no primer; indirect sunlight)
The shades: All seven of the Strobe of Genius shades wear well throughout the day, but most importantly, they're all visibly different. If I apply more than one shade on my cheek (even if it's two similar shades!), I can spot where one ends and the other begins from a good foot away.
The sheer, frosty "gold" in the top left corner of the palette is definitely the most unique shade; it's a pure yellow highlighter, and it's quite pretty in person! (For everyday use, you could totally use it as a spot highlighter.) The palette also contains a rose gold shade, which you don't see all the time — I think a lot of warm-toned beauties will really like this one!
The lavender highlighter, however, was by far the best performer. It's without a doubt the prettiest thing I have ever put on my cheeks, and it made my face G-L-O-W as soon as the brush touched my skin. It's really high-impact, but it melts right into the skin.
Unlike your prototypical fan brush, NYX's Pro Fan Brush is dense, velvety, and thick. It is not what you want to use for a light application of powder, which is what fan brushes are usually for. Instead, it makes getting an intense highlight super quick and easy, and it fits perfectly onto the top of my cheekbone to apply the product and blend it in a single stroke (three, at max.)
I can confidently say that there is nothing else in my brush collection that even slightly resembles this synthetic brush, and it's well worth the $17 it'll run you!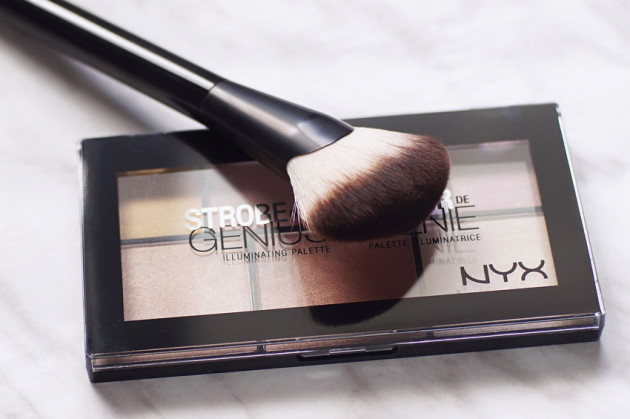 The verdict?
I can't believe how fast I fell for the NYX Strobe of Genius palette or the NYX Pro Fan Brush, but it really was love at first stroke. The second I popped that lavender highlight onto my cheekbone (using the fan brush, which–can I just say–is super luxurious), I was smitten. Later, I found out that the highlighter had held on throughout the entire day, and I had to have a little cry.
(Okay, for real, I didn't cry. But I did immediately apply all of the other six shades to various parts of my face just so I could get to experience them all at once, and it was a weirdly gratifying experience.)
If you love a good spring/summer glow, then you need this palette. It's hella expensive for a drugstore product, but seeing as all 7 shades really are different… I think it's worth it. That's like, $3.86 per shade, and it'll take you from spring (lavender) to summer (rose gold) to winter (champagne).*
Availability: $19 USD/$27 CAD at NYX Cosmetics, or at drugstores throughout Canada and the US. (Also available at Ulta and Urban Outfitters.)