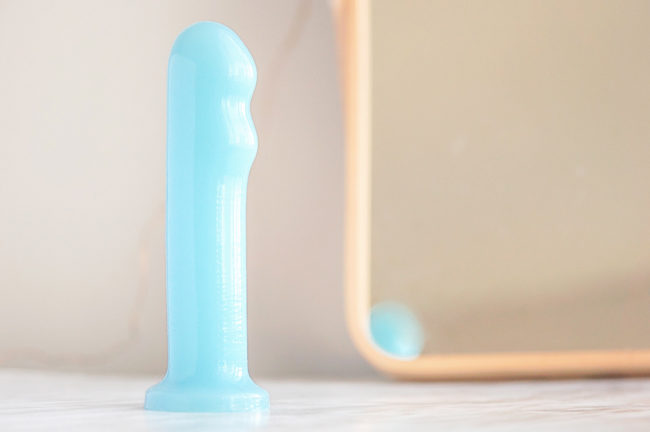 The product: Funkit Toys Nofrilldo Silicone G-Spot Dildo
I am… Not the best consumer. I don't always want the newest thing, or the shiniest toy, or the sparkliest glitter. (That last one's a lie. I totally always want the sparkliest glitter). But I feel a lot of guilt when I purchase things from big companies, and I do my best to buy ethically. I'm a big fan of small businesses, locally designed products, and genuinely good humans.
Kenton of Funkit Toys may not be a genuinely good human, but if he isn't, he's at minimum a chaotic neutral with body bag full of very good puns. And I'll take that. I'll totally take that.
"Every NoFrillDo has a shape causing them to occupy a set amount of space. This means they can be put in a hole, and the flared base means your doctor doesn't have to know." -Funkit Toys
Why buy a silicone sex toy?
I talk about this often, but it's never too late to add more information! While jelly and PVC sex toys (you know, the floppy $10 "novelty adult toys" you can pick up at a soggy-floored Love Boutique) can leak phthalates and have porous surfaces that foster bacterial growth, pure silicone sex toys do not.
All surfaces are technically "porous" on a molecular level, but silicone is referred to as non-porous because its pores are so small and hydrophobic that, when washed with soap after every use, it won't play host to microbial cultures. Basically, once you wash it, it's clean; the same cannot be said for jelly toys.  
You'll need to be careful not to use silicone-base lubricants with your silicone sex toys (the only thing that'll degrade solid silicone is similarly-bonded liquid silicone), but it's more durable than most soft materials: solid silicone can be heated to 125˚C for short periods of time in order to be fully sterilized. 
But don't take my word for it. Lilly at Dangerous Lilly has a great, in-depth post on silicone sex toys that will tell you all these things and also like, six million other, very interesting things.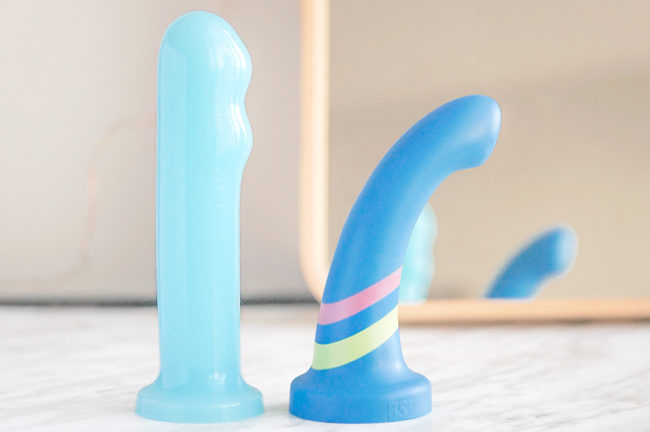 NoFrillDo B/C vs the BS Atelier Small G-Spot Ella
The Funkit Toys NoFrillDo concept
Silicone toys are expensive for brands to produce, and they're a burgeoning niche. As a result, it's tough to find affordable silicone. (Blush Novelties' Luxe Cici line offers some of the only other options for silicone dildos under $30 USD. My favourite dildo, the Vixen Creations VixSkin Mustang, is $99 USD.)
But here's where indie makers are your true friends. Kenton, my fave internet pun bro, started an Indiegogo campaign last month to make an affordable silicone dildo. (Kenton's regular Funkit line looks more like this). He ended up raising 465% of his funding goal, which helps fund things like buying a massive amount of silicone, making moulds, and completing orders.
"NoFrillDo is the "Cup Ramen with Veggies and an Egg" of dildos. If you can afford a fancier dildo, support the creation of fancier dildos. It's worth it. If not, though? I think you should be able to buy a safe, non-toxic sex toy without worrying about rent." –Funkit Toys
There are three NoFrillDo shapes, which come in CYMK colours. (Cyan, magenta, yellow, and black). They're a mind-blowing $24 USD each, no matter the shape or colour – which is insane.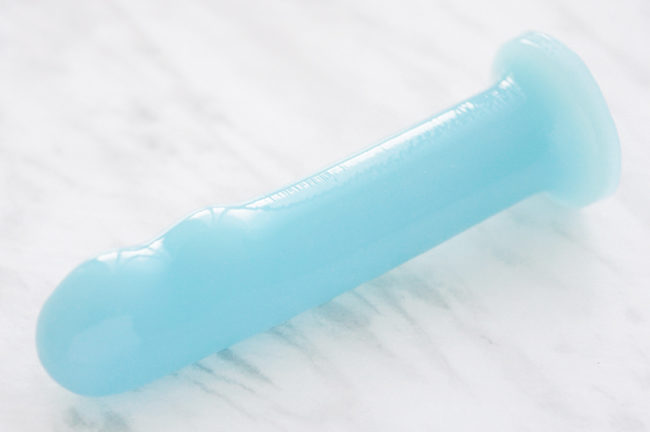 My thoughts on the NoFrillDo Bluetini G-Spot Dildo (or, the B shape/C colour)
I am super, super picky about my dildos. And this one was good, but… It's really not for me.
The NoFrillDo B is the line's shorter, thicker model. It's 6.5″ long and 1.36″ thick, with two bumps on the end. The NoFrillDo models are all made from shore 20A silicone, which is described as "similar to medium steak." 
I'm going to level with you right now. I really like Kenton, and I think the NoFrillDos are really good toys. But I'm a super picky person, and I don't love using my B/C.
"NoFrillDos come in colors, making them visible to the human eye. Several of these colors are not pink." -Funkit Toys
This lightly translucent cyan is a beautiful colour, and the smooth finish does well with a lot of lube. But the firmness of this toy means that its 1.36″ diameter is slightly too wide to be comfortable for me. I don't like my steaks done to medium, and I don't like my dildos to be that solid, either. I love a LOT of squish, and though I hope every day that someone is going to start producing a low-cost soft silicone dildo, I'm doubtful that that'll happen anytime soon.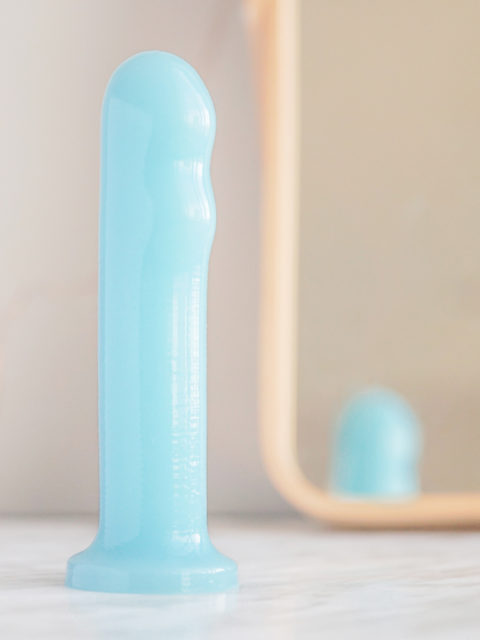 The Funkit Toys NoFrillDo verdict?
I have a list! If any of the following are you, you totally need a NoFrillDo:
My meatsuit enjoys using firm silicone toys
I enjoy either: medium-wide girth (get the B), curved dildos (get the G), or helical designs (get the R)
I want to buy my first sex toy, but have been putting it off because they're all so damn expensive
I like sex toys, and I want to support a punny, thoughtful, genuine creator
And here are the reasons in which you may not need a NoFrillDo:
I am swimming in money. Swimming in it. I can barely find my bed beneath all of these piles of money. (Get a Funkit Toy instead.)
My bits are picky and demand softness. (Get some VixSkin instead.)
I like insertable toys, but I want them to vibrate. (Dude, why have you gotten this far in this review? Go here.)
Availability: $24 USD from Funkit Toys or SheVibe. $20 USD for a surprise NoFrillDo.
PS: I'm hankering for an excuse to try the G/M, so leave me a comment or send me a tweet if you're curious about it, too! I'd love to have a reason to buy and test an appropriately-sized NoFrillDo, selected in advance instead of in an excited flurry.