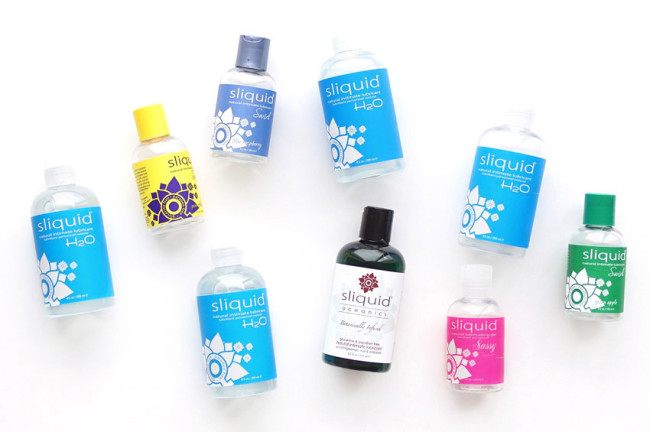 All about lube
Before I get started with a Sliquid lubricant review, I wanted to take a minute to talk about lube itself. As a sex blogger, a bottle of lube is like a tube of lip balm for me*, but not everyone uses it.
The point of personal lubricants is to reduce friction and prevent tearing, which makes lube necessary for safer anal play (ideally something silicone-based) and advisable for use with silicone toys (ideally something water-based, as silicone lubricants can bond with and degrade silicone toys). They're great for minimizing pain if you have vulvodynia, and they're a handy aide for anyone who doesn't produce a lot of their own natural lubrication.
Needing or wanting to use lube during sex isn't shameful, and it isn't a sign that there's something "wrong" with you. All bodies are different, and that's okay!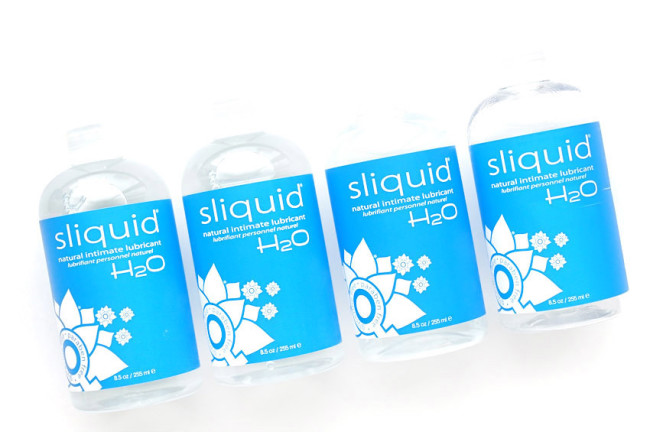 Why Sliquid?
I'll tolerate a lot of "bad" ingredients in my makeup, but not in my lube. Because pink skin is so much thinner and more permeable than the skin that covers the rest of your body, anything you put on your genitals or in your mouth is going to absorb more quickly and at a higher rate than usual. (That's why sublingual and suppository drugs work.)
So, when it comes to my lube, I like to avoid parabens, petrochemicals, phenoxyethanol, and propylene glycol. I also avoid glycerin, which can convert into simple sugars in the vagina and cause yeast infections.
Sliquid is my lube of choice because they're a sex-positive company that formulates without any of these ingredients. They have clean, genderless packaging on all of their lubricants, and they're widely available, making it easy to choose a body-safe lube every time.
» Sliquid is available at all of my favourite sex toy retailers, including SheVibe, Come As You Are, and PinkCherry.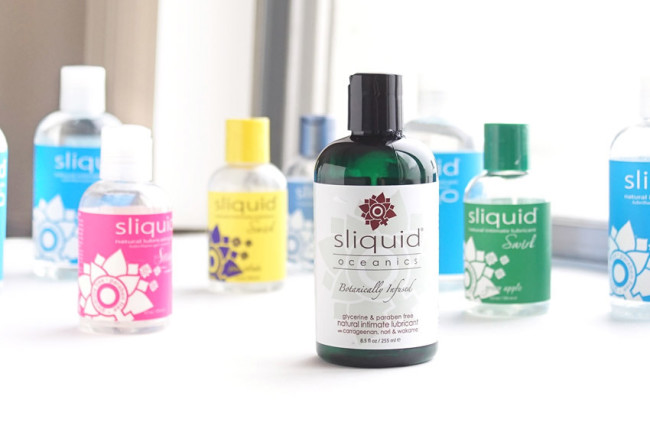 Sliquid H2O vs Sassy vs Oceanics: which one is right for you?
There are three main "plain" Sliquid water-based lubricants, and I've tried them all. (What? I've been planning this review for a long time.) My favourite of the bunch is Sliquid Organics Oceanics ($17.99 USD/$27 CAD/$22.99 CAD), which I find to be just a little more natural-feeling than Sliquid H20.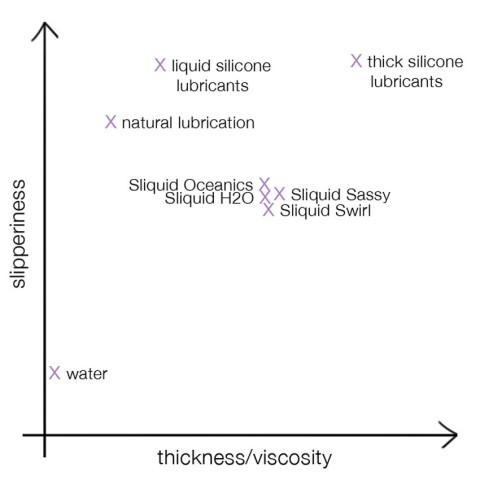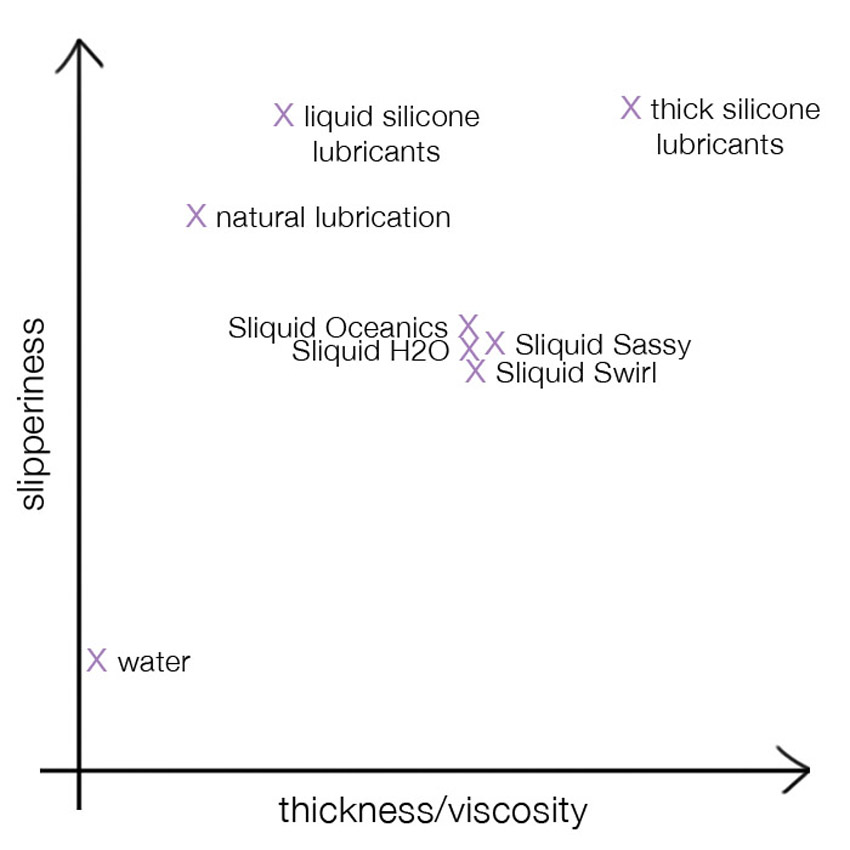 How these lube formulas compare in texture and feel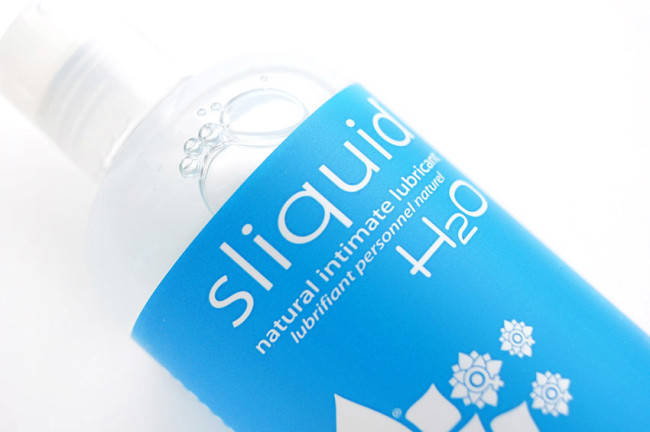 The lube that I typically purchase, however, is Sliquid H2O ($15.99 USD/$18.99 CAD). It's the brand's flagship product, and it's usually a few dollars cheaper than the Organics. The difference between the two is practically imperceptible, so with the cost difference in mind, I'd recommend the H2O. (Unless, of course, organic is important to you!)
Finally, Sliquid Sassy ($15.99 USD/$19.99 CAD) is the brand's water-based lube designed for anal use, and it's a little more plush than the other two. However, I find that the thicker texture makes it dry a little faster, so I'd actually opt for the silicone based/blended Silk, Silver, or Ride for anal play.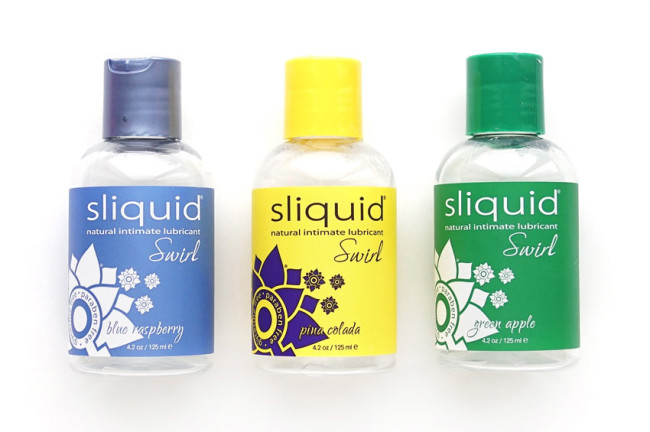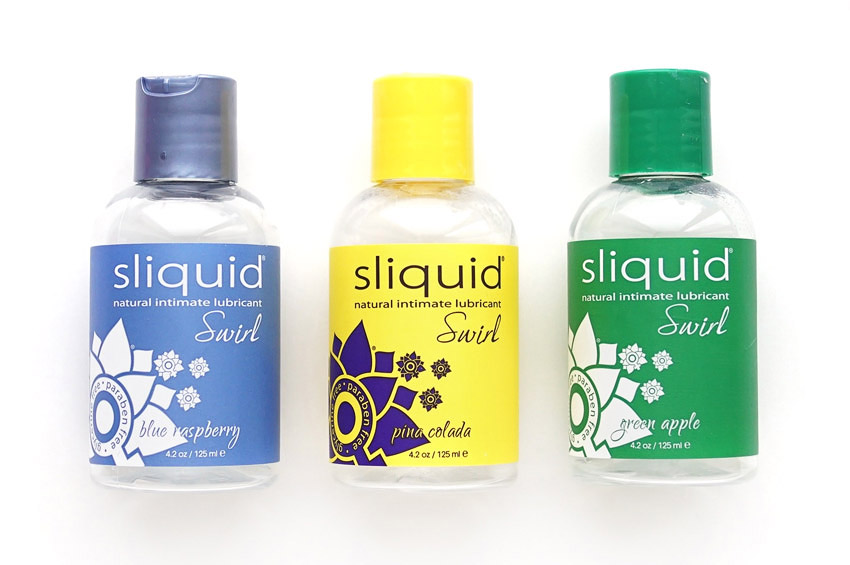 Fancy a flavoured lube? Try Sliquid Swirl
One of the best things about Sliquid is that they make one heck of a flavoured lube. The flavoured Sliquid Swirl line (find it at SheVibe, CAYA, and PinkCherry) includes a wide range of subtle fruity flavours, each as tasty as the last.
Sliquid Swirl lubes are glycerine-free and sweetened with a small amount of aspartame, so they never taste bitter. They're almost identical in ingredients to the Sliquid H2O formula, but I've always felt like they dry out a little bit faster. My current partner doesn't notice a difference between any of the different formulas, though, so perhaps it's all in my head.
I'm dying to try the new Swirl Tangerine Peach, but for now, my favourite Swirls are Green Apple (an excellent, lightly-flavoured sweet green apple taste that never gets old) and Pina Colada (a pineapple-y coconut that seems to fit just perfectly with group sex.)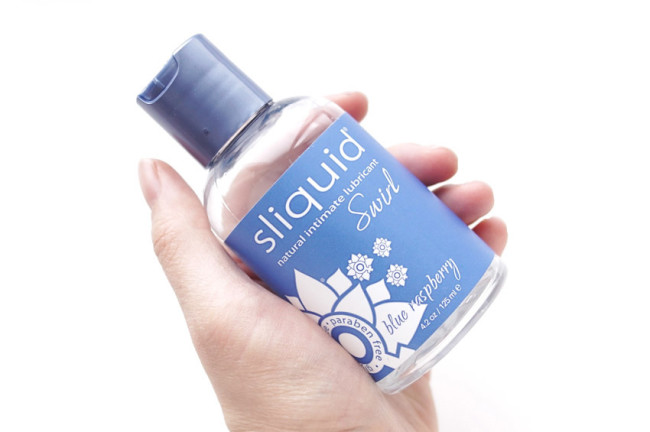 The verdict?
Overall, I'm a big fan of Sliquid lubes. They're the favourite brand of most sex bloggers, and their popularity makes them pretty easy to find. All Sliquid formulas are free of parabens and glycerine, so they're body-safe, and the water-based formulas covered here are silicone-free and won't stain your sheets.
Of the bunch, my must-haves are Sliquid Organics Oceanics, H2O, and the Swirl Green Apple flavour!
Availability: Sliquid can be found at SheVibe, Come As You Are, PinkCherry, and most independent sex shops.