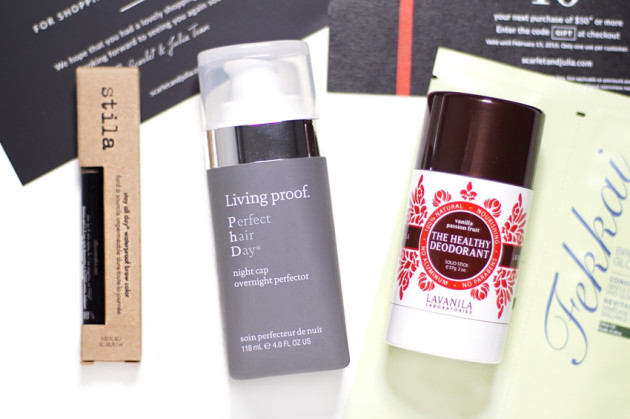 The products: Living Proof PhD Night Cap Overnight Perfector, Lavanila Vanilla Passion Fruit Healthy Deodorant, and Stila Stay All Day Waterproof Brow Color in Medium
It can be really tough to pick what to review when you haven't done it in a while (okay, like, a week), but today, I was hit by a little bout of inspiration as I was getting out of the shower: why not review my Scarlet & Julia haul from last year?
(I know. I'm the worst.)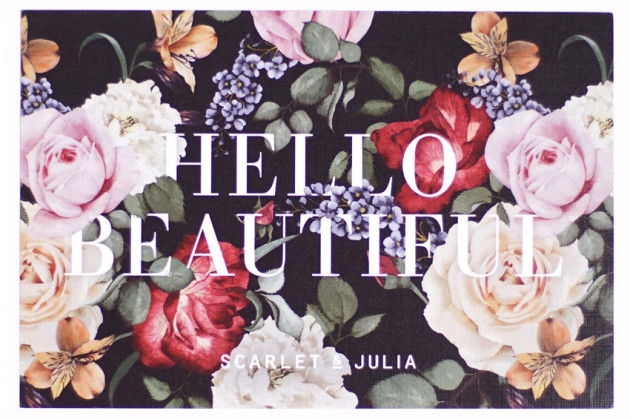 Scarlet & Julia is an awesome Canadian online shop that carries brands like St. Tropez, Stila, and Lise Watier, with a bonus members-only "Beauty Outlet" section. (Think HauteLook, but without the insane Canadian shipping and processing fees.) They sent me a gift card last year to check out the store, and I put it towards part of my order.
Personally, I really like it when stores send out gift cards instead of product samples, because you get to experience the actual store with no extra bells and whistles. And my experience was great: the site's easy to navigate, the sale section is really good (that Stila brow colour was actually purchased as a backup because it was so cheap at S&J), and my order came with a free sample of Fekkai Brilliant Glossing Conditioner and a $10 off promo code.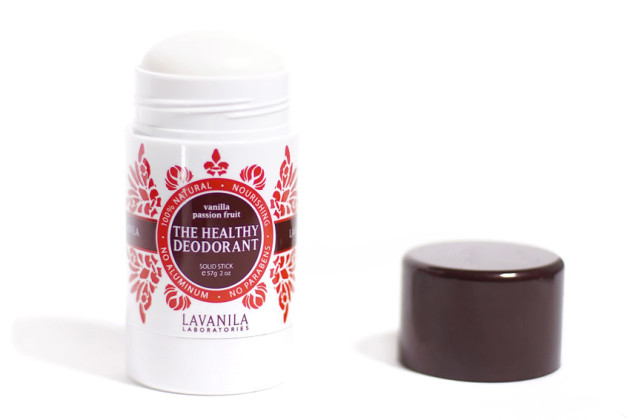 Lavanila Vanilla Passion Fruit Healthy Deodorant ($17 CAD)
I really liked both of the new products that I ordered, too. The Lavanila Vanilla Passion Fruit deodorant was way more expensive than my usual deodorant choices (typically just a stick of men's Axe or Degree), but it smells amazing and works really well. I liked that the stick felt like a "regular" deo, too – most silicone-free choices are all either gel-based or really pasty, but this was neither.
Lavanila's passion fruit scent is surprisingly tart, which was a nice surprise. It's light on the vanilla and heavy on the guava, too – think of it as more of an unsweetened fruit smoothie than a hearty dose of diabetes.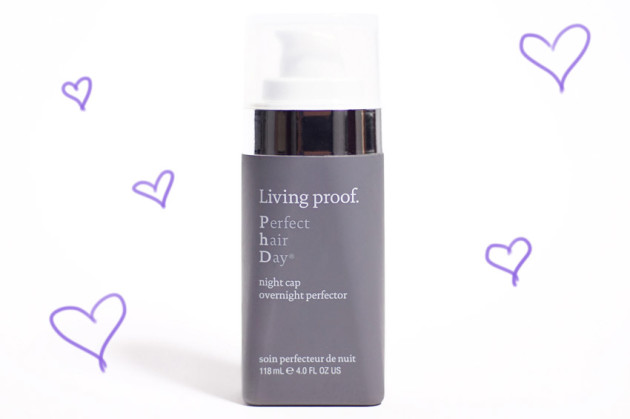 Living Proof PhD Night Cap Overnight Perfector ($34 CAD)
The biggest hit from my order, though, was the Living Proof PhD Night Cap Overnight Perfector. This stuff is MAGIC. I have no idea how it works its magic, but you put a little bit into damp hair from roots to ends, sleep on it, and wake up with model hair. 
It gives just the right amount of conditioning and shape, holding in some slept-on shape while still feeling totally product-free and touchable. Plus, it's so non-greasy that you can even work it into your roots and wake up with grease-free hair.
It's silicone-free and smells a lot like Elizabeth Arden Green Tea (one of my guiltiest pleasures), so really: zero faults here.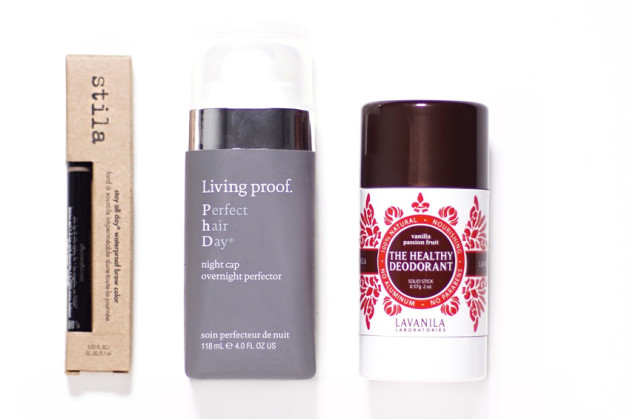 The verdict?
I really liked ordering from Scarlet & Julia, and you know what? I'd do it again. I like that they're Canadian, I love the way they package their orders, and they were probably the only online shop that I could have made this particular order at.
The Living Proof Night Cap is also available at Sephora, but had I ordered from there, I wouldn't have gotten 40% off of my Stila Brow Color. I wouldn't have been able to get that Lavanila Healthy Deodorant in Vanilla Passion Fruit, either; for some reason, no one else seems to carry it here in Canada!