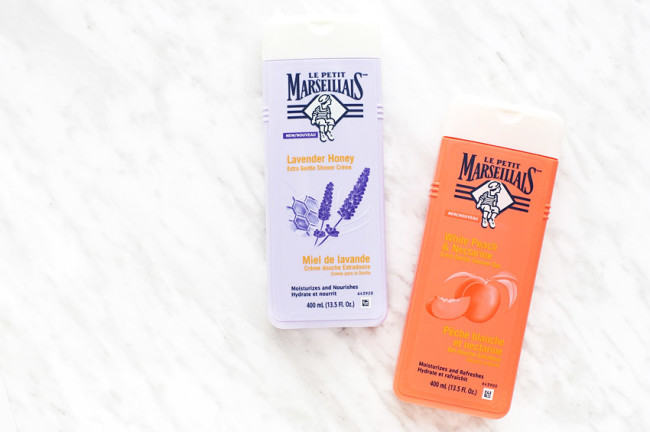 The product: Le Petit Marseillais Extra Gentle Shower Crème in Lavender Honey and Orange Blossom; Extra Gentle Shower Gel in White Peach & Nectarine
Le Petit Marseillais (pronounced "mar-say-yay") has been a French pharmacy staple for years. Born in the south of France, this body wash line is the #1 best selling body wash brand in France.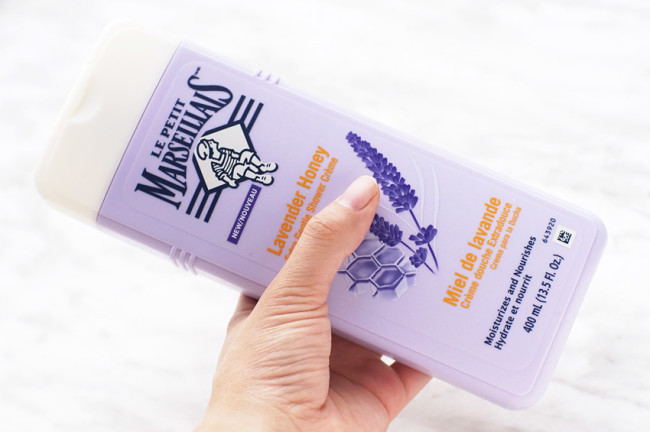 Getting your hands on Le Petit Marseillais
Beauty lovers have been smuggling bottles of Le Petit Marseillais back into Canada for years, but the brand is finally available in stores in Canada and the US. You can pick these babies up at Rexall at $7.99 CAD for 400 mL, which is a pretty good deal–these babies are huge. (In the US, you can get 700ml for $8.50 USD at Walgreens.)
I find the Le Petit Marseillais formulas to be pretty easy on my skin, but they're still shower gels. They're designed to be pH-neutral, but if I wash with them and I don't moisturize adequately, my skin still gets quite dry.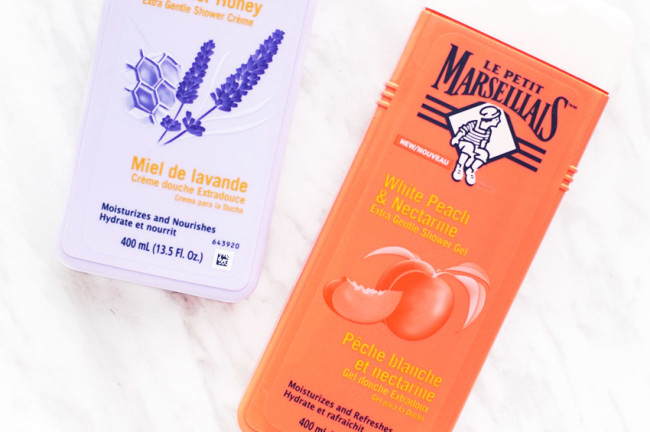 Le Grand Marseillais
The Le Petit Marseillais range isn't actually so small–in France, they currently offer 22 different shower gels and shower crèmes. But here in Canada and the US, you can get your hands on five. My favourites are the Orange Blossom Shower Crème (the brand's bestseller) and the White Peach & Nectarine Shower Gel, but I've also been keeping the Lavender & Honey Shower Crème around. I can't stand honey-scented products, but it's just a really interesting scent–not something that you'd usually find in the drugstore.
There are two other scents that I didn't photograph for this review, but will be cracking into once I run out of these: Vanilla Milk Shower Crème and Cotton Milk & Poppy Shower Crème. I've heard that the Vanilla Milk Shower Crème is particularly hydrating, so it's definitely the next one I'll be using.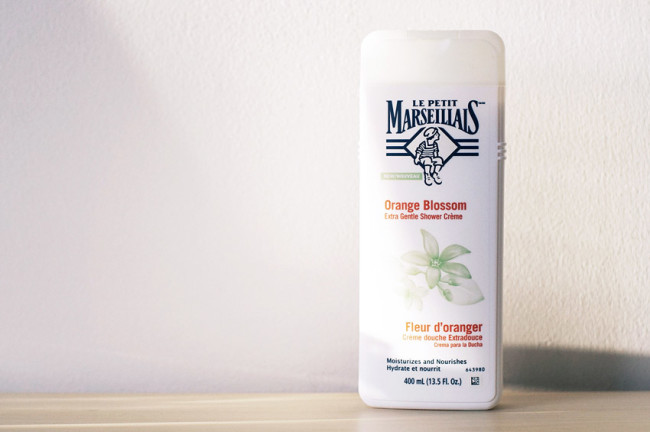 The Le Petit Marseillais verdict?
I really like the Le Petit Marseillais body washes, but I don't love them. And I have one big reason why I don't: their size.
While the line's packaging is super cute, it's also super big. These bottles are 400 ml, and I am constantly dropping them in the shower when I tip them over. I'd LOVE to see these in 200 ml packaging–or even better, 400 ml packaging with a pump!
Availability: $8.50 USD/$7.99 CAD. Find them at Rexall and Walgreens.