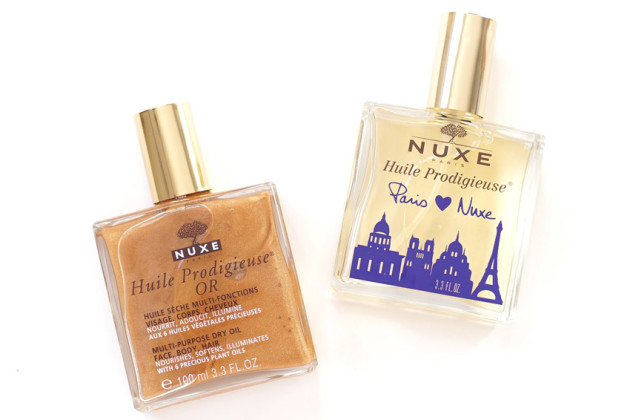 The products: Nuxe Huile Prodigieuse Dry Oil, Huile Prodigieuse OR Dry Oil, and Prodigieux Shower Oil
Along with their Rêve de Miel, Nuxe's Huile Prodigieuse is the brand's golden (sometimes literally) star. So, today, I have not one, not two, but three Huile Prodigieuse reviews to share with you–and strangely enough, I have vastly different opinions about all three.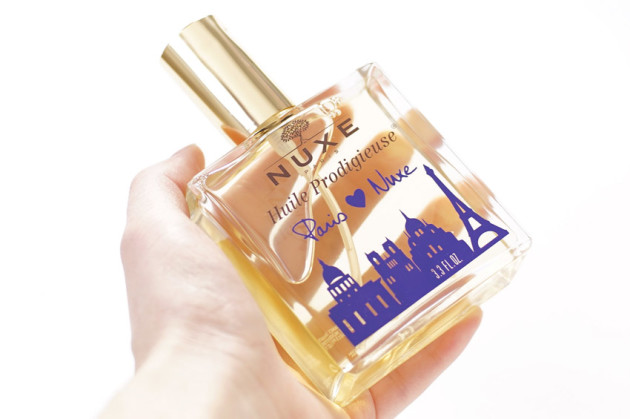 The original Huile Prodigieuse ($45 CAD): Alright, I'm just going to come out and say it. While I have a lot of love for the Nuxe and Bio Beauté by Nuxe labels on the whole… I just don't like the Nuxe Huile Prodigieuse dry oil.
Now, don't get me wrong. I love the classic packaging (that alone is worth half the cult following) and I love that it comes out in limited edition prints each year. I love that its formula is 97.8% natural and contains six botanical oils as its base–macadamia, hazelnut, borage, sweet almond, camellia, and St. John's Wort.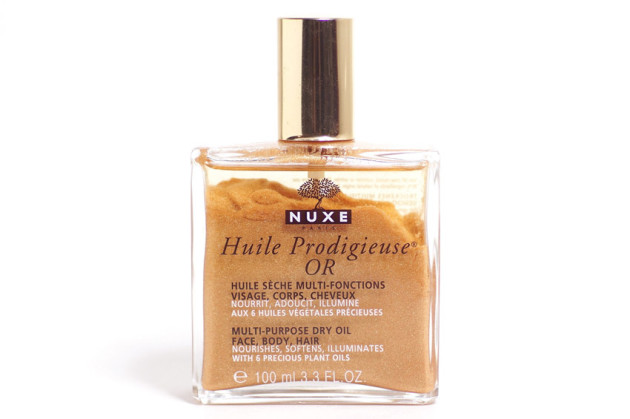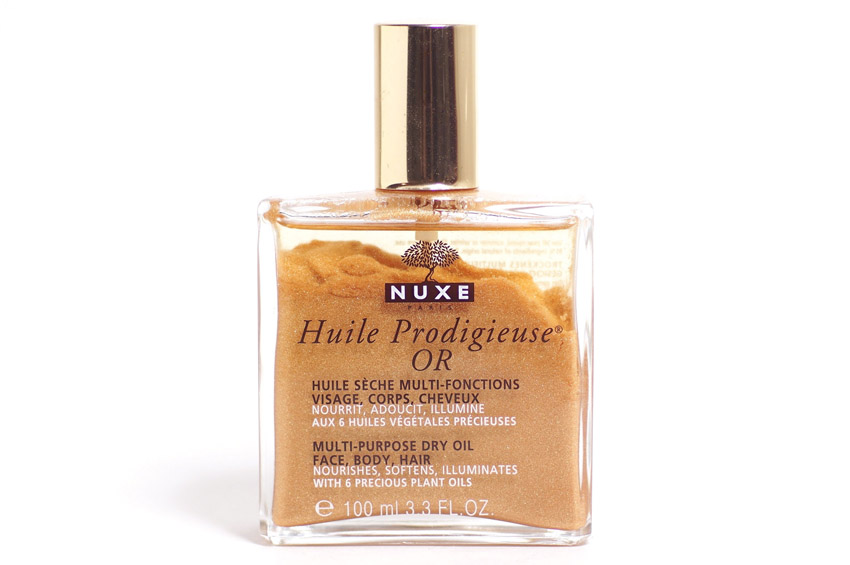 Nuxe Huile Prodigieuse Or review. Look at all of that beautiful, cloud-like shimmer!
I love that it's enriched with vitamin E and is silicone- and preservative-free, and I love the heady, addictive Huile Prodigieuse fragrance: it smells like summer to me, with its big floral notes and coconut & vanilla base. And, of course, I love that it's marketed as a multi-use oil; light enough to add shine to your hair, moisturizing enough for the body, and delicate enough to be mixed into your facial moisturizer.
My ex used her Huile Prodigieuse for everything, and it worked amazingly well for her. She always smelled delicious and soft, and her hair (also done up with this oil, of course) was always super gorgeous. But on my skin and hair, it just feels like such a dry dry oil, as if I'll never feel hydrated and non-staticky ever again.
(Nuxe's offshoot brand, Bio Beauté, makes a body oil that I much prefer to this one.)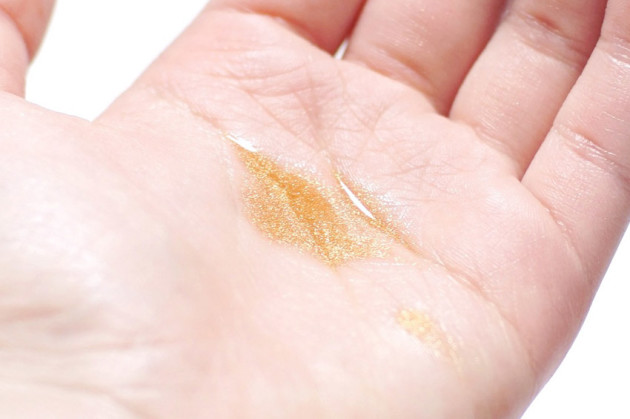 Nuxe Huile Prodigieuse Or "swatch" (artificial lighting)
The Huile Prodigieuse Or ($45 CAD): While the original does nothing for me, I have formed a certain fondness for the golden shimmer version of this Nuxe cult classic. It's extremely glittery and glamorous, and while Nuxe is full of lies when they say that it can be used on your face, but on the body, it's a lot of fun.
There aren't a lot of shimmering body products that you can use if you're silicone-free, so this one is a treat to find. It's no more expensive than the original, but it can be used more easily as an adjunct product: I can moisturize normally, then apply this sparingly as a bronze shimmer and summer fragrance.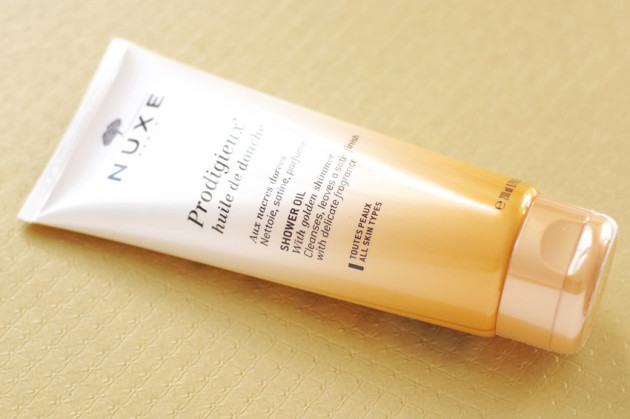 The Prodigieux Shower Oil ($16 CAD): The Huile Prodigieuse line is an expensive one (body oils frequently are, as they're completely undiluted with water or fillers), so I was very happy to see the brand introduce a full-sized product at a lower price point. The brand new Prodigieux huile de douche is gorgeous to use and feels every bit as luxurious as the original oil, if not more.
A rich, thick shower gel, this shower "oil" is woven through with golden pearl and features a brighter version of the summery Prodigieux fragrance. It's nicely hydrating (though not as moisturizing as those new Aveeno shower gels), and while I was hoping it would act more like an in-shower moisturizer, it's a great way to add a dose of gold to your shower routine without being scented or shimmery all day long.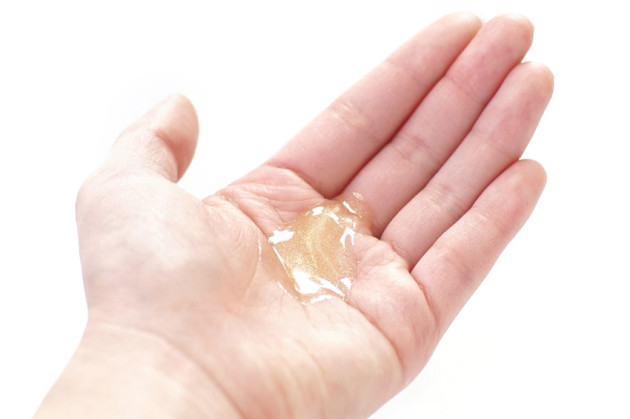 The verdict?
As someone with dry skin, none of these products are must-haves for me. However, they make lovely gifts, and the shower gel and gold oil have secured themselves a permanent place in my summer cabinet!
Availability: $45 CAD for the oil (limited edition 2016) and Huile Prodigieuse Or; $16 CAD for the Prodigieux Shower Oil. Available at Shopper's Drug Mart, Murale, and Hudson's Bay in Canada.