I know, I know: perfume is a hard thing to gift. It's hard to select one from the hundreds, it's hard to choose the right scent family and bottle size, and it's hard to get it right. 
That said, here are six scents that I absolutely love for the winter. (Confession: I actually started this post last year and forgot about it, but I'm still loving all six of these this year!) Whether you're indulging in a little holiday gift for yourself or you're choosing something for the androgynous-leaning femme in your life… I hope you love these as much as I do.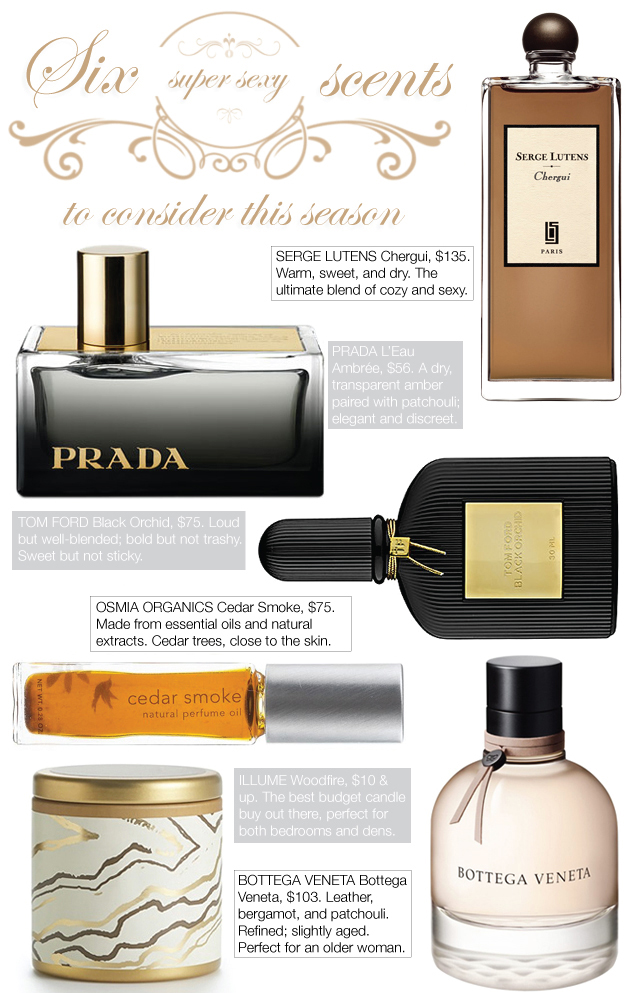 >this image is clickable!<
-Serge Lutens Chergui ($135) – If I had to pick an all-time favourite perfume, this would be it. It's the perfect blend of dry, warm, smokey, and sweet, and wears just beautifully in the winter chill. (Plus, it's like catnip for M — but don't tell him I told you; I'm not sure he knows yet.)
-Prada L'Eau Ambrée ($56) – L'Eau Ambrée has been discontinued and is getting harder and harder to find, but it's one of the cornerstones of my fragrance collection — so snap it up now, if you can. It's simple a wisp of silvery smoke in the night, simple but not boring, and it is my longest-standing perfume love. Full review here.
-Tom Ford Black Orchid ($75) – This is definitely the most feminine of the bunch, but it's far more outrageous and brash than it is girly. Expect a loud perfume, but a well-blended one — it carries none of the astringent or sticky-sweet notes most "loud" mainstream perfumes. Read my full review here.
-Osmia Organics Cedar Smoke ($75) – I really wanted to include an all-natural perfume in these picks, and Osmia's Cedar Smoke had to be it. Not quite as sharp or as strong as Juniper Fire, it smells wonderfully natural and woody.
-Illume Woodfire ($10 and up) – This one's not a perfume, but it's definitely a scent. Woodfire may be my favourite candle scent ever (so far), and is an amazing steal for $10. It smells like wood burning in an outdoor fire pit, and even my mini sized tin has enough throw to fill my whole room within minutes. (Also, Illume makes matching matches!)
-Bottega Veneta ($103, on sale at Nordstrom) – Read my full review here! This one has lots of bergamot and patchouli, and it leaves behind the most divine tendril of leather…
What scents are on your wishlist this year?