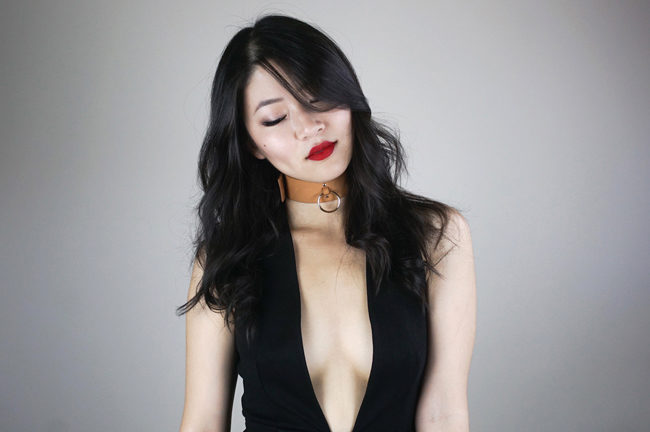 Do you know how many holiday parties I have to go to this year? Like, none okay, like probably three. Because I never leave my house. I'll be going to them in the locally-designed dresses from Workhall that I picked up last week, but I tried out this Tobi dress trio first.
These three LBDs cover three entirely different parts of the holiday dress spectrum, which I love. I've wanted to check out a Tobi dress for a long time, and I was super psyched to finally get to – but though they're stunning, these dresses didn't fit the way I hoped they would.
The holiday chill sesh Tobi dress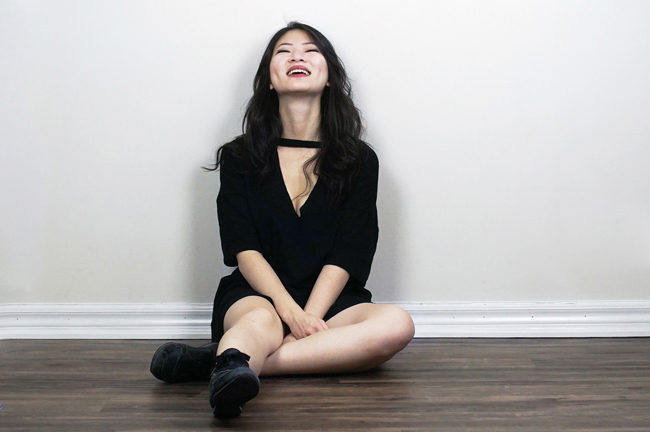 WEARING Tobi Bailey Choker Tee Dress ($38 CAD) with Diesel sneakers. Aveda Lipstick in 31 Orellana Sun.
What's more chill than an oversized tee? An oversized tee with a cool-girl choker collar and a deep V.
I wasn't sure that the Bailey Choker Tee Dress would fit my vibe, but I think it's the only dress of these three that I'm actually going to be able to wear out of the house. It's not too showy, and the huge-but-sheer size of it is just incredibly chill. 
You know, like, "I'm here and I think you're cool, but I don't want you to think that I'm too into you, so I'm not going to dress up for this but I'm still going to look hot." (Honestly though, I have a tendency to just overdress for everything. If I'm into someone, they should know and they should feel honoured.)
This Tobi dress is the perfect length for my short-girl frame when paired with sneakers. It's inordinately wide, so I'd definitely dress up the rest of my look for a party setting – curled hair, a bit of lipstick, and my new go-to lashes are more than enough.
The maneater Christmas party look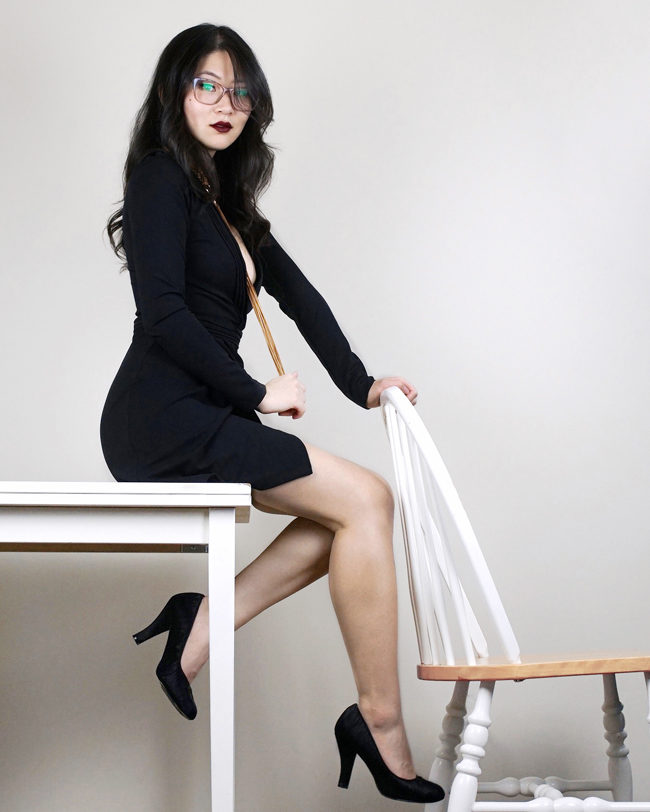 WEARING Tobi Ava Long Sleeve Bodycon Dress ($94 CAD) with Bijoux Indiscrets Tassel Choker in Brown ($35 USD/$45 CAD). Maybelline Super Stay Matte Ink in 50 Voyager ($9.49 USD).
I am all sorts of crazy about this dress, you guys–but I don't think I'll ever be able to wear it out of the house.
Everything about this Ava look is so extra, from the super dark lip (Maybelline's Super Stay Matte Inks totally pass the kiss test, even through a heavy makeout sesh) to the tassel choker. But this Tobi dress itself is tiny. I routinely slip out of it from both the top and the bottom, so buyer beware… Unless you're far more confident with your body than I am.
That being said, this dress was by far my favourite of these three. It's unabashedly sexy, with a plunging neckline and a short hemline. The extra small was a great fit for my frame (I'm usually about a size 4), and the sleeves weren't too long for me, either. It's just an issue of falling out of it, really: it's the perfect fit as long as you don't move or bend at all.
I'll definitely be posting more about the Bijoux Indiscrets Tassel Choker that's paired with this dress, but for now: make space on your holiday wishlists. It's so much fun.
The sexy night in LBD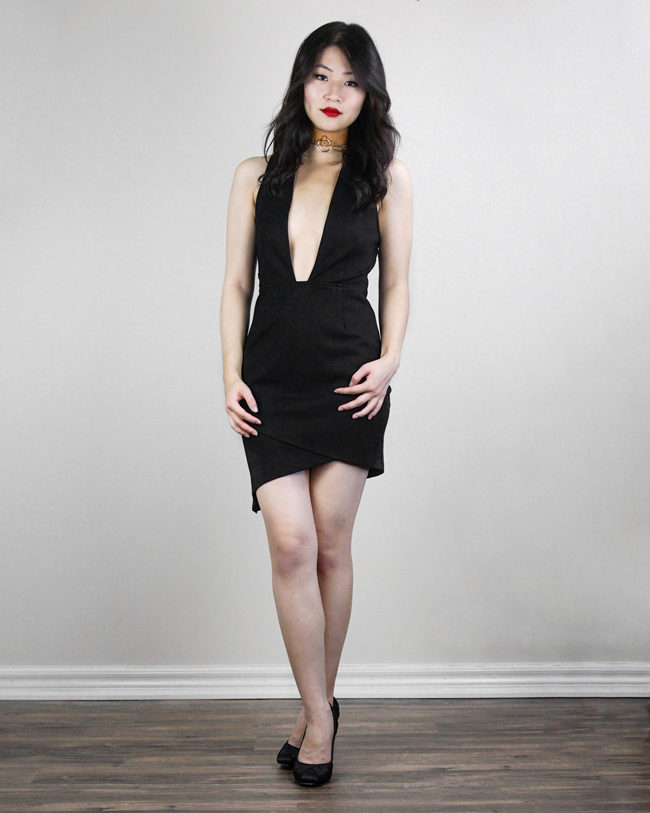 WEARING Tobi Night Owl Plunging Bodycon Dress ($54 CAD) with Bijoux Indiscrets Wide Choker in Brown ($45 USD). Sephora Collection Creme Lip Stain in 01 Always Red ($12 USD for four).
The last dress in this trio is honestly my ideal holiday dress, and I was expecting it to be my favourite Tobi dress of the three. And, in the right size, I think it may have been.
But the Tobi Night Owl dress was a LOT bigger than I was expecting, and I could have easily fit into an XS or (if they made one) an XXS. I pinned the back in three different places to make it work for this shoot, and it's still rippling out a bit in the side-view photographs.
It hits a great blend of giving you that super low neckline without a super high hemline, though, and it looks fantastic with a red lip. (This is the classic Sephora Creme Lip Stain in Always Red, which lasts well but doesn't pass the pasta or makeout tests.) I love it with a nude collar – this is the Bijoux Indiscrets Wide Choker in Brown ($45 USD), without its leash.
What you need from these holiday makeup looks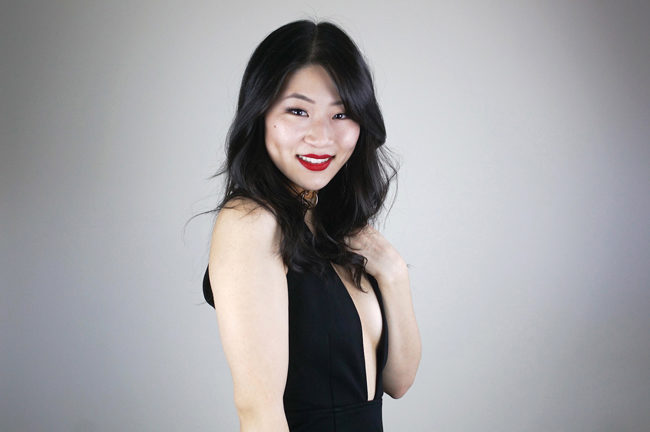 You totally need a tube of Maybelline Super Stay Matte Ink in 50 Voyager ($9.49 USD), or any of the other colours that it's available in. The formula feels a little tight on the lips, but it's incredible: it lasted five hours on me, easy, even through a bowlful of noodles, a bubble tea, and some vigorous tooth-brushing. (It didn't even start to show signs of wear until seven hours later.) I've never been able to make out with someone while wearing a dark lip before, but this makes it possible.
Which is really all I needed to complete my life.
I would also definitely recommend the Sephora Wonderful Stars Eye & Face Palette ($16 USD/$23 CAD), which isn't a super high quality palette, but it's a steal for the price. The Kiss Looks So Natural Lashes in Shy (~$5 CAD/$4 USD) are a must, too – they're all I've been wearing for the past month.