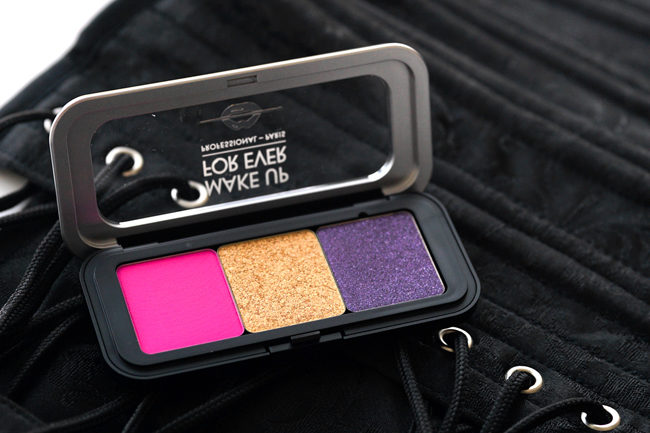 The product: Make Up For Ever Artist Color Shadow in M853, D410, and D926
Make Up For Ever updated and reformulated their pressed colour products this winter. If you'll remember, I liked the Artist Face Colors – but had chosen colours that were a little too "out there" for me. Spurred on by how chaotic things have been recently, I did something similar with my Artist Color Shadow picks, in cooler hues.
(Basically: I fucked up the first time, so instead of returning to the status quo, I doubled down and did it again the second time. Nobody in my life was surprised.)
These bright eyeshadows are as unlike me as anything, but I loved working with them. The new range, like the face colours, also sells as refills and palettes. There are 121 shades available in five finishes, which promise 12-hour wear, "complete color saturation with one swipe," and a "smooth, even texture."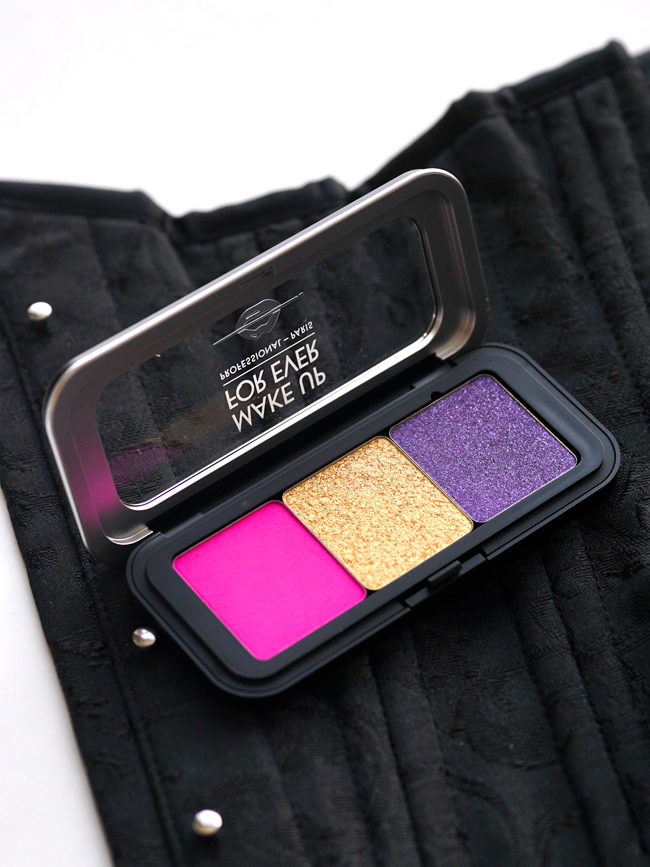 The Artist Color Shadow matte finishes (M853)
Mattes are something that Make Up For Ever has always done well. If M853 ("matte neon pink") is any indication, this new formula is no deviation from that.
My first Make Up For Ever eyeshadow was a beautiful, vibrant, matte purple – #92. I still have it, and even though the range has been revamped twice since then, I still use it on a regular basis to cool down/muddy up my eyeshadows. (Mattes were never intended to be eyeshadow toppers, but I use it as one on a fluffy blending brush. It's never done me wrong.)
#92 was an exceptional matte when I bought it, probably back around 2011. But it pales in comparison to M853. While my old matte was beautifully pigmented, the formula is quite dry. The updated mattes are smoother, completely opaque, and easier to blend. They remind me of Shu Uemura mattes, somewhat, but pack considerably more pigment.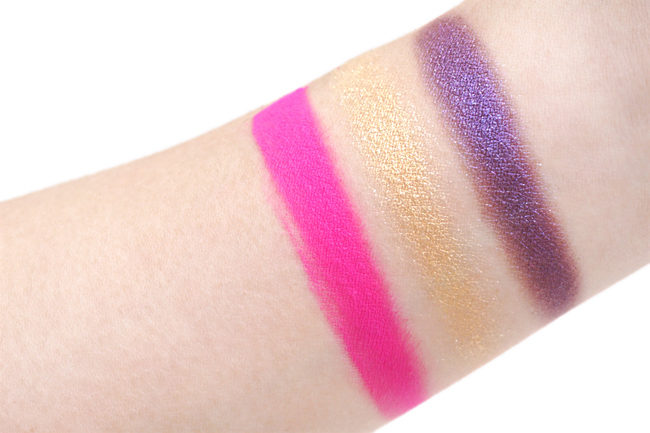 Make Up For Ever Artist Color Shadow swatches: M853, D410, D926 (over primer; indirect sunlight)
The Artist Color Shadow diamond finishes (D410 and D926)
The Make Up For Ever Artist Color Shadows aren't what I was expecting out of a diamond finish, and I love them all the more for it. (It's a theme that seems to be running through my life right now. Perhaps it's the overarching one for this particular instalment.)
While I was anticipating more of a metallic finish, these are a glitter. As described on the Sephora site; D410 is a "glitter gold nugget" and D926 is a "glitter blueberry." That means that they're inherently semi-sheer rather than something that delivers "complete color saturation," but they're woven throughout with a beautifully dispersed glitter finish.
It's best evidenced in the D926 swatch and in this eye look: a beautiful iridescence and a rather otherworldly glow.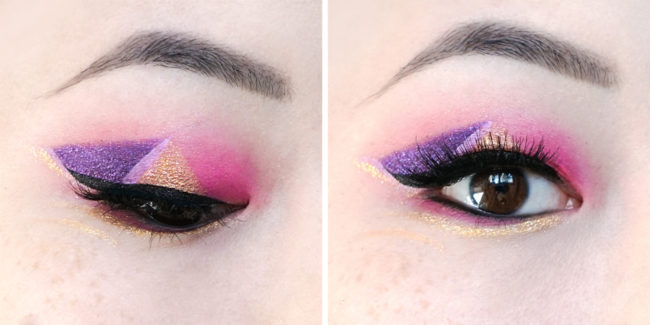 The look: a graphic glow
I was really impressed by these eyeshadows, but I don't love this makeup look. I've been foggy all month, and it's been hard to be creative. Every look I've done recently is more of the same: neutral eyeshadows, a bit of a cheek, and a dark lip.
But this eye makeup did what I wanted it to; that is, it shows off how iridescent those diamond shadows are when foiled, as well as how stubbornly translucent they remain. It shows off, too, how the matte seems to glow with its vibrance – and how easily its edges blend.
I paired these eyeshadows with the Make Up For Ever Aqua XL Ink Eye Liner ($24 USD/$30 CAD) in L-90, a satin-finish lilac that's also only semi-opaque. The lashes are KISS Lash Couture in Boudoir ($5.99 USD).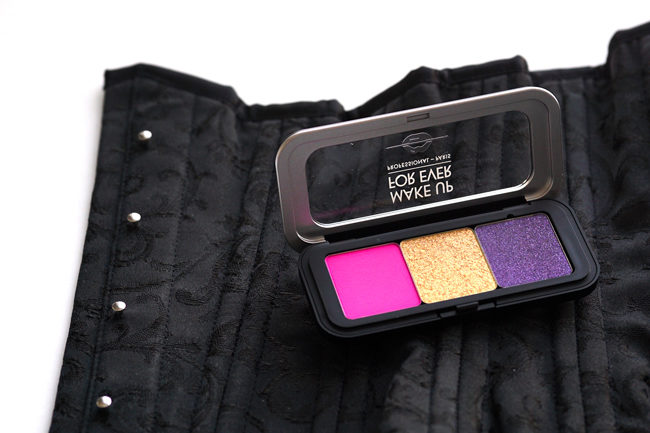 The Make Up For Ever Artist Color Shadow verdict?
Yes. As with the Artist Face Colors, I would absolutely recommend these. I know that everybody loves Make Up For Ever's foundations, but if you ask me, their pressed pans are really what made them an industry icon.
These eyeshadows are a pleasure to work with, and I have no doubts that all 121 shades are equally as impressive. Turn to these if you ever need a matte – they won't let you down.
Availability: $17 USD/$22 CAD at Sephora. Trios are $50 CAD ($68 CAD value) with a palette.