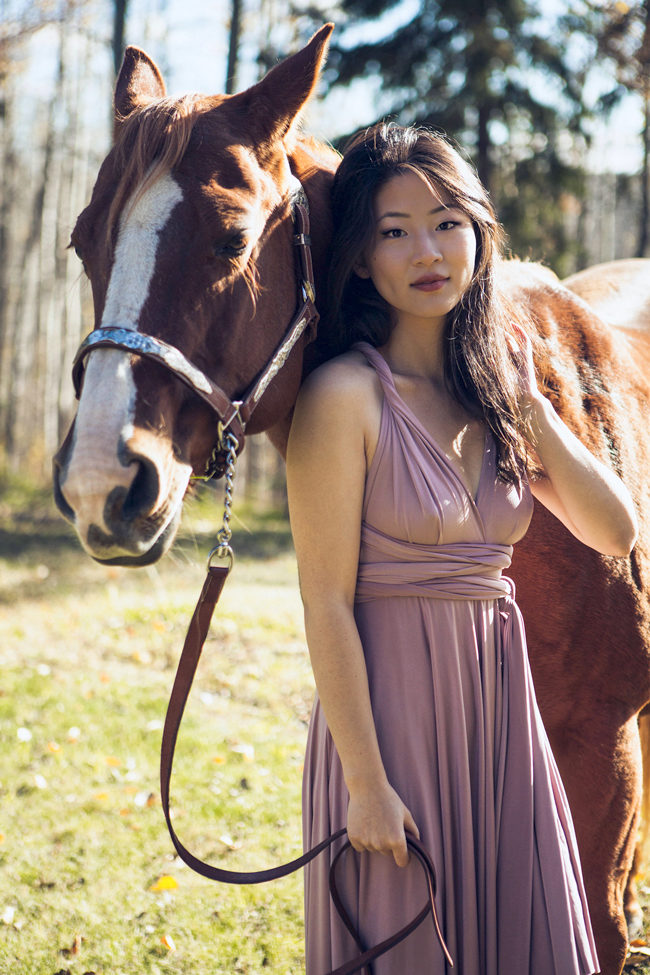 Shot by the absolutely amazing Chelsey Belec. (Find her at @chelbel for bookings!)
The product: Henkaa Sakura Maxi Convertible Dress in Mauve Taupe
Back in August, I posted about one of my favourite finds of the year: a super cool convertible dress/top/skirt from Henkaa. I'm still loving the Henkaa Blume, but what has my heart right now is the Henkaa Sakura Maxi in the relatively new Mauve Taupe.
(I mean, Mauve Taupe was brand new when I first tried it on, but then I did my thing and took forever to get this post up, so… yeah. I was so ready for it, too! But then I re-shot the images three times, and now we're here!)
The Sakura is to fall what the Blume was to summer, and if you thought the Blume was convertible… you're going to lose your mind over the Sakura. (I did.) It comes in two lengths, midi and maxi, and just an absolute rainbow of colours.
This dress can be worn in 60+ different ways, and it's really easy to tie. I have it styled two different ways in this post, with a third coming up in the winter.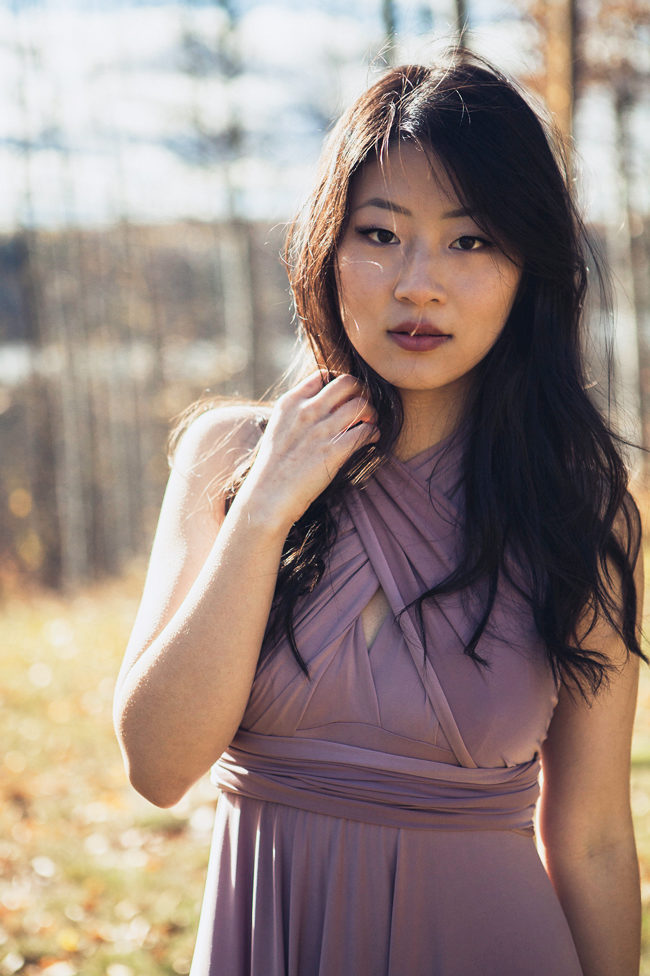 Wearing: KISS Blooming Lashes in Lily, Inglot eyeshadows, and Burberry Lip Colour Contour Pen in Fair
What the Henkaa Sakura Maxi is great for
Um… everything?
The Henkaa Sakura Maxi is perfect as a wedding dress. It's amazing as a bridesmaids dress. And it's gorgeous as a maternity dress. It's great for fancy dinners and evening parties, and it can be styled with an assortment of wonderfully sparkly embellishments and overlays.
Basically, the Sakura is killer for any event in which there'll be a professional photographer. But it's not so great for casual get-togethers, so I really don't understand why I'm so in love with it. (Like any good blogger, I never go to fancy things, and I rarely leave the house.)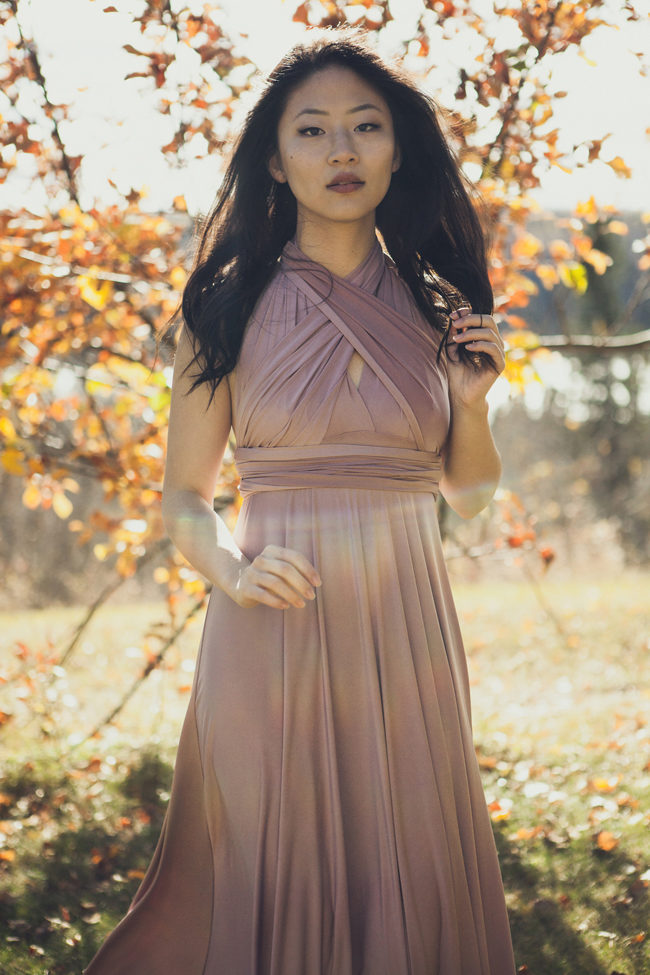 The versatility of the Sakura's design means that it can be worn again and again, or purchased full-length for a wedding and then cut to a midi length afterwards. It comes in two sizes to fit sizes 0-24, and it's wrinkle-resistant and made in Canada.
However: Henkaa's Lenaa fabric can be quite sheer. I could see my nude bra clearly underneath the Pure Ivory Sakura, and without the bra, my nipples went full deer-in-the-headlights. Many of its styles won't cover up bra straps, so depending on your build, it may not be the most forgiving dress. (Its generous folds make it very lengthening, though!)
Like the Blume, the Sakura will fit people who fall in the middle of the size spectrum the best, but it's great for any height.
The verdict on the Henkaa Sakura Maxi?
I know, beyond a shadow of a doubt, that I need to own the Henkaa Sakura Maxi Convertible Dress in Pure Ivory. Despite its sheerness, the only thing still up in the air is whether that's going to be for theNotice or for my far-off wedding day – but it's going to happen.
That's how much I love this dress.
I am endlessly fascinated by convertible dresses, and the Henkaa Sakura is an absolute vision in both mauve and white. If you dress up a lot for work (my friend Bri attends a lot of weddings, for instance) or you need an event dress that you'd like to be able to wear again, start your search here!
Availability: $168 CAD at Henkaa.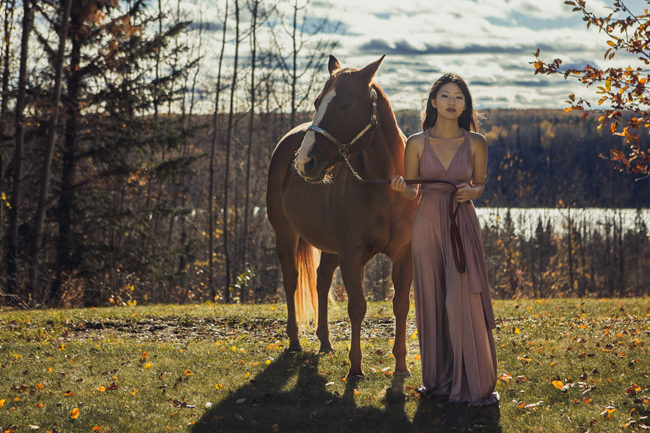 H/t again to Chelsey for making me look far cooler than I actually am.