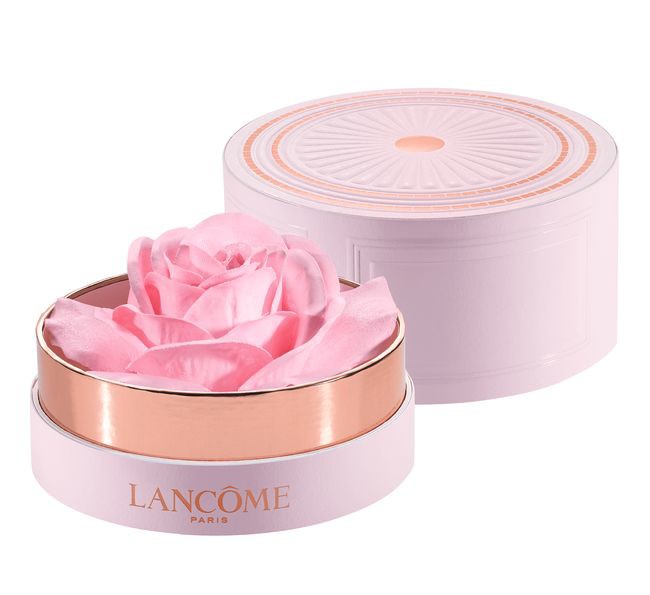 I will not spend $60 USD/$79 CAD on a single highlighter. I will not, I will not, I will…
Okay, I maybe will.
At least if I bought it I could write a Lancôme La Rose À Poudrer review, right?
Get it: At the time of publication, the limited edition spring 2017 Lancôme La Rose À Poudrer powder blush/"luminous pink highlighter" is available only at Lancôme in Canada.

In the US, it can be found at Lancôme, Macy's, and Bloomingdale's.

Here's what Lancôme has to say about the La Rose À Poudrer highlighter… 
Editor's note: Bloomingdale's lists the inspiration as specifically a "'50s French-inspired Bijou box." I'd be willing to bet that that's the work of vintage makeup-loving Creative Director Lisa Eldridge!
"La Rose à Poudrer is a giant highlighting rose powder encapsulated in a Parisian boudoir inspired pink box.  This elegant and so glamourous pretty box contains a giant rose made of delicate textile.

Each petal encapsulates a luminous pink highlighting powder to apply with the mini Parisian Kabuki for irresistible cheeks and décolleté. Definitely the most poetic highlighter that will bring an added touch of elegance to your bathroom."
This highlighter is reminiscent of Ladurée's, but I don't know… Are the two products too similar to be a coincidence? I'm calling it as a "no," as Lancôme's version has shape and shimmer while Ladurée's features loose petals with more detail and colour, but let me know in the comments if you feel differently!
(To note, Lancôme's version is also the first to feature fabric rose petals dusted in powder–meaning that the flower itself will always remain in tact, even once you use up the product completely.)