The best beauty & fashion sales around the web
(Aka the only ones I'm bothering to promote, but I'm sure there are others and they will be great! Drop your musts in the comments below.)
40% off everything + free shipping for Black Friday
I recommend the Chrome Eye Shadows, Smokey Eyeshadow Palette, Skinny Brow Pencils, Outlash and Expandable Mascaras, and Vamp Twist-Up Lipstick. They're all part of my regular makeup routine, and continually perform better than more expensive products!!
Is this fashion or is this sex toy-related? I choose to say both, but because I wear my Maze X-Harness as outerwear all the time, I'll drop this link here.
Best prices on the Maze X-Harness ($45.50) and Tassel Choker ($24.50) – look coming up soon; you totally need this).
30% off sitewide on Black Friday
Deciem always has the best Black Friday deals. I bought the Sanskrit Saponins for $9 (from $50). Go there now.
FOREO – use code BFAFF17 to get these deals before Black Friday!
25% off the ISSA + free Hybrid Brush Head (11/22-11/29)
22% off the LUNA Mini 2, IRIS, and LUNA 2 (11/22-11/29)
Henkaa
(I'm really tempted to buy the Henkaa Ivy for myself – it's a super-sexy maxi dress, and it's only $49.98!)
La Senza (CA)
I prefer Aerie and, depending on the items, Victoria's Secret to La Senza. But man: you really can't beat their Black Friday sales.
11/19-11/23: Black Friday pre-sale
11/23 at 9 AM EST-: 40% off sitewide and free shipping over $50
11/25-11/26 at 8 AM EST: 50% off sitewide, an extra 25% off clearance, and free shipping over $25!
11/28: 40% off sitewide
30% off everything + free shipping for Black Friday
I recommend the Translucent Face Powder (loose and Monochromatic pressed) and Precision Liquid Eyeliner.

Up to 50% off select beauty tools
Up to 40% off collections at Nordstrom
Get an extra 20% off select sale items for Black Friday & Cyber Monday
Free returns & free US shipping
Black Friday countdown sales, including marked-down value sets
US Black Friday deals: $15 & under
Canadian Black Friday deals: $20 & under
The best sex toy sales around the web
I try my best to recommend affordable products on theNotice, but I often find that the sex toys I want to recommend are over $100. So, when I can, I like to let you guys know about all the good sex toy sales!
A $10 AAA battery bullet vibe is nothing like a well-made, waterproof, rechargeable silicone toy, but the latter doesn't have to break the bank. Check out my favourite sex toys here, and shop them at the sex toy sales below.
Come As You Are – 11/23-11/27
CAYA currently has the best price on the Je Joue Mimi Soft ($73.92 CAD including shipping).
US conversion rates often make toys cheaper for Americans to buy from Canadian stores, and CAYA offers free shipping over $50 (Canada) and $150 (US).
Get 20% OFF all sex toys (anything that isn't a book or a DVD) with coupon code TAKETWENTY
Every order placed this weekend automatically gets a 15% OFF coupon for January!
FREE DELIVERY on all Canadian orders over $50 (and all USA orders over $150)
Amazing door crasher sale specials up to 60% OFF
LuxuryVibrators.ca – 11/23-11/27
Peepshow Toys – 11/24-11/27
Peepshow currently offers the best price on the VixSkin Mustang ($83 USD).
Blowout specials: Two Swan toys at 60% off, two L'Amourose toys at 30% off, and my beloved Womanizer Pro 40 at 30% off ($90 USD).
Black Friday progressive sale: 10% off purchases $5+, 15% off $75+, 20% off $125+, and 25% off $200+. (Sales cannot be combined, but blowout sale prices are counted in the progressive sale tier totals.)
Free US shipping over $70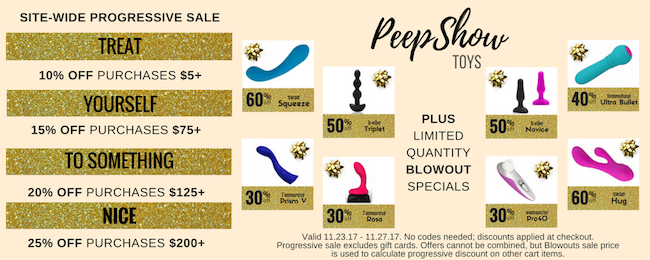 PinkCherry.ca & PinkCherry.com
PinkCherry.ca currently offers the best price on the We-Vibe Tango ($65 CAD) and Womanizer Pro40 ($90 CAD).
30% off with code BLACK30 (some exceptions apply).
Free US & Canadian shipping over $49.
Edited to add: y'all. Unicorn pasties.