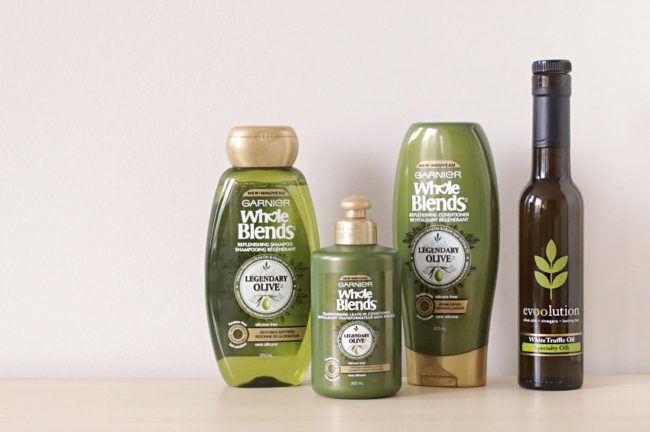 The product: Garnier Whole Blends Legendary Olive Silicone-Free Replenishing Shampoo, Replenishing Conditioner, and Transforming Leave-in Conditioner
It can be tough to stick to a silicone-free skincare regimen, but it's even harder to go totally silicone-free in your haircare. The really good stuff (like my fave Matrix Biolage R.A.W. line) can run you a pretty penny – which is why I'm always on the lookout for good silicone-free products from the drugstore, like the Garnier Whole Blends Legendary Olive range.
Don't let the Whole Blends name fool you, though: this line isn't all-natural. The olive oil products are the only Whole Blend products that are silicone-free, including the other shampoos.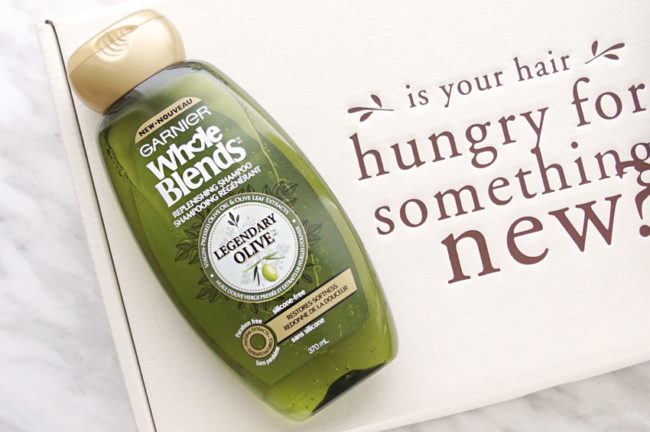 Garnier Whole Blends Legendary Olive Shampoo & Conditioner
The Whole Blends Legendary Olive collection is formulated with virgin olive oil and olive leaf extract. It's silicone-free and designed to deeply hydrate dry, sensitized hair, and it's made to be great for fine hair like my own.
For drugstore products, I think that these are great. They leave my hair really smooth and nourished, if a bit flatter than I'd like. The shampoo suds up easily, and the conditioner is easy to rinse out. The basic bottles are easy to hold, too – I actually reach for these over my Kérastase when I'm tired, because while they aren't quite as nice on my hair, at least they don't have twist-off lids.
(I hate twist-off lids. Why would you do this to us? Do you want us to get shower water in our products??)
The Whole Blends price point is just right, too: each bottle is $5.99 CAD for 370 ml (pictured here) or $8.99 CAD for 650 ml.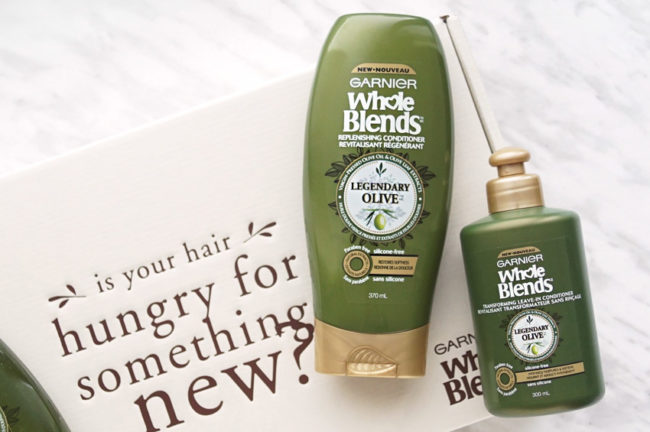 Garnier Whole Blends Legendary Olive Leave-In Conditioner
As much as I liked the Legendary Olive shampoo and conditioner, the leave-in falls kind of flat for me. It's generously portioned ($8.99 CAD for 300 ml), but it just … Doesn't really serve a purpose.
Like, okay. The shampoo and conditioner are great, but they leave my hair SO smooth and flat. Adding in the leave-in conditioner makes no difference for my hair – I actually find I like my hair a lot more if I follow up with a mousse or texture spray through the roots instead of another smoothing product.
If you have a lot of frizz, the Whole Blends leave-in conditioner might be more helpful for you, but on the whole? I say skip it – the conditioner is plenty hydrating.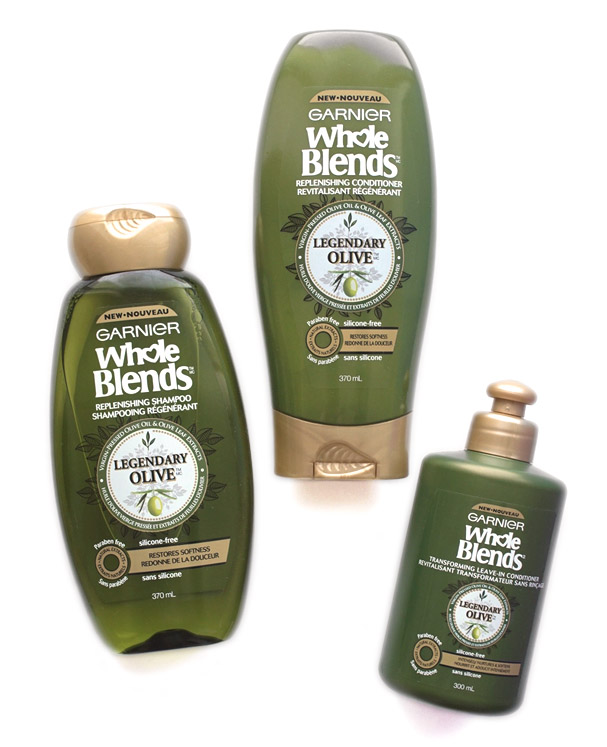 The Garnier Whole Blends verdict?
I love finding good products at a great price point, and these definitely make the cut. The silicone-free Garnier Whole Blends Legendary Olive line is easy to find and easy to use, and while there's nothing stunning about them, I don't always need my hair products to be stunning. Sometimes they just gotta get the job done, you know?
Availability: $5.99 CAD & up at drugstores and mass-market retailers across Canada, or at Amazon.ca with free shipping over $35!