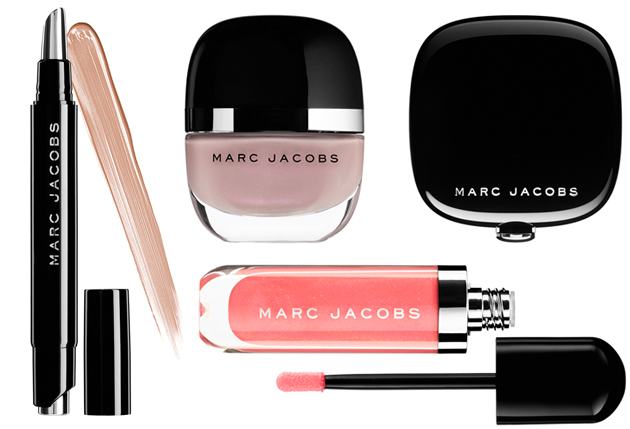 Launching this August is the much-teased Marc Jacobs Beauty line, a range of 120 new products, exclusively to Sephora and select Marc Jacobs stores.
The line, which will debut in its entirety on August 9th, 2013, will include sixteen complexion and colour cosmetic products (each in a wide array of shades, of course,) alongside four luxury makeup brushes.
Inspired by "the girl" and her makeup ritual, Marc created the line around the "idea of transforming into this person you want to be," an idea that is very much in line with the Marc Jacobs ethos.
P.S. I re-wrote all of these product descriptions for you. Hopefully they'll be a little more helpful than your standard marketing spiel!
The product range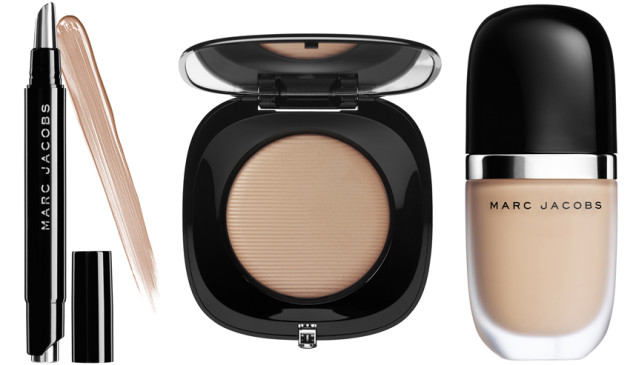 Smart Complexion: Tomorrow's technology today 
• Genius Gel Super-Charged Foundation ($58 CAD)
Anti-ageing and hydrating, this multi-tasking formula is the first-to-market foundation featuring Buoyancy Gel™ technology.  Available in 16 shades, the formula touts coconut water extracts and offers buildable (natural to full) coverage.
• Perfection Powder Featherweight Foundation ($56 CAD)
Ultra-lightweight and instantly brightening, this powder foundation is made to diffuse flaws and remove shine for all-day wear or mid-day touchups. Available in 10 shades.
• Remedy Concealer Pen ($47 CAD)
Available in 7 shades plus a universal brightener (Bright Idea) and a universal corrector (Stand Corrected), the Remedy Concealer Pen is designed to act as an all-in-one eraser, corrector, and brightener. One of Marc's personal favourite products, the pen features a patented palladium tip to cool and smooth skin immediately upon application.
• Face I Liquid Foundation Brush ($58 CAD)
For liquid foundations.
• Face II Sculpting Foundation Brush ($58 CAD) 
For powder foundations.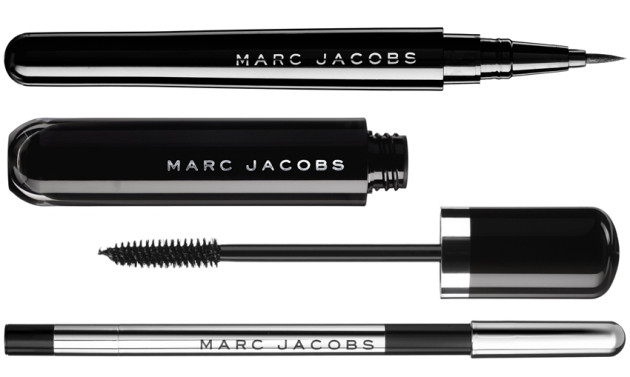 Blacquer: Invented for blackest, shiniest black
• Magic Marc'er Precision Pen Eyeliner ($36 CAD)
Available in just one shade (Blacquer, an intensely black black), the Magic Marc'er Precision Pen Eyeliner features a waterproof liquid liner formula & a calligraphy-shaped pen tip.
• Lash Lifter Gel Volume Mascara ($32 CAD)
Also available in just one shade (Blacquer), the Lash Lifter Gel Volume Mascara features Elash-tic Lash™ technology which "works like spandex to make lashes lifted, curvaceous and voluminous," without the help of a lash curler. Flake-proof, run-proof, and life-proof (yet promising to wash off with warm water), I wouldn't be surprised if this Marc-approved mascara touted a tubing formula.
• Highliner Gel Crayon ($30 CAD)
Available in Blacquer and 5 additional shades, the Highliner Gel Crayon is a waterproof gel eyeliner in pencil form for rich pigment + smooth application.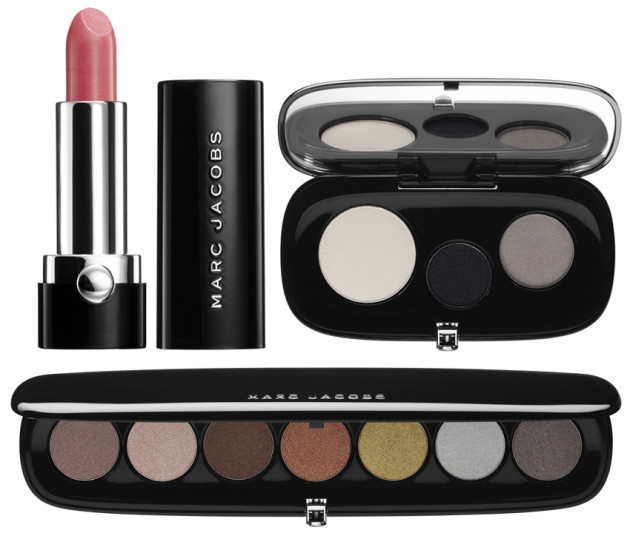 Hi-Per Color: Unexpected colour range envisioned by Marc
• Style Eye-Con No. 3 and No. 7 Plush Shadow Eyeshadow Palettes ($51 and $71 CAD, respectively)
Featuring richly pigmented eyeshadows in three finishes (metallics, mattes, and sheens), six three-shade and four seven-shade palettes will be available.
• Lust for Lacquer Lip Vinyl ($34 CAD)
Available in two opacities (colour-drenched/full and light-hearted/sheer), these champagne grape-infused glosses feature a paddle applicator and will be available in 12 music-inspired shades.
• Lovemarc Lip Gel ($36 CAD)
Highly pigmented and hydrating, the Lovemarc Lip Gels gently plump using 3-D optical volumizers and have a sleek, shiny finish. Available in 16 vivid shades, all inspired by Marc's favourite movies.