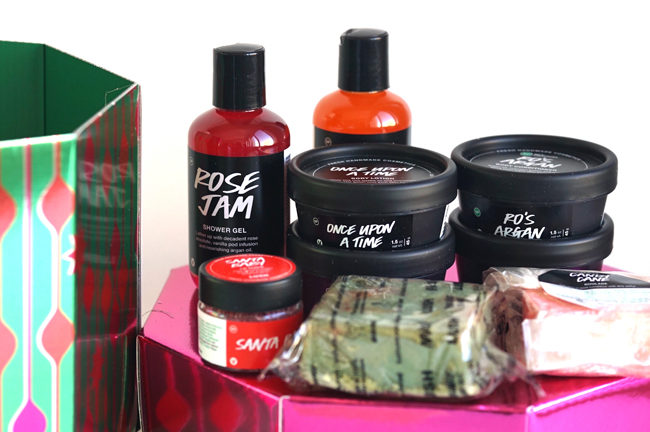 If you haven't purchased all your holiday gifts yet this year… It may be too late for you, cosmically. But in all practical aspects, LUSH has you covered! Their gift sets are super easy to give, and kits like the LUSH Merry and Bright set come pre-wrapped.
I really like the Merry and Bright gift set because it's a little outside of the norm for the brand. There are no bath bombs, fizzies, or melts in the entire set! (And okay, so maybe I'm a little bummed about that, but I still have bath bombs from Halloween to use up. 2017 has been a great year for baths and I!)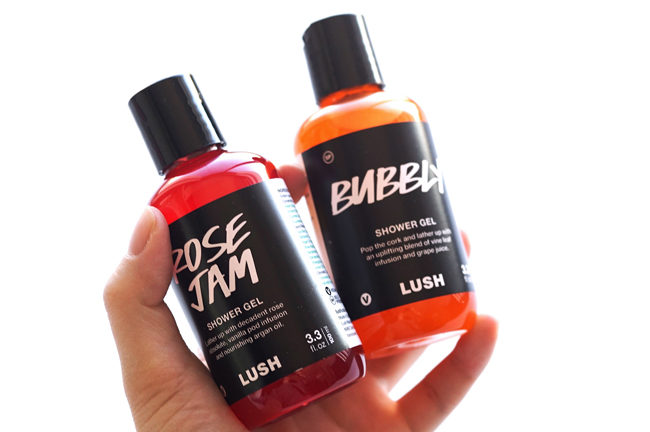 The gels and conditioners in LUSH Merry and Bright
Instead of bath bombs, the Lush Merry and Bright set ($85.95 CAD) contains mostly shower gels and body conditioners. It's a shower set, not a bath set – which I think makes Lush a little more accessible for all of the bath-haters out there.
(I know you're out there. I, too, was a member of your ranks not so long ago.)
The set includes Lush's classic Rose Jam and Bubbly shower gels (100 ml each). They're perfect for travelling, but honestly? I prefer them for just regular use. The 100 ml containers are easy to pick up with my arthritic hands, and they'll be used up before I get bored of the scent.
Bubbly is a new-to-me shower gel, and I really like it! It's fruity and orangey, with a nice, almost jello-like gel texture.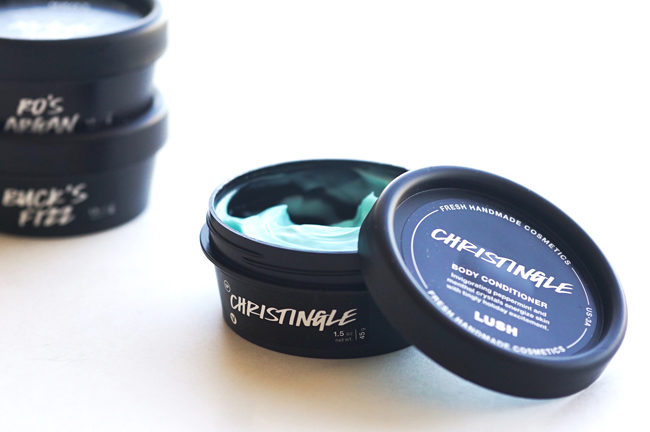 The Lush Merry and Bright set contains not one, not two, but three body conditioners, too.I really like Lush's body conditioners for lazy days, because I don't have to moisturize when I get out of the shower. Ro's Argan is the brand's standby; a fruity, rose-scented in-shower body conditioner that you apply after you soap and rinse off, and Christingle is a cooling, minty confection.
Buck's Fizz is another orangey scent, with enough gold shimmer to just sparingly stick around after you dry off. This is more or less a dead ringer of Bubbly for me, and the two smell a lot like my Lush Celebrate from 2015. (Which, somehow, still hasn't gone bad, or run out.)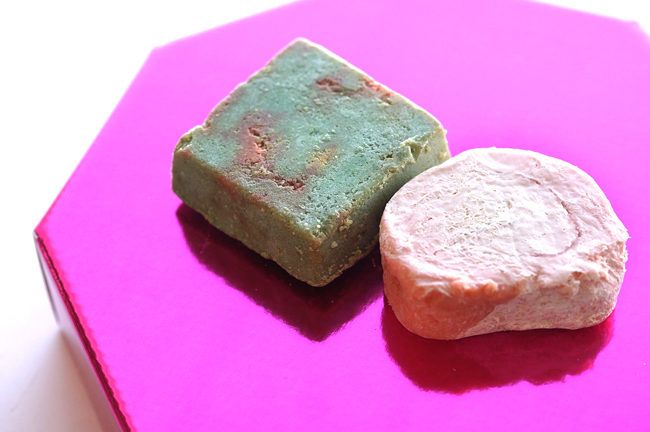 The rest of the rest
There's one small body lotion in this set: Once Upon a Time, a lightly green-tinted, apple-scented lotion. Everything else is just sort of a miscellany of items, from a cola-flavoured lip scrub (Santa Baby) to a rough Salt and Peppermint Bark body exfoliator.
The set finishes with Candy Cane, a minty, skin-softening roulade. If you haven't tried a roulade before, I'd recommend poking one sometime – they're really weird. I think I like them? But their squishy, sticky texture is definitely unique.
This is going to be my last post before Christmas, so if I don't see you until after then: happy holidays, dear reader. It's been quite the year!