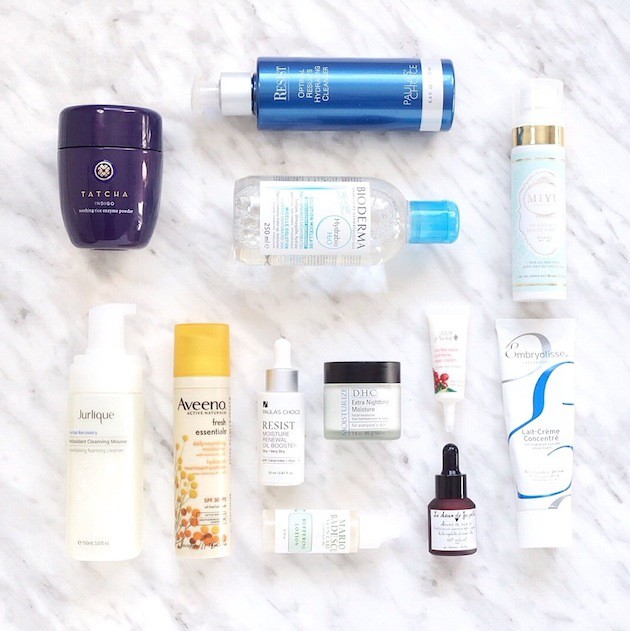 If you don't follow me on Instagram (you should, because sometimes I meet puppies and take pictures of them), then you've probably missed these two product roundups. If you do, then a) thank you, and b) you'll recognize the images. Don't click away just yet, though, because there's a lot more detail here!
Above, I have everything that I'm keeping sink-side right now.* For my dry, dehydrated skin, these have proven to be the best of the best so far. 
For super dry skin, I can't speak highly enough about the DHC Extra Nighttime Moisture and Paula's Choice Resist Moisture Renewal Oil Booster. The DHC is so creamy and hydrating, and the Paula's Choice will get rid of any dry spots you have! I'm also really loving Le Sérum de Jacynthe (review soon), which I think is a bit pricy but is an excellent "green" option.
For sensitive skin, Bioderma Hydrabio H20 Micellar Solution is just fantastic. It's scented, but I was surprised to find that it's also incredibly gentle — noticeably more gentle than the Bioderma Sensibio Micellar Solution or the Marcelle 3-in-1 Micellar Water.
For dehydrated skin, the Paula's Choice Optimal Results Hydrating Cleanser makes a huge difference for my skin. It doesn't look very glamorous, but it's creamy and luxurious, and leaves my skin feeling divine. My MIYU Beauty Essences are something that I can't live without, too — I've now gone through four bottles, if you include the minis!
I'm also a big fan of the Aveeno Fresh Essentials Daily Nourishing Moisturizer SPF 30, which is relatively heavy, but my skin really likes. It's not breathtakingly creamy or smooth or anything in particular, but it is affordable, comfortable, and silicone-free, and I think those are three pretty important things.
(Plus, it feels way better than a physical sunscreen, so there's that.)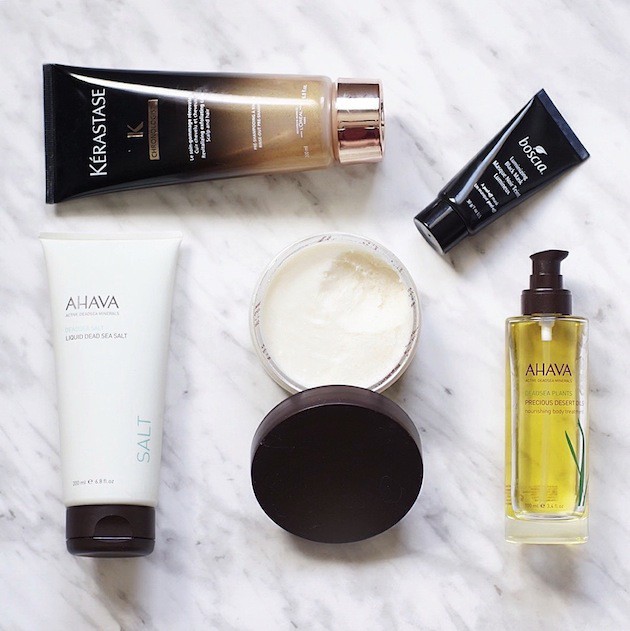 I also posted about a little at-home spa day that I had on Sunday, which I wanted to update you guys on! It was my first time using a peel-off mask (so, so weird and cool) and the first time in a little while that I had taken the time to pamper myself with my Ahava goodies.
My skin has been so out of whack recently, and the half-hour it took me to mask and exfoliate before my shower really balanced things out. The Boscia Luminizing Black Mask tightened up my t-zone, and the Kérastase hair mask/exfoliator left my hair feeling super soft. (I could have still used more scalp exfoliation, though.)
But what I loooooved using again was this Ahava trio. I received them for a post & giveaway last year, but they've become some of my carefully-rationed favourites. My legs haven't been this smooth in years (thank you, Liquid Dead Sea Salt), skin feels so soft, and my sheets now smell amazing.
But yeah; that's what I've been up to! I also petted a dozen dogs on Sunday (VERY IMPORTANT) and took the rest of the weekend to let my body rest, and it's been great.
What's been keeping you busy (or not so busy) recently?
—
*Note: I've drifted away from the Jurlique and Tatcha since taking this photo. They're both still great, but I'm just really into the Paula's Choice cleanser right now!