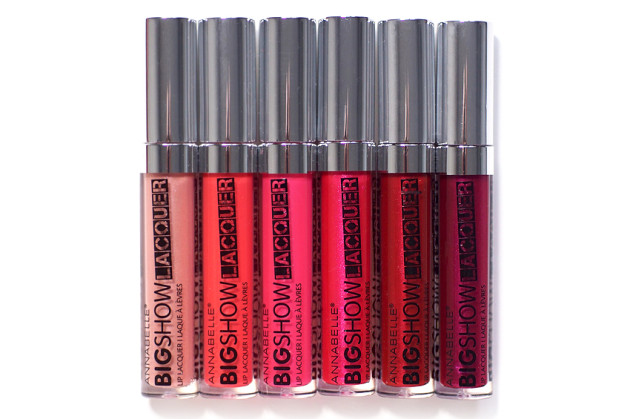 The product: Annabelle Cosmetics Big Show Lacquer in Adore Simply, Caress Tenderly, Kiss Swiftly, Enchant Romantically, Love Fiercely, and Hypnotize Deeply
As I'm sure most of you know already, I am a huge fan of Annabelle Cosmetics. They're Canadian, affordable, and cruelty-free, and all of their products pack an awesome punch of pigments–especially when you consider that most items are $10 or less.
One of the lines that I just haven't been able to really get behind, however, is their Big Show range. I liked but didn't love their Big Show Mascara (which is a HUGE fan favourite) and, later, their Big Show Lip Glosses. Similarly, it pains me to say that I liked these Big Show Lacquers, but… I didn't love them.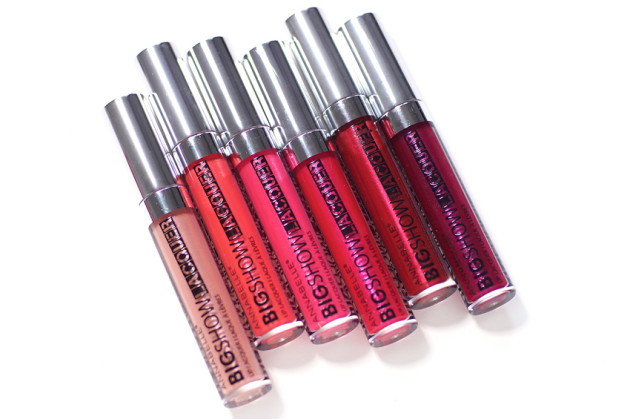 The formula: The Big Show Lacquer formula follows on a trend similar to that of the YSL Glossy Stains and Shu Uemura Laque Supremes: high-impact liquid lip colours that have the saturation of a lipstick, the finish of a lipgloss, and the lasting power of a lip stain. 
If I'm being honest, the Big Show Lacquers hit all three of these out of the park. They're glossy and highly pigmented, and unlike the YSL and Shu Uemura gloss-stains, they're opaque in just one swipe.
But, while other bloggers seem to just adore these, I'm on the fence about them. There aren't any MLBB/"no makeup" shades in the range, and I find that once these start to wear away (within 1-2 hours), they become quite tacky and drying. And then there's the smell: chemically fruity. They're not any more drying than a Glossy Stain, but I've definitely noticed how actual-lacquer-y these can feel.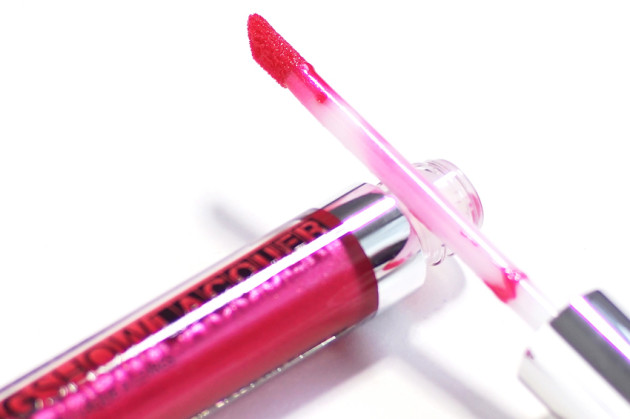 Annabelle Big Show Lacquer applicator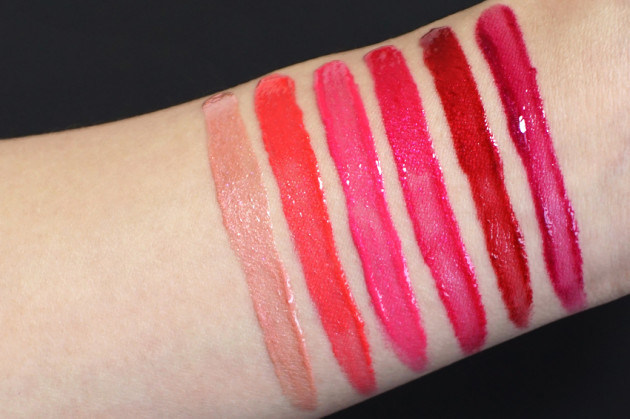 Annabelle Big Show Lacquers swatched L-R: Adore Simply, Caress Tenderly, Kiss Swiftly, Enchant Romantically, Love Fiercely, and Hypnotize Deeply
The shades: As I mentioned above, there aren't any natural-looking shades in the Big Show Lacquer range. (I really want to try the Marcelle Lux Colour Rush Lip Lacquers for this very reason; they look to have the exact same formula as these, but they're unscented and come in only pink/peach/nude shades.)
That being said, if you love colour, then this is a great range to check out. The Big Show Lacquers currently come in six super-shimmery shades, including the particularly-shimmery nude Adore Simply, the orange Caress Tenderly, and two pinks. Kiss Swiftly is more of a milky fuchsia, while Enchant Romantically is a darker, warmer pink with blue reflects.
I'd love to see a purple in this range (it's the perfect formula for it!) but for now, lovers of darker lip colours can opt for Love Fiercely, a metallic, warm brick red, and Hypnotize Deeply, a purplish berry.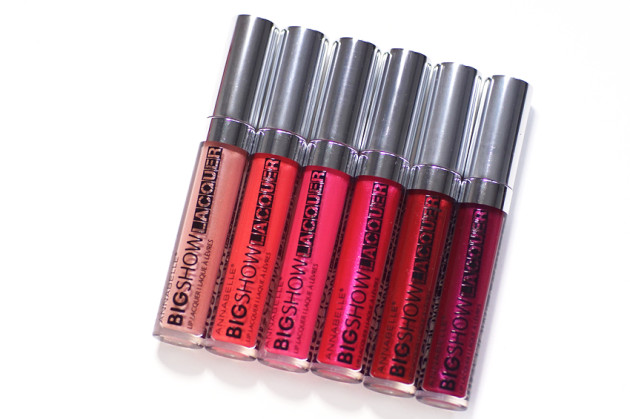 The verdict?
The Big Show Lacquers are huge in the blogosphere right now, but I'm just… not a fan. The synthetic fruity scent gives me a headache, and ALL of these shades are punchy and shimmery, which just isn't my thing.
I also noted a distinct "lacquer" feeling when I wore these (almost like there was a film over my lips), but I have to admit: they definitely make good on their promises of gloss, pigment, and endurance, and they apply with glorious opacity and evenness. When my lips are in better condition, I might pick up a Marcelle Lux Colour Rush Lip Lacquer to see if I'll like the formula any more without the shimmer and scent, but I think this is about it for the Big Show Lacquers and I!
Availability: $9.95 CAD at Annabelle.com (US & Canadian shipping) and in-store at drugstores and mass retailers across Canada. Permanent as of January 2016.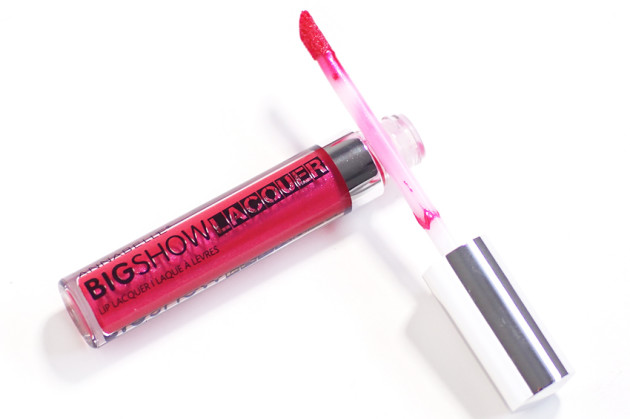 Annabelle Big Show Lacquer review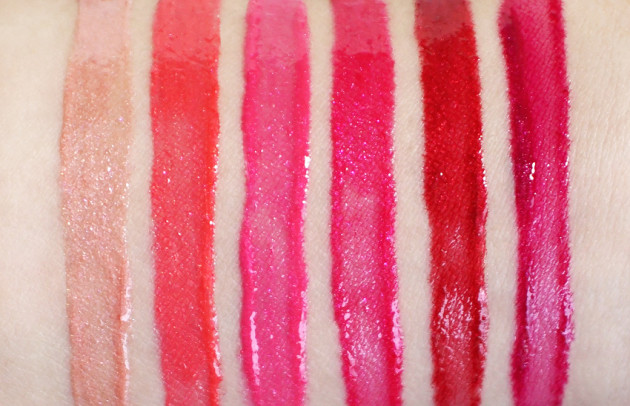 Annabelle swatches: Adore Simply, Caress Tenderly, Kiss Swiftly, Enchant Romantically, Love Fiercely, and Hypnotize Deeply
Read what other Canadian beauty bloggers thought of the Big Show Lip Lacquers:
The Annabelle Cosmetics Big Show Lacquer ingredients: 
Hydrogenated Polyisobutene, Polybutene, Polyethylene, Mineral Oil, Isononyl Isononanoate, Isostearyl Alcohol, Octyldodecanol, Ethylene/Propylene/Styrene Copolymer, Butylene/Ethylene/Styrene Copolymer, Glyceryl Isostearate, Silica Dimethyl Silylate, Calcium Aluminum Borosilicate, Calcium Sodium Borosilicate, Synthetic Fluorphlogopite, Silica, Tocopheryl Acetate, Parfum, Sorbitan Oleate, Tin Oxide. +/- Colourants.