What they are: Cozzette S-line brushes, in S125, S135, and S175.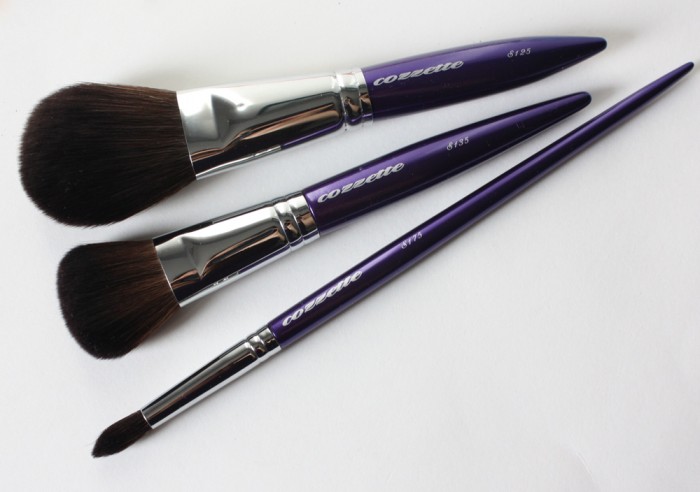 The S125 ($30)
This one's supposed to be a blush/powder brush, and it's definitely my favourite of all of the Cozzette brushes. It's ridiculously soft, but the bristles are still dense and firm — not very like an Ecotools brush, to be honest. The large handle is weighted gorgeously, and the brush feels luxe and is easy to use.
Good for: applying powder, bronzer, face powder, and pigmented blushers (it's perfect for getting just a tiny bit of product, but you do lose a bit of control as the head is quite large).
Compare it to: MAC 150, maybe? I think it's even larger, actually!
The S135 ($28)
The S135 masquerades as the "contour stylist," and to be honest I think it would be so much easier if more brushes were given names like that (rather than letter-number). The current system is just so confusing!
That said, though, I also really love the S135. It's really, really dense, but still super-soft — to be honest I've never felt a brush that was both this dense and firm, and this soft at the same time. (And that includes the obscenely expensive ones!)
Good for: contouring if you're (a) using a sheer product, or (b) great with blending! It's also fabulous to get a really concentrated pop of colour on the apples of your cheeks.
Compare it to: MAC 116, Bare Escentuals Handy Buki but this is so much softer. (Sorry, BE, but I kind of abhor your brushes).
The S175 ($16)
This one's also known as the medium eye contour brush, and they say that it's "designed to compliment the eye socket and enable blending of shadows," so I was hoping it would be a MAC 217 dupe — but it's not much like it, to be honest.
However, that's not to say that it's a bad brush. Not at all! It's simply longer and floppier than the I was expecting, with a pointier tip and softer bristles. I prefer not to use it as an eyeshadow brush, instead opting to use it for applying and blending cream products.
I do need to point out one thing, though: the insanely long handle. Does not compute! Does not compute! I don't understand why it has to be SO much longer than my other brushes; it knocks into my mirror if I forget to compensate for its length and looks out of place with the rest of my brushes.
Good for: concealer and cream eyeshadows. It's absolutely fabulous at buffing concealer under your eyes, on red spots; anything. I've been reaching for it 3-4 times a week, which gets it a big thumbs-up in my books!
Compare it to: MAC 224, Stila #9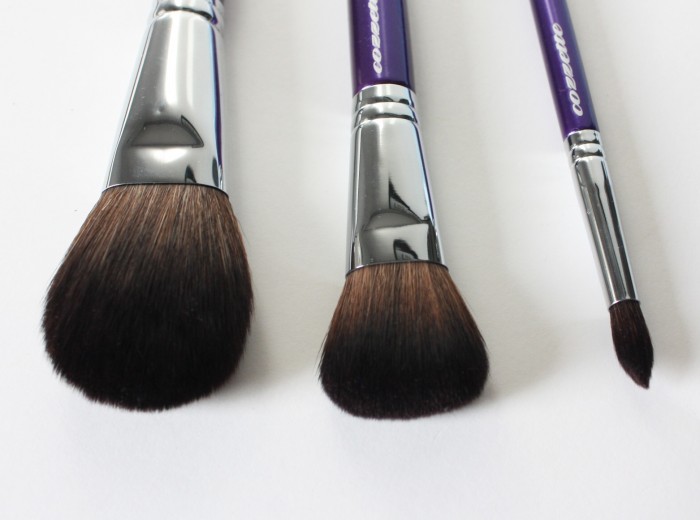 The verdict: these three brushes definitely get the "holy grail" stamp of approval from me, even if the others in the line fall just short. I love them so much; it's ridiculous! The powder brush is definitely my favourite, followed by the blusher and "eye contour" (lies!) brush. If you only want to try out one Cozzette brush… make sure it's one of these, 'kay? :)