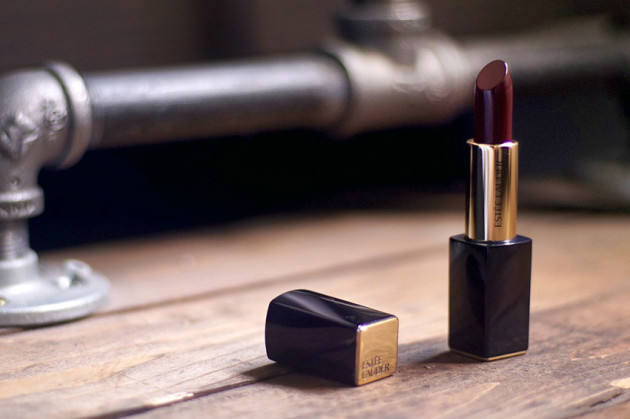 The products: Estée Lauder Pure Color Envy collection
↳ Lip Volumizer, Matte Sculpting Lipstick in Commanding, Defining Eye Shadow Wet/Dry in Blue Fury
Pure Color Envy Lip Volumizer ($28 USD/$32 CAD)
I love a good pH-adjusting lip product, so I wanted to start off today's post with the Estée Lauder Pure Color Envy Lip Volumizer ($28 USD/$32 CAD), a plumping gloss that adjusts to a sheer pink once applied.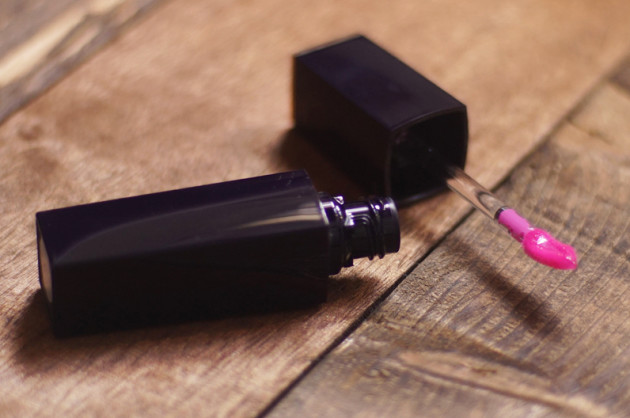 The Estée Lauder fall launches this year mainly consist of two collections: the New Dimensions range, which I talked about on Monday, and the Pure Color Envy line, which is an extension of the brand's colour cosmetics range.
All of the Pure Color Envy products are just gorgeously packaged (especially the lipsticks), and this volumizing gloss is no exception. I don't really see plumping results with this one, but it definitely delivers on sheer colour (nothing like the hot pink applicator!) and an extremely moisturizing, shiny, minty finish. 
I think that $32 is a lot to pay for a gloss, but if price was no object, I'd be recommending it to everyone! It's crazy hydrating, super-smooth, and smells delicious — definitely one of the most comfortable glosses that I own.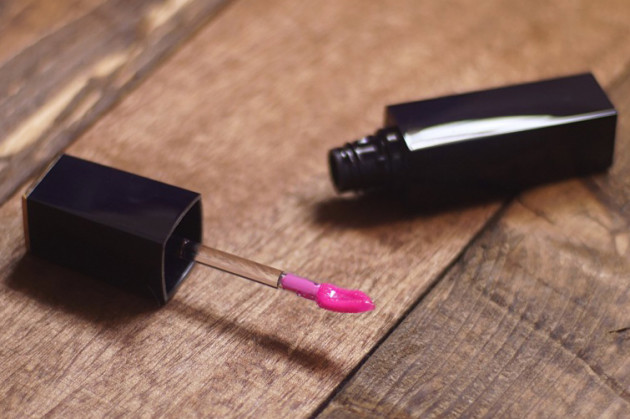 Pure Color Envy Matte Sculpting Lipstick in Commanding ($30 USD/$34 CAD)
I also tried out the brand new Estée Lauder Pure Color Envy Matte Sculpting Lipstick in Commanding ($30 USD/$34 CAD), which comes in just the most exquisite, weighty, magnetic packaging.
Commanding is too bold for my tastes (all 12 of the Matte Sculpting Lipstick shades are "statement" shades), but the formula of these is fantastic — even a shade this dark feels creamy and smooth as it's applied, and the finish is as velvety and comfortable as it is opaque.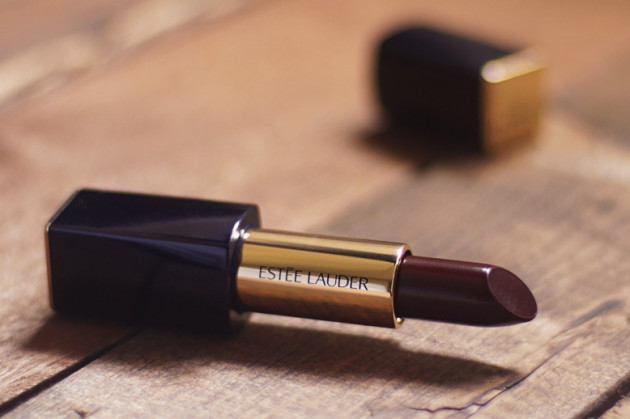 I couldn't wear Commanding for a full evening without topping up with lip balm, but I'm not kidding, you guys: the Pure Color Envy Matte Sculpting Lipstick formula is the #1 most comfortable matte that I own. I'm just a serious dryness wimp!
(Note: these are not, however, a "hard matte" the way that MAC Ruby Woo & co. are. Rather, they're fairly matte, but have a slight creme sheen to them.)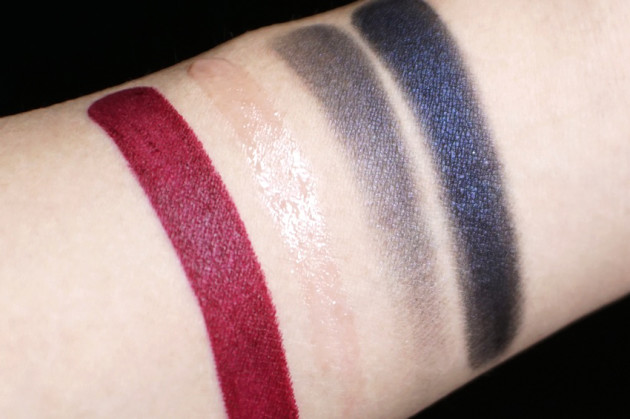 Swatched L-R: Estee Lauder Commanding Matte Lipstick, Lip Volumizer, and Blue Fury Wet/Dry Eyeshadow (dry, then wet)
Pure Color Envy Defining Eye Shadow Wet/Dry in Blue Fury ($25 USD/$28 CAD)
And, finally, my least favourite Pure Color Envy product: the Estee Lauder Pure Color Envy Defining Eye Shadow Wet/Dry in Blue Fury ($25 USD/$28 CAD).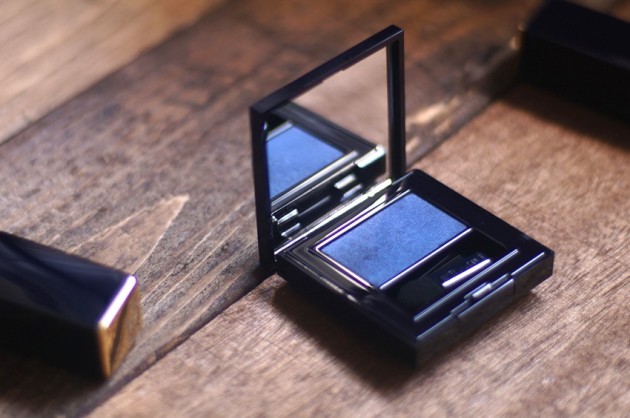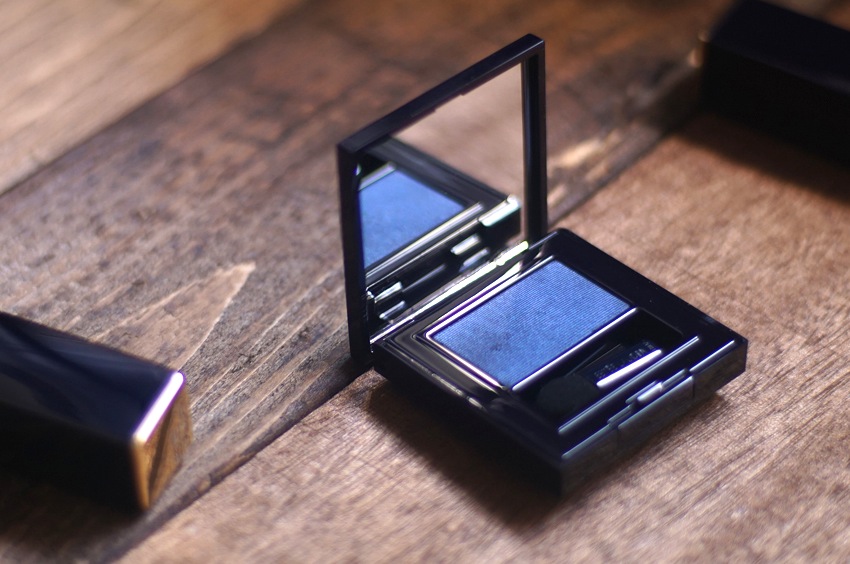 I can't speak for the rest of the Pure Color Envy eyeshadows (Ominous, for instance, looks absolutely stunning ), but Blue Fury is just kind of underwhelming. Like every single other dark blue eyeshadow out there, it applies as a sheer, patchy charcoal with blue shimmer when used dry, and shines only when used wet: it's luminous, pigmented, and even, with a lovely dark blue glow.
Estée promises a "tri-brid" formula with these, though, combining "the best properties of a cream, powder and gel," but all I really see here are the old Estée Lauder eyeshadows, rebranded with a made-up word.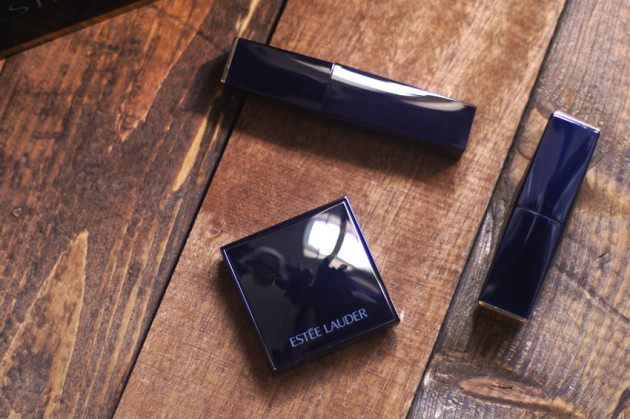 Would you ever buy a "tri-brid" product? Or would you just angrily yell "THE WORD YOU'RE LOOKING FOR IS HYBRID" while shaking your fist at the sky?
Check out these other Pure Color Envy reviews: