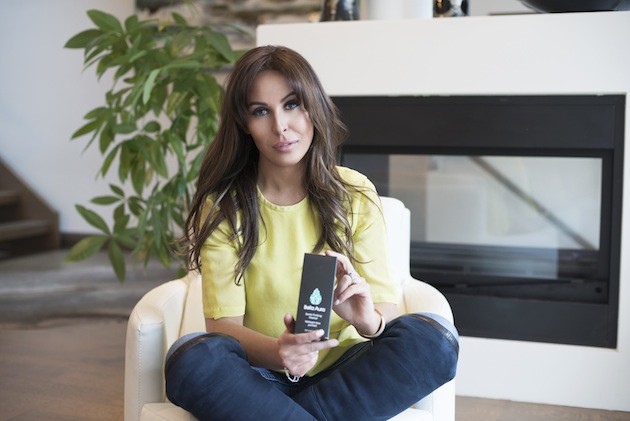 Right now, I'm testing out a new Canadian skincare range called Bella Aura. You may have heard of it already (a number of my blogger friends, like Tracy and Shireen, really love the line), but if you recognize the name, then you'll definitely want to read on.
As I'm still working on testing this range, I reached out to Bella Aura to see if I could do an EXCLUSIVE interview with their founder, Yasmine Jones, to share before the review. Luckily for us, she said yes!!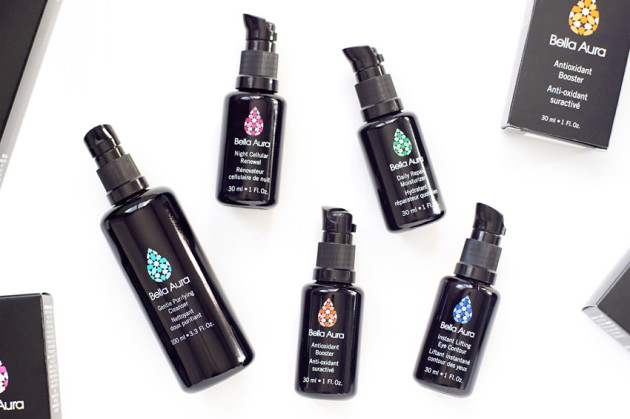 The interview
Q: I am so exited to feature you on theNotice today, so I'm going to start out with a pretty broad question, if that's okay! If you had to describe yourself to a stranger on the street, what would you tell them about yourself? 
Yasmine Jones: I'm not really so comfortable describing myself to others, what I can say is that I am real and what you see is what you get, which means that I can be direct some times. Probably the best way for me to answer the question is to tell you that my mom taught to be kind and generous to people, especially those less fortunate than I am. (Editor's note: Bella Aura donates a portion of their proceeds to charity each month and engages in responsible sourcing.)
One thing that I'll say is that I am a very spiritual person and I think that comes across in Bella Aura Skincare.
Q: One of the things that I love about Bella Aura is that the range is very edited. Do you plan on adding more products as time passes, or was this an intentional decision? 
YJ: This was an intentional decision for sure. The goal was to keep things simple and develop multifunctional natural products that can be used for all skin types. We have created 5 targeted skin care solutions that all work well together. Our formulas are called emulsions, which combine the best qualities of serums and creams. They absorb quickly while providing superior hydration to the skin to fight the signs of aging and make your skin look radiant.
For now we are focused on our existing product line, but I have some ideas for future products to compliment them!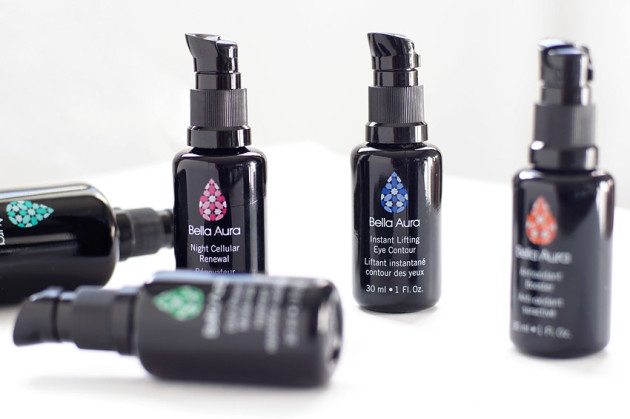 Q: I am totally smitten with the Bella Aura packaging and design. Can you share some insights on why you chose these bottles and illustrations? 
YJ: Thank you Rae, I'm so happy that you like the packaging. My thoughts on packaging were part functional and part design. For the bottles, I wanted to use glass and not plastic. Natural skin care products should be stored in dark containers. This combined with the airless pump, which is designed to protect against bacteria that can contaminate product, increases shelf life by up to 15%. I chose black because it is elegant, I've always loved black packaging for this reason.
The logo is a droplet with a zelig (pronounced zel-eej) pattern which inspired by traditional Moroccan tiles. We us a different colour droplet for each product which represents a specific aura colour. As I mentioned, I am a spiritual person.
Q: What made you want to launch your own skincare range? 
YJ: It comes from personal struggles with my skin. I was dealing with the stress and sleepless nights of a personal family tragedy and experienced serious skin issue. I tried many different skin care products, some made it worse and nothing was able to bring back my normally healthy skin.
After about a year dealing my skin issues, I met a herbalist/chemist in Morocco who said that he had a natural remedy to fix my skin. I was skeptical, but I tried it and my skin gradually improved. Not being a patient person, I was inspired to research natural ingredients for skin care that really work. I wanted to create "Clean" skincare products based on natural ingredients to make people feel good about their skin.
After 3 years of scouring the world for an amazing formulation chemist, Bella Aura Skincare was born.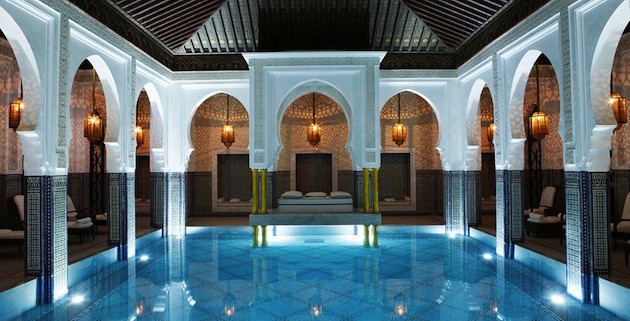 Q: What are your 3 favourite skincare ingredients?
YJ: I actually have 4, based on an ancient Moroccan beauty formula (our exclusive Kamilah Blend) which I use in all of the products. They are Argan oil, Fig de Barbarie oil, Neroli, and Nigella oil. The reason I love these oils is that they work really well together and complement each other. Combined they are super rich in vitamins, minerals, fatty acids, they also contain natural anti-oxidative and anti-inflammatory properties all essential for healthy beautiful skin.
Q: What are your top 3 vacation destinations, and why? 
YJ: Morocco – Because of its great food, real people, diversity in geography, and subcultures. And it's where I was born!
Maldives – I've only been there once, but it was amazing, exotic, and relaxing. Beautiful ocean and beaches, really out of this world.
Banff – Because of its natural beauty, fresh mountain air and wildlife, simply breathtaking.
Q: And, finally… If you had to choose only ONE Bella Aura product that you love the most, which one would it be? 
YJ: This is such a hard question for me to answer because I use the entire set of products in my skin care regime. I use the Gentle Purifying Cleanser morning and night, Daily Moisture Repair and Antioxidant Booster in the morning and during the day when the weather is dry. At night after cleansing I will use either the Instant Lifting Eye Contour or Night Cellular Renewal and quite often both, during the winter and when exposed to sun.
(Editor's note: Yasmine totally cheated on that last question! ;) But if you want MY favourite product, it's definitely the Bella Aura Gentle Purifying Cleanser… or maybe the Antioxidant Booster Emulsion. Thanks for reading, folks!)
—-
This interview with Yasmine Jones has been edited and condensed. Additional images of Yasmine and Morocco are c/o Bella Aura.