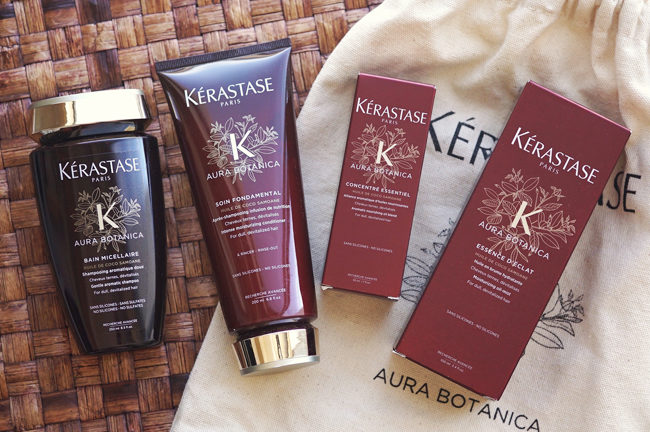 The products: Kérastase Aura Botanica Shampoo Bain Micellaire, Conditioner Soin Fundamental, Oil Concentre Essentiel, and Oil Essence d'Eclat
There are very few haircare collections that can get me really excited, but the Kérastase Aura Botanica range takes the cake. The products are 98% natural, and they're made from organic and responsibly sourced ingredients when possible. On top of that, all four products are silicone-free, and they're luxe as fuck.
(Expletive needed.)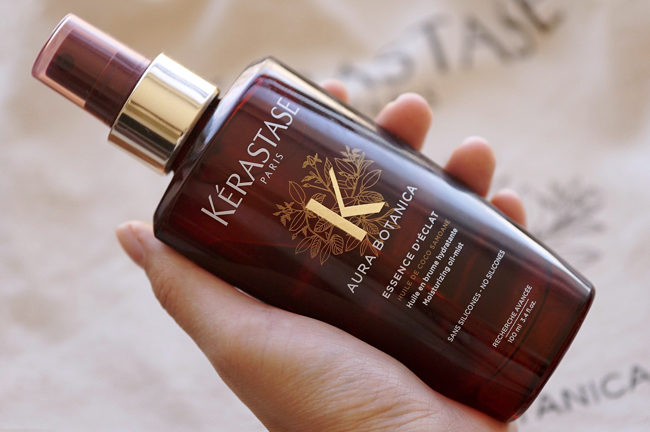 The Kérastase Aura Botanica packaging
Folks, this is where it's at. I'll talk about these formulas in a moment, but let's get real: the packaging of the Kérastase Aura Botanica is the real reason why it's so lustworthy. (If you'll note, this post is totally getting tagged as a Gift Guide selection. December, you maniac; here I come!)
With gold detailing, dark red packaging, and delicate line art, the Aura Botanica products just feel luxe. The Bain Micellaire shampoo ($45 CAD) and Soin Fundamental conditioner ($50 CAD) bottles are shower-friendly plastic, while the two oils are packaged in thick glass bottles.
I always wish that Kérastase used flip-tops instead of screw-on lids, but I get that they're aiming for a clientele that's more dextrous than I. Screw screw-on lids, though. Flip-tops are where it's at when your hands are slippery and you're only half awake!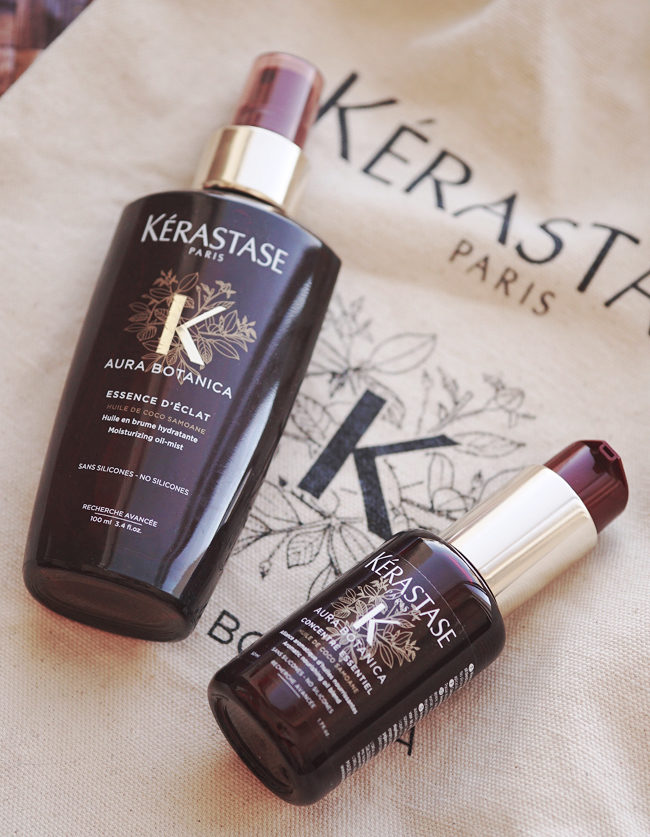 Kérastase Aura Botanica shampoo, conditioner, and oils review
I may be alone in this, but I always find Kérastase products to be just a little too drying, too. My ends get a little crispy with consistent use, and the shampoos always make my hair feel rough – everything gets so tangled that it's hard to even scrub my way through to my roots.
But where the shampoo and conditioner lack finesse, the oils in this range are really quite cool. The Essence d'Eclat ($57 CAD) acts as a bi-phasic mist that moisturizes, prevents flyaways, and acts as a heat protectant to up to 230˚C. And the Oil Concentre Essentiel ($60 CAD) is a beast of its own calibre: it's a little tough to wash out, but it's designed for use as a pre-shampoo, a treatment (when blended with the conditioner), and a bath/massage oil.
Like other Kérastase ranges, Aura Botanica is really designed to be used as a whole system. You need that heavy conditioner and oil-mist to follow the shampoo, or you're just going to be too dry. But despite my struggles with dryness, there's something that's truly standout about all of these products: the rich, spicy scent.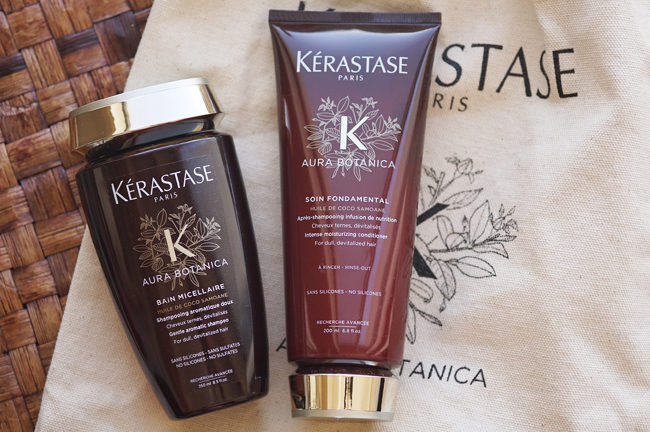 The Kérastase Aura Botanica verdict?
This luxe range smells just as rich as it looks, with spicy notes that fill the whole shower. I don't love it as much as I adore the Matrix Biolage R.A.W. range, but everyone's hair is unique! I have friends who hate the R.A.W. range (or, I should say, I had friends who hate it; obviously, we can't be friends anymore now that I know they hate it) who I bet would love this one.
I liked the Aura Botanica shampoo and conditioner well enough that I plan on finishing my bottles, but I don't think I'll re-buy. They're a nice way to spoil yourself (or someone else) if you have balanced hair, but I'd recommend focusing on the oils. They're both quite innovative, and with those glass bottles… Man, they'd make a great gift.
Availability: Permanent as of June 2017.