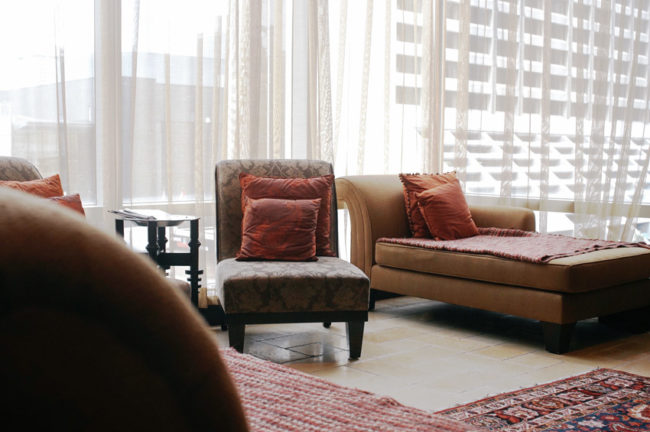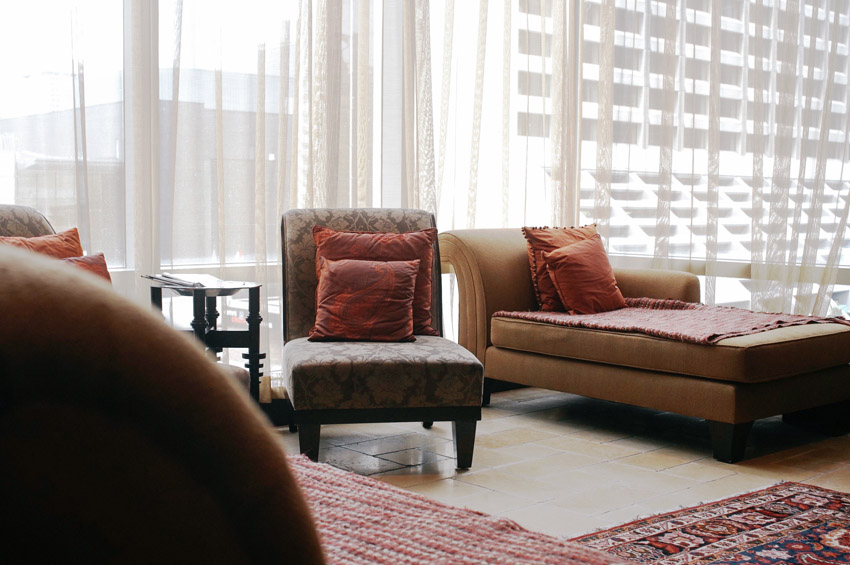 One of my favourite spots in Toronto is the Miraj Hammam Spa by Caudalie, a luxurious spa tucked away in the Shangri-La Hotel in downtown Toronto. It ticks everything off on my list: it's spacious, easy to get to, and very consistent. I stopped in during my Toronto trip this summer for my first Caudalie facial.
The spa's design takes inspiration from Paris, Istanbul, and Marrakech, and features lots of dark wood and copper accents. It's currently undergoing renovations to expand its change rooms and Alhambra Lounge, but most of the Caudalie services are still available. From what I experienced, the renos are really unobtrusive and quite quiet.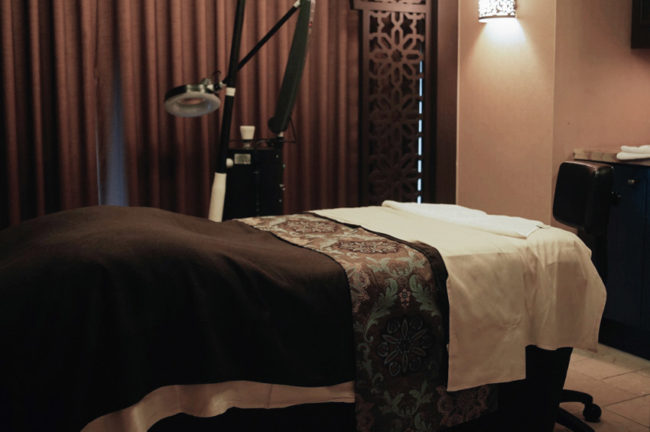 The Caudalie facial experience
The most all-encompassing way that I can convey to you how wholly good this facial was is to tell you this: I don't remember all of it. I walked into my Caudalie facial caffeinated, stressed, and a little tense. I walked out fully energized and fresh off a light, restful doze.
The Caudalie Caudalie Resveratrol Lift Facial ($175 CAD) is a 60 minute experience that uses techniques to lift, tone, and firm the skin. I'm still young, so the effects aren't prominent on my skin – but my skin still LOVED the facial.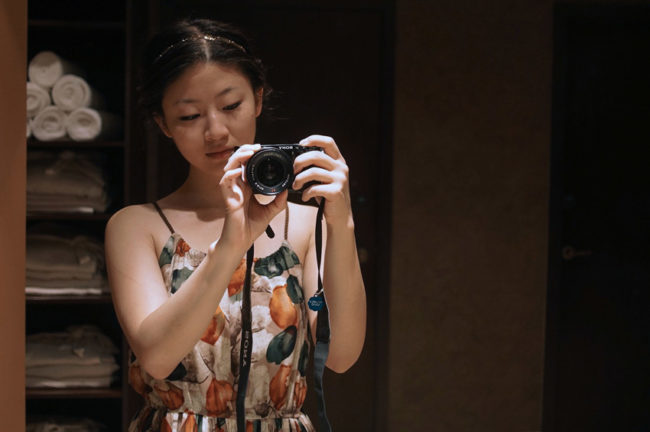 Travelling really takes the glow out of my skin, so I noticed a big difference before and after this facial. Everything used in it was silicone-free, and my skin drank up the products. The Caudalie Gentle Buffing Cream ($42 CAD/$35 USD) was one of my favourite parts. My skin looked noticeably smoother and more radiant after the scrub, but it was really gentle.
Another little detail that I noticed during my Caudalie facial is that the signature Caudalie Beauty Elixir ($22 CAD to $49 USD) is used to mist the skin. It's a small detail, but I loved it – it made the facial feel really Caudalie. My aesthetician performed a soothing massage of my hands, arms, shoulders, and feet while my mask was on, which added to the feeling of luxury.
My Resveratrol facial finished with a NuFACE Lifting Treatment add-on ($65 CAD for 15 min), which uses a microcurrent to contour the facial muscles and stimulate collagen and elastin production. A "lifted" effect is achieved similarly to a very low-level TENS treatment, but on such a small scale that I didn't feel anything but the NuFACE touching my skin.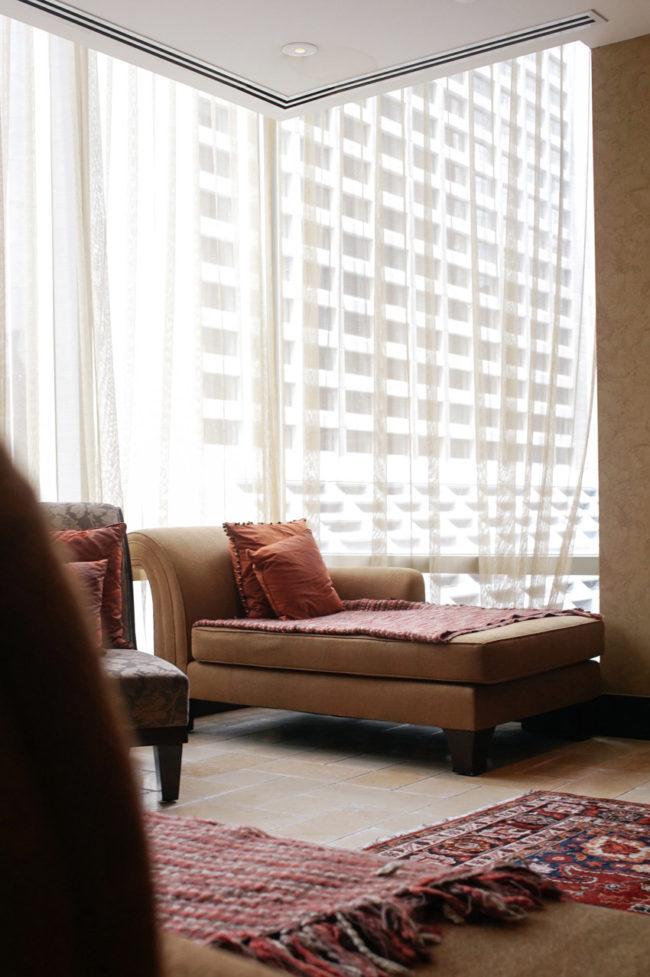 The lobby/relaxation room of the Miraj Hammam Spa
The Miraj Hammam by Caudalie amenities
The services at the Caudalie spa are fantastic, but what makes the experience so special is the spa itself. Its decor is unique, and the atmosphere at the spa is so relaxed and cozy. You can't help but feel like every minute there is precious, you know?
I loved the spa's original dark, wooded Alhambra relaxation suite, and I can't wait to see the updated room. It's my favourite part of the Caudalie spa: there's always spicy Moroccan mint chai tea (or an unsweetened rooibos alternative), and each treatment ends with a single piece of baklava.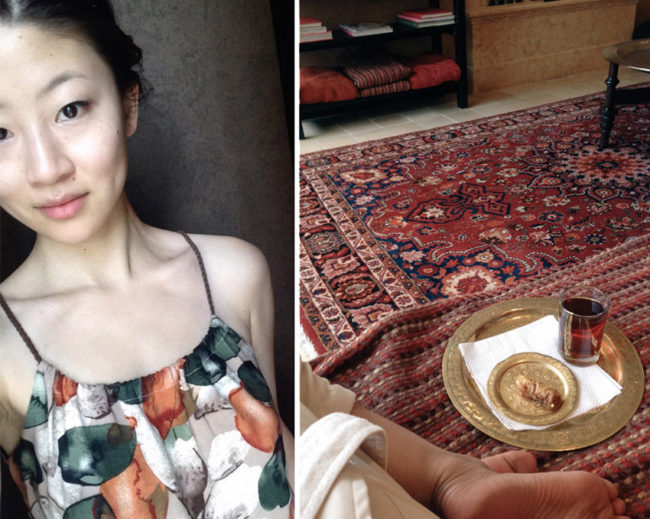 My post-facial, makeup-free, filter-free glow + that baklava and chai
I talked about Caudalie's baklava at length in my Caudalie Hammam & Gommage and Deep Tissue Massage post in 2015, and it's just as good as I remember. It's the best baklava I've ever eaten in my life, and I kid you not, my foodie heart would 100% book a facial here just for the baklava. It's THAT good, and it's exclusive to the spa.
The rest of the spa's amenities are great, too. There are showers to wash up after your treatment if needed, and the change rooms come equipped with Caudalie essentials, including body mists and moisturizers. You're always supplied with a bathrobe and big, fluffy towels, and a small cupboard stocks anything you might have forgotten, like a q-tips or a razor.
I'm a sucker for a good spa, and despite the high price tag, I'm already looking forward to my next visit to the Miraj Hammam Spa by Caudalie. There's no use fronting: I know that I'll be back.