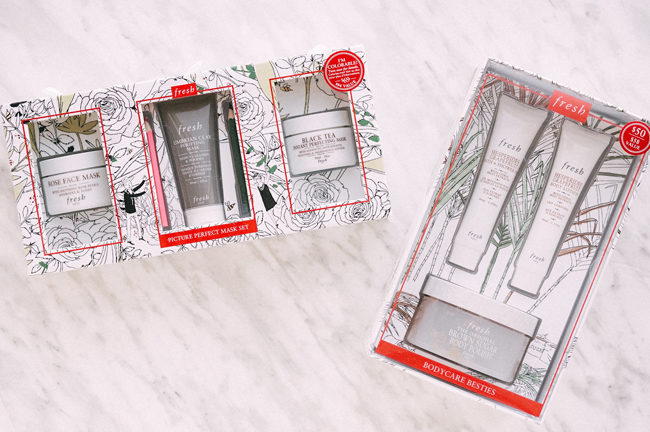 One of the best parts about holiday beauty collections (aside from the abundance of glitter) is the number of sets that come out. I'm pretty sure the word of the moment is "droves:" that is, they come out in them. The brand does quite a few sets each year, but here are two Fresh holiday sets that are paraben- and silicone-free. 
(Their Fresh Sugar lip sets are another of my favourites. Here are 2013 and 2015's!)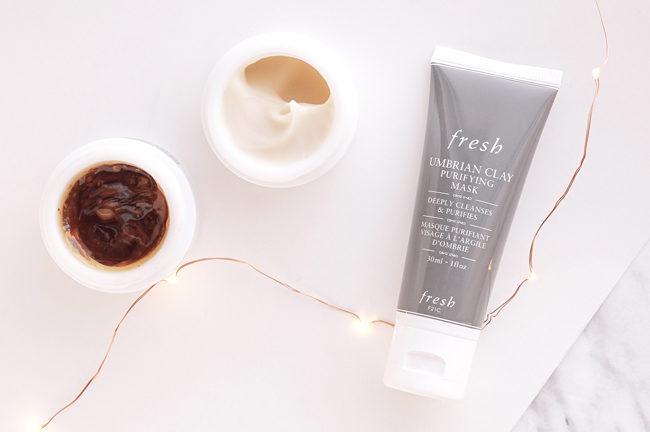 Fresh Picture Perfect Mask Set ($60 CAD/$50 USD)
The Fresh Picture Perfect Mask Set contains three 30 ml silicone-free masks in colouring book packaging. They're a trio of products to suit all skin types, including sensitive and dehydrated.
Fresh's Umbrian Clay Purifying Mask is a great spot treatment/acne mask that can be used daily as a deep cleanser for oily, acne-prone skin. I use this slightly green-tinted mask mostly in the t-zone, as it dries on the skin to remove impurities. The brand's Rose Face Mask is a lot simpler; it's a hydrating gel mask with rosewater and rose petals. It's almost identical to The Body Shop's British Rose Fresh Plumping Mask, with less fragrance and a slightly thinner texture. (Honestly, I prefer The Body Shop's.)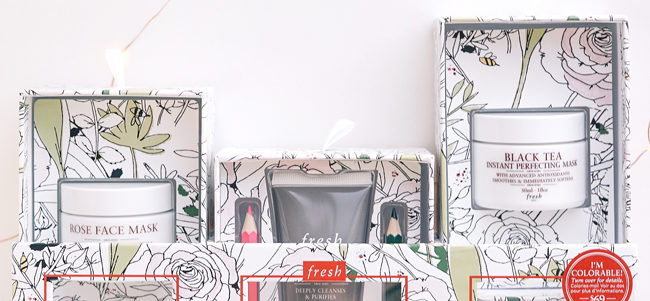 Finally, the kombucha-rich Fresh Black Tea Instant Perfecting Mask is made to hydrate, soften, and smooth. It has an odd texture – velvety and matte; almost like there should be silicones in there, but there aren't. It leaves my skin tingling and fresh.
I think this Fresh holiday set feels a little pricey for what you get, but it's a great way to try all three of these – they work out to $20 CAD each in the set, but they're usually $30 each for 3o ml.
Get it for: The multi-masker.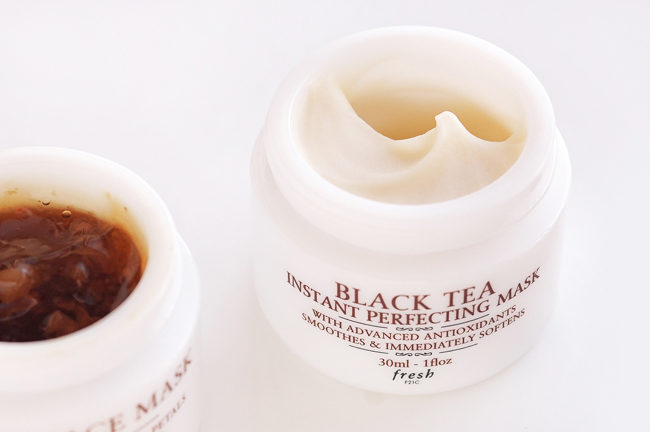 Fresh Bodycare Besties Set ($50 CAD/$38 USD)
The Fresh Bodycare Besties Set is another great gift idea. Body care is always easier to buy for someone else, and it makes a better host gift in my opinion. It's a little more "treat yourself!" and a little less "you look tired!"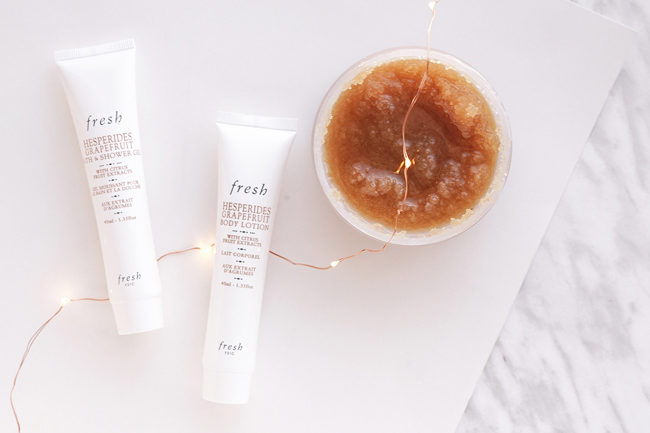 Bodycare Besties features Fresh's classic Brown Sugar Body Polish, a thin, sugar-and-oil body scrub that's both exfoliating and hydrating. It also contains two small tubes of Fresh Hesperides Grapefruit Body Lotion and Bath & Shower Gel, which both smell deliciously of refreshing grapefruit. I love a good sugar body polish (the oil bases always leave my skin feeling so smooth and hydrated), but the Hesperides body lotion takes the cake for me in this set.
(My mom, a grapefruit fanatic who is insanely hard to buy for, perked up when she saw these. But I'm loathe to part with these travel-sized tubes … And I know she's still working through the Bliss Grapefruit & Aloe Body Butter that I gave her, which makes me feel a lot less bad about it.)
(I'm kinda hoping she'll just forget these exist if I never bring them up again.)
Get it for: The grapefruit lover!