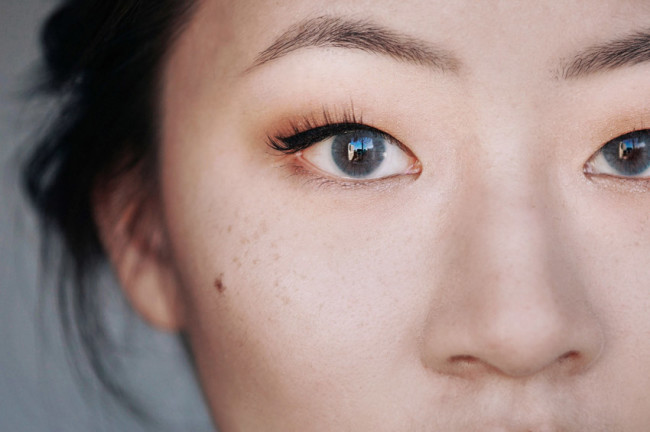 If you'll remember from my recent Charlotte Tilbury #GLOWMO makeup look, I actually got a tan this summer. I know: it's pretty wild. So, with my new, foundation-matchable skintone, I figured I'd take the Clarins Sunkissed makeup collection for a little spin.
(Swatches and product photos are coming up on Thursday, so stay tuned!)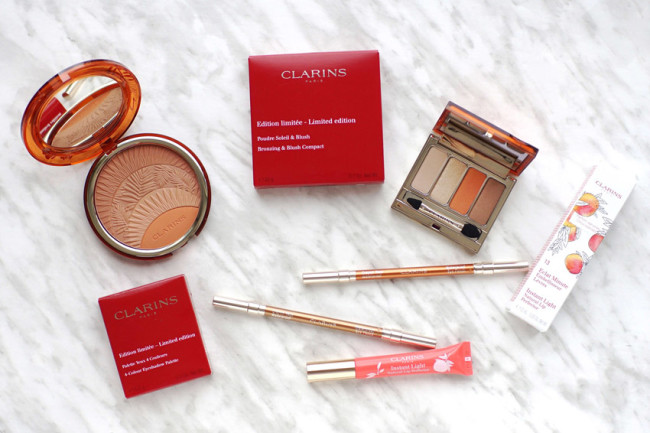 The Clarins Sunkissed eyeshadow palette & bronzer
The Clarins Sunkissed colour palette is a lot warmer than what I usually go for, but with my summer tan (I'm now a Pür Minerals Light, a Cover Fx G20, and an It Cosmetics Fair), I think it works. Here, I paired the Clarins Sunkissed 4-Colour Eyeshadow Palette ($43 USD/$45 CAD) with Esqido Miss Dolly false lashes and a bit of black liner.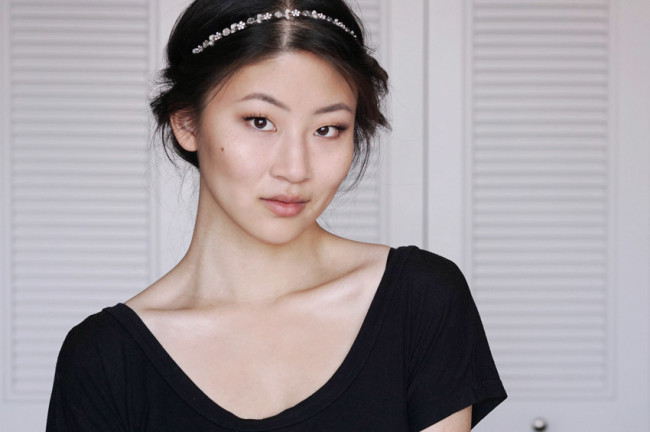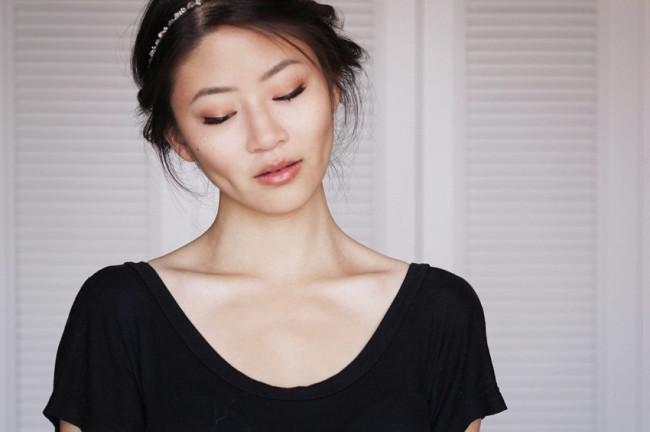 I know I'm in the minority on this, but I'm on the fence about my Esqido lashes – I've loved them for years, but they can be really uncomfortable. Mink lashes are heavier than a single-banded artificial set, and they often cut off the top fifth of my visual field, leaving me stumbling around like I'm three glasses of red into the night. Maybe I just need to try a lighter set or something, though, because Esqido's craftsmanship is just beautiful.
I finished off eyeshadow look with two of my must-have products: Annabelle's Chrome Single Eye Shadow in Rose Gold and Lise Watier's Stay Sharp Eyeliner in Platine.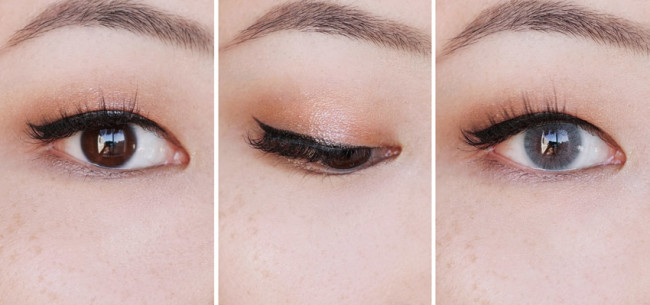 Clarins Sunkissed Eyeshadow Palette with and without Solotica Graphite lenses
On my cheeks, I'm wearing Clarins Sunkissed Bronzing & Blush Compact ($40 USD/$42 CAD), which honestly works as a really lovely bronzer for a light skintone. I'm not so sure about its versatility, though. Like most Clarins bronzers and limited edition powders, it's beautifully pressed and scented, but really only works wonders on a light to medium skintone.
On my lips, I'm wearing the Clarins Instant Light Natural Lip Perfector ($26 USD/$20 CAD) from this summer's collection. 13 Pink Grapefruit is a nice, sheer pink that smells like chocolate oranges thanks to the fruity fragrance and shea butter base, so (naturally) I've been hungry all summer long.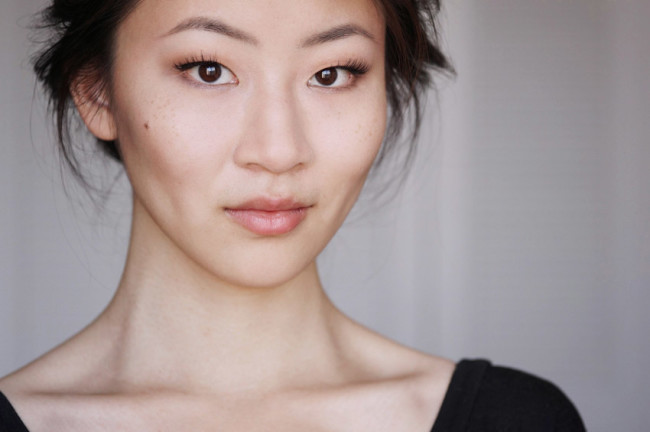 Clarins Sunkissed + Solotica Graphite coloured contacts
Bronzes and oranges are always recommended for those with blue eyes, so I shot two sets of photographs for this look: one set with my natural brown eyes, and one set with Solotica Graphite contact lenses. Mine are from the Solotica Hidrocor range, so they're a yearly lens with no limbal ring.
I usually love the way I look with coloured contact lenses, but I'm not so sure about this makeup look. I prefer my natural brown eyes, for once. Let me know what you think in the comments, because I'm really curious as to what everyone else's opinions are on this!
(Although I do love the robot eyes vibe, but who wouldn't?)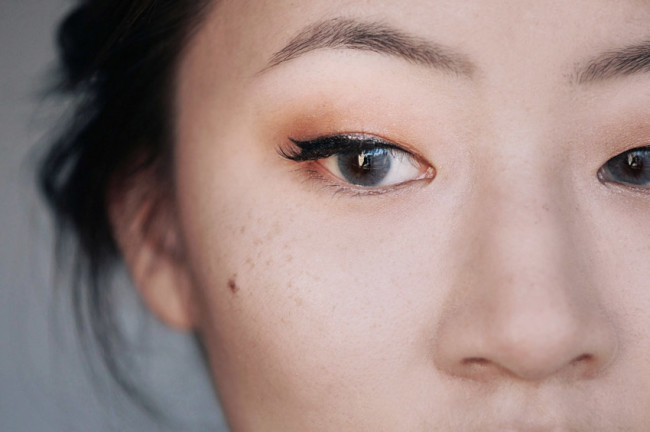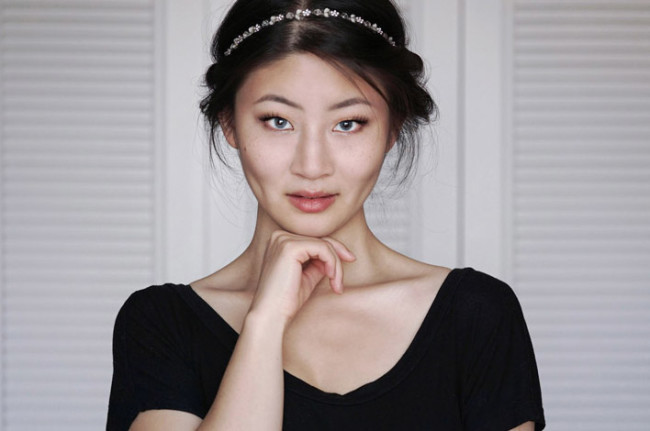 Shop the look
EYES 
Clarins Sunkissed 4-Colour Eyeshadow Palette ($43 USD/$45 CAD)
Esqido Miss Dolly False Eyelashes, trimmed ($29 USD)
Annabelle Chrome Single Eye Shadow in Rose Gold ($5.95 CAD)
Lise Watier Stay Sharp Eyeliner in Platine ($23 CAD)
Solotica Graphite contact lenses ($120 CAD)
LIPS & CHEEKS
Clarins Sunkissed Bronzing & Blush Compact ($40 USD/$42 CAD)
Clarins Instant Light Natural Lip Perfector ($26 USD/$20 CAD)