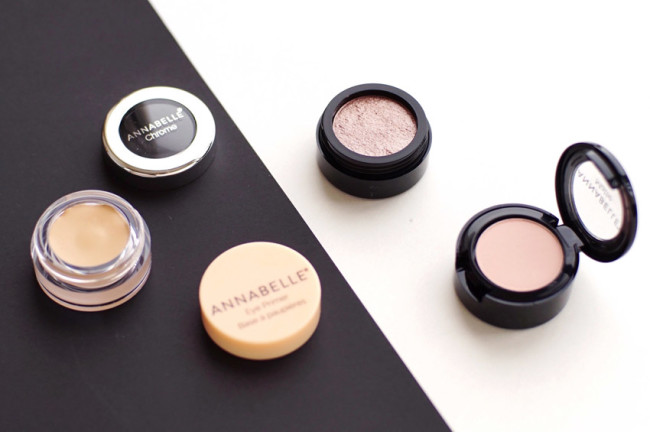 The products: Annabelle Cosmetics Spring 2017 eye launches
↳ Annabelle Eye Primer in Beige, Chrome Single Eyeshadow in Rose Gold, Matte Single Eyeshadow in Pink Lemonade, Skinny Palette in Taupe Neutrals, Skinny Gel Eyeliner in Black Onyx, and Brow Show Gel in Medium/Dark
Annabelle dropped a huge eye collection for spring/summer this year, and I've been itching to share it on theNotice. Unfortunately, my review was delayed by a week thanks to a rather farcical mistake that I made last week, but now we're back and ready to go!
It's a big collection, so I'll try to get through it as quickly as possible. Think of this as a Cole's Notes review, except more wholesome.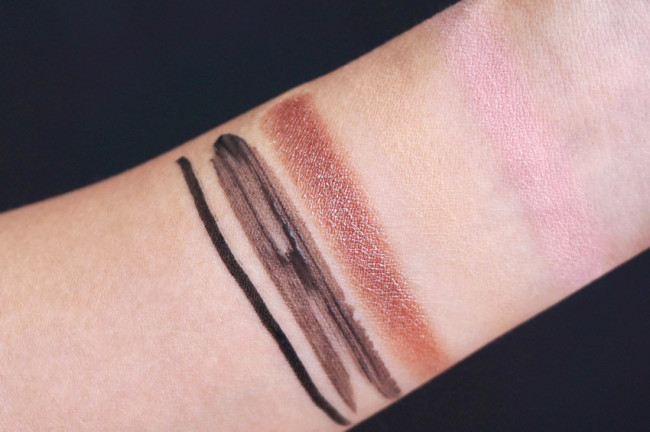 Annabelle Cosmetics swatches: Skinny Gel Eyeliner in Black Onyx, BrowShow Gel in Medium/Dark, "Rose Gold" Chrome Eyeshadow, Eye Primer, "Pink Lemonade" Matte Eyeshadow. On lightly primed skin in indirect sunlight.
The new Annabelle Cosmetics eyeshadows
Annabelle has revamped their range of single eyeshadows, and the new line is organized by finish. Annabelle Cosmetics eyeshadows have always been a favourite of mine from the drugstore, and I swear–with each reworking of the line (which they seem to do every five years or so, as technologies advance), they just get better.
The new Annabelle Single Eyeshadows ($5.95 CAD) are available in a matte, metallic, satin, or chrome finish, and (lo and behold,) I LOVE THEM. I tried the matte Pink Lemonade and the chrome Rose Gold, and both performed really well.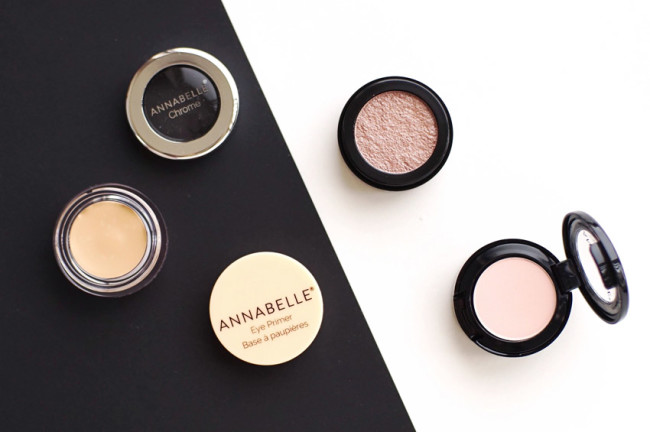 Pink Lemonade provides a really nice, blank canvas to work on if you have fair skin, and the formula wasn't too thick or too chalky. For a drugstore eyeshadow, it has great pigmentation.
Rose Gold, on the other hand, is just a fucking stunner. It gives the same wet-look shimmer as you'll find in brands like Clarins and Shu Uemura, but again: it's five bucks. It has a "metallic foil finish" and a moist texture, reminiscent of bouncy blushes and fresh Colourpop singles.
The Annabelle Cosmetics Chrome Eyeshadows are a little light on pigment, but they're gorgeous popped onto the middle of the lid after you finish your eyeshadow look.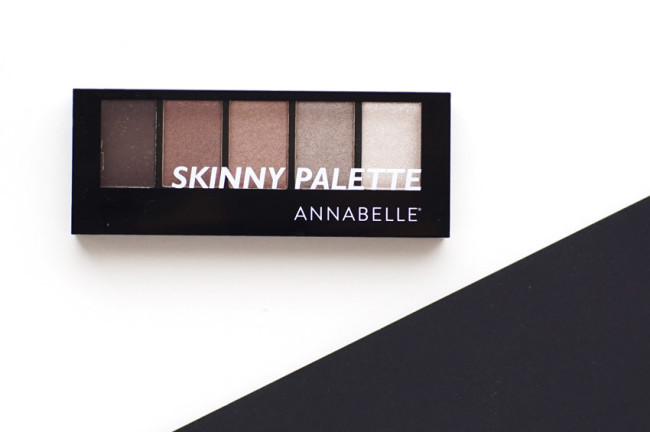 Annabelle Cosmetics Skinny Palette in Taupe Neutrals Basics
The Annabelle Cosmetics Skinny Eye Palette
The new Annabelle Cosmetics Skinny Eye Palettes ($9.95 CAD) are offered in six "colour harmonies." I checked out the very neutral Taupe Neutrals Basics, which leans a little warm.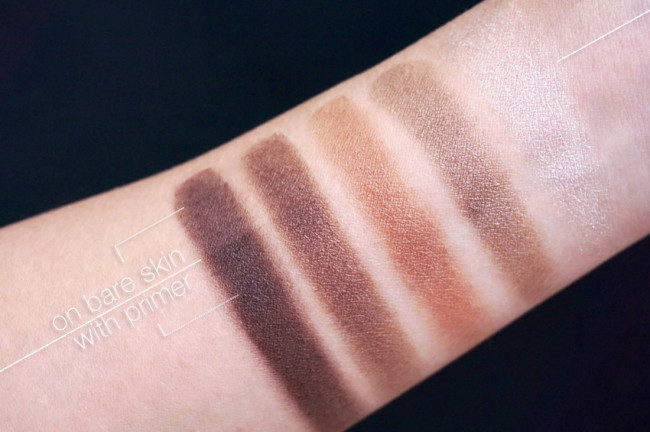 Annabelle Cosmetics Skinny Palette in Taupe Neutrals Basics – swatched on bare skin (above) and with the Annabelle Eye Primer (below)
I honestly don't know why anyone with the Annabelle Smokey Nudes and Eye & Brow Palettes would ever need other eyeshadow palettes, but the Skinny Eye Palettes are nice. They're extremely compact, and texturally, they're good for the price. I would have preferred if the chocolate brown shade was an eyeshadow (it's actually a powder eyeliner), but it's still a nice inclusion.
My only complaint is that the Skinny Eye Palettes are a little boring. For just a few dollars more, I think the full-sized Annabelle Cosmetics palettes are a lot more fun to work with.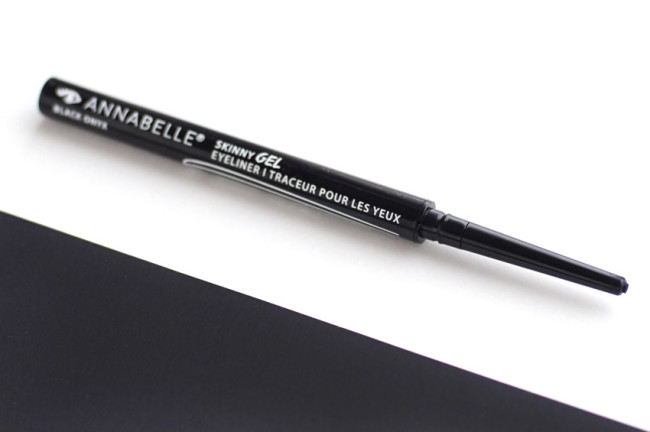 The Annabelle Cosmetics eye accoutrements
I was really excited to try the new Annabelle Eye Primer ($8.95 CAD), but primers in pots are not usually my friend. This one was about the same–it does a great job of adding intensity to your powder products, but I found that my eyeshadows creased after 3 hours. It's definitely better than nothing, though, and it's worth noting that the formula is both paraben and silicone-free.
That's rare as heck, so I'd still recommend giving it a try if you're 'cone-free.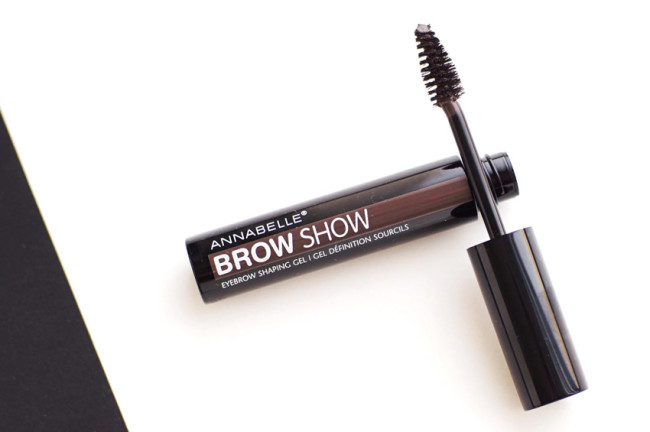 I also checked out the new Annabelle BrowShow Gel ($8.95 CAD), which was nice–but not a must-have for me. I'm not crazy about tinted brow gels, so I'm sticking to their Skinny Brow Liners. (The BrowShow Gels are also paraben and silicone-free!)
Annabelle seems to be really into the "skinny" and "gel" thing right now, because their Skinny Gel Eyeliner ($8.95 CAD) is new to the range, too. It has good intensity and creaminess, but like with Annabelle's EyeInk2 Liquid Eyeliner Duos ($10.95 CAD) from last year, it didn't last. I get raccoon eyes with both in under 2 hours, primer or none.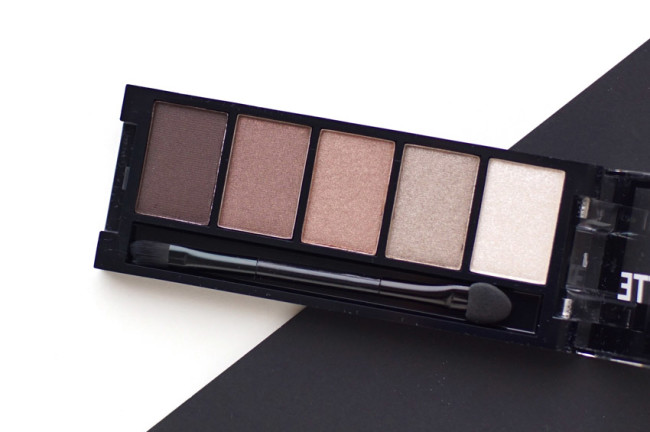 The verdict?
Dooooo it.
The new Annabelle Cosmetics eyeliner is a skip for me, but the rest of these launches were pretty solid. The Annabelle Chrome Eyeshadow Singles are a total must-have–I've literally used mine in every eye look I've done since opening it, including this one. And, hey. If you buy them in every single shade available, I promise not to judge.
(Although I might be a little envious of you.)
Availability: $5.95-$9.95 CAD at Annabelle.ca (US/Canada shipping) and at drugstores and mass market retailers across Canada.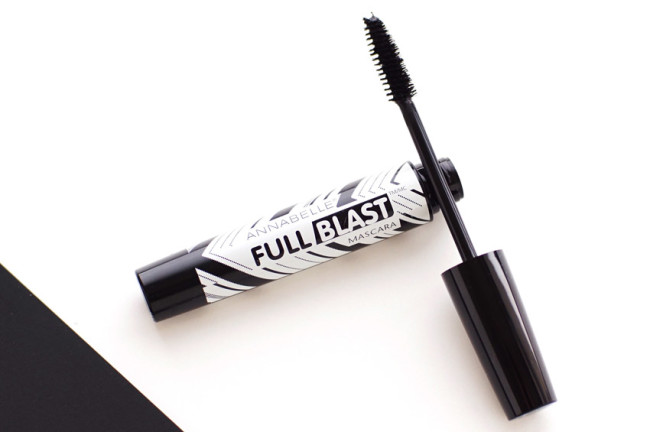 Also new this spring: Annabelle Cosmetics Full Blast Mascara