Thursday, October 2, 2014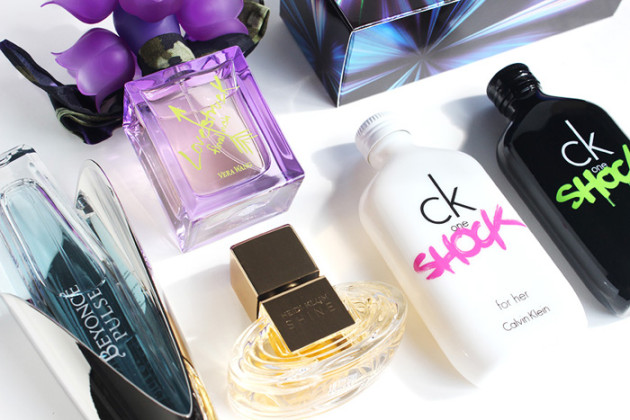 Let's start this review off with a truth: I'm not a fan of celebrity fragrances. I'm like, really, really not. So, a lot of the time, I'll receive one to review and it'll just waste away in my product closet, waiting for its moment…
Today, that moment has finally come for these scents. Will I love them? Will I hate them? Only time (or simply skimming this review) will tell.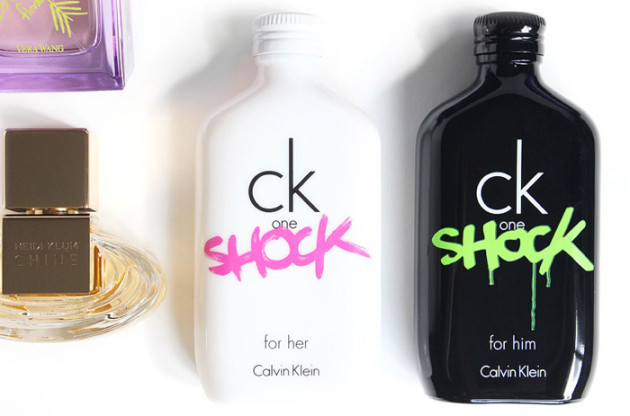 The couple's duo: Calvin Klein CK One Shock EdT
Calvin Klein's CK One Shock for Her is described as a "sensual floriental," with notes like passion flower and poppy giving way to chocolate, blackberry, jasmine, and musk. It comes bottled in the iconic CK One flacon — but with an opaque white coating & the word "SHOCK" scribbled on in bright pink. (It's meant to look like lipstick, which I think is silly — the guys get dripping spray paint!)
This design is echoed in the "bold oriental" for him version as well, which lists notes including clementine, cucumber, osmanthus, black pepper, tobacco, and patchouli. Both scents were created by Ann Gottleib and IFF, and retail for $45 CAD/50ml (100 ml bottles pictured here) at Shoppers Drug Mart and Pharmaprix locations across Canada.
These come with both caps and atomizers, which I love — I always get too much perfume with a single spritz, and caps store better, too. CK One Shock for Her is sweeter than I had expected, and kind of makes me think of a clothing store – soft, powdery kind of sweet. But CK One Shock for Him is the one to watch: it's peppery and masculine with modern-oriental undertones, and gives an interesting "suggestion" of fruitiness despite not containing any fruity notes (probably due to the osmanthus).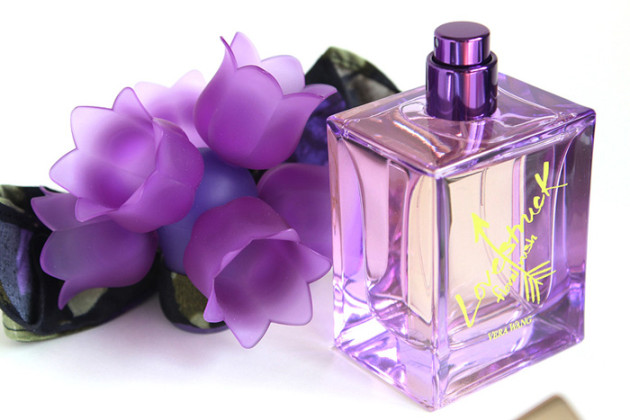 The big, big box: Vera Wang Lovestruck Floral Rush
My bottle of Floral Rush contains a mere 50 ml, but you'd never know it from the size of the box it came in. Lovestruck Floral Rush has a large plastic "bouquet" lid, and its box could easily contain four boxes of Heidi Klum Shine within its depths.
Created by Pascal Gaurin, Lovestruck Floral Rush is comprised of notes like champagne, apricot blossom, white freesia, and cashmere wood. It comes wrapped with a floral-print bow, which, well — it's not a purple and green camouflage bandana, as I had originally thought.
A bright and shimmery "fizzy floral" (my words, not theirs), Floral Rush is a little sharp, but I think it's more interesting than a lot of celebrity fragrances out there. It smells a bit too clean, which is really too bad, but I think it's a good scent for its target demographic — there's nothing aggressively sexy about this perfume, in its notes or in its advertising.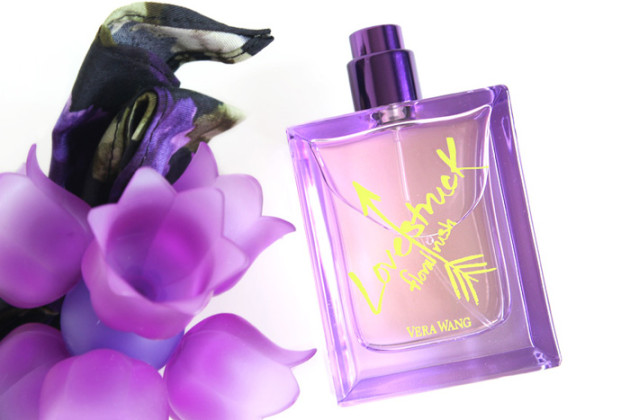 The model moment: Heidi Klum Shine
Lauded by bloggers and perfume fanatics as one of the best budget scents at the drugstore, Shine lists fruity top notes of pear, mandarin, and pink peppercorn set against a floral heart and a sweet dry down. This is easily the one I was the most excited about, and it's not bad — it's not terribly unique, but it's clean and very fruity, and I think it's well-done for the small price tag.
Shine was created by Aurelien Guichard, Jean Guichard and Olivier Pescheux (Pescheux is the nose behind many of Diptyque's scents, and Guichard is the man behind Issey Miyake's Pleats fragrances and the Robert Piguet line), and is available for $35 CAD/30 ml.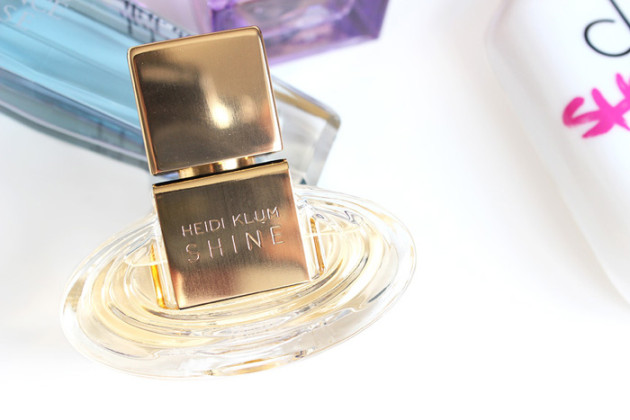 The Beyoncé effect: Beyoncé Pulse
I'm not a big Beyoncé fan, but I do love the way she's created her image — while she's far from perfect, you could do so much worse than telling young girls (and young minority girls in particular) that they can be both popular and powerful.
Her fragrances, though, are one area where I think she could do better. Pulse is described as a "citrus, floral gourmand" (which is cause for alarm on its own), with make-believe notes such as pear blossom, blue curaco, bluebird orchid, and midnight blooming jasmine. Created by Loc Dong, it's available at Shopper's and Sears for a rather alarming $59 CAD/50ml. (You didn't hear it from me, but you can snap this one up easily for under $20 online.)
I think this is one of the better Beyoncé scents out there, but it's still much too sweet for me. I'd recommend spritzing in-store if you're a big fan of Queen B, and waiting to smell the drydown before buying — while I can definitely see why someone could fall in love with this, I think many will find it to be too pushy!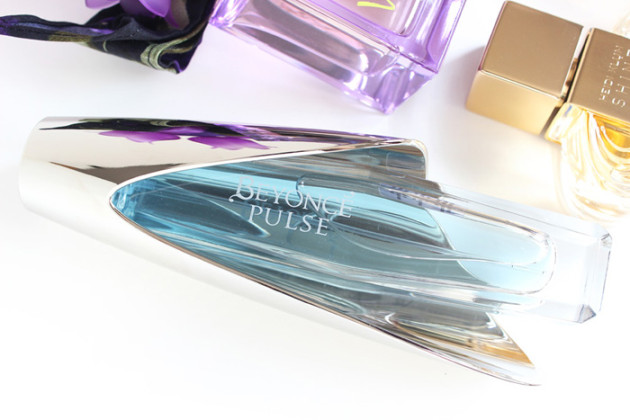 Do you wear celebrity fragrances? And if so, what are your favourites? (Inquiring minds need to know!)