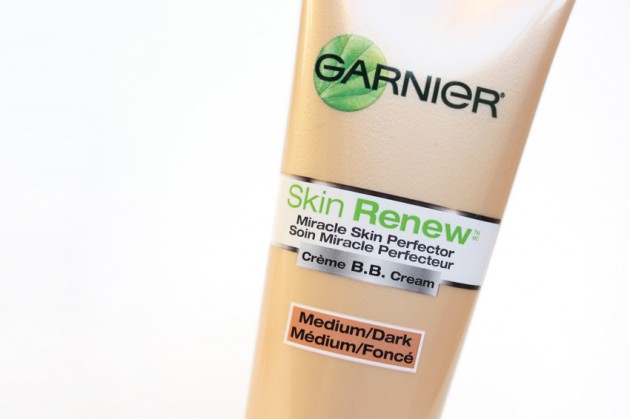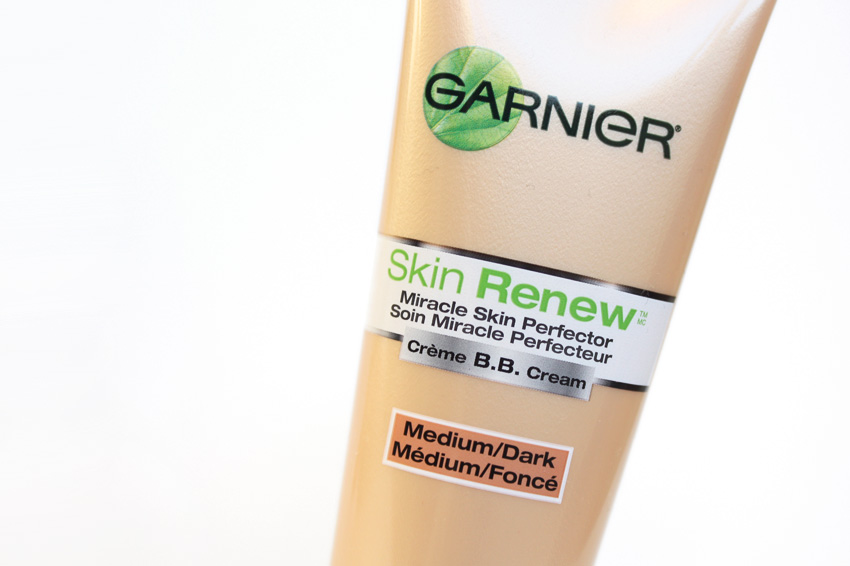 The product: Garnier Skin Renew Miracle Skin Perfector BB Cream SPF 15 in Medium/Dark
The look: Garnier's BB Cream is more sheer than I had expected, and more dewy. You know how I mentioned that the Marcelle BB Cream is really… I don't know; BB-Cream-ish? I feel like Garnier's isn't – I can't tell how it differentiates from a basic tinted moisturizer, in coverage or in finish.
If you have quite good skin to begin with that just needs a small "pick me up," this may be an option – but don't expect it to give your skin any more than a bit of a boost. I think I would have been a lot happier with this if it had been marketed as a sheer, luminizing base rather than a BB Cream or "Miracle Skin Perfector," because it's just that: it imparts a warm, dewy finish, but with very little coverage.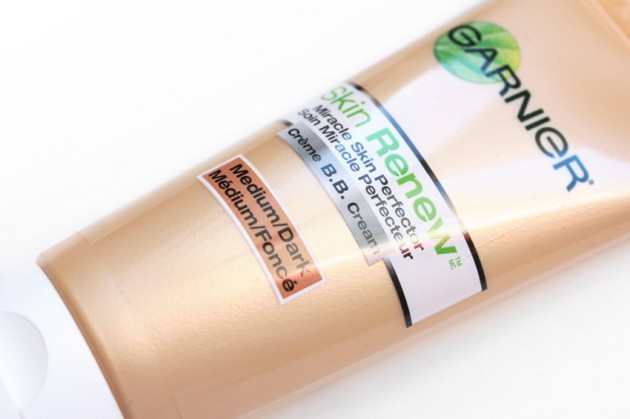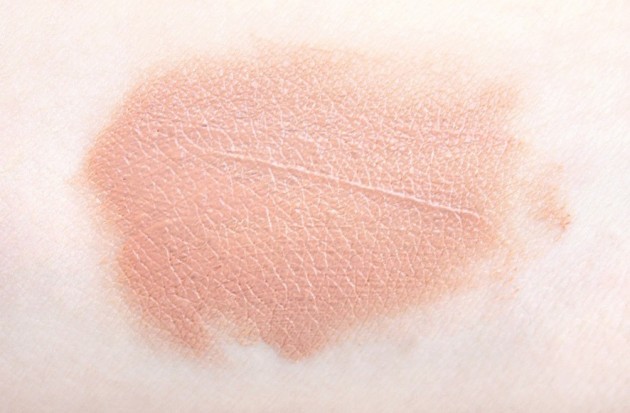 Garnier Skin Renew BB Cream in Medium/Dark on NW15ish skin
The shade: I was sent Medium/Dark, which is a massive error in logic that I'm not even going to begin to approach. I had a bit of fun with it, though – sometimes it's nice to fake out a different skintone for a little while, and it blended in really well, probably because it's so sheer. I'm fairly certain that Garnier's Medium/Dark is darker than Marcelle's Medium to Dark, so if you're still searching for a drugstore BB cream but you're on the darker end of the spectrum, this might be a shade option you'll want to check out.
While I can't speak for the lighter shade, I found the undertones of this one to run a bit pink – not so much that Asian skintones will find it completely unwearable but enough that it's noticeable; it adds a bit of warmth by way of red undertones, rather than orange ones.
The ingredients:
Active: Octinoxate 4% | Other: Water, Isononyl Isononanoate, Isoxadecane, Glycerin, Alcohol Denat, Peg-20 Methyl Glucose Sesquistearate, Methyl Glucose Sesquistearate , Cetyl Palmitate, Nylon-12, Cyclohexasiloxane, Propylene Glycol, Hydrogenated Polyisobutene, Stearyl Alcohol, Magnesium Aluminum Silicate, Phenoxyethanol, Fragrance, Caprylyl Glycol, Lithium Magnesium Sodium Silicate, Disodium EDTA, Linalool, Benzyl Salicylate, Limonene, Caffeine, Ascorbyl Glucoside, Benzyl Alcohol, Geraniol, Cellulose Acetate Butyrate, Polyphosphorylcholine Glycol Acrylate, Citral, Ammonium Polyacryloyldimethyl Taurate, Polyvinyl Alcohol, Sodium Chloride, Butylene Glycol, Sodium Hyaluronate. ± Titanium Dioxide, Iron Oxides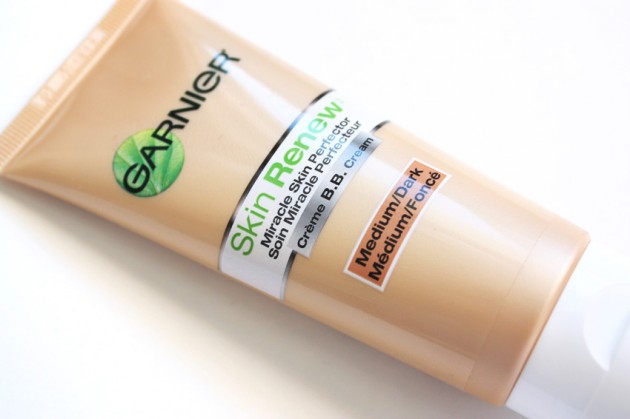 Try it if
You have normal to slightly dry skin that's just looking a bit lackluster,
You want a sheer base product to give a bit of a warm glow,
You're looking for a drugstore BB cream with a bit (but not a lot) of SPF, or
You want to "fake out" a slightly darker skintone for an editorial look, rather than out & about in public.
Skip it if
You're looking for something that will disguise large pores, uneven colouring (eg. redness, blotchiness, or sun spots), or blemishes.
You can't stand scented products – I think this scent is brilliant, to be honest, but much too strong in execution.
Heavy products drive you crazy (I can feel this when I'm wearing it, even after I give it plenty of time to sink in.)
You have dry patches, oily patches, or dehydrated patches – I'd say this is best suited to people who are fairly content with their skin to begin with.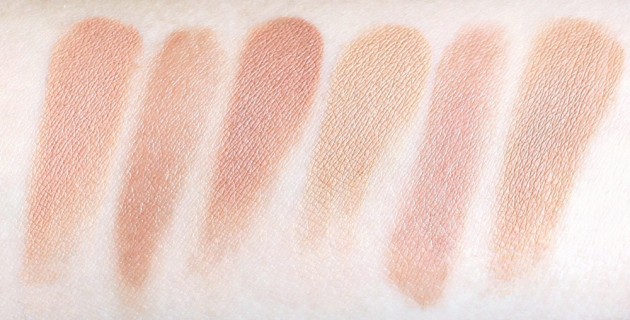 Swatched L-R: MAC NW25, Garnier Med/Dark B.B. Cream, MAC NW30, MAC NC30, Garnier B.B., MAC NC35.
All MAC shades are Studio Finish SPF 15 concealers.
The verdict?
Garnier describes their BB Cream as an "all-in-one every day moisturizer [… a] light, velvety-smooth lotion." And, honestly, I'm going to have to say that it's none of the above. It always irks me when a product isn't bad, but doesn't do as it should – because as a blogger, what am I supposed to rate it by, then?
If you're looking for a B.B. Cream that will provide a sheer, dewy, luminizing base, then I would say this is worth checking out. However, if you're on the market for more coverage, something scent- or silicone-free, or that truly "flawless" finish, this isn't the product for you.
Garnier's Skin Renew Miracle Skin Perfector B.B. Cream (quite the name!) retails at a SRP of $19.99 CAD, though you can get a $3 off coupon at their site, here. Full-face comparison photos later this week, if I can find time ;)