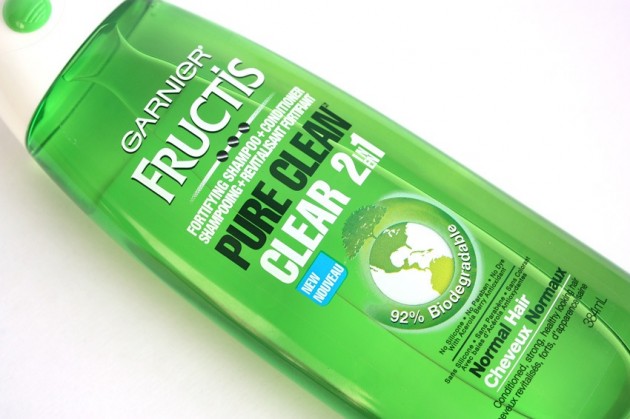 The product: Garnier Fructis Pure Clean Clear 2 in 1 Shampoo
As those of you who have gone 'cone-free will know, finding silicone-free haircare for under $20 apiece can be… well, difficult, to say the least. More often than not, formulas (particularly conditioners and styling products) will rely on silicones to give hair that smooth, slippery feeling, and the 'cone-free ones come with price tags around $50 (plus hours of your time on the silicone-free hunt) for the duo.
On top of all that, I've been itching for a 2 in 1 for those I'd-rather-be-sleeping mornings – so, finding out that Garnier just put out a new Pure Clean shampoo + conditioner? It was a bit like waking up (very groggily) from a good dream.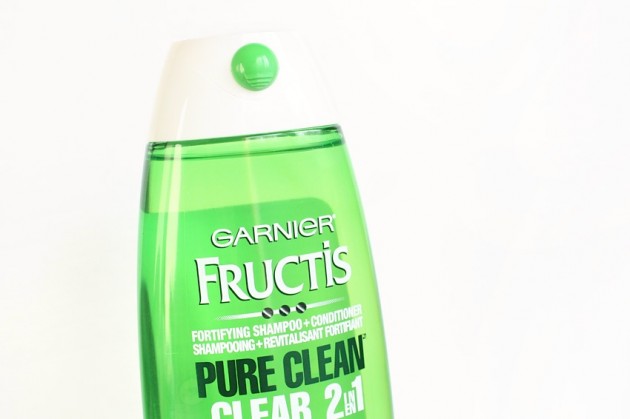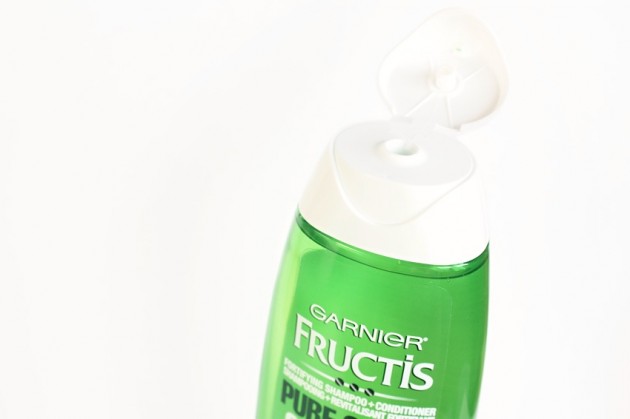 The clear, slightly greenish formula (a lot of that super-green colour is from the plastic, not the product) contains no silicones, parabens, or dyes, and comes packaged in a 50% recycled material PET plastic container – which is the most recyclable form there is, for those of you who (like me) would rather research polish than plastic. I'm not huge on the drugstore fresh! scent, but at just over $5 for a 384ml bottle, I can't really complain.
As for how a clear 2 in 1 is for the long term? I'm not sure yet, but things have been going pretty well so far. The clear, super-sudsy formula has had me a bit on edge, though, so I figured I might as well have a look at what's inside – a lot of conditioning agents will make products go milky or opaque, but maybe Garnier's found the magic formula to keep things clear and conditioned.
Let's talk ingredients…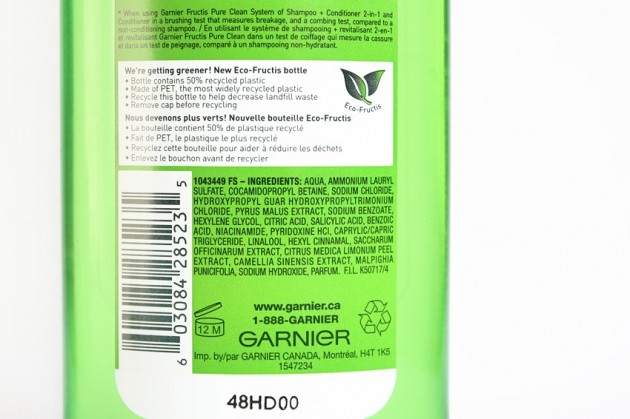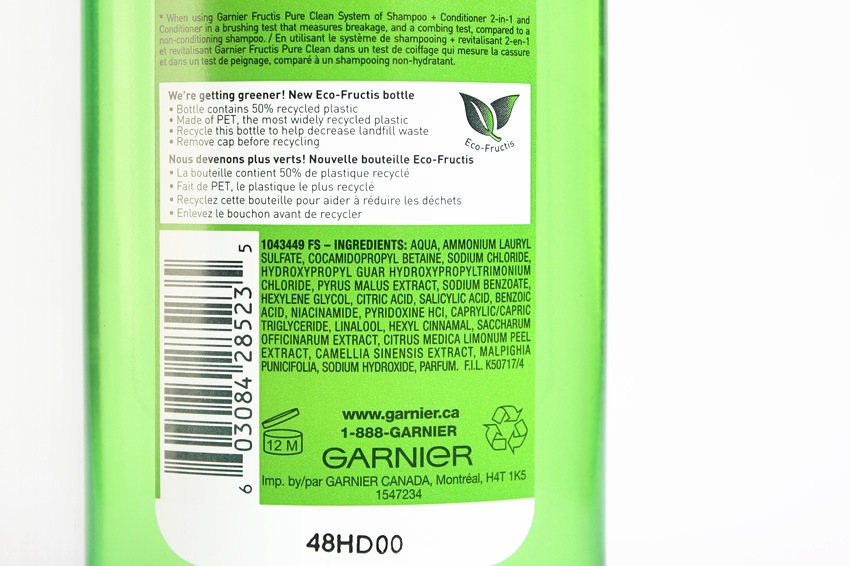 (For those of you reading on smaller screens, remember that almost all of the images on theNotice can be clicked on & opened up in a larger size! Also, things have a tendency to go blurry when WordPress resizes them – that'll be corrected if you give the full-size a look, too.)
In terms of conditioning ingredients, I'm seeing:
Cocamidopropyl betaine, a surfactant and antistatic agent;
Hydroxypropyl guar hydroxypropyltrimonium chloride, an antistatic and hair conditioning agent with an excessively long name, if you ask me (which, admittedly, no one did);
Pyridoxine HCI (vitamin B6), an antistatic agent as well as a hair and skin conditioner;
Plus caprylic/capric triglyceride, apple fruit extract, and sugarcane extract, all skin conditioning agents;
And lemon peel extract, green tea extract, & acerola extract… but I don't really know what they're up to in there.
Long story short? It may be clear, but Pure Clean Clear shouldn't be too stripping – for either your strands or your scalp.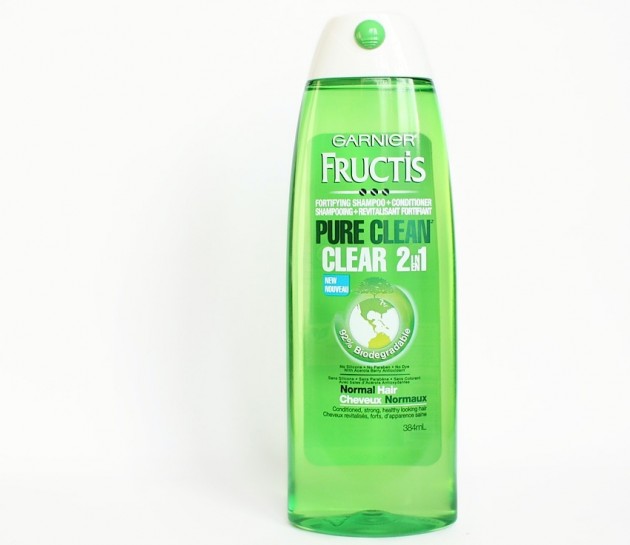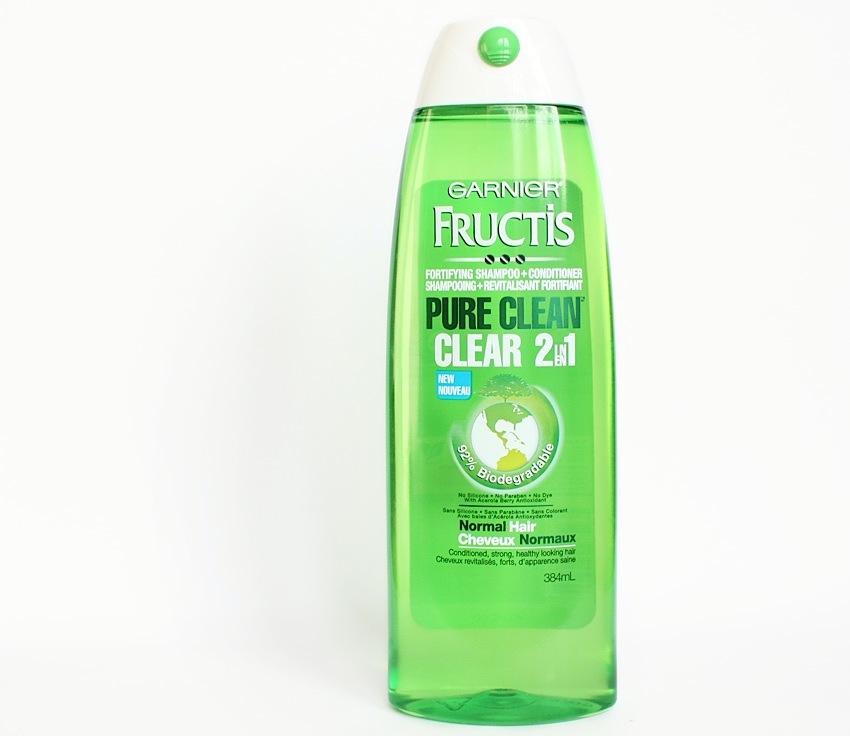 The verdict?
If you're just a regular girl with regular hair, I'd say this is skippable – it's definitely not a bad product, but it didn't really wow me, either. My hair seems pretty much the same as it is always (which is to say, dry but pretty okay; I do live in Alberta, after all.) I'd tell you to pick it up if you're travelling and need a decent, cheap, accessible "green" shampoo/conditioner, but it's not something I'd stockpile.
But for those of us who are on 'cone-free skin diets: this is quite literally the only silicone-free 2 in 1 that I've ever run into (and I've been looking, trust me.) If that's what you're on the hunt for, then STOP! right now (thank you very much; I need somebody with a human touch.) At $5, you can't not give it a try.
So, there you have it. Good product at a great price, but I'm still on the lookout for a great product at a good price ;)
—
P.S. That's right, I just referenced the Spice Girls and SCIENCE! in the same post.
P.P.S. I like yelling SCIENCE! whenever something could, theoretically, in some way/shape/form, be explained by science. This leads me to yelling SCIENCE! at a very inappropriate volume at very inappropriate times throughout the day, but it's well worth it. You should give it a try; really helps with stress release (and by "stress release," we mean "boredom.")