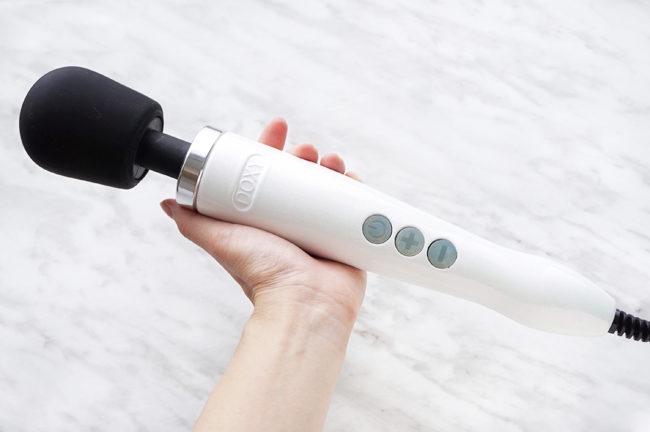 *sponsored by LuxuryVibrators.ca
The product: Doxy Die Cast Wand Massager
Today's a good day. I just got back from a super relaxing weekend in the mountains, it smells nice and fresh outside, and the Doxy Die Cast is a thing that exists in my life.
I know what you're thinking. But Rae! You hate massage wands!
Well… I thought I did. And then I met the Die Cast.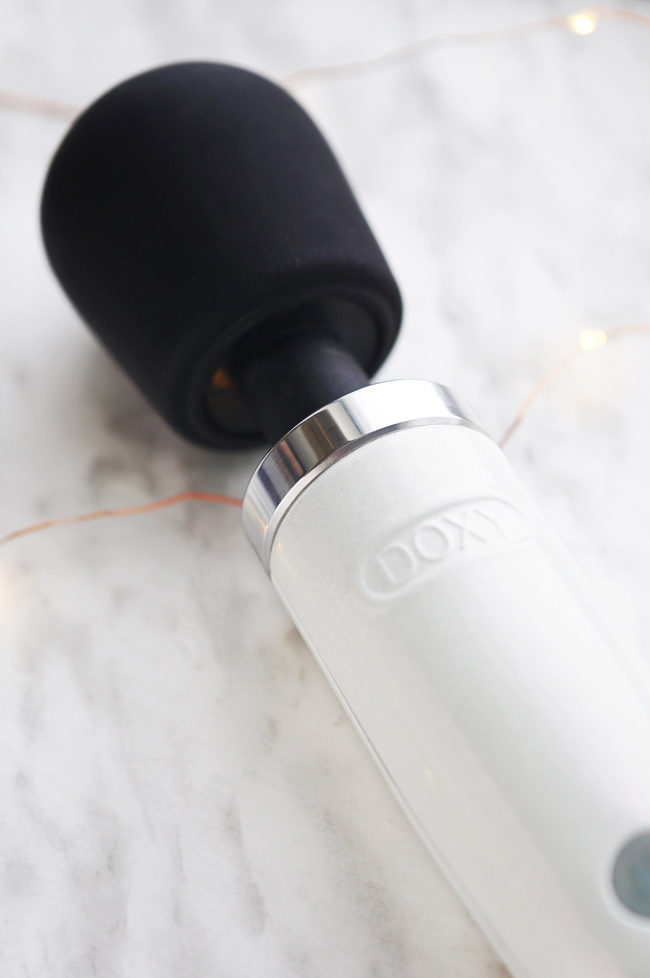 What makes the Doxy Die Cast irreplaceable (to me)
Up until I tried the Die Cast, I hated most wands. I can't stand the Magic Wand; I actively hate the Sola Sync; and I only abide by the Lovehoney x Tokidoki Unicorn Massage Wand because, well, it's a unicorn. (Its horn makes it feel more like a traditional vibrator than a wand.)
But the Die Cast is incredible. It's rumblier than the lighter massage wands I've tried, and the super-smooth silicone head feels comforting, not grating. The vibrations are overwhelming, but the double weighted head of this toy dampens them so that they don't hurt or feel numbing – which wands often do, for me.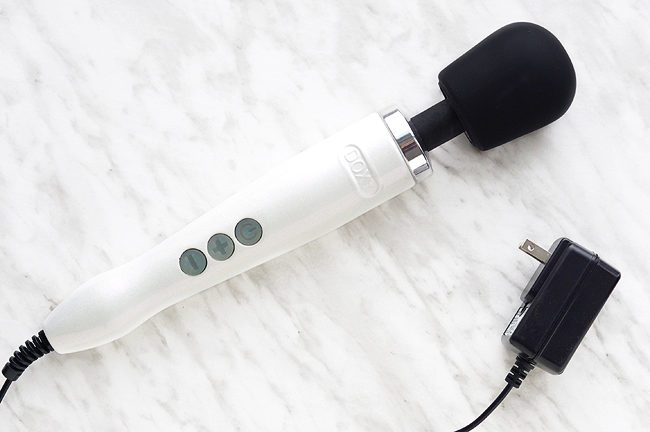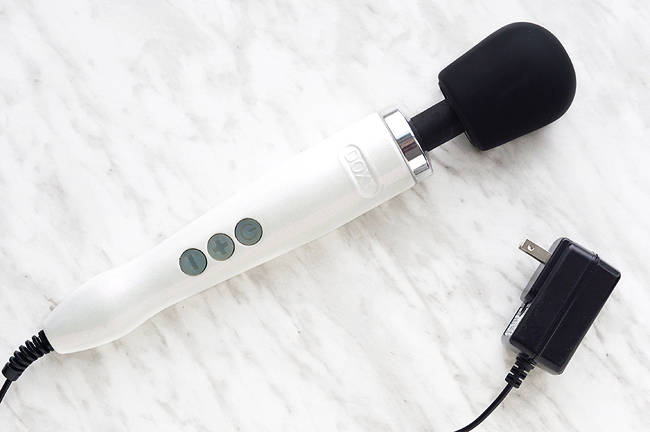 The magic of the Doxy Die Cast is twofold. Firstly, it's a goddamn work of art. It's made from a die cast aluminum & titanium alloy, with a medical-grade silicone head. It has squishy, LED-backlit buttons (hold the power button to turn it on with a pulsation mode) and a 12-foot cord. It feels just as luxurious as it looks, too – you could easily club someone to death with this flawlessly smooth handle. Die casting is an expensive process (hence the $285 CAD price tag on the Die Cast, which is updated significantly from the Doxy Original Wand), but it delivers.
I learned from retailers at Woodhull that the white Die Cast does poorly online, but flies off the shelves in person. I can see why: the white finish looks flat in stock photos, but is dazzling in real life. It's full of multidimensional purple reflects that glow slightly green at a flat angle. Take a close look at the photo below – you should be able to just barely see that beautiful green and purple glow.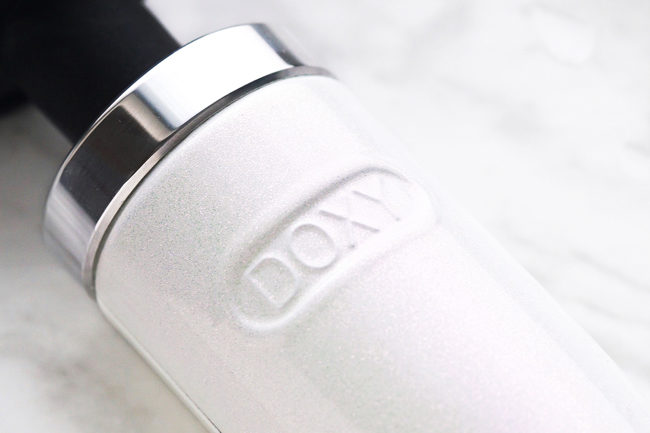 Look at that glitter!
Secondly, the Doxy motor is at its best in the Die Cast. I love intense vibes, but I've never made it to max with this wand. The lowest setting on the Die Cast feels significantly more intense than the highest setting on the We-Vibe Tango, so you're really in for a powerful (but noisy) experience when you use it.
With a bullet vibe, it takes me anywhere from 12-50 minutes to orgasm, with an average around 25 minutes. With the Doxy, I can do it in five. 
I didn't even know my body was capable of getting off in under ten minutes. And while the orgasm isn't as full-bodied as it would be if I took my time to build up to it, it makes me feel (for lack of a better word) normal. 
I have a lot of anxieties wrapped up around sex, and I love sex toys with the intensity that I do because they make orgasming easier for my disabled body. But while I know that it's totally normal for orgasms to their time to come, taking that up to an hour makes me feel awful. I get tired from carrying that much tension in my body for that long, and crabby because my body won't do what I want it to.
Owning a sex toy that helps me come on my terms is incredibly empowering, and that's why the Die Cast feels so irreplaceable to me.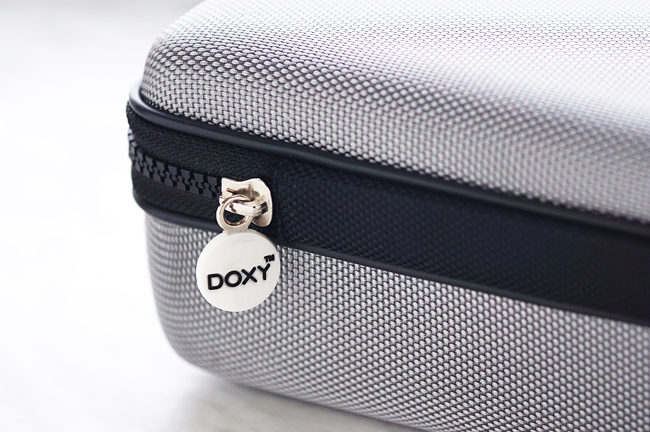 The Doxy Die Cast carrying case
The Doxy caveat
I was expecting to hate the Doxy Die Cast. Not just because I thought I hated massage wands, but because I haven't had the best experiences with Doxy, either. Don't get me wrong: the people behind the brand are amazing, as are the products. But their toys frequently arrive faulty. 
My first Doxy experience involved an un-fixed motor, which slid vibrations from the handle to the head, and back again. My second was this very product, which Doxy had to replace because it came with a spinning head that I couldn't fix.
Friends! Do you own a @Doxy? Have you had problems with said Doxy? I'd love to hear about them for an upcoming review!

— Rae Chen (@theNotice) September 15, 2017
I asked my followers in a Twitter poll if they owned a Doxy product, and more than half of respondents who own a Doxy said that their Doxy has had problems. The problems included sticking buttons, stuck caps, spinning caps, and more. And Doxy has been great in each and every instance, providing hacks and replacement products free of charge, but… That shouldn't be necessary.
If you're paying almost $300 for a vibrator, your experience should be perfect. Your product (or your gift) shouldn't arrive faulty. Even if the company is great about fixing problems, which Doxy is, the faulty products shouldn't be going out in the first place.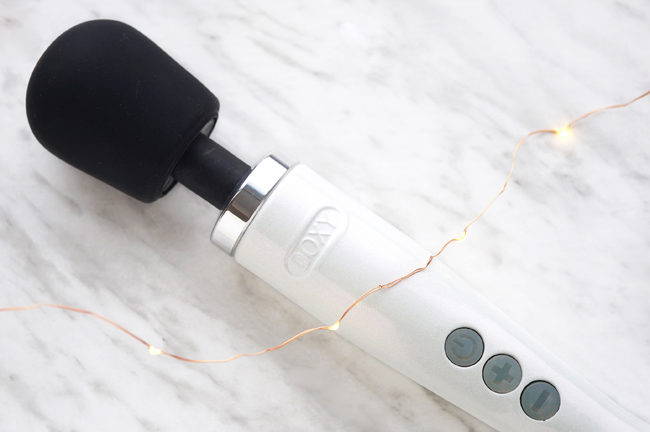 The Doxy Die Cast verdict?
Get it. Get three! Get as many as you can possibly afford. (Which is probably not that many, because man, these are EXPENSIVE.) Just do yourself (and me) a favour if you'll be buying it as a Christmas gift, and plug your Die Cast in when it arrives – before you put it under the tree.
The Doxy Die Cast is a massage wand, but it's the best damn massage wand I have ever tried. It's not very discreet or travel-friendly when compared to many smaller, rechargeable vibrators, but I will happily exchange all that for this beautiful, beautiful motor and heavy, rumbly head.
Note: The Doxy Die Cast is "compatible with all standard large massage wand attachments." Doxy also makes a Doxy Original Massage Wand, which features the same motor and shape – but a different casing. My wonderful blogging friends Hey Epiphora and Dangerous Lilly have excellent comparisons of the two!
Availability: $285 CAD at LuxuryVibrators.ca, who I am forever grateful to for introducing me to the Die Cast. LuxuryVibrators.ca is a Canadian-owned business, and they stock only body-safe products.