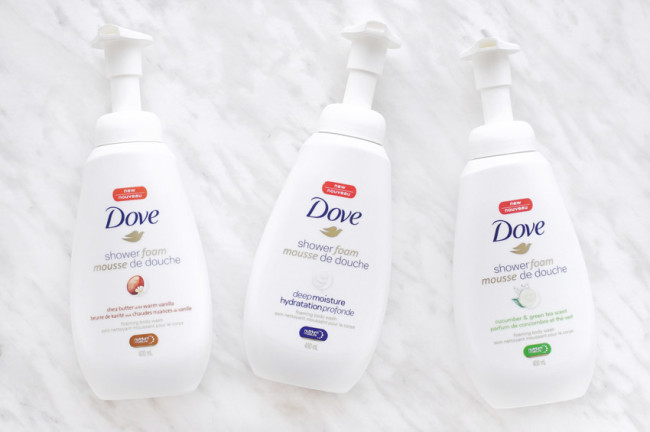 The product: Dove Shower Foam in Shea Butter with Warm Vanilla, Deep Moisture, and Cucumber & Green Tea Scent 
Did you know that Dove hasn't developed a new format for a shower product in 20 years? It's true: the last time they did, it was 1987.
This year, they're changing things up with a skin cleanser that's altogether new to the brand–a foam. It follows the same mentality as the Bioderma Atoderm Shower Gel that I reviewed last spring, with a lighter texture that rinses off more easily (and gently).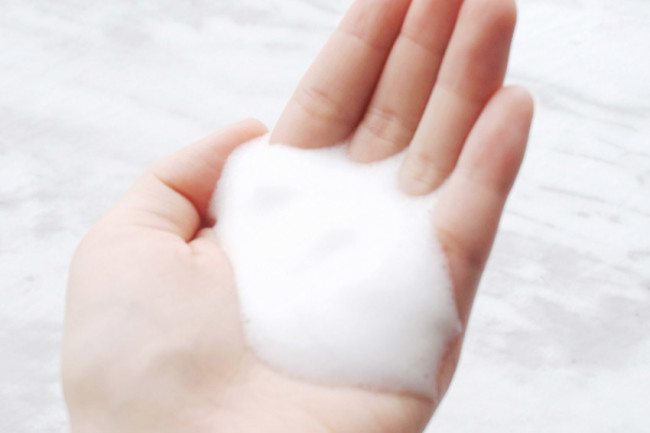 The Dove Shower Foam formula
The new Dove Shower Foam focuses on cleansing the skin without stripping away its moisture. It uses Sodium Lauroyl Glutamate and Glycinate as its main surfactants, which are gentler alternatives to SLS. (They're so gentle that they're used in facial skincare as well!)
The formula also contains stearic acid and glycerin to help lock moisture into your skin, and it's easy to rinse off. I've been using it all month to soap and shave, and it works well for both.
I've been a little spoiled when it comes to shower products over the past few years, and I can't remember the last time I used something mass market. But guess what? While they're a little more stripping than the shower oil that I was using previously, I'm happy to say that the Dove Shower Foam formula is pretty neutral! These foams aren't too drying, and they never sting.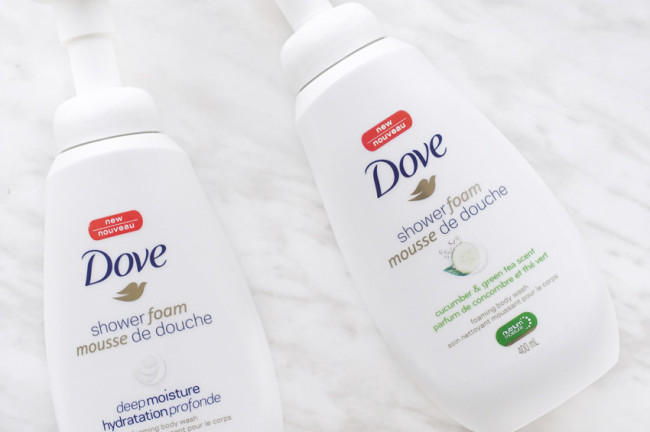 The Dove Shower Foam scents
Dove released their Shower Foam lineup with three different scents: a soapy "Deep Moisture" scent, a sweet Shea Butter with Warm Vanilla scent, and a light Cucumber and Green Tea scent.
The three are virtually identical in use, so feel free to choose based on fragrance, not function. I love the way Dove does cucumber scents, so I really like the cucumber and green tea one. I don't get any green tea notes from it, but it's a refreshing smell nonetheless!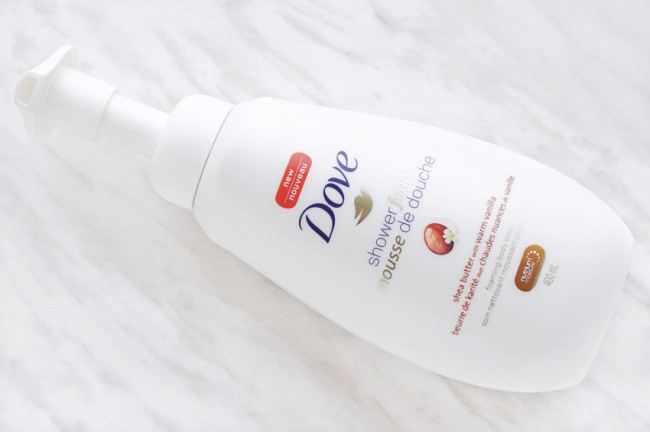 The Dove Shower Foam verdict?
The new Dove Shower Foams are simple, easy products. Each bottle contains more than 250 pumps of product, and they're just so satisfying–like, they're inexpensive, but the plastic pumps don't feel cheap. 
The Shower Foam formula is about as hydrating/drying as Dove's Beauty Bar formula, so let that guide your purchase. I'd definitely reach for one of these over a bar, but I'm biased: I'm not a fan of bar soap, and I'm a sucker for anything whipped or foamy!
Availability: $7.79 USD/$7.97 CAD at most drugstores, mass market retailers, and grocery stores. Permanent as of January 2017.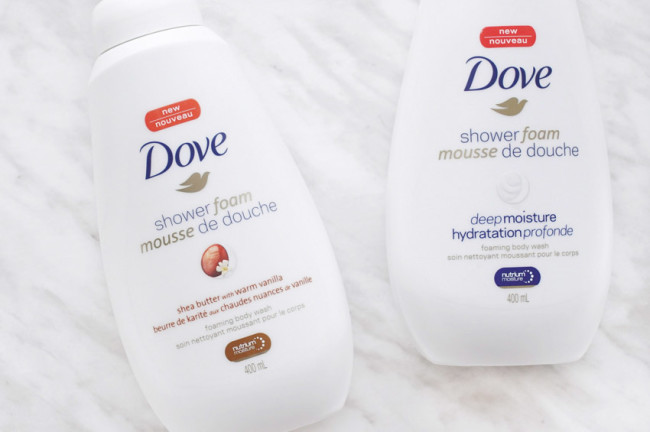 Dove Shower Foam ingredients:
Aqua, Sodium Lauroyl Glutamate, Glycerin, Cocamidopropyl Betaine, Sodium Chloride, Sodium Lauroyl Glycinate, Lauric Acid, Parfum, Polysorbate 20, Sodium Laurate, Phenoxyethanol, PPG-9, Citric Acid, Stearic Acid, Tetrasodium EDTA, Iodopropynyl Butylcarbamate.