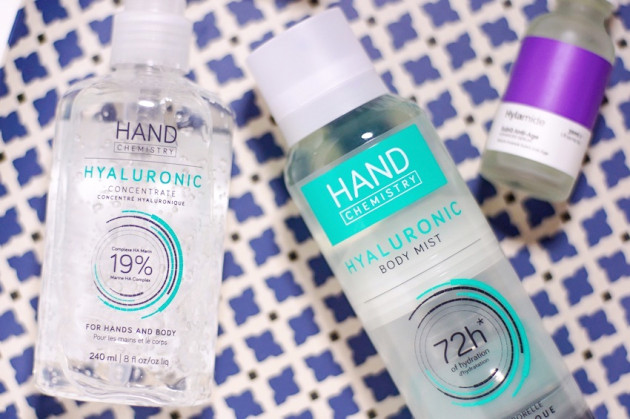 Every brand has a Thing. You know: that one big company identifier; that product that really puts a brand on the map. A first-on-the-scene eye primer, a founder with a knack for creating Hollywood-worthy brows, a line of high-pigment products with explicit names–you get my gist. (How many of those did you get right?)
For Deciem, that thing is creating super-sciencey products and, when applicable, loading them up with top-of-the-line hyaluronic acid. Here are three of their best hyaluronic products to check out!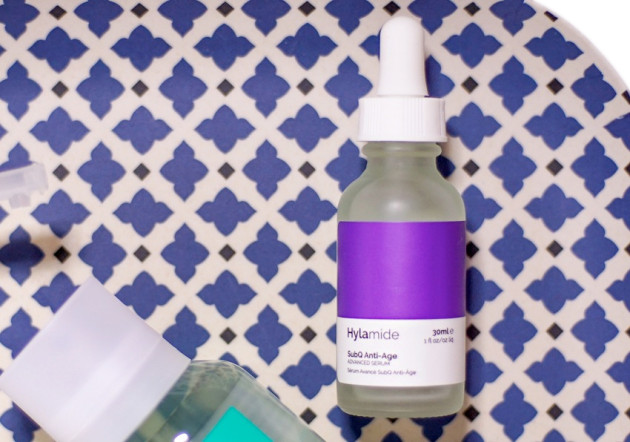 Hylamide SubQ Anti-Age Advanced Serum ($38 CAD)
The science: The Hylamide line focuses on "controlled depth of penetration" via varying molecular sizes/multiple weights of hyaluronic acid, which then settle to hydrate different layers of the skin: larger molecules for topical hydration and smaller molecules to sneak into your dermis and hydrate deep down.
The SubQ Anti-Age is also meant to minimize lines, wrinkles, and textural damage, so it's loaded with stuff like:
Copper Lysinate/Prolinate (to stimulate collagen production),
Nonapeptide-3 Retino-Complex (to deliver anti-ageing results without the irritation typically seen with retinol products),
Saccharideisomerate (to improve skin texture and barrier function)
…Along with five forms of hyaluronic acid.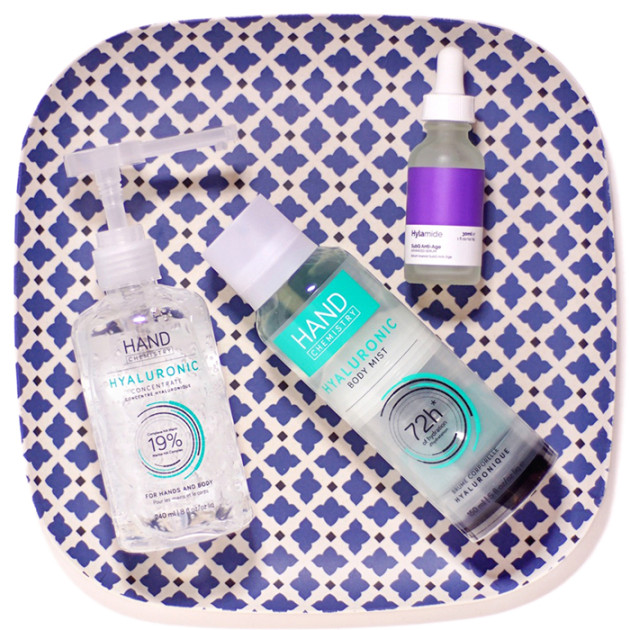 The results: Surprisingly enough, I really like the Hylamide SubQ Anti-Age–despite the fact that I'm not showing signs of ageing just yet. It's fantastically priced (at $38 CAD, it's by far the most affordable serum that I own), and it's very much a "nothing" product: it feels like heavy water, and it disappears on the skin.
As for the effects? With twice-daily use, I feel like my skin is a little more moisturized all 'round, but it did take a couple of weeks before I saw a difference. On my other half older half, however, I see an immediate difference. He applies five or six drops without any additional moisturizer (he has combination skin), and after just a couple of uses, there's a slight but definite reduction of fine lines.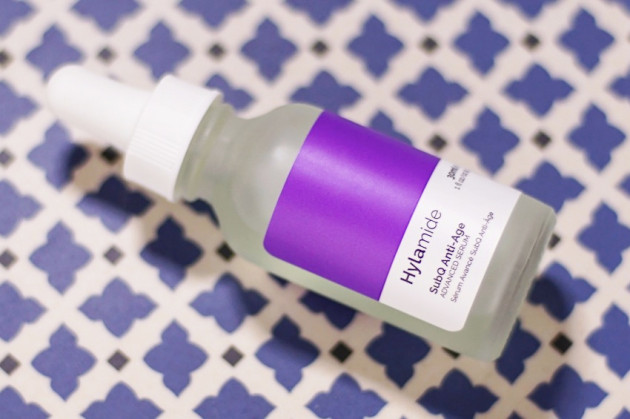 At under $40, honestly, you can't lose. The Hylamide SubQ is an awesome hydration booster for my dry skin, an awesome serum/moisturizer for my partner's fine lines, and an awesome anti-ageing serum for Edmonton's friendliest beauty blogger over 45.
(Who is Edmonton's friendliest beauty blogger under 45, you ask? That would be me. I will aggressively friend at you until you bleed.)
↳ Get it at: Deciem/Hylamide with FREE worldwide shipping!
The Hylamide SubQ Anti-Ageing Advanced Serum ingredients:
Aqua, Glycerin, Ethoxydiglycol, Hydrolyzed Yeast Extract, Sodium Hyaluronate Crosspolymer, Pentylene Glycol, Tamarindus Indica Seed Gum, Pseudoalteromonas Ferment Extract, Hydrolyzed Sodium Hyaluronate, Sodium Hyaluronate, Polyacrylatecrosspolymer-6, Trisodiumethylenediamine Disuccinate, Lactobacillus/Eriodictyoncalifornicum Ferment Extract, Saccharideisomerate, Copperlysinate/Prolinate, Palmitoyl Tripeptide-38, Myristoyl Nonapeptide-3, Ahnfeltia Concinna Extract, Ethylhexylglycerin, Methylglucoside Phosphate, Cetylhydroxyethylcellulose, Hydroxypropylcyclodextrin, Polyglucuronic Acid, Hexylene Glycol, Salicylic Acid, Lecithin, Phospholipids, Caprylyl Glycol, Sodium Hydroxide, Citric Acid, Potassium Sorbate, Sodium Benzoate, Sodium Citrate, Chlorphenesin, Phenoxyethanol, Leuconostoc/Radish Root Ferment Filtrate.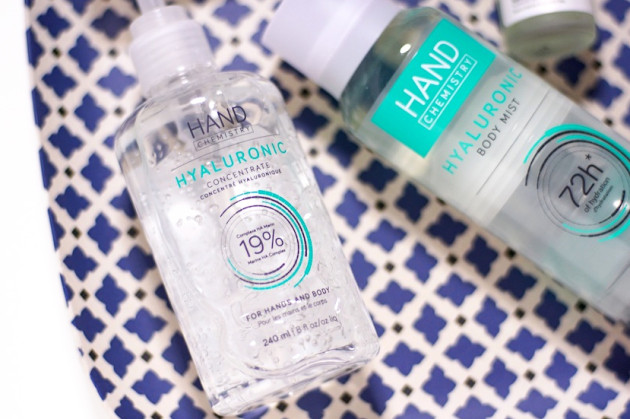 Hand Chemistry Hyaluronic Concentrate ($30 CAD)
Dry skin doesn't stop at the neck, however–especially not in climates like mine. So, for those with dry skin on their bodies, Deciem has a couple cool (and affordable!) hyaluronic options in their Hand Chemistry line, too.
The science: The gel-format Hyaluronic Concentrate is formulated with three types/weights of ultra-pure hyaluronic acid, plus complexes derived from mushrooms, tamarind, and red marine algae that help promote epidermal water retention and increase skin elasticity.
But what makes the Hyaluronic Concentrate really cool isn't the science–it's the fact that it comes in a whopping 8 ounce pump bottle.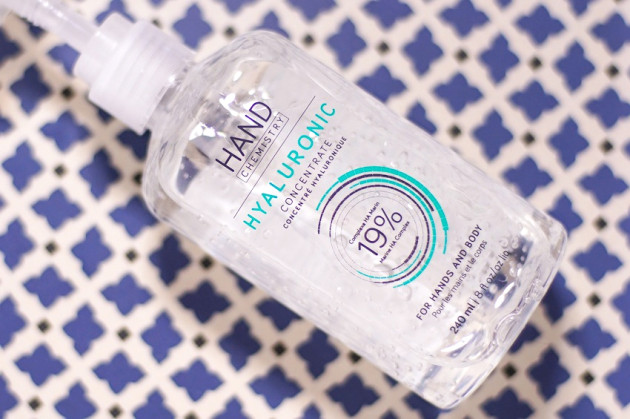 The results: I always used to wish that I could apply my Indeed Labs Hydraluron to my body, but at around $30 per ounce, it seemed like a pipe dream.
But no longer. The Hand Chemistry Hyaluronic Concentrate is eight times the size at the same price, and while it's designed for use on the hands and body, it's not all that different from Hydraluron. I mean, okay, so the formulas are totally different, but the textures? Eerily similar. The Indeed Labs version feels a little cushier compared to the Hand Chemistry's barely-there stickiness, but I can (and have!) used both on my face with identical results.