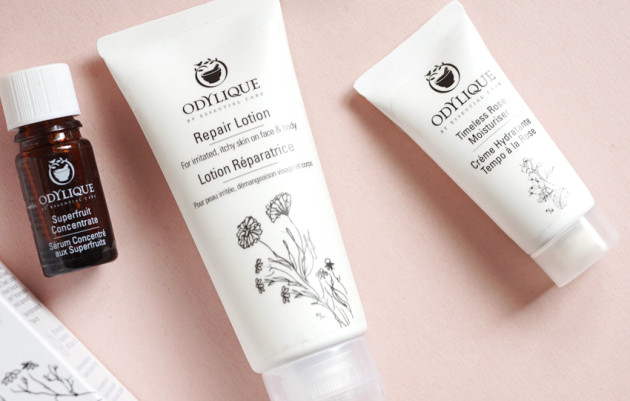 The products: Odylique by Essential Care Timeless Rose Moisturizer, Organic Repair Lotion, and Ultra Rich Balm
I have got to stop forming love-hate relationships with products.
Today, we're covering a few products that I tried recently from a brand called Odylique, a relative unknown in the beauty blogging world. An all-natural and largely organic brand, Odylique is vegan-friendly and was created by its founder to help alleviate her own sensitive, eczema-prone skin.
» Odylique recommends that those with eczema moisturize sparingly but often, which is definitely life advice to take to heart!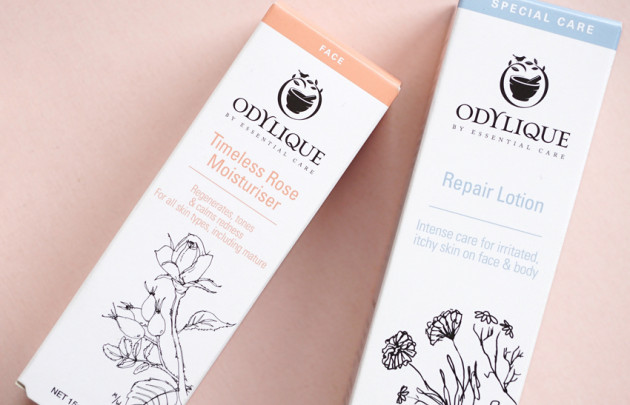 Odylique Timeless Rose Moisturizer ($21 USD/0.51 fl oz)
Based around aloe, rose, coconut, and jojoba and enriched with rosehip and sea buckthorn extracts, the Odylique Timeless Rose moisturizer is quite thin but packs a serious moisturizing punch. I need to apply a lot for my dry skin and re-apply often (the avocado-based moisturizer would be better for dry skin), but once it's on, it does a great job of making my dry patches disappear.
Best for slightly dry to combination-dehydrated skin types, I would recommend this cream as an affordable, all-natural alternative to those who are used to using fluid moisturizers — anything from the Olay or Neutrogena lines, for instance.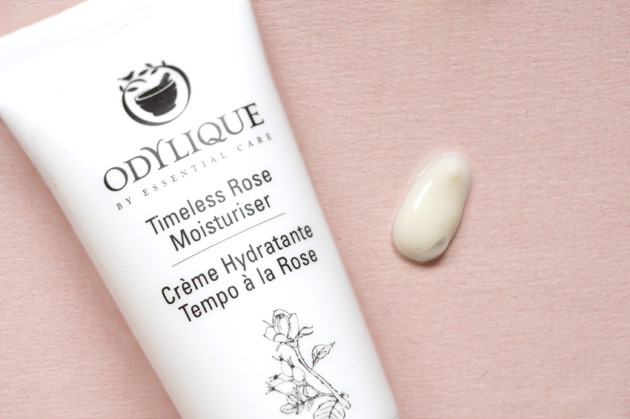 However (and this is a BIG however), this moisturizer started getting pretty funky after 2-3 weeks of use. My contact at Odylique said the batch should still be okay, though, so perhaps it has to do with contamination (air, bacteria, etc.) or the product freezing on its way over here, but I'm not sure. I plan on trying a different bottle of this soon, though, so I'll let you know how it goes!
Odylique Timeless Rose Moisturizer ingredients:
Aqua, Rose Flower Water, Jojoba Seed Oil, Coconut Oil, Raw Fairtrade Shea Butter, Cold-Pressed Sunflower Seed Oil, Glycerin (non-plant palm origins), Cetearyl Alcohol, Seabuckthorn Extract, Cetearyl Glucoside, Aloe Barbadensis Leaf Juice Powder, Briar Rose Fruit Extract, Rosemary Leaf Extract, Rose Geranium Oil, Lactic Acid, Sodium Anisate, Sodium Levulinate, Sodium Lauroyl Lactylate, Xanthan Gum, Geraniol, Eugenol (naturally occurring) (94% organic)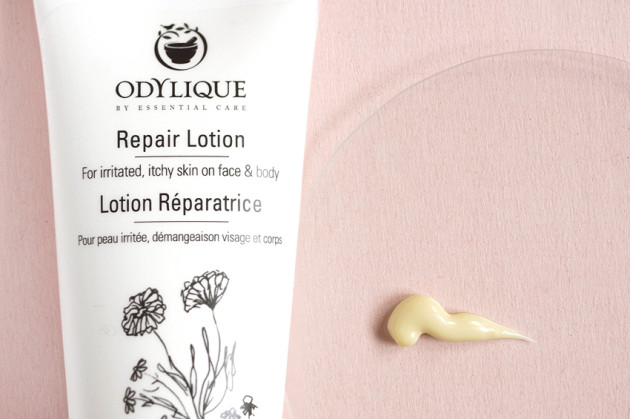 Odylique Organic Repair Lotion ($23 USD/60 ml) and Ultra Rich Balm
The Odylique Organic Repair Lotion held up better than the Timeless Rose, but still separated quite badly — and it oxidizes around the opening, which (while not harmful) can look icky! I find that it doesn't sink in quite as well as the Rose, but if you're on a tight budget, it's still very good for the price.
I also tried the brand's Superfruit Concentrate, which I wasn't crazy about (I don't like oils, remember?), and their Ultra Rich Balm, which really surprised me — it looks like it's going to be really hard and waxy, but it actually melts quickly at skin temperature and turns into a thick, balmy oil. (This one would make a fantastic, all-natural cuticle balm!)
Odylique Organic Repair Lotion ingredients: 
Aqua, Extra Virgin Olive Oil, Chickweed Extract, Raw Fairtrade Shea Butter, Chamomile Flower Extract, Calendula Flower Extract, Cetearyl Alcohol (naturally occurring), Rosemary Leaf Extract, Aloe Barbadensis Leaf Juice Powder, St. John's Wort Flower Extract, Cetearyl Glucoside, Glyceryl Caprylate, Phenethyl Alcohol, Xanthan Gum (95% organic)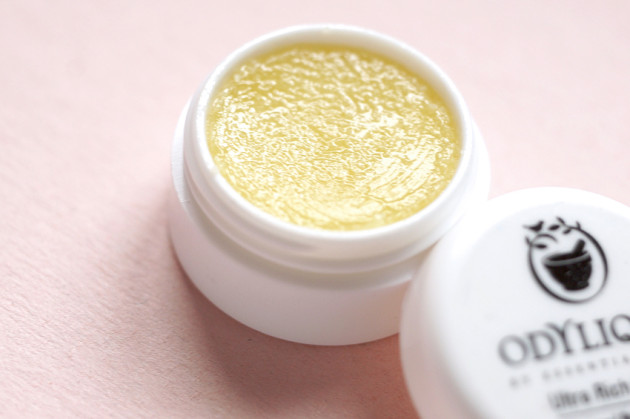 (Just a tiny-baby Ultra Rich Balm sample — this definitely isn't the size you purchase!w)
The verdict?
While I did really love Odylique's Timeless Rose Moisturizer (and I definitely want to try more from the brand), I'm not confident in the stability of Odylique's fluid products. I like the idea of all-natural, but I'd rather use something I know is safe than use something all-natural that might be growing bacteria.
My recommendation? If you want a great fluid moisturizer but the L'Occitane Shea Light Comforting Cream is too scented for you, try the Odylique Timeless Rose Moisturizer in the full-size form – it comes in a much more hygienic (and cost-effective) pump-style bottle.
Pass on anything by Odylique that comes in a squeeze-tube, and sample the Ultra Rich Balm if you love balms — this one is good (it's way more hydrating than the Burt's Bees one that everyone loves), but it definitely smells like a "natural" product!
Availability: $21-$48 USD at Odylique.com