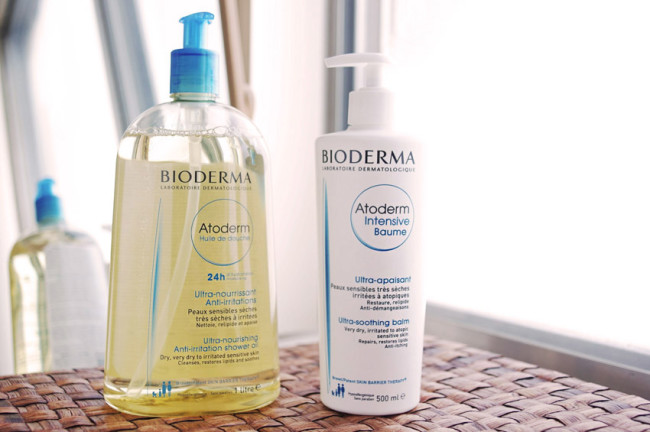 The products: Bioderma Atoderm Huile de Douche (Ultra-Nourishing Anti-Irritation Shower Oil) and Atoderm Intensive Baume (Ultra-Soothing Balm)
When you run a beauty blog, testing products is like constantly punishing your skin for things that it hasn't done: a never-ending deluge of things that are too oily, too stripping, too scented, too anything.
Which is why it's always such a pleasure when I get to review Bioderma Atoderm products. Bioderma is a "sensible skincare" brand to begin with, but Atoderm is their range for "very dry to atopic sensitive skin" – AKA my skin exactly. Every single product in the Bioderma Atoderm range is designed to restore the skin's hydrolipidic film, and they're all just so gentle and lovely.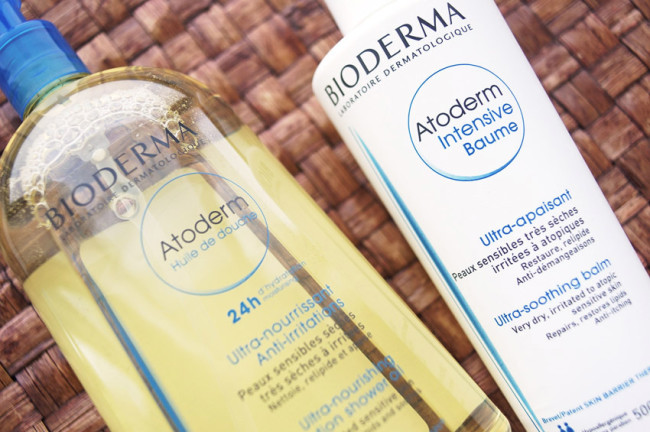 I honestly don't have a lot to say about either of these products, and I think that's great! It means that I have ZERO things that I'd like to change about either one, which is a rarity.
The four Bioderma Atoderm Shower Gels are each made to target a different level of dryness. The original Bioderma Atoderm Gentle Shower Gel is for dry skin, the Shower Cream is for very dry skin, this non-oily Bioderma Atoderm Shower Oil ($19.90 CAD/1L) is for dry/very dry, irritated skin, and the Ultra-Rich Foaming Gel is for very dry to atopic skin.
All four are also made for the whole family, so you can use them on the face, body, and scalp of newborns to adults! They're lightly scented, and they lather nicely into a thin, easily washable lather.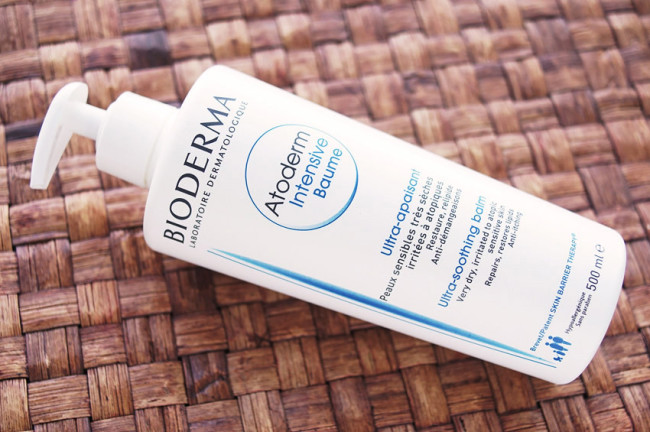 The Bioderma Ultra-Soothing Balm ($24.90 CAD/500 ml), on the other hand, is completely neutral. It's godly. The formula has no scent, stickiness, or oiliness and it always does the job–my skin never feels itchy after I use it.
My skin never feels like anything after I use it, actually, which I'm pretty sure is the highest compliment that you can give to a moisturizer. It just feels nice, smooth, and hydrated, even as a facial moisturizer. This is the most nourishing "everything moisturizer" in the Atoderm line (it's formulated for atopic skin on the hands, body, and face), so maybe I've just been living my life wrong before now.
All of the moisture. Give me allll of the moisture!!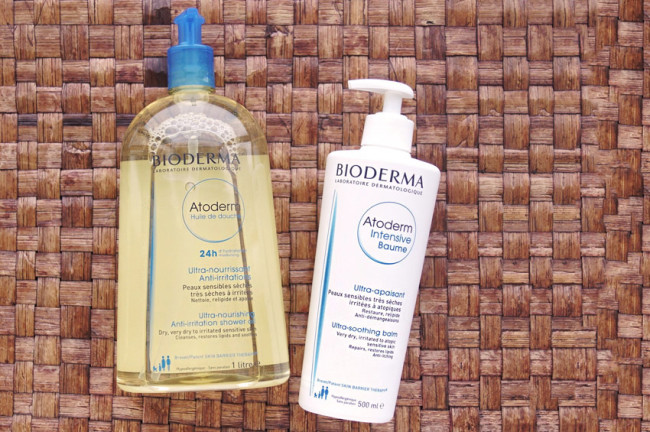 The verdict?
For no-nonsense drugstore skincare for very dry, atopic skin, you really can't do better than Bioderma. Both of these products are gentle, affordable, and silicone-free, and I'm very much enjoying using them.
If you're on a budget, I'd opt for the Ultra-Soothing Baume before the Ultra-Nourishing Shower Oil – I saw more noticeable hydrating and soothing effects with it, and the effects were longer-lasting. Like the rest of the Atoderm line, it's safe to use on the whole family, so give it a try if you have a little one whose skin is just extremely displeased with existing unprotected in the world!
(I feel you, tiny human. I feel your pain.)
Availability: Available at drugstores across Canada. New permanent products.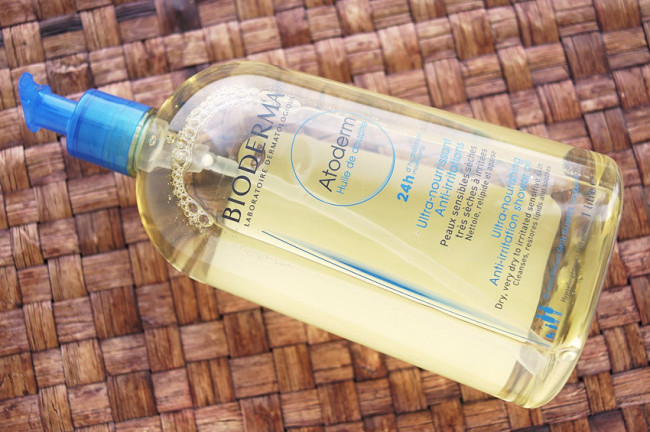 Bioderma Atoderm Huile de Douche ingredients:
Aqua, Glycerin, Peg-7 Glyceryl Cocoate, Sodium Cocoamphoacetate, Lauryl Glucoside, Coco-Glucoside, Glyceryl Oleate, Citric Acid, PEG-90 Glyceryl Isostearate, Fragrance, Mannitol, Polysorbate 20, Xylitol, Laureth-2, Rhamnose, Niacinamide, Fructooligosaccharides, Tocopherol, Hydrogenated Palm Glycerides Citrate, Lecithin, Ascorbyl Palmitate.
Bioderma Atoderm Intensive Baume ingredients: 
Aqua, Glycerin, Mineral Oil, Sunflower Seed Oil, Behenyl Alcohol, Sucrose Stearate, Canola Oil, Hydroxyethyl Acrylate/Sodium Acryloyldimethyl Taurate Copolymer, Pentylene Glycol, Beta-Sitosterol, Xylitol, Zinc Gluconate, Acrylates/C10-30 Alkyl Acrylate Crosspolymer, Palmitamide MEA, 1,2-Hexanediol, Caprylyl Glycol, Disodium EDTA, Sodium Hydroxide, Rhamnose, Sodium Lauroyl Lactylate, Polysorbate 60, Sorbitan Isostearate, Tocopherol, Phytosphingosine, Ceramide NP, Mannitol, Ethylhexylglycerin, Ceramide AP, Cholesterol, Carbomer, Xanthan Gum, Citric Acid, Ceramide EOP.