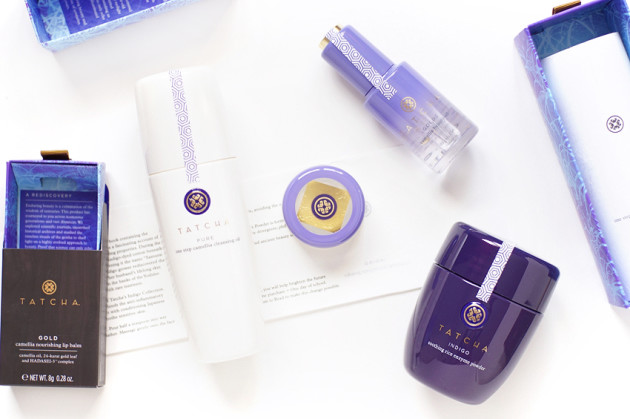 The products: Tatcha Gold Camellia Beauty Oil & Pure One-Step Camellia Cleansing Oil
Happy Tuesday, folks! I've got a couple Tatcha camellia oil products to share with you today, because the line has finally been picked up by Canadian Sephora stores & can be easily acquired, no firstborn/evil witch promises needed.
The Tatcha line features a lot of Camellia japonica flower oil, which is sometimes called Japanese tea oil or tsubaki oil. It's an ingredient that's used frequently in skincare thanks to its oleic acid triglyceride content (85%, just like human sebum), and it contains lots of skin-friendly antioxidants!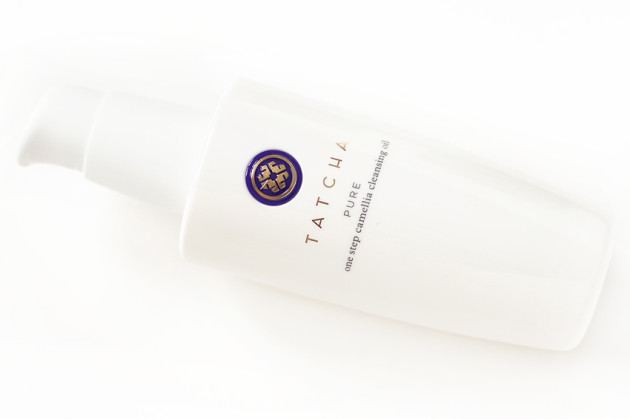 Tatcha One-Step Camellia Cleansing Oil ($48 USD/$58 CAD)
I started testing with the brand's One-Step Camellia Cleansing Oil, which is a dual-purpose makeup remover & cleanser from Tatcha's Pure product range. It's one of the brand's bestselling products, and it's easy to see why: it's a naturally fragranced, mineral oil-free cleansing oil that washes away with no residue.
I've actually tried Tatcha's cleansing oil a couple of times, and I wasn't a big fan of it in the past. I found out why this time around, though: I wasn't using enough of it with my trial size, and I kept testing it out at my boyfriend's apartment (which is dry like a high-tech science experiment and totally confounds my product testing results.)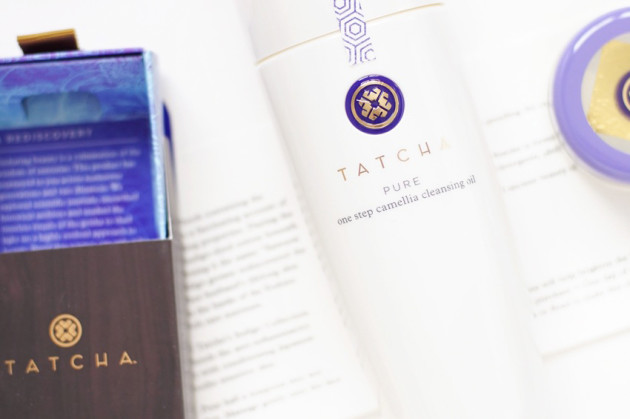 Now that I'm actually using enough Tatcha cleansing oil, I really like it. One pump removes all of my makeup, including eyeliner, and it leaves my skin feeling soft and clean.
I like a little more hydration from my daily cleanser, but this oil is super gentle, non-stripping, and non-greasy. It's better for sensitive or dry skin than Shu Uemura or L'Occitane cleansing oils, and it smells way better than DHC's Cleansing Oil (which I would otherwise slightly prefer.)
Overall, Tatcha's cleansing oil is an awesome all-rounder. It's a little pricey for a cleansing oil at $9.41 USD/oz, but it's a formula that will work well for oily and dry skin, and it's a great option for those with sensitive complexions.
Tatcha One-Step Camellia Cleansing Oil ingredients:
Cetyl Ethylhexanoate, Rice Bran Oil, Polyglyceryl-10 Dioleate, Polyglyceryl-2 Sesquicaprylate, Camellia Japonica Seed Oil, Glyceryl Behenate/Eicosadioate, Water, Algae Extract, Green Tea Leaf Extract, Glycerin, Ethylhexylglycerin, Alcohol, Natural Fragrance, Phenoxyethanol.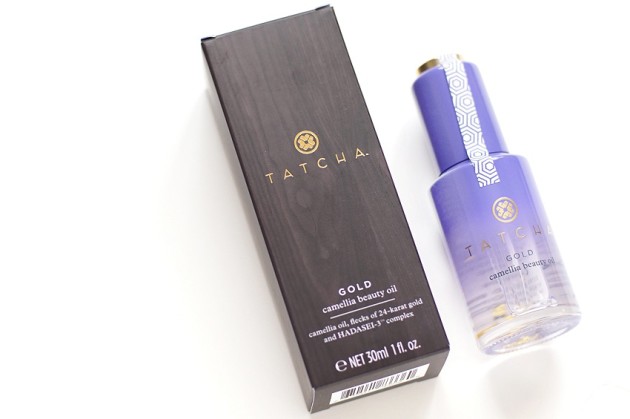 I've also been carrying around the Tatcha Camellia Beauty Oil, which is scented with natural bamboo and green tea fragrances. (It smells quite a bit like a Shu Uemura cleansing oil, actually!) It's a light, dry oil for the face, hair, and body, but I reserve it for face use only — my body has done nothing to deserve a $114 oil.
Like Tatcha's Cleansing Oil, this serum/moisturizer is formulated around camellia oil and is appropriate for all skin types. I like a serum that's a little thicker than this, but this oil blend is just moisturizing enough for my dry skin while still being lightweight enough for my boyfriend's slightly oily skin, which is pretty cool. (Boyfriend actually says it's the best-feeling oil he's ever tried, so score one for Tatcha!)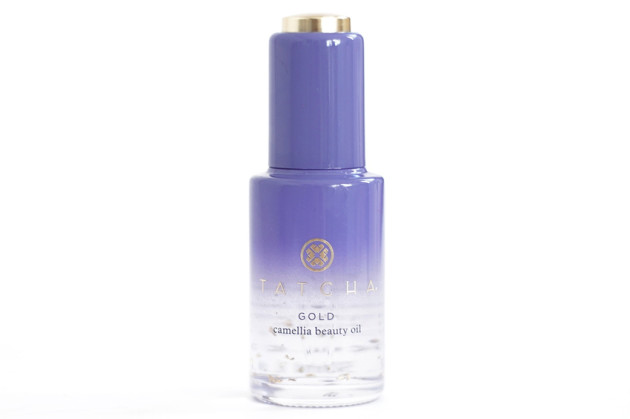 The Tatcha Camellia Beauty Oil is also formulated with olive-derived squalane, licorice root extract, and 24-karat gold flakes, making it great for regulating sebum production, calming down inflammation, and generally being super luxe. It's also available in a 10 ml travel size, but the travel size is $33 — I'd say go for the full size and just enjoy how stately and luxurious the packaging is!
Tatcha Camellia Beauty Oil ingredients:
Caprylic/Capric Triglyceride, Ethylhexyl Palmitate, Squalane (Olive Origin), Camellia Japonica Seed Oil, Natural Fragrance, Polyglyceryl-10 Pentaisostearate, Dimer Dilinoleyl Dimer Dilinoleate, Macadamia, Rice Germ Oil, Water, Tocopherol, Licorice Extract, Rice Bran Oil Extract, Rice Extract, Green Tea Leaf Extract, Alcohol, Glycerin, Algae Extract, Gold, Phenoxyethanol.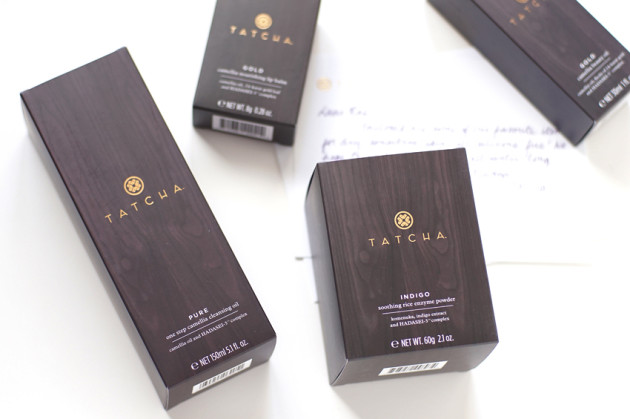 The verdict?
I really liked both of these products (they're definitely going into my regular skincare rotation), but at the price… they're not must-haves for me. My dehydrated skin was left wanting, which I think it slightly inappropriate for products that are this expensive.
If I had to pick a word to describe Tatcha's brand identity and product ethos, though, I would go with "exquisite."  These products are beautiful right from the boxes to the ingredients, and I personally think that they outperform most department store brands at a similar price point.
I have yet to find anything in the line for super dry skin, but if you want to spoil your normal to oily skin, then give these two a try!
Availability: Tatcha.com and Sephora (US and Canada). Each full-sized Tatcha product purchased funds one day of school for a girl through the brand's Beautiful Faces, Beautiful Futures partnership with Room to Read.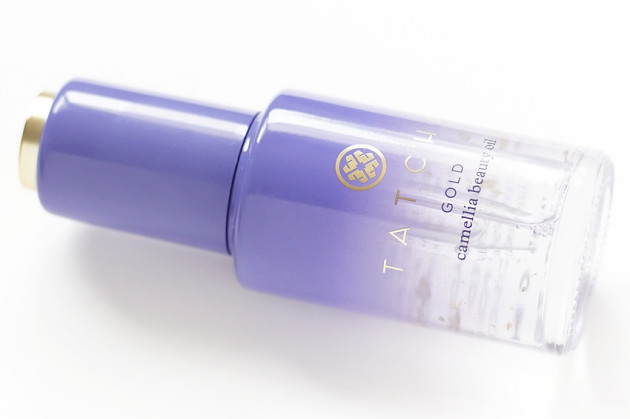 One last shot of that beautiful camellia oil (and gold flakes)!