Annabelle Stay Sharp Brow Liner in Dark Brown
This fall, Annabelle took a focus on brows and launched three brand new brow products plus three new shades in an old favourite. All of them retail for an insane(ly good) $9.95 CAD or less, and right now, they're on sale for $3.95-$4.95, which is… I mean, you have to buy at least two of them, at those prices.
Each product is best for a different set of brow needs, so here's what I thought of the different formulas! (Spoiler alert: the Skinny Brow Liners are my new brow must-haves, so go grab them for next-to-nothing on the Annabelle site before they sell out!)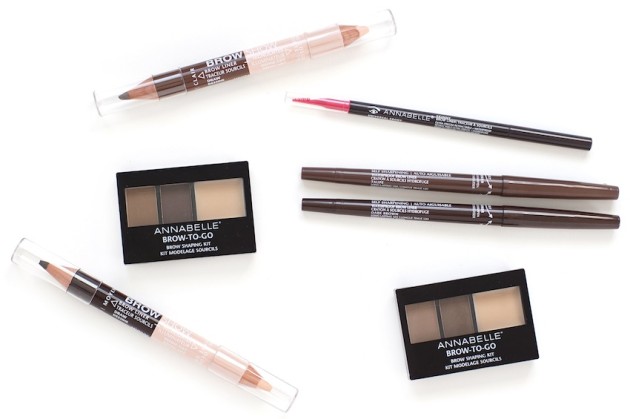 Annabelle Fall 2015 brow launches
Annabelle BrowShow Brow Liner & Highlighter ($9.95 CAD)
↳ Best for: Unruly brows and tired eyes
The Annabelle BrowShow Brow Liner & Highlighter ($9.95 CAD) was the product that, I'll admit, I was the most excited to try out of Annabelle's fall launches. Available in two shades (both swatched here), it features a gel-like pencil on one end that delivers colour and hold to the brows, and a highlighting pencil on the other end to give that wide-eyed, "brow lift" effect.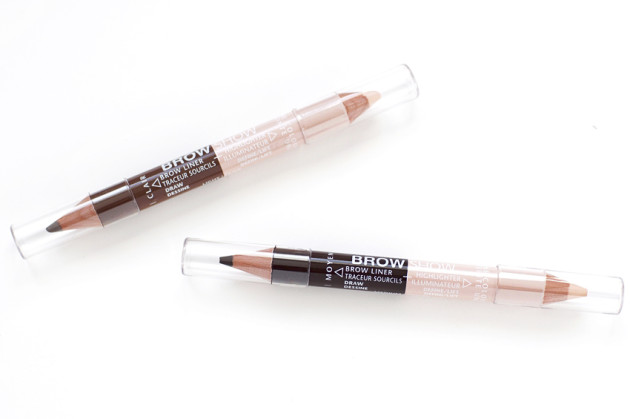 My brows don't need a lot of hold, so I go easy on the brow liner, but I make very liberal use of the highlighter on the browbone and in the inner corners of my eyes. The highlighter, which is the same shade in both the Light and the Medium pencils, delivers a sheer, pretty pink glow, while the brow liners can be applied sheerly or heavily and really do act as both tint and wax. 
I found Light to be nice and taupey, but a light feathering of Medium suits my brows best — it's not too warm or yellow at all. Plus, at $9.95 (or $4.95 right now), the BrowShow pencils totally act as a Benefit High Brow dupe ($22 USD/$29 CAD) for just a fraction of the price!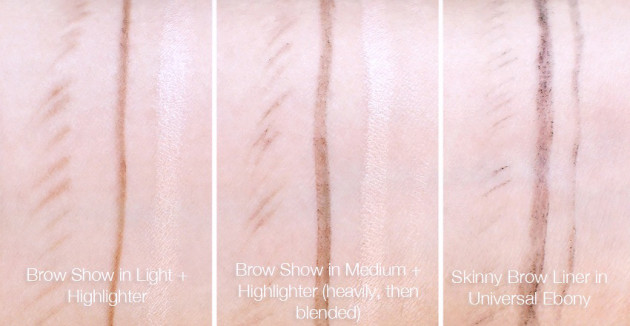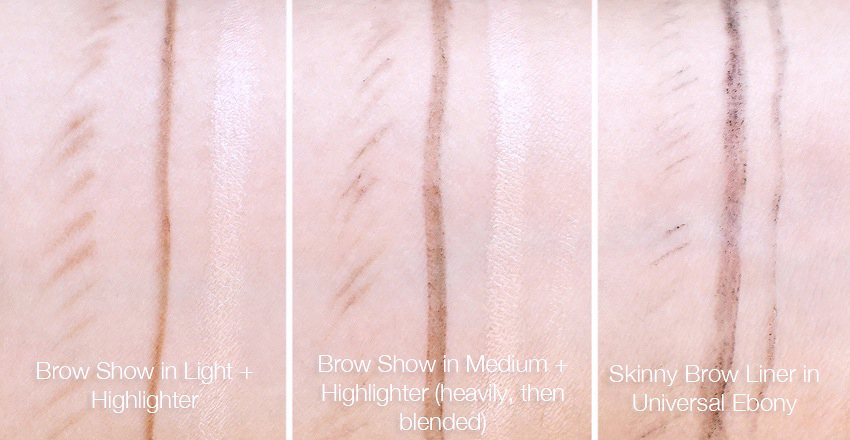 Swatched L-R: Annabelle BrowShow in Light/Medium, Medium/Dark, Skinny Brow Liner in Universal Ebony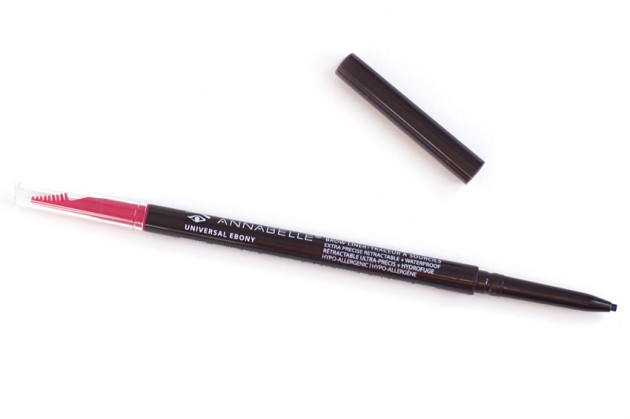 Annabelle Skinny Brow Liner ($8.95 CAD)
↳ Best for: Natural-looking brows, brow beginners, and on-the-go
If you're not sure where to start with your brows, start with this pencil. The Annabelle Skinny Brow Liner ($8.95 CAD) makes filling in your brows super easy, and because it's a micro-pencil, you'll never have to sharpen it or worry about drawing outside the lines.
I've been wearing the Annabelle Skinny Brow Liner in the new Universal Ebony, and it is the PERFECT shade for Asian brows: not too warm, not too dark, and not too red. It just looks natural, like I rolled out of bed with perfect brows and defined features, and it makes me certain that there's a perfect match for everyone in the line's six matte, long-wearing shades.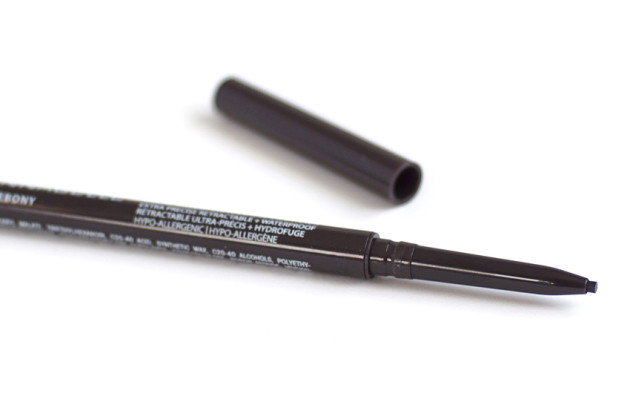 Plus, the Skinny Brow Liners are an insane $3.95 right now, so they're ideal for beginners. The formula is dry and sheer (aka exactly what you want out of a brow pencil), and I honestly think that these are just as good (if not better) than the Anastasia Brow Wiz pencils ($21 USD/$26 CAD). Plus, at these prices, they're cheap enough that you can keep one in your vanity, one in your handbag, and one in the car!
Just in case.
You know, for emergencies.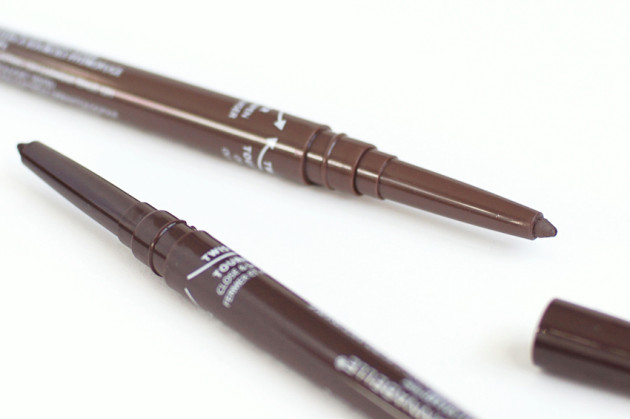 Annabelle Stay Sharp Self Sharpening Waterproof Brow Liner ($9.95 CAD)
↳ Best for: Big, bold brows
Okay, so I'll be honest with you: the Annabelle Stay Sharp Self Sharpening Waterproof Brow Liners ($9.95 CAD) were my least favourite in the bunch. I tried Taupe and Dark Brown, but I just couldn't find the right shade for me.
These would be great for that "Instagram brow" look that I know a lot of people are loving right now, but these super-soft, self-sharpening pencils are just too soft for me–they deliver a lot of oomph with one stroke, and it's just not really my thing, you know?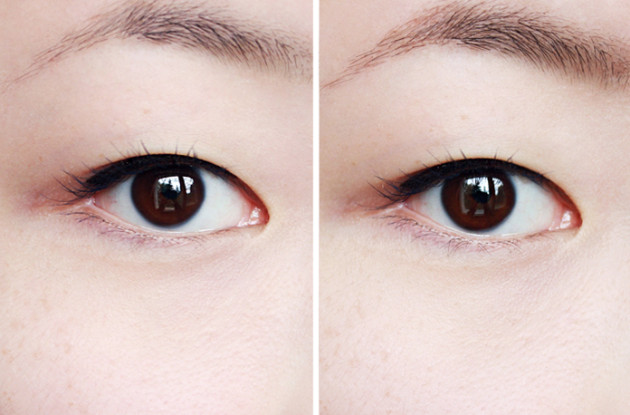 Annabelle Stay Sharp Waterproof Brow Liner in Dark Brown before/after
Swatched L-R: Annabelle Stay Sharp in Taupe, Dark Brown; Brow-to-Go Kit in Light/Medium, Medium/Dark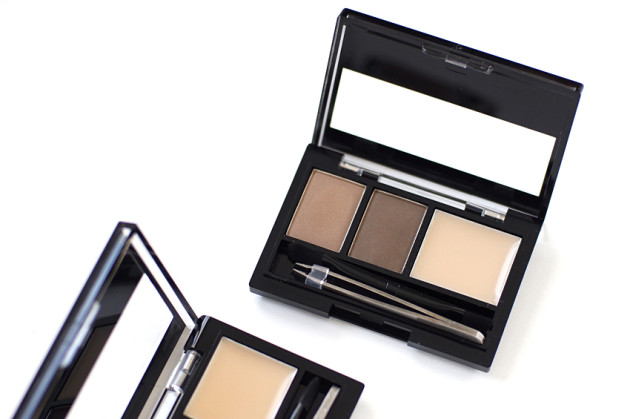 Annabelle Brow-to-Go Brow Shaping Kit ($9.95 CAD)
↳ Best for: A weekend away
Finally, we come to the last new brow launch from Annabelle: the Brow-to-Go Brow Shaping Kits ($9.95 CAD). I tried both Light/Medium and Medium/Dark, and while I liked them both, the Skinny Brow Liner has definitely made me move my loyalties away from powder brow products.
These kits are pretty traditional, as far as brow products go: two powdery brow fillers, a pan of brow wax, a double-ended applicator, and a tiny set of tweezers. However, they fall prey to "people pleaser syndrome": because they can do so many things, they do none of them exceptionally well.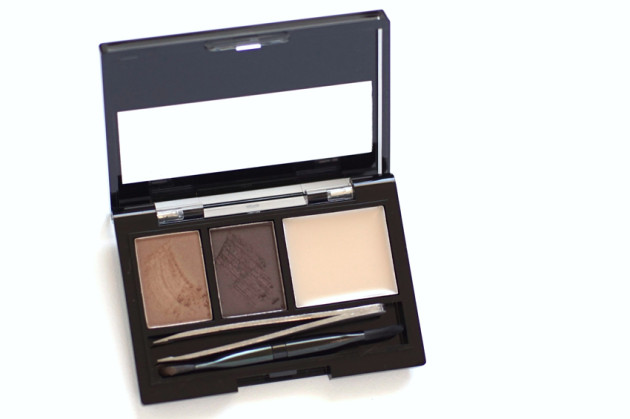 Annabelle Brow-to-Go Brow Shaping Kit in Medium/Dark — I'd recommend patting your brushes, not swiping them!
If you're leaning towards a brow kit because you're not sure what shade of pencil to buy, I'd urge you to opt for the Skinny Brow Liners, instead. They're cheap enough that it's okay if you don't get the shade right on the first try, but they do their one thing (natural-looking brows) really, really well!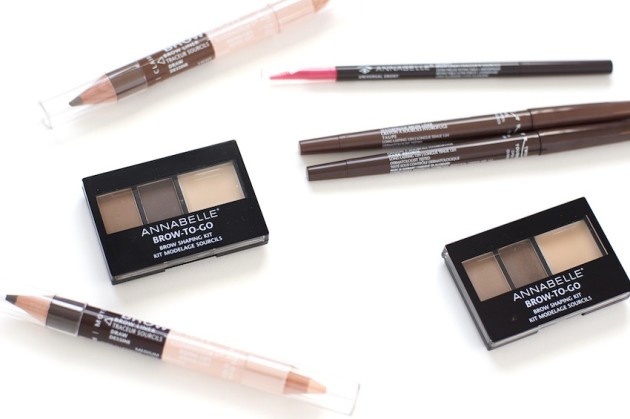 —
Disclaimer: This post was sponsored by Groupe Marcelle. However, all of the opinions in it are my own, and I genuinely like these products — I even purchased some of them on my own this September!