The products: Burt's Bees Lip Shine in Blush, Tinted Lip Balm in Petunia, and Lip Gloss in Autumn Haze
Burt's new Lip Shine is the star of the show for me, so I have to lead with it, of course. Blush is a sheer, shiny light pink, and the Lip Shine formula is everything that the now-retired Super Shiny formula wished it was: glossy, lightly hydrating, softly tinted, and completely non-sticky. What really seals the deal for me, though, is the Lip Shines' mouthwateringly delicious scent. I've run into great-smelling lip balms before, but nothing quite like this — they call it a "natural apricot fragrance," but it's so much tastier than that.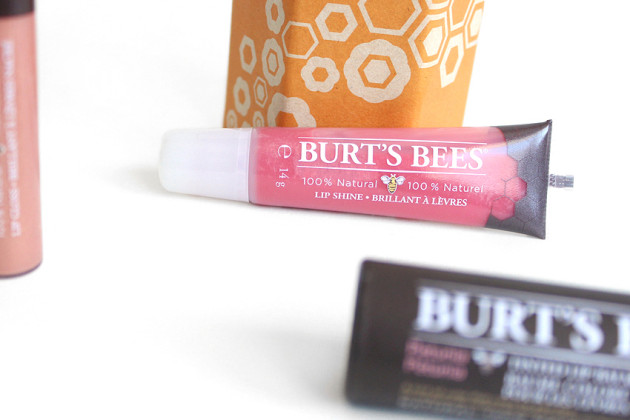 Burt's Bees Lip Shine in Blush
Despite not being much of a gloss girl and liking a bit more of a tint in my lip products, I can't stop using this gloss. I think I'm going to need a few more shades (uhh, like maybe the other five), because I'm going through my tube like there's no tomorrow.
Burt's Bees Lip Shine ingredients:
Castor seed oil, oleic/linoleic/linolenic polyglycerides, sunflower seed oil, lanolin, silica, beeswax, acacia decurrens/jojoba/sunflower seed wax, polyglyceryl-3 esters, natural flavour, apricot kernel oil (& hydrogenated, unsaponifiables), shea butter, cocoa seed butter, tocopherol, ammonium glycyrrhizate, soybean oil, alumina. +/- carmine, CI 77491, CI 77492, iron oxides, titanium dioxide.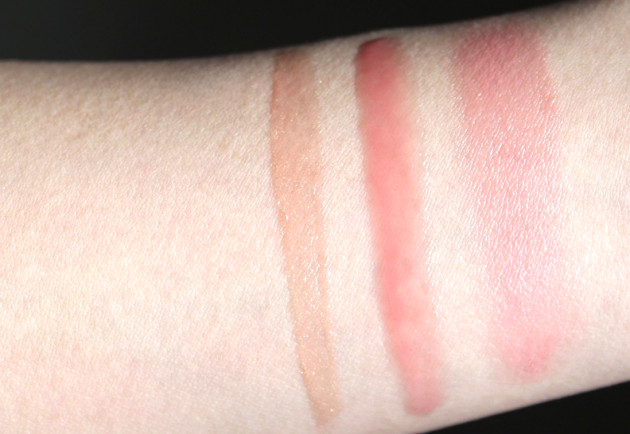 Swatched L-R: Burt's Bees Lip Gloss in Autumn Haze, Lip Shine in Blush, & Tinted Lip Balm in Petunia
I told you how much I loved the Burt's Bees Tinted Lip Balms when they launched, and Petunia is no different. The brand launched four new shades in this range this past January (the others are Sweet Violet, Caramel Daisy, and Blush Orchid), and this soft pink balm has secured itself a place in my handbag for lazy days.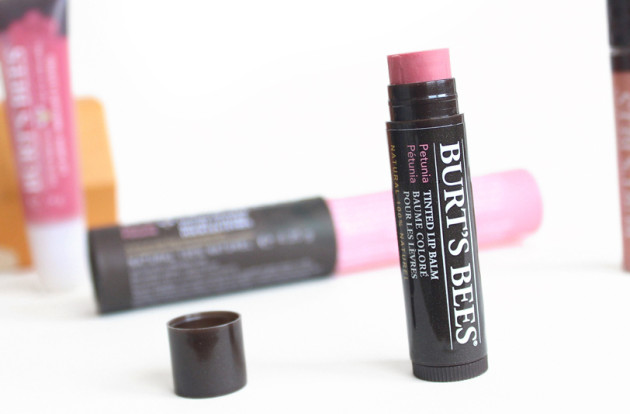 Burt's Bees Tinted Lip Balm in Petunia
It's a lot more sheer than my first shade (Pink Blossom), but this almost-clear balm is still comfortable, lightly scented, and moderately hydrating.
And as a bonus: You know that chunky cardboard tube that these come in? Burt's recommends using them to store bobby pins or cotton swabs – not only are they recyclable and 60% recycled, but they're reusable, too.