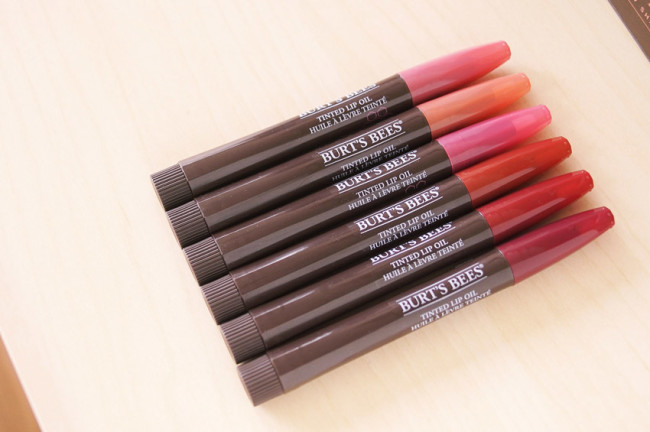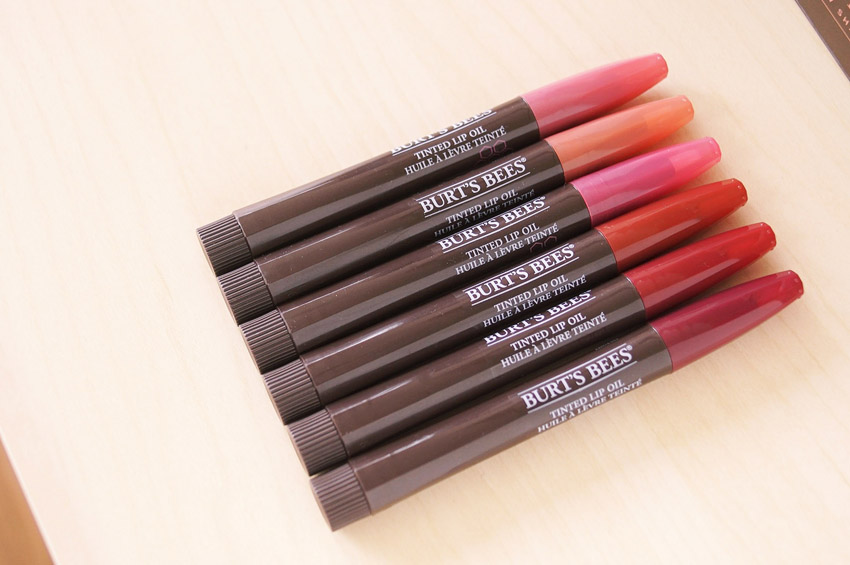 The product: Burt's Bees Tinted Lip Oil
The Burt's Bees Tinted Lip Oil formula
Despite the name, most lip oils are formulated as film-former bases accompanied by oils for extra moisture. The Burt's Bees Tinted Lip Oil formula features mainly a caprylol glycerin/sebacic acid copolymer, beefed up with castor, sunflower, meadowfoam, coconut, and soybean oils. It's a 100% natural formula, including the added flavour.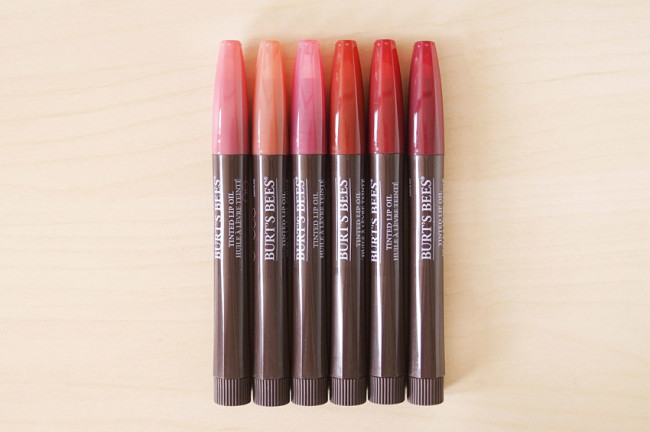 The Burt's lip oils are just as super-smooth as promised, and they do feel more like a lip oil than a lip gloss when applied. But I think they could stand to make a few improvements. The oil formula sinks in extremely quickly, and I find myself reaching to reapply quite frequently. I'm used to lip balms lasting 3-5 hours; these last more like 2. The twist-pen applicator can also be inconsistent, so reapplication is a little frustrating.
Seriously, though: why do companies keep pushing out these twist-pen applicators? Does anyone like them?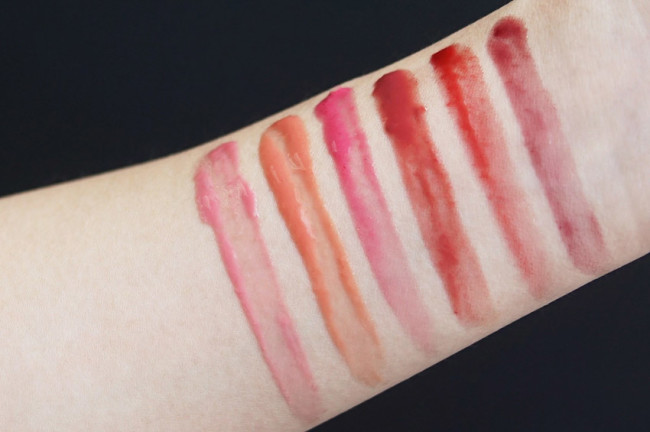 Burt's Bees Tinted Lip Oil swatches: 612 Showering Sunset, 604 Caramel Cloud, 613 Whispering Orchid, 625 Rustling Rose, 621 Crimson Breeze, and 630 Misted Plum

Burt's Bees Tinted Lip Oil review – 612 Showering Sunset, 630 Misted Plum
The Burt's Bees Tinted Lip Oil shades
Burt's promises "a hint of sheer color" with these lip oils, and they hit the mark on that point. These six shades all look more or less the same when applied, with minor differences.
My favourite shade of the bunch is the baby pink 612 Showering Sunset (swatched on left), which leave my lips looking really smooth and delicate.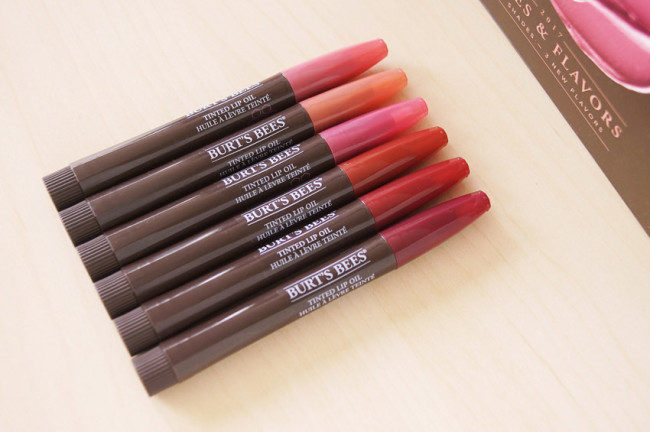 The Burt's Bees Tinted Lip Oil verdict?
Burt's Bees is launching quite a few new lip products this season, making the Tinted Lip Oils just one of many. On the whole, I like these, but they could be better. They offer just 0.04 oz of product, and need to be applied extremely generously if they're going to last for more than an hour.
I'd recommend skipping these and saving your pennies for Burts' other lip launches, because some of them are great. However, if you really want to try a lip oil, these are a nice, natural option at an affordable price point. They're pretty hydrating (again, if applied generously), and they're comfortable to wear.
Availability: $9 USD/$12 CAD at Ulta, Walmart, Walgreens, and more.
The Burt's Bees Tinted Lip Oil ingredients:
Capryloyl Glycerin/Sebacic Acid Copolymer, Castor Seed Oil, Sunflower Seed Oil, C13-15 Alkane, Beeswax, Meadowfoam Seed Oil, Flavor, Coconut Oil, Silica, Shea Butter, Soybean Oil, Tocopherol, Glyceryl Behenate, Alumina, Linalool.
+/- Carmine, Iron Oxides.