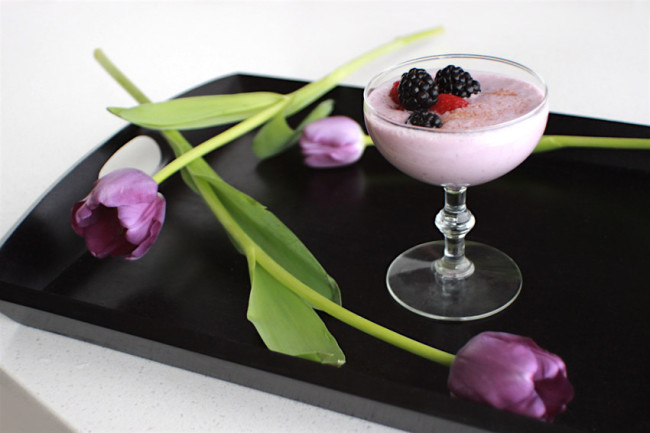 When I told you guys that theNotice was going to be expanding into new content this year, I meant it. From lingerie posts to small business reviews, things are getting interesting around here–this emulsifier blender review included.
Of course, if you hand me any type of open-ended food pitch, I'm going to add booze into the mix every time. Emulsifier blenders are great for making things like icy smoothies, salad dressings, and baby food, but I broke this emulsifier blender in with a boozy banana berry milkshake instead.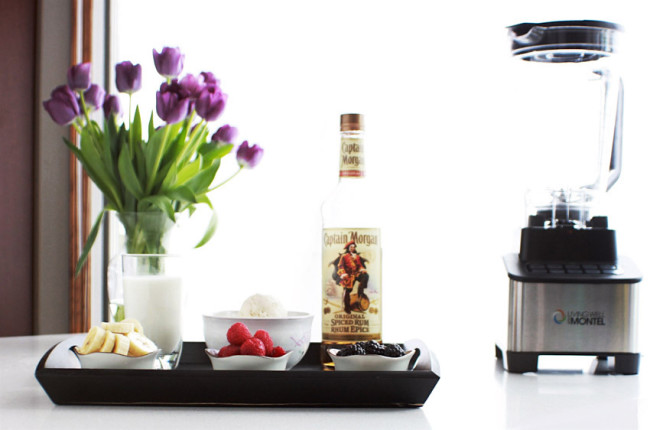 How to make the perfect banana milkshake
Boyfriend and I have been drinking more banana milkshakes recently than is probably advisable, but we decided to make one more for this post. They're typically an off-white-on-white-on-white deal, though, so he tossed in a few fresh blackberries and raspberries to give the shake a little colour.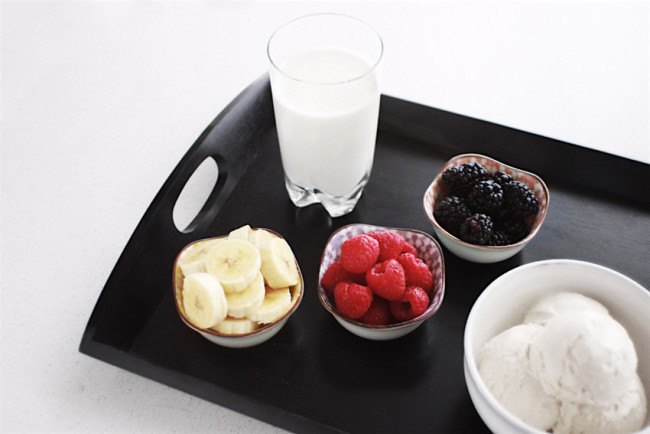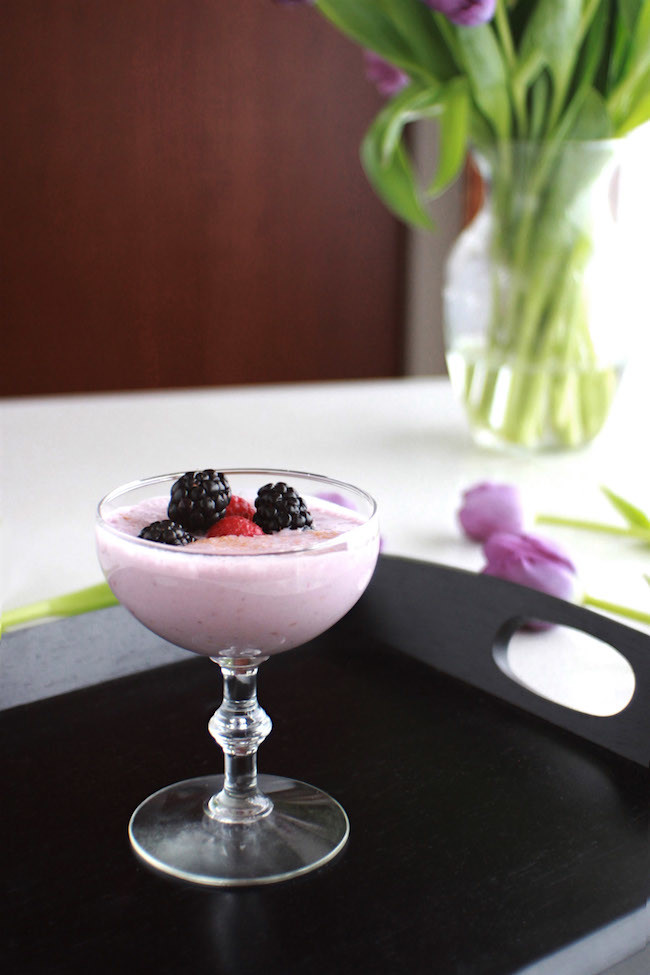 Boozy banana milkshake recipe (serves 2)
1 banana, sliced
A handful of raspberries
A handful of blueberries
1 1/2 cups milk
3 heaping scoops of french vanilla ice cream
2 shots of bourbon (ideally) or spiced rum (if you're out of bourbon and too lazy to go pick some up)
Cinnamon or nutmeg (to garnish)
1. Rinse berries and slice banana. Get excited for impending sugar and calories.
2. Pulse berries, milk, ice cream, and bourbon together in the Living Well with Montel 1200W Emulsifier Blender until thoroughly blended. Pour into 2 large glasses.
3. Lightly dust cinnamon on top to serve. If you're feeling fancy, grate a sprinkling of fresh bourbon on top to garnish.
4. Enjoy!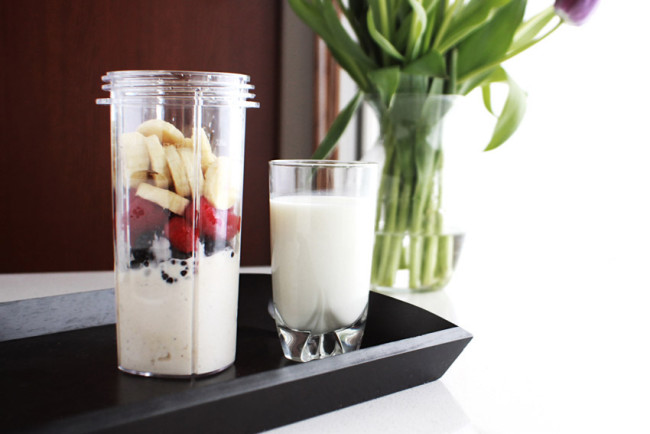 My experience with the Living Well with Montel 1200W Emulsifier Blender
There's always something special about the first time you use a new appliance. They're at peak shininess and cleanliness, and it's all downhill from there.
It's been a while since the last time I used a blender for the first time, and this one was a beauty. At 1200W, it's a powerhouse, with stainless steel blades and 4 speed settings. (Although I take issue with "pulse" as a speed. "Pulse" isn't a speed; it's a pattern. And I would know.)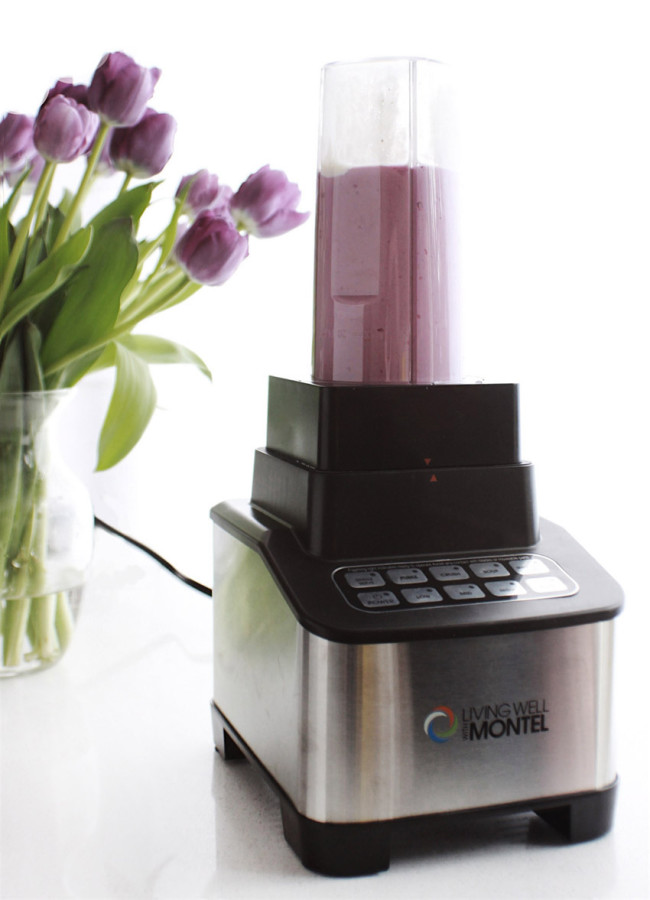 The Montel 1200W Emulsifier Blender has an automatic clean cycle to get most of the gunk off of your blender before it has a chance to dry, and its removable parts are all dishwasher safe. That includes the 2L blender, the 20 oz single-serve cup, and the ingredient plunger.
(My partner got way too excited about the plunger. Like, bud, it's just pushing ingredients down. You don't need to caress it.)
We've already covered the fact that I take issue with how Living with Montel distinguishes settings from speeds, so I'll just list the buttons available instead. Apart from the power button, there's Single Serve, Puree, Crush, Soup, Smoothie/Clean, Pulse, High, Medium, and Low. The pre-set functions cover pretty much everything you'll need your blender for, and then a few more just for good measure.
The Living Well with Montel 1200W Emulsifier Blender verdict?
Living Well with Montel is a new brand by Montel Williams. I'm naturally a little wary of new celebrity brands, but you know what? I really enjoyed using this emulsifier blender. It's a really nice little piece of equipment, and it offers quite a bit of power for a reasonable price.
Montel's new 1200W Emulsifier Blender is similar to the Ninja Professional Blender in a lot of ways (which I don't think was coincidental), and I'm hoping that its motor will hold up just as well. I'm looking forward to putting it through its paces with plenty of green juices this summer!
Availability: $149.99 USD at Living Well with Montel; $93.99 USD at Wayfair.