The product: T•LANGHANS•CARES Subscription Box (quarterly)
I've talked about subscription beauty boxes in the past (Wantable, Vegan Cuts, and Birchbox come to mind), but I was recently introduced to a company that does subscription boxes an entirely different way.
The T•LANGHANS•CARES Subscription Box is an eco-friendly Canadian beauty box that was developed by Tova Langhans. It's designed to provide you with six full-sized essentials rather than introduce you to new products, and 9% of the proceeds from the boxes goes to charity. It's delivered seasonally and runs at a cost of $148 CAD per box.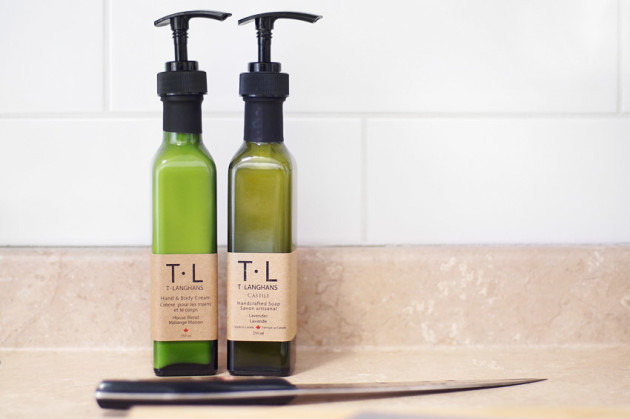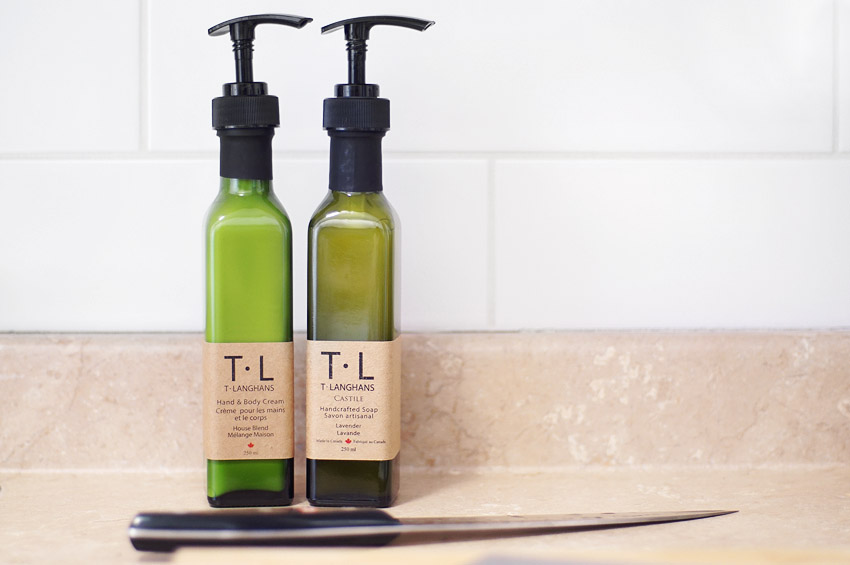 Sink-side products 
The TLC Subscription box comes with three sink-side products: Liquid Castile Soap, Castile Bars, and a Hand & Body Cream.
I absolutely adored the T Langhans Hand & Body Cream, so we'll start there. The formula is rich and creamy, and the House Blend scent smells fantastic. It contains lots of skin-friendly ingredients like olive oil and avocado oil, and a light layer keeps my dry skin moisturized all day long. It's just as good on the hands as it is on the body–which is a very rare find–and the cream has a lemony, spa-like scent.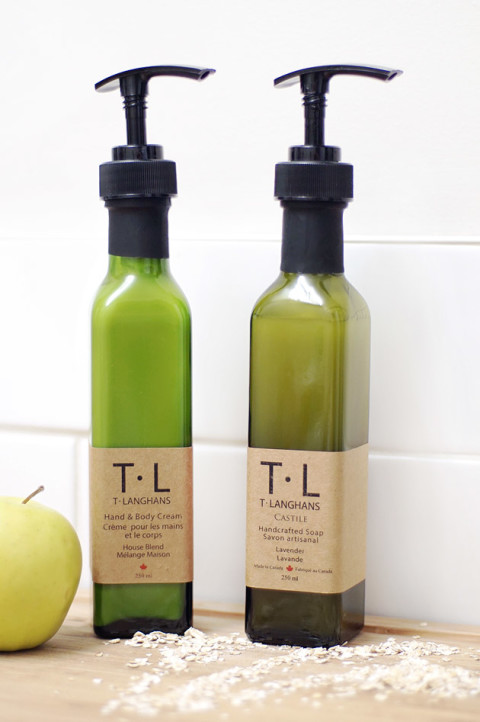 I was less taken with the box's Liquid Castile Soap and Castile Bars. The liquid soap leaked out of its pump every time I used it, and both the liquid and bar soaps left my skin feeling dry and itchy. 
Sold separately, the T Langhans bar soap is $12.38 per 100 grams, compared to Rocky Mountain Soap's $5.25 or Osmia Organic's $9.62 for the same amount. For double the industry's average price, I think a bar of soap be twice as good, not twice as stripping!
EDIT 23/09/16: Tova emailed me to inform me that the price of her soap is higher than average because her Castile formulas feature only virgin olive oil, rather than a blend of olive oil along with cheaper oils. She also noted that they contain 15% un-saponified olive oil and sugar beet extract for extra moisture, so you may not have the same reaction to these soaps that I did!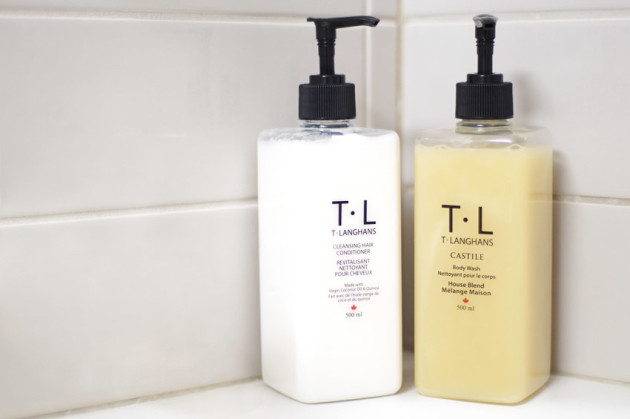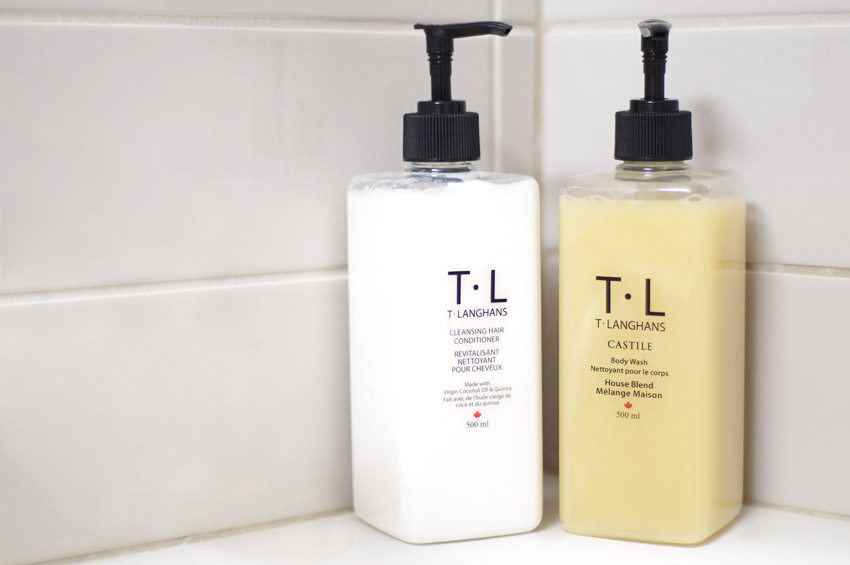 Shower products 
My friend Tracy LOVES Tova's Cleansing Conditioner, but neither of these shower products worked well for me. I have a dry, flakey scalp (thanks, Alberta), and I just couldn't wash out all of my flakes with this cleansing conditioner. It sounds like it's excellent for fine or coloured hair, but it was a no-go for my dry scalp!
The Liquid Castile Shower Gel is just just a larger version of the Liquid Castile Soap, so it might work well for you if you have reactive skin. Tova's soaps are all simple and are scented only with essential oils, so they're perfect for allergies or reactivity, but they're not so great for dry skin or eczema.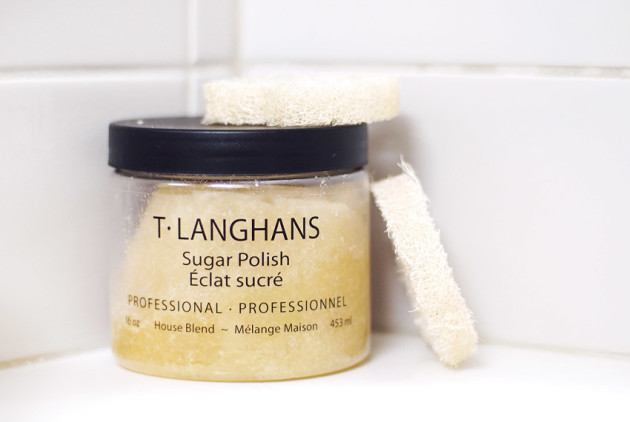 Spa products
The final T Langhans products I got to try out in this box were the brand's Sugar Polish and Cuticle Oil. I didn't get a lot of use out of the cuticle oil, but I LOVED the Sugar Polish. 
It's formulated with sugar, coconut oil, olive oil, and honey (full ingredients on their site), and it's absolutely fantastic. It's so moisturizing that it can double as an in-shower moisturizer, and the sugar granules and oils work to lock in moisture and exfoliate the skin without irritating it in the slightest bit. There's even a bit of glycolic acid in this polish, which provides a very mild chemical peel to pair alongside your gentle manual exfoliation!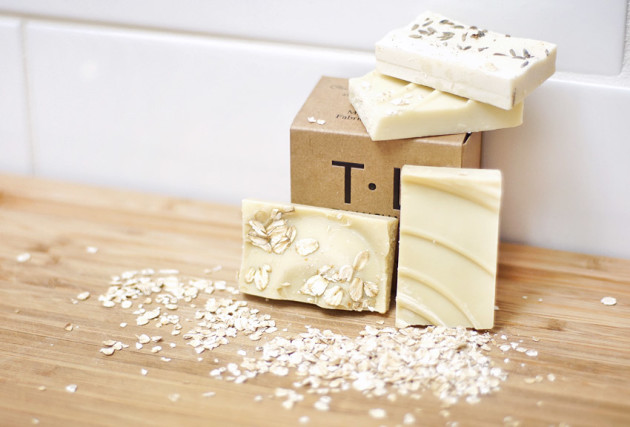 The verdict?
I like the concept of the TLC Subscription Box, and I think that Tova seems like a really wonderful, genuine human being. But the cost of the box ($24.60 per product, or $592 per year) is too steep for me to recommend it right now.
Tova's House Blend Hand and Body Cream ($30 CAD) and Sugar Polish ($30 CAD) are absolutely beautiful products, and I would wholeheartedly recommend both. But for $148 CAD, I was disappointed to see the "Hotel Collection" soap slices instead of full-sized bars of soap, and I was turned off by just how stripping the cleansing products were. My hands got so dry that they bled when I started testing for this post, and I still have the scabs to prove it.
My final critique is that if a consumer is paying luxury prices, I think they deserve to have luxury packaging and branding, too – even if that means that the company has to spend a little more on packaging. The TLC Subscription Box is off to a great start, but it still has a lot of room to grow!
Availability: Get the products here and the box here. The box ships for free within Canada!