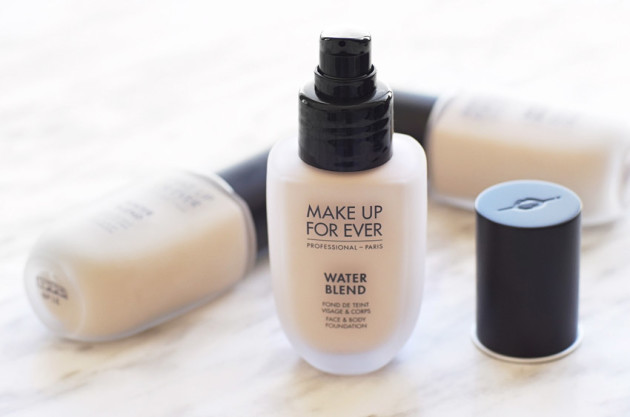 The product: Make Up For Ever Water Blend Face & Body Foundation in R210 Pink Alabaster, Y215 Yellow Alabaster, and Y225 Marble
I've reviewed quite a few silicone-free foundations that I've loved recently, but each and every one of those reviews has come with some small caveat or another.
Not today, Satan!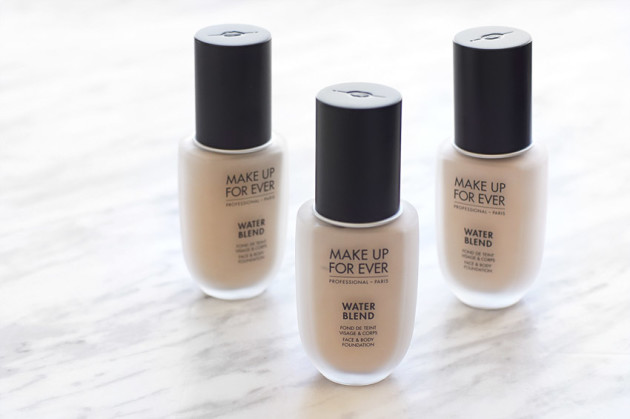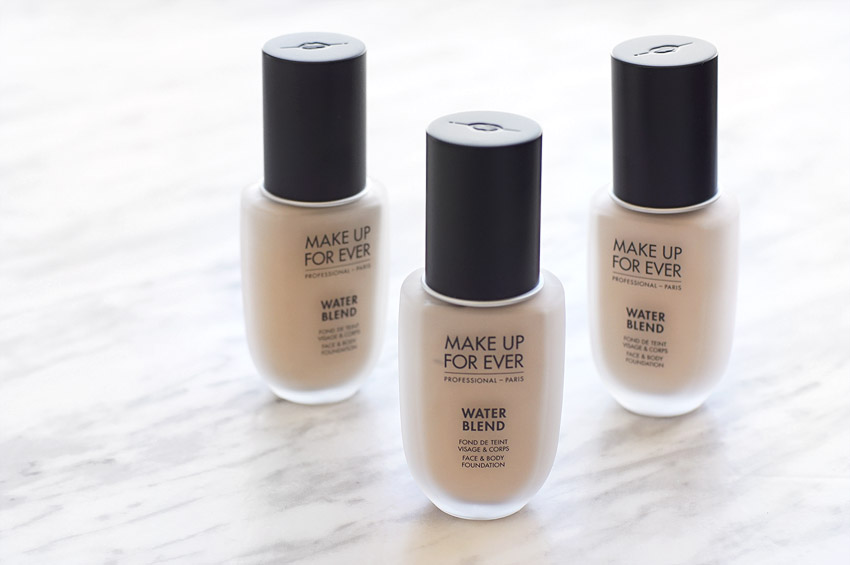 The promises: The new Make Up For Ever Water Blend foundation is an updated, silicone-free version of their classic Face & Body foundation. (Yes, the one with the fun gel texture that makeup artists are constantly raving about!) Water Blend Face & Body is formulated with 80% purified water, pro-vitamin B5, glycerine, and mango butter.
It promises a buildable application, a dewy glow, and a waterproof, transfer-proof finish, and it could not have delivered better. `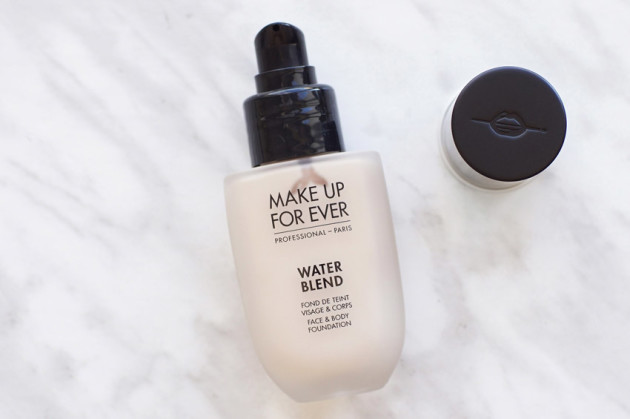 The application and wear: This stuff is the bomb dot com (except it's not digital and it's very safe. No explosions here, no siree.) It wears for a full 12 hours, applies flawlessly with very little effort, and really does give that "skin" finish!
Its finish is nice and dewy, but not too dewy – I look moisturized with only this on, but not greasy. I do set it with a translucent powder, however, because I typically go over my eyelids with my foundation and this stuff makes my eyeliner track like crazy. I find that it can can feel a little dry around my mouth area by the end of the day unless I really moisturize or prime before applying it, but it's nothing that a single spritz of facial mist can't fix.
Just, like, make sure it's actually facial mist. Don't accidentally get yourself in the eye with perfume (because that shit hurts.)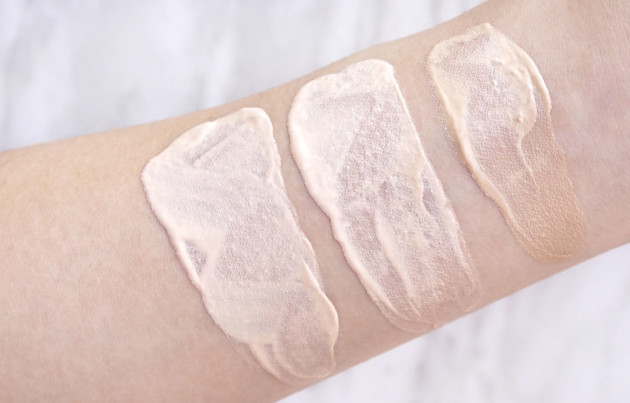 Make Up For Ever Water Blend Face & Body Foundation swatches – R210, Y215, Y225
Make Up For Ever Water Blend swatches – R210, Y215, Y225 in indirect sunlight
Water Blend's formula is more liquid and less gel-like than the original Face & Body, but I personally find that it performs better than its predecessor. It looks more like skin, catches on my dry skin less, and layers better – I can get anywhere from very sheer to medium coverage with this; nothing heavy enough to make my freckles or blemishes invisible, but enough coverage to really even out my complexion.
I find that Water Blend applies best when I "dot" it onto a dense buffing brush, speckle it all over my face, and then buff it in.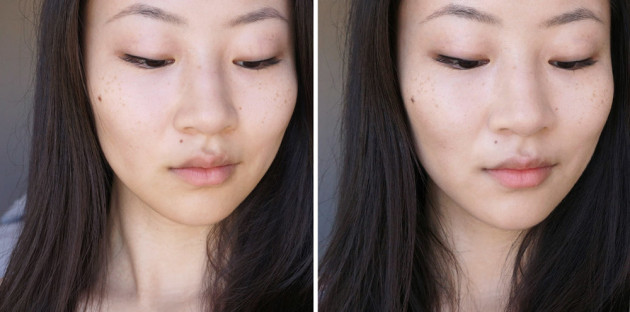 Make Up For Ever Water Blend Foundation before (left) and after (right) – click to enlarge. My shade is Y215 and my skin is otherwise unaltered; I am not wearing primer or powder in either of these photos.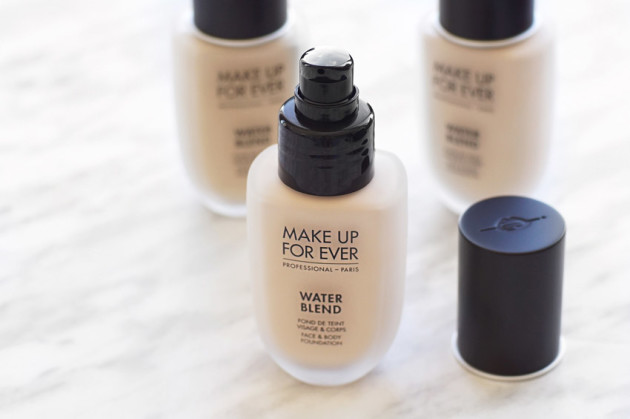 The shade range: As usual, Make Up For Ever's Water Blend foundation shade range covers a large range of shades – 20, to be exact. It was remarkably easy to find my shade in this foundation, as it only goes up to a medium coverage. Maybe it's because I've got a bit of a tan right now, but look! A foundation that matches my face!! My poor, sad little ghost face!
R210 Pink Alabaster isn't too much pinker than Y215 Yellow Alabaster, and both are fairly neutral. Y225 Marble is considerably darker than Y215 Yellow Alabaster, and it has a strong yellow undertone.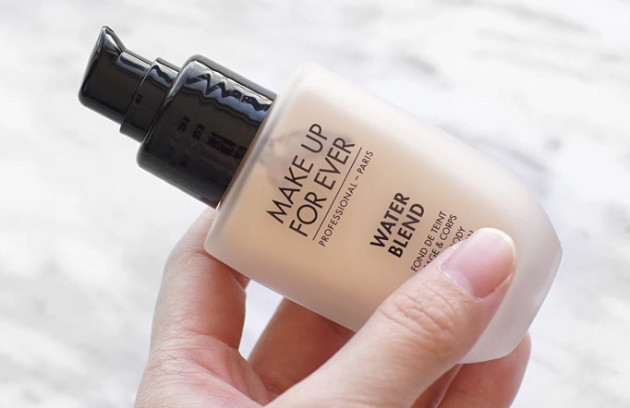 The verdict?
My verdict on Make Up For Ever's new Water Blend Face & Body foundation is a resounding YES. It's an extremely pleasant formula to work with, it layers well, and it feels lighter even than some of my moisturizers, much less other waterproof foundations. The shade range is excellent (and stretches slightly further than the brand's Ultra HD foundation, at least on the lighter end), and I honestly like the way that it smells – lightly powdery, sweet, and almost a little bit fruity.
If you're looking for a new light to medium coverage lightweight foundation, this one is excellent.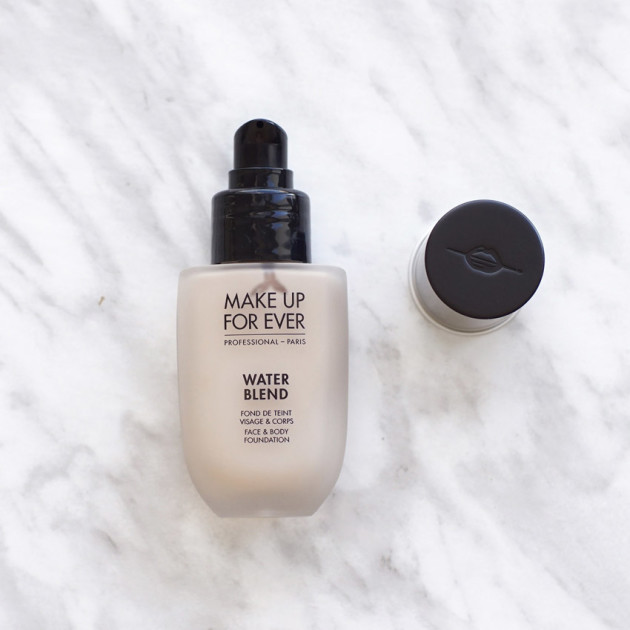 Make Up For Ever Water Blend Foundation ingredients:
Water, Hydrogenated Polyisobutene, Methylpropanediol, Pentaerythril Tetraisostearate, Sorbitan Trioleate, Glycerin, Butylene Glycol, Mango Seed Butter, Phenoxyethanol, Glyceryl Caprylate, Tromethamine, Fragrance, Acrylates/C10-30 Alkyl Acrylate Crosspolymer, Pentylene Glycol, Benzyl Benzoate, Panthenol, Aluminum Dimyristate, Benzyl Salicylate, Limonene, BHT, Tocopherol. +/- colourants.