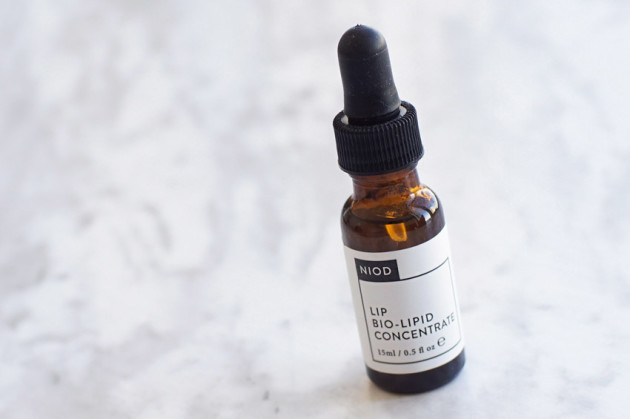 The product: Deciem NIOD Lip Bio-Lipid Concentrate
When I met with Deciem's PR genius (and total #ladyboss) last summer, she mentioned offhandedly that she was using NIOD (Non-Invasive Options in Dermal Science)'s Lip Bio-Lipid Concentrate. She has one of the best pouts that I've seen in the biz, so I knew immediately that I had to get my hands on a bottle!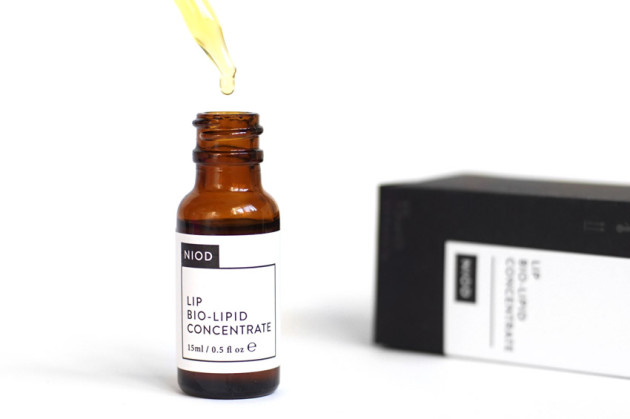 The science behind the NIOD Lip Bio-Lipid Concentrate: Deciem's NIOD line is all about innovative technologies in skincare, and this lip plumper is no exception. It's a very concentrated dry oil that is designed to "the looks of lip colour, volume, texture, softness and contour," and it hits the mark on every point.
Just some of the ingredients used in NIOD's Lip Bio-Lipid include an isolated sugarcane hemisqualane and sea buckthorn oil base, Lipid Palmitoyl Hexapeptide-12 Complex to mimic dermal elastin and increase firmness, and Nicotinic Acid Methyl Ester, a traditional muscle relief ointment that's used here to redden the lips.
Deciem recommends that you use just a drop of this oil before bed and in the morning, but I've been using about a half-drop only in the mornings. It's more than enough to plump my lips up, but doesn't require any extra forethought!

Niod Lip Bio-Lipid Concentrate before / after

Niod Lip Bio-Lipid Concentrate before / after
But does it work? Like most lip plumpers, Lip Bio-Lipid burns – a lot. With that cinnamon-y feeling, however, comes a dramatic increase in both lip redness and lip volume. 
I don't have the most defined lip line, so I find that the area around my lips becomes reddened for a few minutes as well. After the 5-minute initial discomfort, however, the redness around my lips returns to normal, while my lips themselves stay plump and pinked.
I haven't used this consistently enough to garner long-term results, but I definitely see a difference immediately after using the Lip Bio-Lipid Concentrate. My lips look fuller, redder, and smoother for the day, and they even look noticeably bigger with lipstick overtop. (This oil is Caprylic/Capric Triglyceride-based, so it doesn't make your lipstick slide off the way something like castor seed oil would!)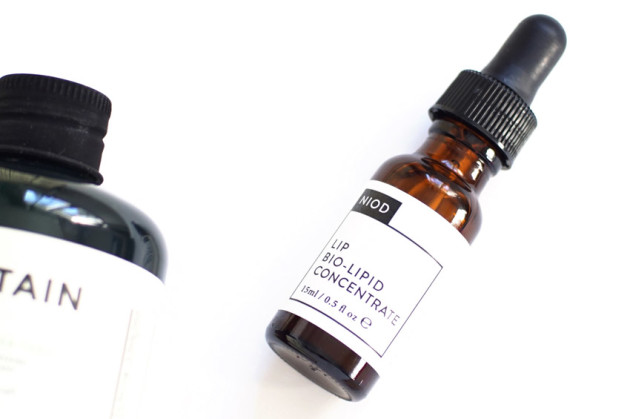 The verdict?
I've never put a lot of faith into lip plumpers, but this stuff is seriously like a lip augmentation in a bottle. It's spicy and effective, and you get a LOT for what you pay for. Per ounce, it's less than half the price of the Too Faced Lip Injection Extreme or comparable products, and it's paraben- and silicone-free to boot.
NIOD's Lip Bio-Lipid Concentrate own't give you quite as Instagrammable a pout as Mira's, but it'll push enough temporary volume into your lips that it'll look like a light lip job. Check it out!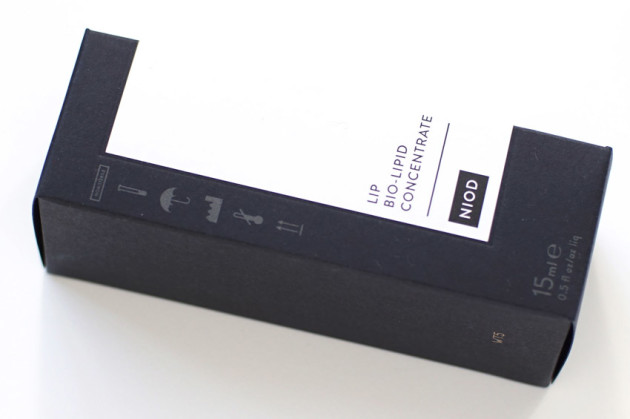 NIOD Lip Bio-Lipid Concentrate ingredients
Caprylic/Capric Triglyceride, C13-15 Alkane, C12-C15 Alkyl Benzoate, Pentaerythrityl tetraisostearate, Hydrogenated Polyisobutene, Cetearyl Ethylhexanoate, Oleic/Linoleic/Linolenic Polyglycerides, Pentaclethra Macroloba Seed Oil, Silica Dimethyl Silylate, Methyl Nicotinate, Ethylhexyl Palmitate, Dimethyl Isosorbide, Pongamia Pinnata, Palmitoyl Hexapeptide-12, Palmitoyl tripeptide-1, Palmitoyl Tripeptide-38, Sodium Hyaluronate, Glucomannan, Commiphora Mukul Resin Extract, Sesame Seed Extract, Portulaca Pilosa Extract, Anemarrhena Asphodeloides Root Extract, Hippophae Rhamnoides Oil, Hydroxymethoxyphenyl Propylmethylmethoxybenzofuran, Plukenetia Volubilis Seed Oil, Bisabolane, Trihydroxystearin, Sorbitan Isostearate, Propylene Carbonate, Butylene/Ethylene/Styrene Copolymer, Ethylene/Propylene/Styrene Copolymer, Stearalkonium Hectorite, Sucrose Cocoate, Tocopherol, BHT, Water.