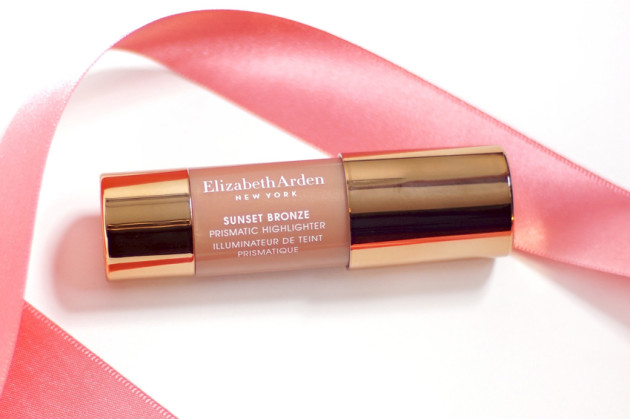 The product: Elizabeth Arden Sunset Bronze Prismatic Highlighter in Eclipse 01
I've really been feeling the whole "glistening golden glow" thing this season, but somehow, I didn't have a single product in my collection that really fit the bill — until Eclipse came along.
It's part of the Elizabeth Arden Sunset Bronze Summer 2016 collection, which is all about sunset hues and the bronzey look that the golden hour gives you.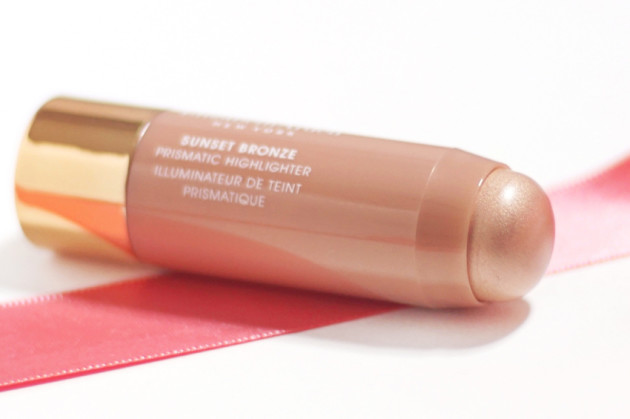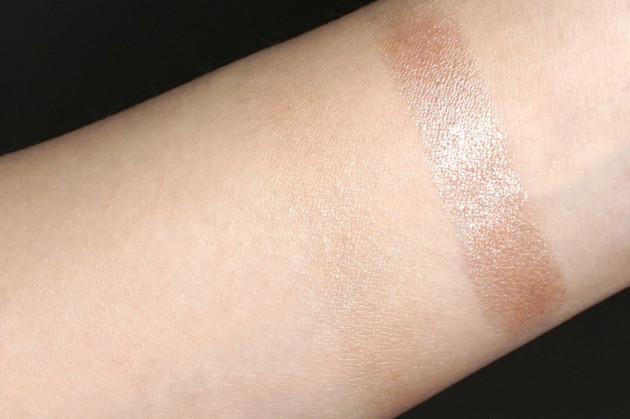 Elizabeth Arden Sunset Bronze Prismatic Highlighter swatch (blended / heavy)
The shade: You guys. This is gorgeous.
The Sunset Bronze Prismatic Highlighter only comes in one shade, Eclipse, but it's a stunning golden bronze colour. Ultra-fine mica and titanium dioxide shimmer gives a sparkly gold finish to a light copper base colour, and the stick texture blends out easily to a translucent shimmer finish that makes my cheekbones GLOW in natural sunlight. 
Patting it into the skin offers a more intense sheen, and it reminds me of the Becca x Jaclyn Hill Champagne Pop Shimmering Skin Perfector ($38 USD/$46 CAD) when patted — but with more controllable shimmer placement. (Am I the only one who didn't really like Champagne Pop? Becca highlighters are so pretty, but kind of get everywhere on me.)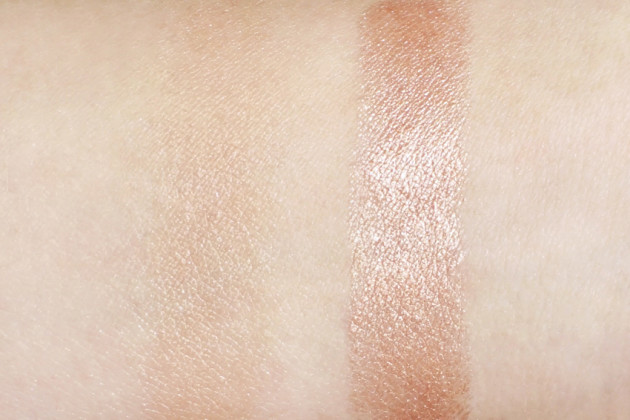 Elizabeth Arden Sunset Bronze Prismatic Highlighter in Eclipse, swatched (blended / heavy)
The formula & packaging: Elizabeth Arden's Prismatic Highlighter formula contains silicones, but it is gorgeously creamy — and doesn't seem to breaking me out in this concentration (yet). The texture is melty-smooth without being slippery, and it comes amped up with vitamin E, zinc PCA, and aloe vera leaf extract to nourish your skin.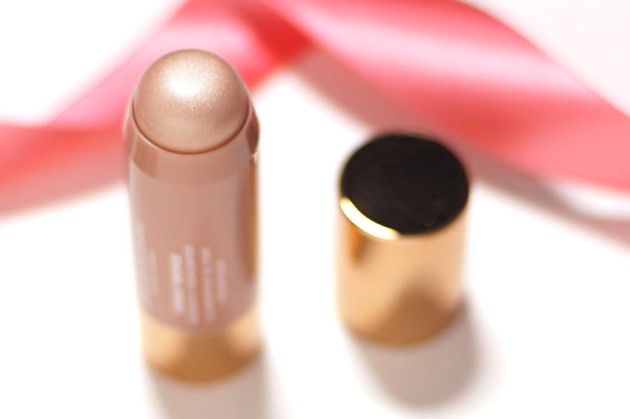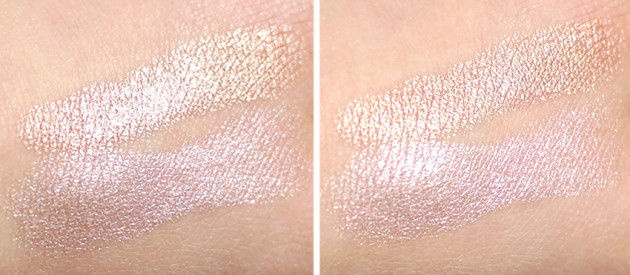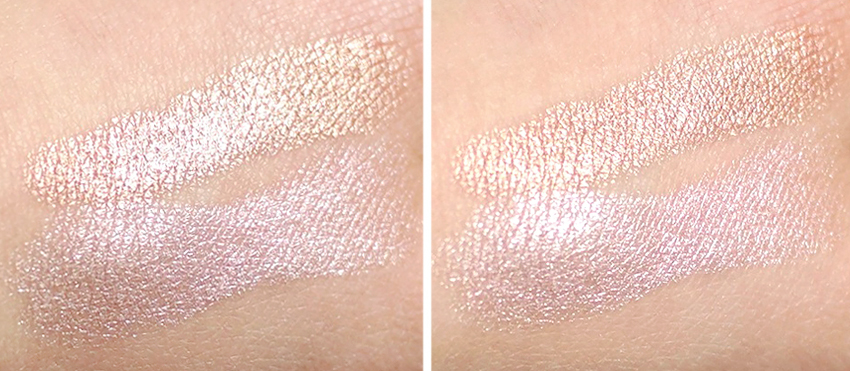 Elizabeth Arden Sunset Bronze Prismatic Highlighter swatch (top), Clinique Chubby Stick in Hefty Highlight (bottom)
The only other highlighting stick that I use regularly is the Clinque Chubby Stick highlighter ($21 USD/$24 CAD), but the two are like night and day. The Elizabeth Arden stick is softer, creamier, stouter, and easier to blend, while the Clinique stick is firmer and disappears into the skin.
Both are stunning in their own way, but one is a cool-toned illuminator while the other is warm, intense highlighter. (In other words, you totally need both!)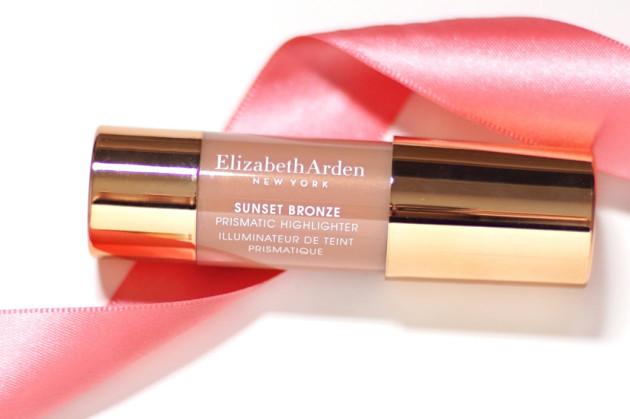 The verdict?
Elizabeth Arden is one of those brands that can sometimes feel dated, but they absolutely killed it with their Sunset Bronze 2016 collection. The entire launch is tightly edited and beautifully packaged, and the Sunset Bronze Prismatic Highlighter is honestly the crown jewel of the whole production.
My only reservation about this highlighter is that it won't be going into the permanent Elizabeth Arden line, so snap it up while you can!
Availability: $28.50 USD/$34.50 CAD. Limited edition at select Hudson's Bay, London Drugs, and Shopper's Drug Mart locations as of February 2016.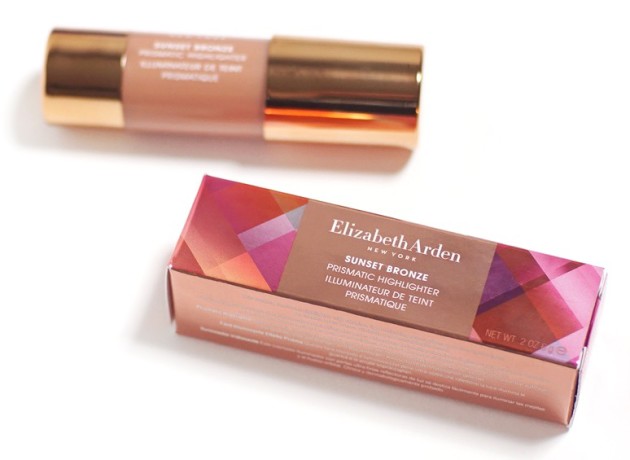 Elizabeth Arden Sunset Bronze packaging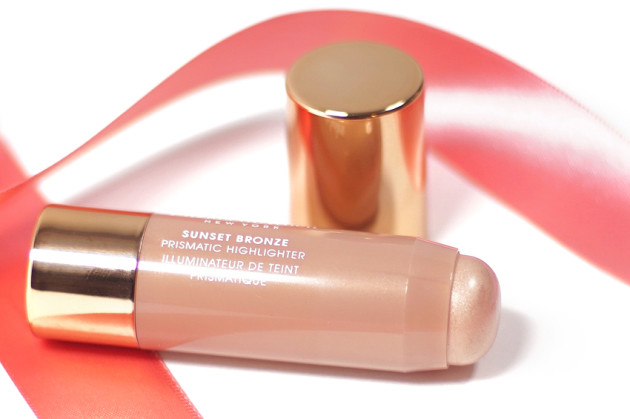 Elizabeth Arden Sunset Bronze Prismatic Highlighter in 01 Eclipse review