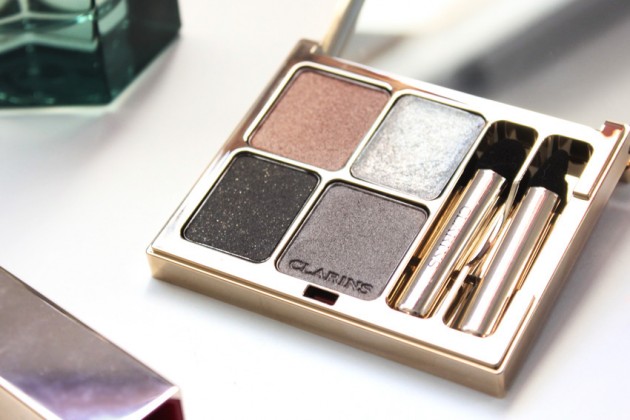 The products: Clarins Smokey Passion Eye Quartet and Passion Rose Rouge Prodige
Full names; Clarins Ombre Minérale 4 Couleurs Wet & Dry Eye Quartet Mineral Palette in Smokey Passion and Clarins Rouge Prodige True-Hold Colour & Shine Lipstick in Passion Rose. Both these products are limited edition as part of the Clarins Passion collection, Holiday 2011. Sorry for the late posting!
The quad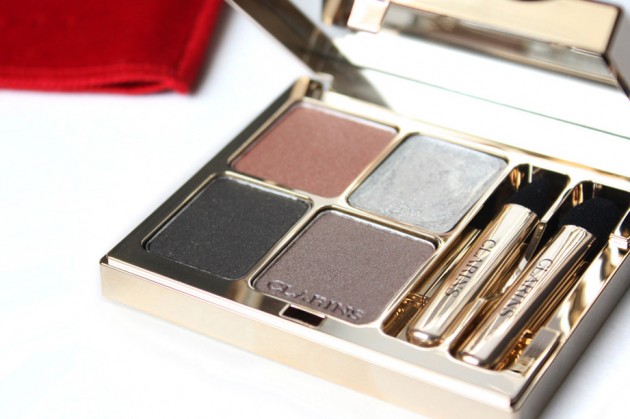 The Smokey Passion quad features four shades – and they are right up my alley. No kidding; the proof's in the brackets.
There's a russet brown (the sort of shade that would fit perfectly into my fall 2011 colour palette), a silver glitter suspended in a creme base (perfect for a glossy eye, if your lids aren't oily), a classic brown-taupe (and we all know I'm a sucker for a taupe), and finally, there's a brown-black with gold flecks (and seriously, I'll sell my right kidney for a flecked brown-black.)
(Wait, before I do: you do have two kidneys, right? Those are the ones you have two of? I always get it wrong, and I don't want to sell a kidney only to find out that it's actually your liver that you have two of.)
Photographed under bright fluorescent lighting, to better show the textures and shimmer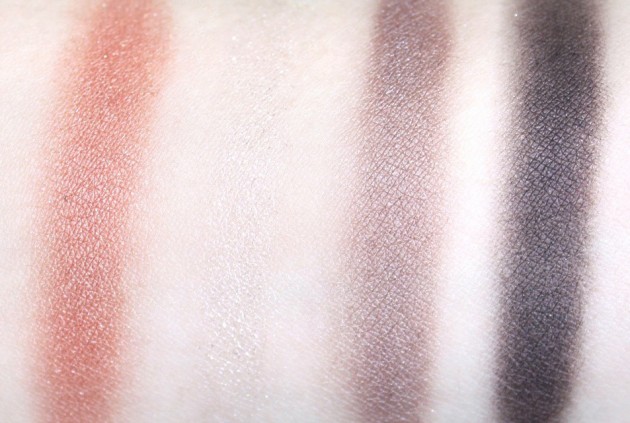 Clarins Smokey Passion quartet, swatched & photographed in indirect sunlight
While I really appreciate the inclusion of a new texture in this palette (it's definitely a refreshing change!), I do have my reserves about the silicone-slippery silver glitter. It's too chunky to be used as an under the brow product, but not dry enough to use as a base – which keeps it to (a) dry lids, or (b) areas that don't typically crease, like the inner corner or lower lashline. The effect is gorgeous, though, especially on its own!
See the quad in last week's Lipstick Bandit feature, or this Monday's Clarins Passion makeup look. I still haven't found time to do a darker eye with the palette, but I hope to before the quad disappears from counters for good.
The lipstick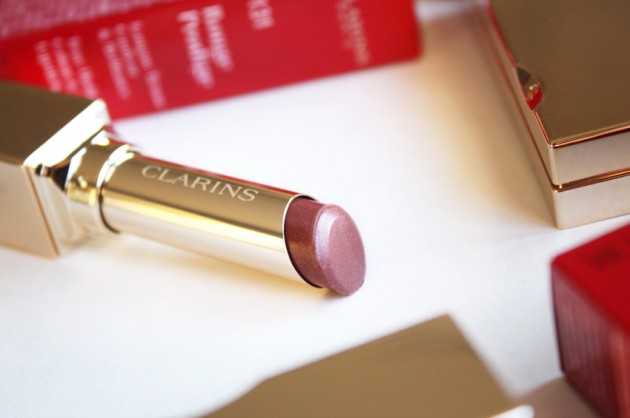 Right off the bat, I thought Passion Rose would be too glittery for me – but, surprisingly, it wasn't at all! The finish is more like a frost with fine shimmers, and I've been getting so much more wear out of it than I'd expected.
Like all Rouge Prodige lipsticks, Passion Rose goes on smoothly, wears off evenly, and carries a light, fruity scent that should honestly be illegal because it smells so tasty and I just want to eat it. In the tube, it appears brown with a slightly pink lean, but swatches (and wears) with a good balance of brown, pink, and gold microshimmer. The effect is pretty without being girly, subdued without being boring, and effortless without being sloppy.
If I'd have been clever, I would have used this lipstick in this monday's Clarins FOTD. However, I'm not, so you can see it in a look here, instead.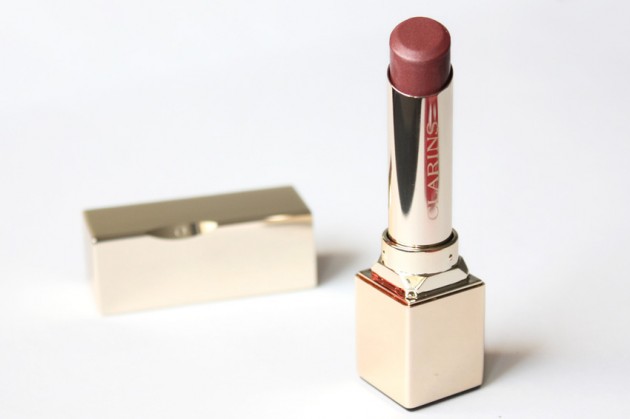 Clarins Passion Rose swatch (applied more heavily on the left)
The verdict?
This year's Passion collection was a bit of a disappointment for me – compared to last year's ultra-luxe Barocco collection (Face Palette / Rouge Prodige / Eye Trio), I think we can all agree that it was rather underwhelming. I'd have loved to see a Barocco redux of sorts; another gold-and-black collection with special packaging, a bold red lipstick, and that festive, luxury feel…
…but you know what? I really liked the Passion collection, too, once I'd recovered from the initial shock.
I'm getting a lot more wear out of the Passion collection than I did out of the Barocco one, but – well, it's not very holidays, you know? So, here's my verdict, clean and simple: I love both these products, but I think they'd have been better suited as additions to the permanent line-up, or even as a Winter collection. They're gorgeous, but they just don't have the bang! I associate with the Holidays, you know?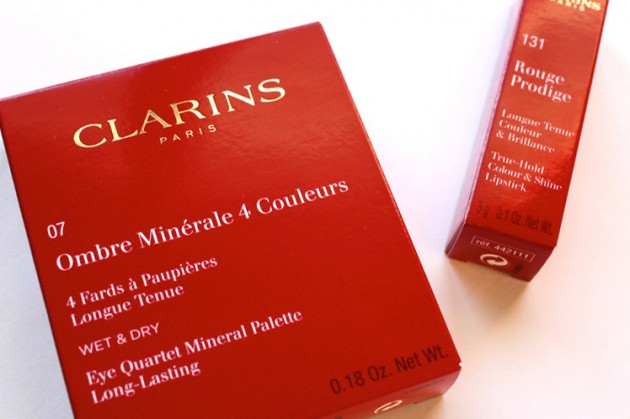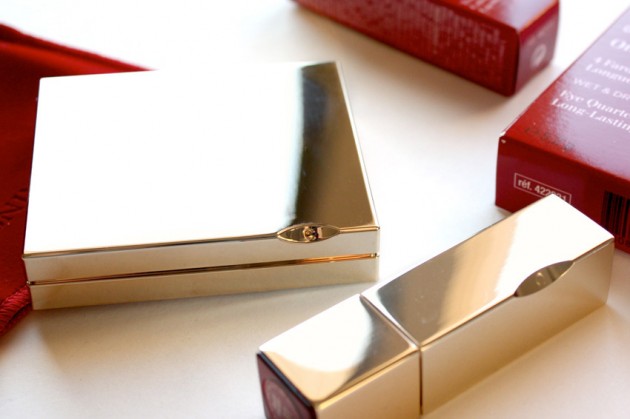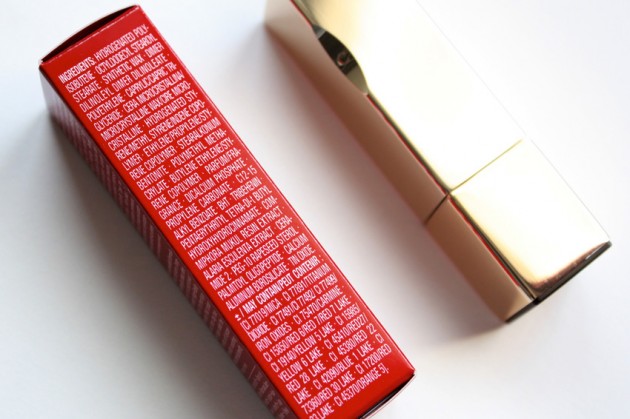 Clarins Rouge Prodige lipstick ingredients for shade 131 Passion Rose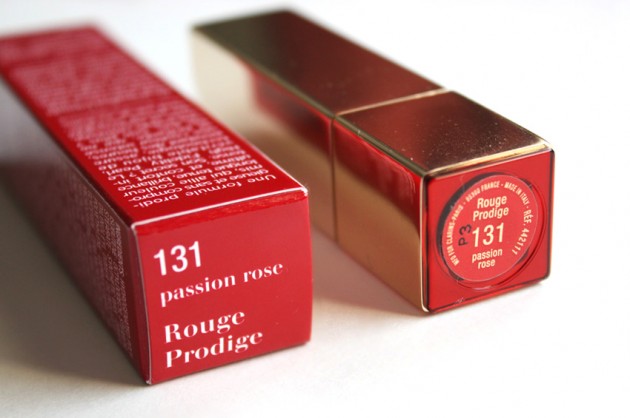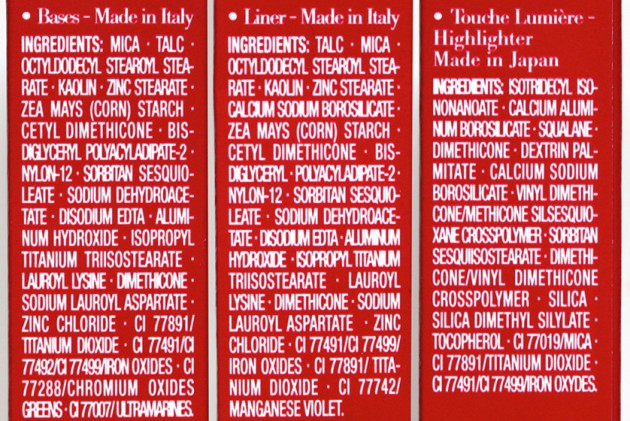 Clarins Eye Quartet Mineral Palette ingredients for 07 Smokey Passion