Just the eye, for this one! I was running out of sunlight, and it was a choice between (a) doing a full face and (b) actually being able to take photos without flash. The amount of sunlight won, of course, as it always does.
(Despite this, though… the quality of light itself? Pretty shoddy. This is what happens when you take makeup photos right before the golden hour, folks. Tip: don't do it.)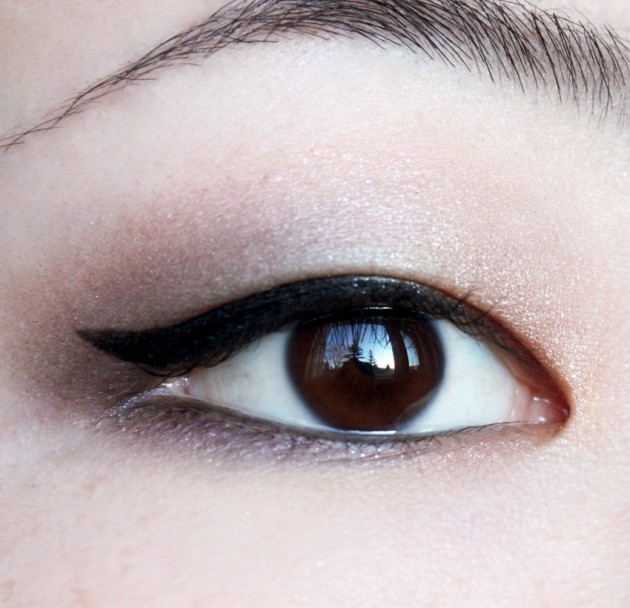 To create this look, I used all four shades of the Smokey Passion eye quartet – the silver as a base, the burnt sienna in the inner corner, the taupe in the center of the lid & around the edges, and the brown-black on the outer corner and lower lashline for intensity. Then, for a bit more polish, I pulled a touch of Smashbox Smoke through the brows, blended in some Hard Candy Glamoflauge in Light for my dark circles, and ran a Marcelle Khol Eyeliner in Soft Black along my waterlines.
(The wear of the khol is awful if you like crisp, sharp lines, but it's incredibly gentle on my waterline – no itching or irritation at all.)
Finally, I finished the look with a quick swipe of Imju Fiberwig Extra Long Mascara – black, of course, – and Marcelle Liquid Eyeliner Pen for a bit of interest along the lashline.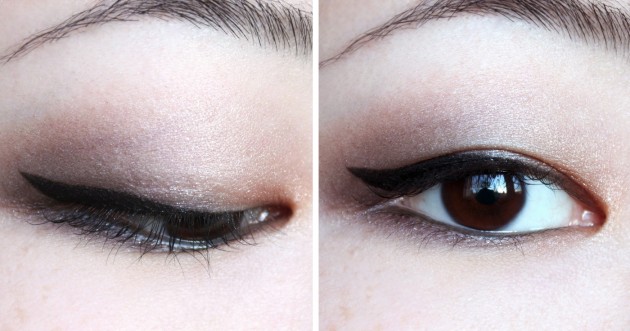 P.S.
My inspiration for the liner shape – with a small ridge, it's a bit more geometric than usual, but still fairly basic. (And, alright, the ridge didn't translate well into these photographs. I promise; it's ridgier if you're looking at it straight-on vs. at an angle.)
Olga Sherer backstage for Dior Spring 2010 CTR, via Style.com. Isn't she purrrdy? Filing this one away in "faces I would kill for"…