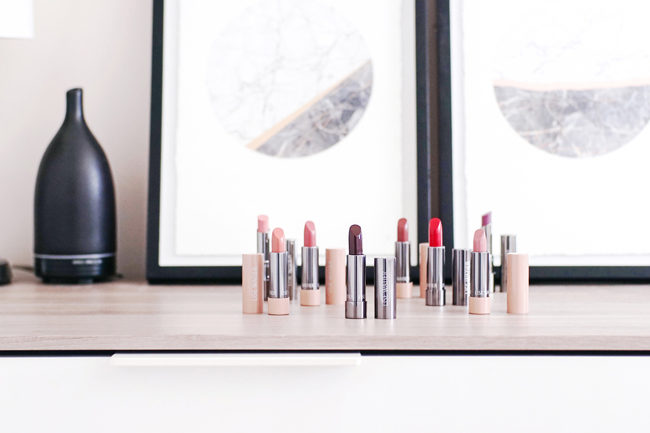 The products: Lise Watier Rouge Gourmand "The Nudes" in Cotton Candy, Dragon Fruit, Panna Cotta, and Peach Crumble; Lise Watier Rouge Fondant Suprême in Amelia and Chloe
I put out a longer post on Monday about the Lise Watier Rouge Gourmand lipsticks (AKA my favourite lipstick formula), but let's chat for just a little while longer about the range. I've been lucky enough to try a lot of Lise Watier's lipsticks throughout the years, and while they're all good, they're not all great.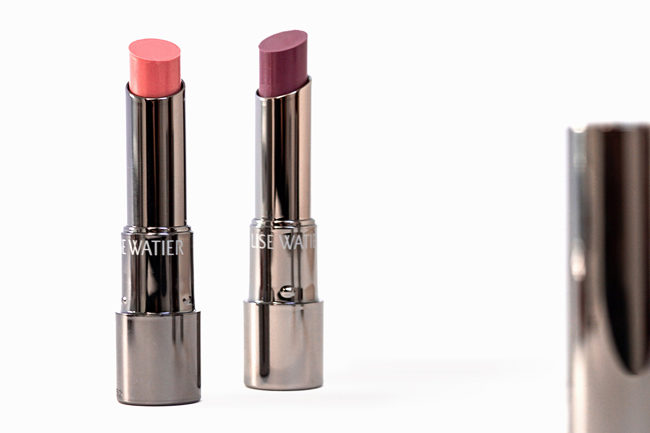 Lise Watier Rouge Fondant Suprême in Amelia and Chloe
Lise's original Rouge Fondant formula is… lackluster, in my eyes. These lipsticks are sheer and shimmery, and honestly? That's just not me. My mom would have LOVED these in her 30s, and even in her 40s, but I'm not a big shimmer fiend.
Amelia is a light coral with a lot of shimmer, but on my lips, it reads as a bubblegum pink frost. The slippery formula isn't very forgiving of my dry patches, and the amount of shimmer really lifts the colour a shade or two brighter than what you're expecting. Chloe is a lot easier to work with. It's just as slippery, but thanks to the darker shade, the resulting lip is just a really lovely pink. It looks quite dark in the tube, but it applies sheerly, and its micro-fine shimmers add a blue sheen to the lip—not a white frost.
Because there's so much variation in these lipsticks, I'd recommend buying them in person at a Shopper's Drug Mart Beauty Boutique, if you can. It'll help you distinguish the frosty lipsticks from those with a beautiful, subtle duochrome, which makes it worth the trip.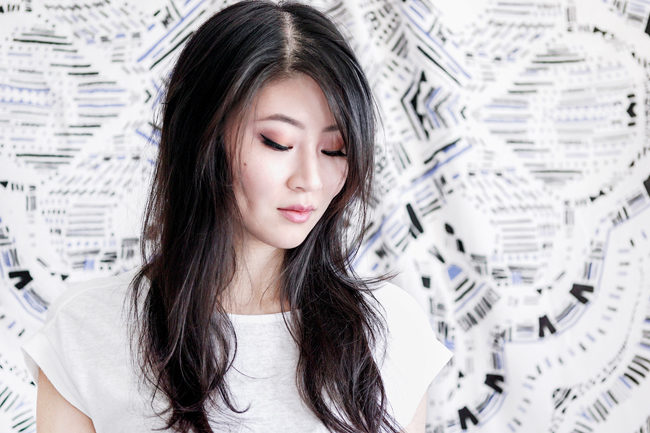 Lise Watier Rouge Fondant Suprême lipstick in Chloe with Electric London C-5 Volume Liquid Mist in the hair. (That's just a round brush and nothing else!)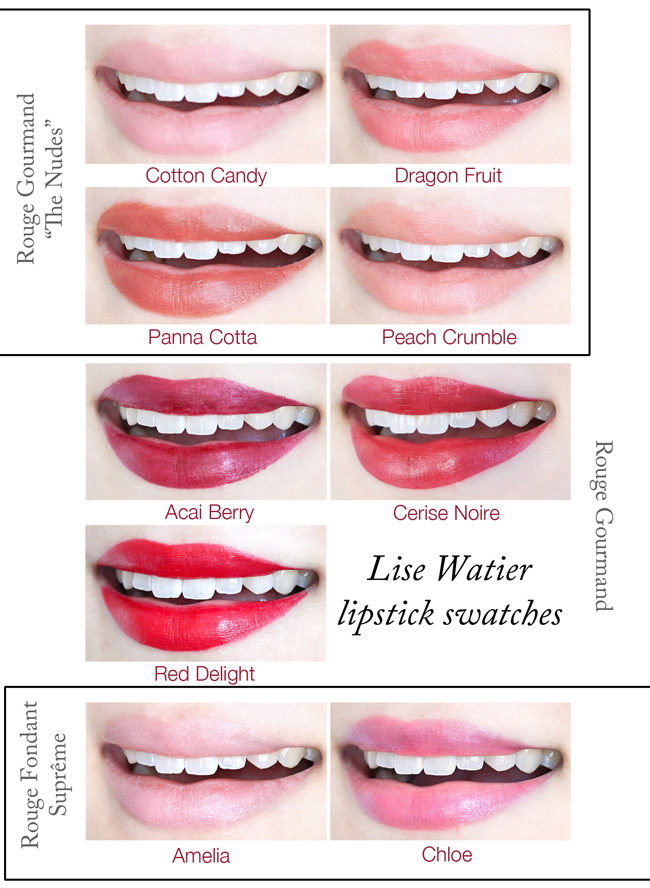 Lise Watier Rouge Gourmand "The Nudes" in Cotton Candy, Dragon Fruit, Panna Cotta, and Peach Crumble
Lise Watier's Rouge Gourmand line is one of my top five lipsticks ever, but "The Nudes" are a little bit different. The variation is intentional, and they're still really good lipsticks, but I'd prefer if they were just the original formula in nude shades.
These lipsticks are significantly more sheer, and their finishes are drier. It makes a big difference on the lips: while the original Rouge Gourmands are comfortable and creamy, these are a little less lustrous. I find that I have to vary their wear with a hydrating lip balm, which is a bit of a hassle.
But it's far from a deal breaker. I wear these more often than the originals despite my own protests, and their medium opacity makes them easy to apply on the go. I'm a big fan of Dragon Fruit, a soft coral, and really enjoy Panna Cotta with a bit of a pink gloss on top to soften its strong orange undertones.
There's also Peach Crumble, a light nude with a bit of warmth, and Cotton Candy, a whisper-soft pink. Cotton Candy and Peach Crumble are two sides of the same nude coin: they're similarly light and sheer, with soft cream finishes that look completely natural. Where Peach Crumble is warm and orange, Cotton Candy is cool and mauvey—but both are sheer enough that I can pull off either.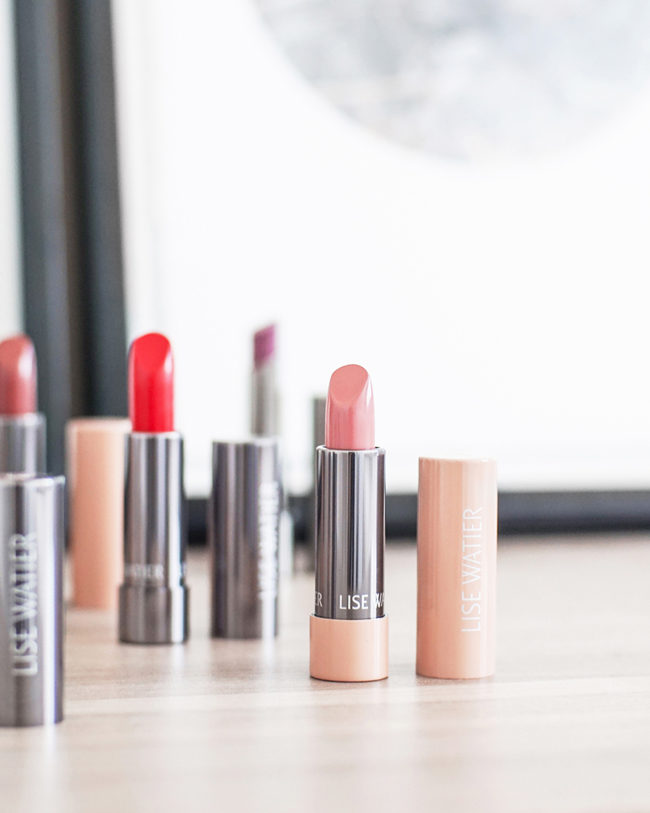 Lise Watier Rouge Gourmand "The Nudes" review. This one is Cotton Candy.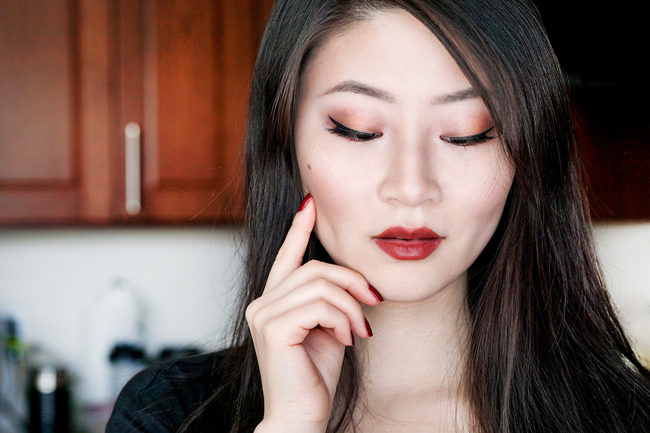 Panna Cotta swatches, review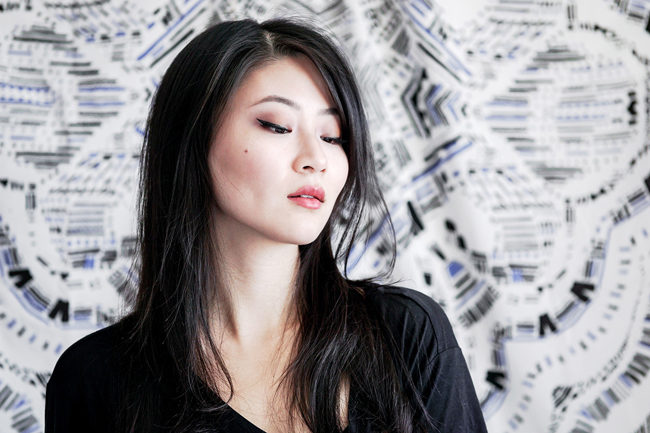 Dragon Fruit swatches, review
The Lise Watier Rouge Fondant Suprême and The Nudes verdict?
Lise Watier's Rouge Fondant Suprême and Rouge Gourmand The Nudes lipsticks aren't no-brainers the way that the brand's original Rouge Gourmands are, but they're still very good. Both need a little bit more care (in selection for the Rouge Fondants and in lip prep for The Nudes), but as long as you pick a shade that you know you'll love, I find these to be very enjoyable.
I wear The Nudes most often—usually Dragon Fruit–but Chloe is rising up in my lipstick roster with the start of spring.
Availability: $26 CAD Rouge Gourmand The Nudes and $28 CAD Rouge Fondant Suprême at Sephora and Lise Watier.
—
These lipsticks were gifted to me by the brand in 2018 with no promise of a post.